KCSE results set to be released before Christmas ▷ Kenya News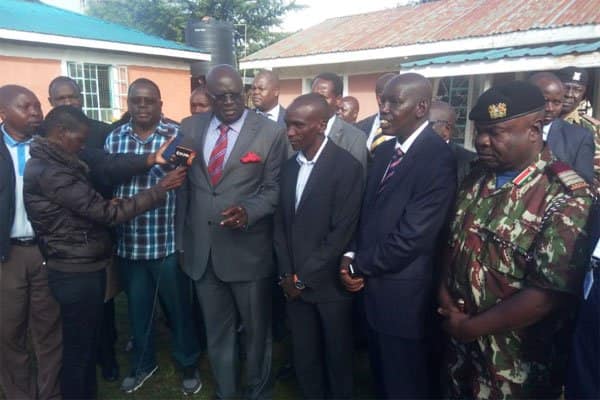 The 2019 Kenya Certificate of Secondary Education (KCSE) results are set to be released before Wednesday, December 25.
The announcement was made by Education Cabinet Secretary George Magoha on Friday, November 22.
READ ALSO: Referee waves play on as Raila Junior, Miguna trade barbs on Twitter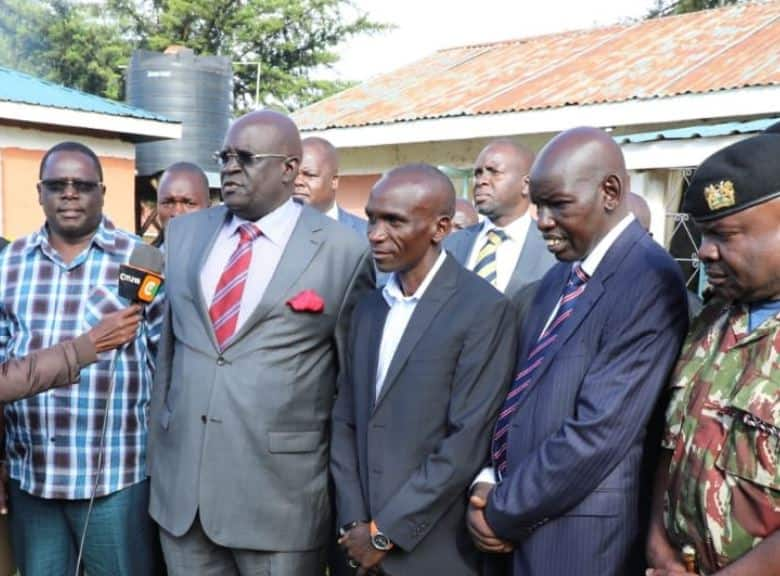 READ ALSO: Embakasi East's Babu Owino named best Kenyan MP in 2019 Mashujaa Awards
The CS was speaking at Kapsisisywa Secondary School in Nandi County where he delivered a KSh 100 million cheque from President Uhuru Kenyatta for the construction of Eliud Kipchoge Library in honour of the legendary athlete.
Magoha said marking of the exams will begin next week and will be done in good time to ensure parents have enough time to prepare their kids for high school life.
At least 700,000 candidates sat for the 2019 KCSE that was witnessed by a few cases of exam cheating in various parts of the country.
Comments
comments
SGR tickets now valid for five days amid fears of new travel restrictions
SGR tickets now valid for five days amid fears of new travel restrictions
Tuesday, July 14, 2020 3:53

By JOHN MUTUA
Validity of booked SGR tickets has been reduced to five days from two months amid fears of travel restrictions during the Covid-19 period.
Kenya Railways Corporation (KRC) Monday said that it has cut the validity period to ensure that passengers do not get stuck with tickets for long periods in case the State re-imposes travel restrictions to curb spread of the coronavirus.
This means that passengers have five days to cancel tickets or reschedule their travel plans or risk losing up to Sh3,000 for the one-way ticket from Nairobi to the coastal town of Mombasa.
The State in March banned movement into and out of five counties including Nairobi and Mombasa forcing passengers who had booked ahead of the Easter holiday to halt their travel plans.
Some of the affected passengers are now seeking ticket refunds even after the train resumed operations Monday.
"We have reduced the validity period of a ticket as a result of the times we are in. We do not want someone to get stuck with a valid ticket for too long like before.
"It is only for the time of the pandemic, we will be assessing and updating the situation as it unfolds," KRC told the Business Daily.
The State agency yesterday suspended all ticket refunds for passengers who were affected by the March travel restrictions and only allowed them to reschedule their trips in a bid to avoid losing out revenue.
SGR deducts a 30 percent fee on every ticket refunded while rescheduling a trip attracts a 10 percent fee per ticket.
This means that passengers forgo between Sh300 and Sh900 for refund of an economy and first class ticket, respectively.
While lifting the travel bans last week, President Uhuru Kenyatta warned of a return to the restrictions in case of a spike in the number of Covid-19 infections.
Passengers pay Sh1,000 for economy class tickets and Sh3,000 for first class tickets between Nairobi and Mombasa.
SGR resumed its Nairobi to Mombasa trip yesterday a week after President Uhuru Kenyatta lifted the ban on air, rail and road movement into capital.
Comments
comments
Deputy governor in trouble over deal inflated 50 times
Deputy governor in trouble over deal inflated 50 times
Tuesday, July 14, 2020 3:41

By EDWIN MUTAI
Former Kenya Investment Authority (KenInvest) Susan Kikwai managing director risks arrest over payment of Sh10.6 million in a deal that ballooned nearly 50 times above the contract sum.
Parliament has recommended that Ms Kikwai, currently Kericho deputy governor, be surcharged over the payments that arose from her failure to settle a paltry Sh217,152 nine years ago for a consultancy service for the development of an investment policy framework.
The delayed payment saw the consultancy fees attract a monthly interest penalty of 3 percent, forcing the investment agency to pay the Sh10.6 million.
The National Assembly's Public Investments Committee (PIC) chaired by Mvita MP Abdulswamad Nassir has directed the Ethics and Anti-Corruption Authority (EACC) to "investigate the former head and prosecute her if found culpable."
PIC raised the red flag that Ms Kikwai made payment to a consulting firm in the financial year 2014/15 and 2015/16 worth Sh6,671,718 being accrued interest and legal fees and another Sh4 million later.
"The amount was due on or before January 8, 2011," PIC said in its report on audited financial statements of 48 State corporations.
Mr Nassir said KenInvest delayed to issue instruction to its lawyers on the next cause of action even after they were reminded that the interest was accruing.
PIC said KenInvest lost funds due to negligence of the former managing director,and that the board should use appropriate means to recover the funds lost.
Comments
comments
Firm opens third Artcaffe branch in CBD despite Corona slowdown
Firm opens third Artcaffe branch in CBD despite Corona slowdown
Tuesday, July 14, 2020 3:14

By DOREEN WAINAINAH
US private equity firm Emerging Capital Partners (ECP) has opened its third Artcaffe restaurant in Nairobi's city centre even as Covid-19 has slowed down the sector.
The new branch is the first of the three additional outlets that Artcaffe was set to open as part of its expansion.
The Chester House branch joins the Kimathi Street and Westminster branches (along Kenyatta avenue) as the brand grows its network.
The coffee chain has also set up a new concept under its umbrella dubbed ArtBakery, with several outlets already operational including one at Westgate Mall and the other on Limuru Road.
The eatery currently has 20 of its branches operational following temporary suspension of restaurant services in the country after a directive by the Ministry of Health to curb Covid-19. ArtCaffe has been reopening its outlets for dine in and take-away services.
The firm already has more than 30 branches across the city with its rapid expansion seeing 14 outlets opened last year.
The ArtCaffé Group was acquired by ECP for Sh3.5 billion. The transaction was a re-entry of ECP into the restaurant business after it sold its stake in Java two years ago.
The acquisition gave ECP control over ArtCaffe's business that consists of bakeries, coffee houses, and eatery brands such as Dormans, Tapas Ceviche Bar, Urban Gourmet Burgers and Oh Cha Noodle Bar. The group also operates a central bakery, kitchen, and logistics centre that prepares and distributes artisanal baked goods, food, and drink shipments to its restaurants.
Artcaffe first opened shop in Kenya in 2009 and has expanded rapidly with new openings in Nairobi's high-end shopping malls.
Comments
comments