Kandara MP Wahome dares MP Ngunjiri Wambugu – Weekly Citizen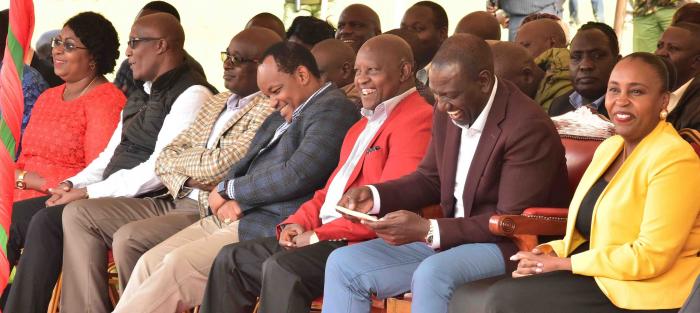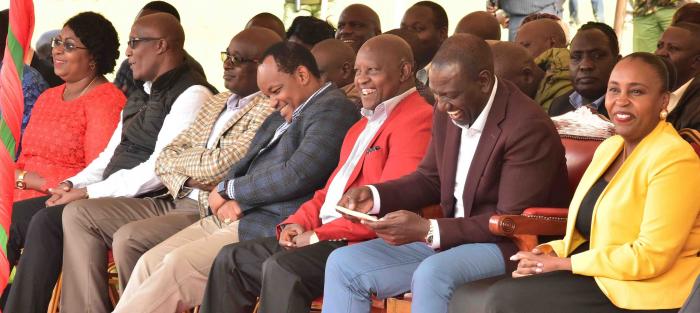 Kandara MP Alice Wahome on Tuesday, December 10, dared her Nyeri Town counterpart, Njunjiri Wambugu, to disrupt a public gathering in her constituency.
While visiting landslide victims in Gathugu village in Kandara, the MP warned Wambugu against causing chaos during public gatherings describing the alleged behaviour as dishonourable for a Member of Parliament.
"How many times will he attend an event where he is actually not the organiser and ensure that there is disruption, conflict and violence?" she posed.
"This is a man who actually needs to be put where he belongs," she added.
Wahome brazenly remarked that she would have 'dealt' with the Nyeri Town legislator had the alleged orchestration of chaos been in Kandara.
"If he were to behave that way in Kandara, I would deal with him," she concluded.
Her sentiments follow an incident on Sunday, December 8, where the Ngunjiri, through his social media pages, alleged that Deputy President William Ruto had paid goons to burn the president's T-shirts.
"So Ruto's people have paid goons to burn Uhuru's T-shirt's in Nyeri? And to do it shouting 'Ruto! Ruto!'" shared the MP.
In the event at the AIPCA Mukaro Church, the MP was given a chance to address the crowd but bluntly refused.
The event would turn chaotic forcing police officers to shoot in the air to disperse a rowdy crowd engaged in fistfights that according to a report by Citizen TV was sparked by the simmering rivalry between Jubilee Party factions – Kieleweke and Tanga Tanga.
The report indicated that the rowdy youths, claimed to have been backed by MP Wambugu, were armed with crude weapons including knives and clubs.
Njunjiri, on a post on social media, stated that he had nothing personal against the DP.
"If Ngunjiri aligned himself to Ruto and TangaTanga, Nyeri Town would calm down, immediately.
"But as long as the area MP refuses to join TangaTanga, TangaTanga MPs in the region will do everything they can to project him unfavorably, hoping to put pressure on him to jump into their ship," he wrote on Facebook.
Joho works on Coast 2022 lineup – Weekly Citizen
Mombasa governor Hassan Joho has renewed his war against Coast elected leaders who are perceived to be supportive of William Ruto's 2022 Presidential bid. Currently, Kwale Governor Salim Mvurya is under siege from hostile MCAs suspected to be under instructions of Joho through county speaker Sammy Ruwa.
Ruwa has been a longtime Joho sidekick and has also acted as his legal adviser in the past. He has been fronted for governor seat twice but rejected. He is speaker for a second term. Towards the end of Mvurya's first term, he has been a Ruto man. He has no time for Joho, insisting Kwale is not an extension of Mombasa county. In the last general elections, Joho had vowed to ensure Mvurya was defeated at the ballot. But this was never to be after the Mombasa governor fell out with Chirau Mwakwere who was a sure bet against Mvurya on the then popular ODM ticket.
After Mwakwere bolted out of ODM to Wiper, Joho turned to little known Issa Chipera as party candidate. Chipera literally became minced meat for Mvurya who easily beat him and made a comeback on a Jubilee ticket. Mvurya is grooming his deputy Fatuma Achani to succeed him in the next general election but observers say this is a tall order. Joho on the other hand is reportedly pushing Crop Development PS Hamad Boga for the Kwale seat against Mvurya's candidate and Mwakwere. Another Ruto man on Joho's radar is Kaloleni MP Paul Katana. Recently, the legislator was discharged as a member of the parliamentary investment committee in actions said to have the Mombasa governor's hand.
Ironically, Katana was Joho's PA when he served as Kisauni MP. But it appears other than fighting Katana for aligning himself with Ruto, he never wanted him to be MP in the first place. In the 2013 general election when Katana first contested and lost to little known Gunga Mwinga, there were allegations that ODM insiders had rigged him out. Currently, Joho is said to be financing the political activities of Mwinga to undermine Katana in the constituency. Katana has said severally that his cooperation with Ruto is because of the handshake between Raila Odinga and President Uhuru Kenyatta. "I'm a loyal member of ODM with full respect to my party leader. I also support the handshake and that is why I have been working with DP Ruto to further development in my constituency," the legislator was quoted as saying.
He has also said his cooperation with Ruto is not for selfish reasons but for the benefit of his constituents. He says the DP has presided over high profile funds drives towards public projects in his constituency. The MP says some of the people fighting him have never assisted Kaloleni to move forward but wants leaders who can bootlick them."I'm independent-minded and I work for the interest of my people who elected me and have no time for sycophancy," Katana says. Mohammed Ali of Nyali constituency and a close ally of the DP is another one whom Joho is scheming against. He is pushing his cousin Said Abdalla aka Saido against the Jicho Pevu.
Jicho Pevu's recent rising political profile after he filed a motion to impeach transport CS James Macharia over chaos at Mombasa port has alarmed the Joho camp. In spite of the rejection of the motion by Speaker Justin Muturi, Ali has become a hero in Mombasa. Last week, pro-Joho Mombasa MPs led by Mvita's Abdulswamad Nassir were doing damage control. They toured the port and pleaded with the KPA management to put out a notice affirming that usage of SGR for containers upcountry was optional. This was meant to cool the heat against them after residents began collecting signatures to recall them for failing to support Jicho Pevu motion. Another Joho political foe Aisha Jumwa of Malindi constituency is politically wounded and the Mombasa governor no longer cares what she does or says. The Malindi MP's self-inflicted woes have dimmed her 2022 Kilifi governor bid.
Fresh political formation in Siaya ahead of 2022 – Weekly Citizen
There are plans afoot to drop Alego Usonga MP Samuel Atandi from a leading role in Senator James Orengo gubernatorial campaign team. Observers point that the surprising decision was reached after it became clear that the controversial legislator was no longer appealing to the majority of voters.
There were earlier reports of an inside analysis conducted within Siaya senator campaign inner circle that hinted the disadvantages of trusting the MP with a major role yet he was also facing stiff opposition from notable politicians in the region. The development debate comes hot on the heels of a video that went viral showing the evidently intoxicated legislator dancing suggestively during a house party attended by women, as his Gem counterpart Elisha Odhiambo cheered. Weekly Citizen has established that political formations are already regrouping in Siaya ahead of 2022 general election and a section of political leaders including top ODM party officials from Alego Usonga are not happy with Atandi's quick move to front Senator Orengo for the county's governorship.
Area governor Cornell Rasanga has confronted the lawmaker on a number of occasions describing his early campaigns in support of Orengo as a lack of respect for his office. The protest by the governor sparked off an anti-Atandi wave as he was immediately joined by a host of formidable politicians from Alego Usonga in castigating the MP accused of overstepping his political mandate. The local ODM party leadership led by Alego Usonga branch chairman John Orwenjo, and secretary Paul Jura reaffirmed that the party had crowned Rasanga as their bona fide patron and it was, therefore, his duty to offer political direction on matters regarding his successor. The Orengo-led group which also brings together Gem MP Elisha Odhiambo and his Rarieda counterpart Otiende Amollo has been roundly accused of leading early full-scale political activities at the expense of development.
MCAs chairman Sylvester Madialo warned Atandi to stop creating confusion among voters, adding he should hold his horse and wait for the party whistle to be blown or prepare to equally lose his seat at the ballot. The leaders including Township MCA Obiero Otare, Vincent Odawa (North Alego), Judy Okumu (West Alego), Joseph Mboha (South East Alego), and Winnie Otieno (nominated) have loudly questioned how Atandi would deliver for Orengo when he is standing on a politically shaky ground. It is claimed that the Siaya senator blocked Atandi from using his chopper to escape from a crowd that turned rowdy during a food distribution to flood victims in his constituency. It is reported that trouble started after the MP barred Usonga ward MCA Madialo from addressing his voters after the food distribution. People with disabilities who had attended the event reportedly bayed for his blood after he gave them a paltry sh100 prompting Orengo to deny the lawmaker a chopper ride in fear that associating with him would jeopardize his 2022 governorship bid.
Rogue Kisumu NGO's money minting gimmicks – Weekly Citizen
Various stakeholders and residents of Kisumu county have called upon Nyanza regional police commander Noah Mwivanda and his DCI counterpart Daniel Kipsoi, to investigate the activities of the chairman of an NGO called Magnum Environment Network Michael Nyaguti. The NGO, it is claimed, is a briefcase one with no donor funding surviving fully on extortion and threats. By last week, a victim was planning to institute private criminal charges against the NGO.
They are accusing Nyaguti of extortion and blackmail of people under the guise of encroaching on water catchment areas and flouting environmental laws failure of which he always resorts to going to courts as an interested party of the said social vice. One of the victims narrated that sometimes back, he was developing rental houses near Lake Victoria and had been given all the required documents from the county, Nema, and all relevant authorities to commence his work only for Nyaguti to appear menacing at the site with a group of people he called officials of Magnum Environment Network accompanied by some people who looked like police officers who demanded that I show them documents in regard to what I was doing. Most developers ranging from real estate to hospitable industries are saying that they are really undergoing rough times in the hands of the said Nyaguti who on most occasions is accompanied by some rogue police officers who intimidate and threaten their respective targets with arrests. The said Nyaguti had sometimes back attempted to extort Sh5 million each from former governors Evans Kidero and Jack Ranguma, together with a senior leading civil servant under the guise that they had bought land which should have been part of Lake Victoria.
When the trio was adamant that they would not give him any money, he sued them saying they had encroached on wetlands. The same Nyaguti also sued the Kisumu county government and Nyanza Golf Club which he accused of reclaiming the wetland at the mouth of River Kisat without convening a public participatory forum, as part extortion antics but his bid has fallen on deaf ears. He had also sued Kenya Ports Authority, Kisumu after the parastatal had ordered beach management units out of its land after collecting thousands of shillings from the said victims. Recently together with other activists, they stormed Western offices of Kenya Wildlife Service demanding that they investigate a ring of cartels believed to be working in cahoots with officers to defraud victims of wildlife attacks of their compensation. After his request was rejected, he called a meeting in Kisumu with some of the victims who had not been paid and tried to convince them to give him the power of attorney so that he could press them for their payment. Efforts to get Nyaguti's comments were fruitless while a senior KWS officer said that they have a clear policy on how KWS compensates. "KWS has no agreement with anyone to peruse payments," he said.