Kalonzo directs Wiper MPs to back Uhuru on 8% fuel VAT
Wiper leader Kalonzo Musyoka has asked members of the party to back President Uhuru Kenyatta's proposal to slash  fuel VAT from 16 to eight per cent. 
Kalonzo, while addressing journalists outside his Karen office on Wednesday, said the move was for the good of the country .
The former Vice President said the Wiper national executive council has approved the same.
"The government should revamp its fight against graft," he said, "Corruption is the lead cause of Kenya's suffering."
"If Uhuru blinks in the war against corruption, then he will have lost his legacy but he doesn't show any signs of doing that," Kalonzo said.
He asked the government to fast-track the return of corruption proceeds said to be stashed in offshore accounts.
"I have also been told that the Goldenberg money will be returned but it will take time," he said.
After the state visit by British Prime Minister Theresa May, UK and Kenya signed a deal to return stolen cash stashed in British banks.
Switzerland President Alain Berset on July 19, pledged to return billions of shillings in corruption proceeds from the Anglo Leasing scandal.
This followed talks between him and Uhuru.
Read: [VIDEO] Kenya and UK sign recovery of stolen assets, security deals
Also read: Switzerland to return stolen assets to Kenya in corruption war
He also wants the East African Legislative Assembly, consisting of Kenya, Uganda, Tanzania, Rwanda, South Sudan and Burundi, to consider harmonising their tax regimes.
"When I ran for president in 2007, I had a very clear proposition on taxation that we were to implement," he said.
"The reason a country like Dubai has attracted a lot of investors is because of certainty of their tax regime," he added.
He suggested that the tax mechanism be collapsed saying it was too high.
"You can imagine out of every Sh100 Kenyans are paying, Sh70 is for taxes either to the national government or county government."
The Nasa leader said the taxation memorandum to be tabled tomorrow by Majority leader Aden Duale should not be politicised.
"I hope the vote will not be about the handshake," he said.
Addressing the proposal of Soy Mp Caleb Kositanny on scrapping the Senate, Nominated MP, and MCA posts, Kalonzo said it is a constitutional issue.
"For this matter we have to wait for the Building Bridges initiative to bring it on board," he said.
Read:Tax cut: Soy MP Caleb Kositany proposes Bill scrapping Senate, MCAs post
Police in hot pursuit of gang that car-jacked a Ruaka resident – KBC
Kiambu based detectives are pursuing a dangerous and armed criminal gang that car-jacked a Ruaka resident on Friday, before disappearing with his Toyota Premio as he drove to his residence.
According to the Directorate of Criminal Investigations(DCI), the victim had pulled over by the apartment's gate at Ruaka One River Apartments, unaware that a gang of three assailants was laying in wait for him.
As the gates opened, the driver's window was suddenly smashed with an iron rod, before two shots were fired in the air from a pistol in an attempt to subdue him.
However, he managed to force his way into the parking lot, but before he could jump out of the car and scamper to safety, the trio caught up with him and roughed him up before grabbing his car keys and phone.
Get breaking news on your Mobile as-it-happens. SMS 'NEWS' to 20153

On receiving the report, DCI detectives based at Kiambaa launched a manhunt for the suspects.
The vehicle was found abandoned in Kagongo village, having been vandalized.
Detectives believe that the three suspects are part of a larger criminal syndicate operating within Kiambu County.
They have been targeting taxi drivers while posing as customers, only to turn against them at isolated places, then vandalize their vehicles.
" Some members of the syndicate have previously been arrested and arraigned in court." Said the DCI
The DCI has cautioned Kenyans on this trend of crime.
Tell Us What You Think
Nyandarua County Assembly Speaker impeached for third time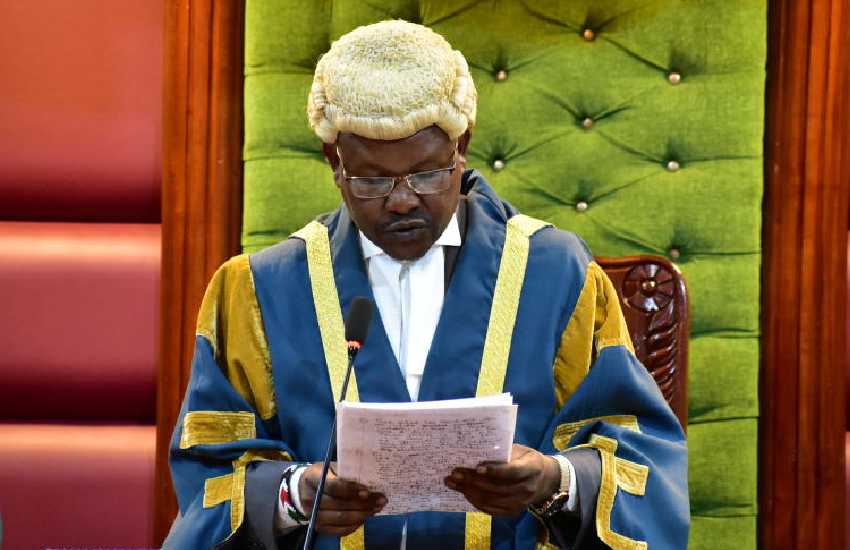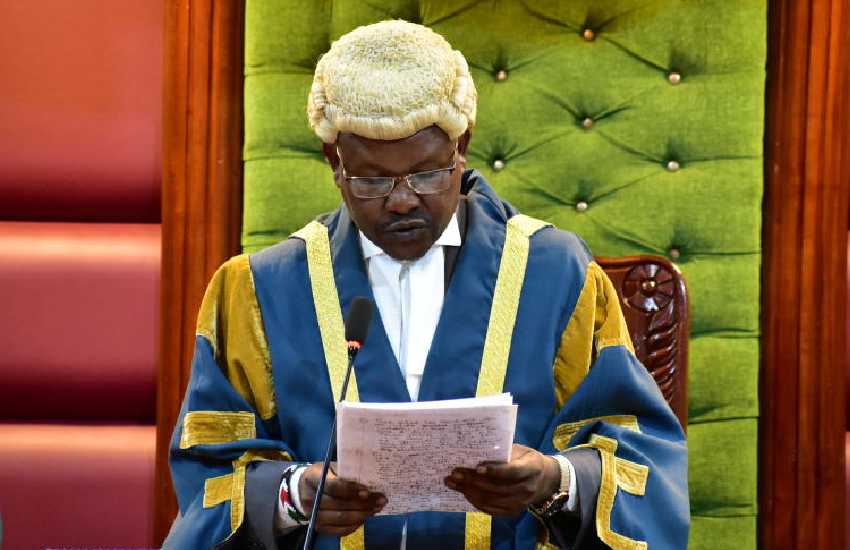 The special sitting was held despite a court order that reinstated the speaker.
Nyandarua County Assembly Speaker Ndegwa Wahome has been impeached for the third time.
Wahome was voted out over gross misconduct, abuse of office and nepotism in a special sitting held on Saturday.
31 out of the 38 ward representatives supported the impeachment motion while six opposed and one abstained.
The special sitting was held despite an order by Nakuru High Court Judge Hillary Chemitei reinstating Wahome until a case he had filed against his removal was heard and determined.
Reading out the charges, the mover of the motion, Majority Leader Edinard Kingori, accused Wahome of favouritism in assembly functions.
Kingori claimed that Wahome also failed to account for monies meant for the construction of Nyandarua County Assembly offices.
Nyandarua County Assembly Leader of Majority Edinard Kingori displays a notice of impeachment motion against speaker Ndegwa Wahome.
The Majority Leader alleged that the embattled speaker colluded with some MCAs and undermined Governor Francis Kimemia's leadership.
"The speaker has outrightly shown that he is unable to hold office. That is why we want him out. All he keeps asking from the executive is for more money yet he cannot account for the ones he has been allocated. We cannot allow this anymore. He has been discriminating against some of us in county assembly functions while favouring others. Is this fair?" posed Kingori.
Take a quick survey and help us improve our website!
Take a survey
Responding to the allegations, Wahome, who defended himself via zoom, said the impeachment was merely a political act.
"We know whose hand is behind this. My hands are clean and everyone can attest that I have run this assembly professionally since I took over eight years ago," said Wahome.
Wahome said that his demand for accountability and firm stand against corruption in the county was the root cause of his predicament. 
The speaker was represented by lawyers, Martin Waichungo and Mathea Gikunju.
Will retiring governors be kingmakers in 2022 contest?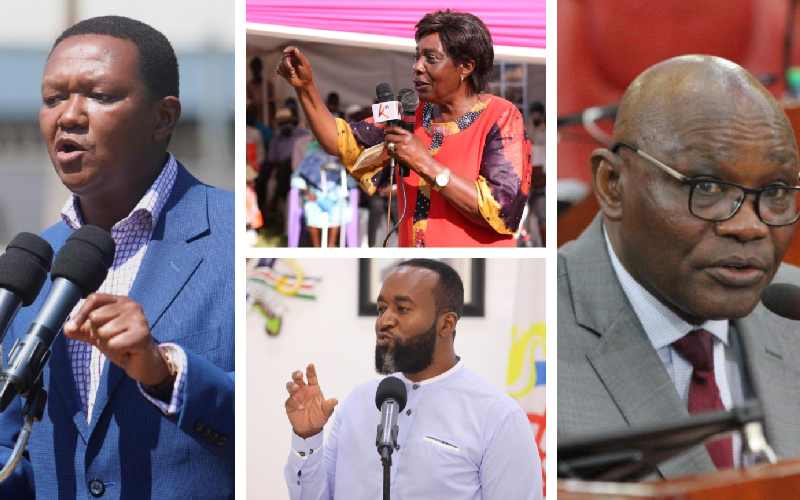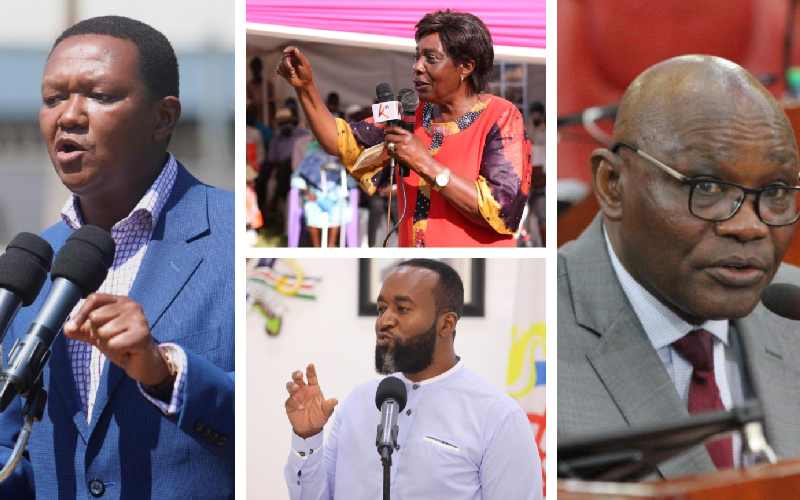 Key political players eyeing to succeed President Uhuru Kenyatta are wooing retiring county bosses, hoping to ride on political influence for votes.