Jubilee Insurance unveils revolutionary in-patient care program
Jubilee Insurance has Wednesday launched a first of its kind free hospital in-patient beauty therapy service in all major hospitals in the city.
The program named "Recover in Style" seeks to offer a holistic approach to patient care was launched at Aga Khan University Hospital, Nairobi.
Rather than focusing on illness, Jubilee Insurance will leverage on the connection between the mind, body, spirit and emotion to enhance the overall well-being of our members.
Beauty therapy has an important therapeutic role beyond cosmetics and aesthetics as it offers an individual an overall sense of well-being and enhanced self-esteem. Clinical evidence has shown this positive emotional and mental state results in quicker recovery from physical illness.
Get breaking news on your Mobile as-it-happens. SMS 'NEWS' to 22163

With complements of Jubilee Insurance, medical policy holders will be pampered with a choice of hair styling, manicure/pedicure, or face make-up, by highly rated Kenyan beauty therapists. Those who are insured under the Jubilee Insurance medical cover are in for a great surprise!
Mr Shekar Iyer, the Chief Operations Officer at Aga Khan University Hospital hailed Jubilee Insurance for coming up with the initiative relevant to patients who in most cases do not have access to such beauty services during their stay in hospital.
"Every patient admitted to hospital undergoes a recovery period and there is more to them regaining their normal health than just medicine which this initiative offers. Nurses will help identify the suitable patients to undergo the beauty services depending on the patient's type of illness and critical condition", said Mr Iyer.
The services have been rolled out at Aga Khan University Hospital and shall be available at Nairobi Hospital, MP Shah Hospital and The Mater Hospital in the next few weeks. Subsequently, the program will be rolled out in all major counties and hospitals across the country.
Jubilee Insurance medical members who may choose not to opt for the beauty therapy program will be offered instead a free Uber ride back home upon discharge, complemented by Jubilee Insurance.
"As we reinvent ourselves focusing on innovative customer experience, Jubilee Insurance is happy to be a trendsetter by giving a unique experience to their customers. With this new program, we are moving away from the conventional insurance practice to a more personalised care approach for our customers. Our aim is to wow our clients and increase customer satisfaction," Dr. Kipng'etich said.
He added that the long term focus of the program is to reinvent the customer journey with an emphasis on alleviating the anxiety that comes with a hospital stay. This is in line with Sustainable Development Goal 17 that calls for multi-stakeholder strategic partnerships to leverage on knowledge and expertise sharing to achieve a better client experience.
"Recover in Style" is a catalyst to all the relevant stakeholders to be more customer centric in service delivery. Our mutual customers come first and together we will find exciting solutions to address the ever evolving customer needs and wants.
Comments
comments
Ford Kenya wrangles deepen Luhya Disunity: The Standard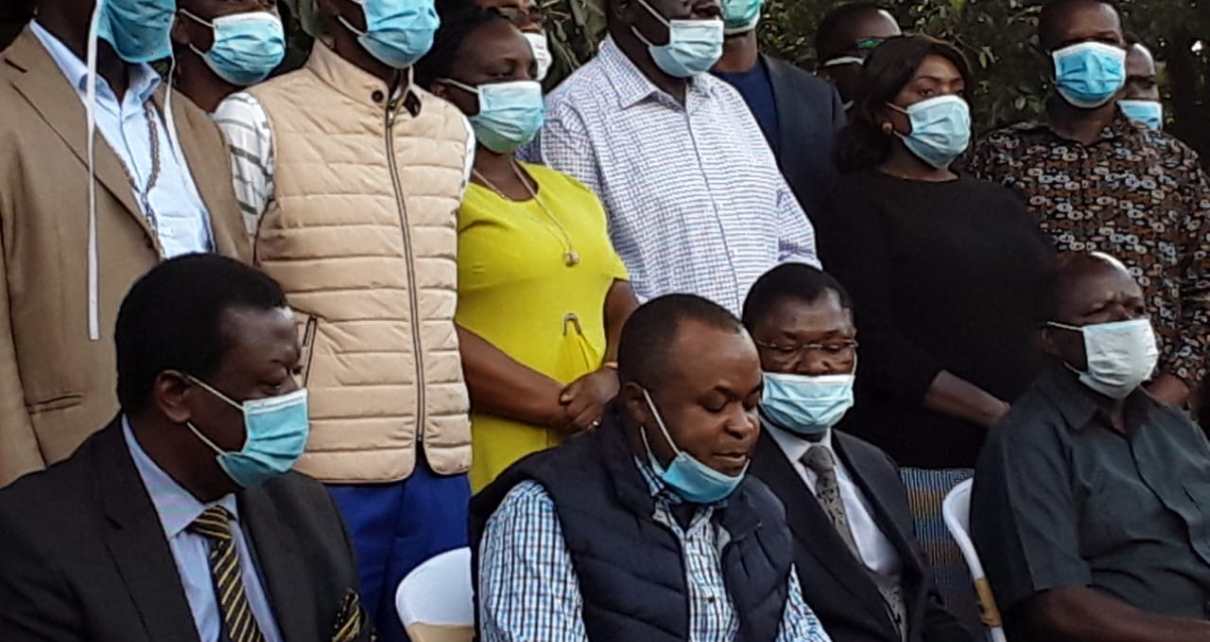 NairobiEvery time the Luhya community leaders have come to push for the unity of the region, members always ended up pulling towards the opposite directions.
"Ford Kenya! Simba, Ford Kenya, Usawa Haki na Ukweli (Equality Justice and Truth)" 
So they struggled to sing, with voices forcibly high but evidently laced with indefinite uncertainty. The heavy blows in the Party had threatened to squeeze life out of the lion party.
The party coup, has thrown their mantra in disarray. Both sides crying foul over inequality, injustices and mischief. 
Political struggles between the Bungoma Governor Wycliffe Wangamati and his Senator Moses Wetangu'la seem to sink the boat, threatening to end the party in Ford Kenya.
SEE ALSO: How 'Kwekwe' song lyrics are shaping Uhuru's legacy
This situation now becoming just one of the countless futile efforts by the Mulembe nation to 'unite', a situation that has become an elephant in the luhya room. 
Every time the Luhya community leaders have come to push for the unity of the region, members always ended up pulling towards the opposite directions. 
According to the Kenya National Bureau of Statistics, the tribe is the second most populous, just some steps behind the Kikuyu community.
However, notwithstanding this fact, when it comes to voting, their seven million population, never seem to add up in the political matrix. 
For more than four General Elections in the country, the Luhya community has been a house with different fathers. This being witnessed in recent turn of events. 
SEE ALSO: Wamunyinyi has Ford Kenya Party DNA, says Dr Simiyu
The wrangles at Ford Kenya's headquarters is the recent, among a myriad of unending divisions in the Luhya house, which has made them a laughing stock.
Recently, a faction in the Party led by Secretary General Dr. Eseli Simiyu launched a coup that ended at the Registrar of Parties' office. This is after all sides claimed control of the Party.
These efforts, according to political pundits, will surely throw the region's ambitions off the hook two years to the 2022 General polls.  
The latest circus has forced the lion party to be run from two centers. One at the Party's official residence at Ole Dume road and the other at Radisson Blue hotel. 
In a recent rejoinder, the Moses Wetang'ula led camp belaboured on the reasons why they are the legitimate owners of the Party. 
SEE ALSO: Wetang'ula pushed out as season of coups hots up
"Ford Kenya is still alive and is being run at its headquarters, "cried Chris Wamalwa, who later proclaimed himself the interim Party Secretary.
This contradicting his previous statement that status quo remains in the party as directed by the Registrar of Parties, meaning Dr. Eseli Simiyu is the still the substantive Secretary.  
"He is a rebel! We cannot have power vacuum. That is why I now come in, "added Wamalwa. 
The sharp voiced Kiminini legislator who was lately ousted as Minority whip in the National Assembly had earlier mentioned that a communique from Anne Nderitu who is the Registrar of Parties had directed the stay of the status quo.
SEE ALSO: NASA co-principal and Cotu boss responsible for Wetangula's ouster, claims Musalia
 "The leadership of the Party remains as it is until the Registry makes a substantive decision on the Party wrangles, "said Wamalwa. 
 It first started after a group led by Bungoma Governor Wycliffe Wangamati and the Party's Secretary General Dr. Eseli Simiyu, decided to change the Party Leadership.
The camp accused the Senator Wetangula of gross misconduct and failing to champion unity in the party.
"Party members have lost trust in the party leader hence the need to replace him to develop the party," said Dr. Eseli during a press conference. 
The former Minority Leader in the Senate was also accused of failing to provide inspiring leadership to the party contrary to Clause 49 of the party's constitution.
Also thrown out during the changes is party Organizing Secretary Chris Mandu in a meeting which Wetangula allies stormed out of the venue.
SEE ALSO: I'm still Ford Kenya leader, Wetangula maintains after ouster
In place, Kanduyi MP Wafula Wamunyinyi was enthroned as the Party Leader, in an alleged special National Executive Council sitting.
Recently, the Wamunyinyi side said they had submitted a dully signed document to the Registrar of Parties of those members who approved Wetang'ula's ouster.
The team however, blamed their counterparts of issuing threats on the legislators allied to the Wangamati side saying they would lodge a complaint to that effect.
"We are going to the Police immediately to launch a complaint over threats meted on our members. Some have even been subjected to physical assault," lamented Dr. Eseli.
This comes as a meeting was also held in Kitale that declared Kakamega Governor Wycliffe Oparanya and Devolution Cabinet Secretary Eugene Wamalwa as the community spokesmen.
The blessings of Luhya elders, has essentially been touted to give an exit notice to the current regional kingpins.
Former Cabinet Ministers Muskari Kombo, Noah Wekesa and Fred Gumo as well as Busia Governor Sospeter Ojaamong and Trans Nzoia Senator Michael Mbito also accompanied the duo on the tour.
"We want Oparanya and Wamalwa to be at the negotiating table and work with President Uhuru Kenyatta. However, we respect other leaders but if they digress, we shall just replace them like we have done and continue with our journey," said Gumo.
Wamalwa and Oparanya said they would be meeting elders from all communities in the region to seek their blessings. 
"We have a mission to put together the people of western, and our mission is to ask our people to support the Building Bridges Initiative (BBI), President Uhuru Kenyatta and former Prime Minister Raila Odinga in their efforts to unite the country," Oparanya said.
Comments
comments
Matiangi: Report on reopening of churches ready, to be handed to Uhuru: The Standard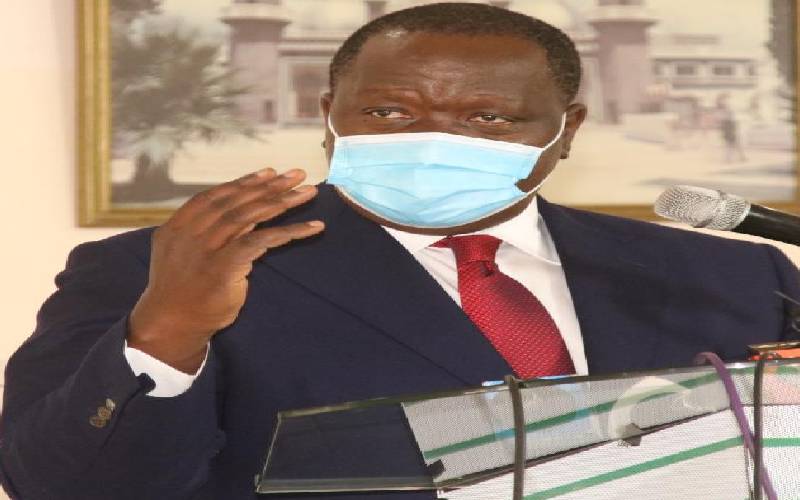 NairobiThe CS says the report has been compiled after consulting various agencies with necessary Covid-19 data
Interior and Coordination CS Fred Matiang'i has said a report on whether to reopen churches or not is ready and will be handed over to President Uhuru Kenyatta today.
Speaking on Friday after meeting religious leaders at KICD in Nairobi, Matiang'i who was accompanied by CSs George Magoha (Education) and Mutahi Kagwe (Health), said the report was compiled after engaging Jomo Kenyatta University of Agriculture and Technology (JKUAT) and the University of Nairobi (UoN) schools of medicine and Kemri team who have got the Covid-19 data.
"After engaging JKUAT, UoN schools of medicine and Kemri team, and most importantly our security team, we have a report that will be handed over to President Uhuru," he said.
Matiang'i (pictured) said the report will be handed over to Uhuru who will then inform the country on what next as far as reopening of our churches are concerned.
SEE ALSO: Human billboard earns man top State honours
"We have prepared a report but cannot divulge its details because we were sent by the President, we will hand it over to him."
He said they had a consultative and fruitful meeting with religious leaders, adding that it is only through such consultations will the country move forward
Outgoing CITAM Bishop David Oginde said as the clergy, they are doing everything possible to support the government's efforts to combat Covid-19.
He urged all religious leaders to take responsibility and make sure that the masses adhere to the Covid-19 containment measures.
"To win the war, everyone must take responsibility, and as religious leaders, we are buttressing the government's efforts."
SEE ALSO: Mvurya: 6,000 have lost hotel jobs
The government banned church services and mosque prayers in additional measures to combat the spread of coronavirus on March 22.
The National Emergency Response Committee (NERC) suspended all churches, mosques, and other religious gatherings over non-compliance of religious institutions to the social distance requirement.
The meeting comes ahead of June 6, a date on which the partial lockdown and dusk to dawn curfew were extended to contain the spread of coronavirus in the country.
Comments
comments
134 more test positive for Covid-19 – Nairobi News
Health Chief Administrative Secretary (CAS) for Health Dr Mercy Mwangangi on Friday announced that 134 more patients had tested positive for COVID-19 after the analysis of 3,177 samples in the last 24 hours.
CAS Mwangangi, speaking during the daily briefings at Afya House in Nairobi, said 131 of the new cases are Kenyans while 3 are foreigners, making up 98 males and 24 females.
The cases were recorded in various counties such as Mombasa (67), Nairobi (31), Busia (15), Machakos (5), Taita Taveta (4), Kilifi 2, Kiambu 2, Nakuru 2, Garissa 1, Kericho 1 and Kajiado 1.
The CAS further stated that 51 patients had since been discharged from various health centres, bringing the total number of recoveries to 643.
She, however, stated that one patient had died in the last 24 hours, taking the tally of fatalities to 79.
Comments
comments