I've been traveling the world for 6 months, and these are the apps I can't live without – Strategy – Pulselive.co.ke
As Business Insider's International Correspondent, I've spent the last six months traveling through Hong Kong, China, Singapore, Greece, Israel, and Russia, among other places.

I use a ton of different apps to make travel as efficient and seamless as possible. I decided it would be fun to reveal my most-used apps and why I use them.

Among the apps I use all the time: WhatsApp, Adobe Lightroom CC, CouchSurfing, Triposo, The Culture Trip, GooglePhotos, and many, many more.
As Business Insider's International Correspondent, I've spent the last six months traveling through Hong Kong, China, Singapore, Greece, Israel, and Russia, among other places.
Traveling for a living is a fun, exhilarating, and, quite frankly, exhausting experience. But the best way to make it more fun and less exhausting is to have a digital toolkit (i.e. smartphone) loaded up with every app I need to get things done as efficiently as possible.
When I get off a plane, I want to know how much money to take out of the ATM, how to hail a cab, where the best hole-in-the-wall restaurant is for dinner, and how to say "I'd like to order 10 of those, please."
With 12 countries checked off on the trip so far — and who knows how many to go — I decided it was time to reveal my most-used apps. They aren't all revelations (who hasn't heard of GoogleMaps?), but I can guarantee there's at least one in there you haven't thought of yet.
Perhaps you'll find some inspiration for your next trip abroad:
1. WhatsApp — Free
By far, my most used app. So long as you are outside of China, WhatsApp is likely the most common messaging for Americans and everyone else.
2. Facebook Messenger — Free
Like everyone else these days, I hate using Facebook, but a huge part of my social network is there. In addition, Facebook is the app that just about every person you meet also has. Thankfully, Messenger is an aesthetically pleasing and pared-down messaging app that lets you tap into that network without having to be bombarded with your high school ex's political arguments.
Download Facebook Messenger here »
3. Telegram — Free
Telegram has turned into my go-to for talking to sources in countries where the government might be watching what you say (cough China, Russia cough).
4. Google Maps — Free
I'm sure I'm not the first person to recommend using Google Maps to get around literally everywhere (except China), but the feature I find the most useful while traveling is the ability to download offline maps for places I'm in. That way, I can still navigate without blowing up my data bill.
5. Waze — Free
I can't tell you how many traffic jams social-navigation app Waze has gotten me out of. Turning every phone using the app into an information-generating node is just plain genius. I've found that it often has more accurate directions in other countries than Google.
6. My Currency Converter — Free
As I move from country to country, I am constantly using different currencies. It's hard to keep track of what's worth what. My Currency Converter & Rates is a simple offline exchange app that, while not so up-to-date that I would recommend Forex traders use it, it's just fine for the average traveler.
Download My Currency Converter & Rates here»
7. Google Translate — Free
Yes, Google Translate can teach you how to say Nǐ hǎo, but did you know that you can download entire languages for offline translation or hold it up to signs or menus for instant translation?
Download Google Translate here»
8. Triposo — Free
If I want to get a quick feel for what's happening or what to do in a new city, I immediately download the Triposo travel guide. While it's never the most extensive guide, it gives you the basics in an easy, attractive package. And it works offline.
9. Culture Trip — Free
When I want to dig a bit deeper into a destination or have a more specific question (like which museum is better), Culture Trip has me covered. You have to do a bit of sifting — the content is only as good as the local creator — but more often than not, it's led me to the hole-in-the-wall bar I didn't know I was looking for.
10. FourSquare — Free
You probably stopped using FourSquare in 2013 after your roommate took over your mayorship of the corner bodega, but I suggest you look again. So long as you are in a city that has an active community, I have found FourSquare to have far more accurate reviews and better recommendations than TripAdvisor, Yelp, or anything else.
11. Google Drive — Free
This a no-brainer. Where else are you going to store your photocopy of your passport?
12. Google Photos — Free
I know I'm starting to sound like a Google junkie here, but Google Photos has saved my butt on more than a few occasions. I have it set to automatically backup my phone. When I fill it up, the app will let me delete everything already backed up with a few clicks.
13. Manual —$3.99
The iPhone camera app is great most of the time (particularly if you've got Portrait Mode), but like all auto cameras, it's only as smart as computer behind it. Manual lets you dig into the settings and change shutter speed, white balance, and everything else you need to get that perfect shot of fireworks.
14. Sony PlayMemories + FujiFilm Cam Remote — Free
I travel with both a Fuji X-T2 and a Sony RX100 V. One of my favorite features of both cameras is the ability to transfer photos directly to my phone using their apps (for Instagram, duh). Fuji's app also has the ability to use your phone as a remote, which is great for setting up self-portraits or night shots.
Download Sony PlayMemories here» and Fujifilm Cam Remote here»
15. Lightroom CC — Freemium
I use Adobe Lightroom on my desktop to do all my photo editing for stories. The iPhone app is a slightly pared down version that is still extremely powerful for a mobile photo-editing app. In fact, I kind of enjoy editing on it more than my laptop. The features, and the options, are endless.
Download Adobe Lightroom CC here»
16. Instagram — Free
After holding out for years, I have turned into an Instagram addict. No social network has proved more conducive to me sharing both my photos and my half-baked witticisms and memes. Twitter used to do it for me, but it's not a great photo-sharing app and, these days, it's just plain exhausting.
18. Uber + Grab — Free
It might surprise you to learn that Uber isn't used everywhere. China uses Didi Chuxing, Indonesia uses Go-Jek, and so on. But, at the end of the day, Uber and Singapore-based GrabTaxi are the two apps I always keep on my phone as they appear to be used in more places than any of the more local apps.
20. LonelyPlanet Guides — Free
I used to read LonelyPlanet travel guides for fun when I was a kid (I was a fun kid, I know). But their free app gives a great overview of most places so that I can sound like a seasoned tour guide to my girlfriend when we walk through Masada in Israel.
21. CouchSurfing — Free
A lot of people use Couchsurfing for free lodging. I don't. But I do love the community. When I get to a new city, I check the event calendar for meetups or, if I'm bored, open up the "hangouts" feature to meet up with locals. If you want to make new friends in a strange city, it's never been easier.
Read more about how CouchSurfing led me to have a wild night in Tokyo last year »
22. Airbnb — Free
Despite my recently published misgivings about Airbnb, it's still my most-used booking app while traveling. If you've got a tight budget, Airbnb is probably the best bang for your buck outside of a hostel.
23. Booking.com — Free
Booking.com is creeping up in my usage, however. They've got tons of apartment listings on their app now, perks for heavy users (like me), and a dead-simple, attractive interface.
24. HotelTonight — Free
I use HotelTonight when I need a break from the barebones places I usually book on Airbnb and Booking. The app is best when you are booking only a day or two in advance. You can usually find great deals on very expensive hotels if you like flying by the seat of your pants, as they say.
24. Mobile Passport — Free
I will never understand why anyone traveling outside of the US doesn't have this app downloaded. Officially authorized by US Customs and Border Protection, the app lets you upload your passport and fill out forms on your phone so you can skip to the front of the customs line.
Download Mobile Passport here»
26. PriorityPass — Free
The app is free, but you'll need a PriorityPass membership. I got mine as a perk through my Chase Sapphire Reserved credit card. It's been a life saver. While the US lounges are nothing special, the international lounges have made airports a joy. Free food and alcohol, showers, and a clean, peaceful place to relax before a flight.
27. Skyscanner — Free
Still my favorite travel booking app for one feature and one feature only: Everywhere. The app lets you leave the arrival point as "Everywhere," showing you the cheapest flights from your point of departure. The source of a dozen impromptu vacations.
Read more about how I use Skyscanner to get dirt cheap flights here »
28. Trip.com — Free
I got hooked onto using Trip.com while in China. It's owned by Chinese company CTrip and, while that company's website is janky, Trip.com's app interface is super smooth. I always check here for deals on flights and hotels.
31. YouNeedABudget – $6.99/month
You've probably tried Mint, used it for a while, and now do your budgets on a napkin. Okay, that was me. YNAB, as users call it, is the most comprehensive budgeting app I've encountered. It helps you account for where you want your dollars to go, not just where they've already gone. And you're paying money for it, so they don't sell your data to the Internet, unlike Mint.
32. WikiLoc — Freemium
This is a must-have for hikers and outdoorsmen. People track, upload, and review their hikes. You can follow their trails if you want so you don't get lost, but I prefer to use it to get a feel for the difficulty level and natural splendor on different hikes. I usually only have time in a place for one or two hikes. It helps me pick wisely.
Teacher by profession, mortician by passion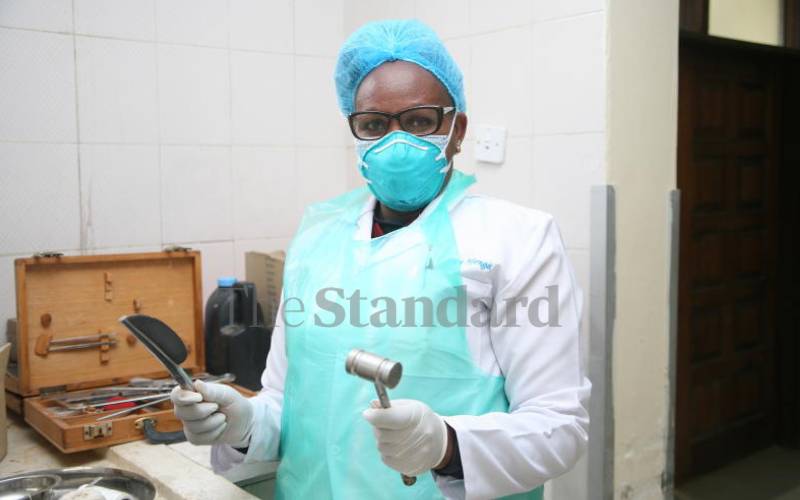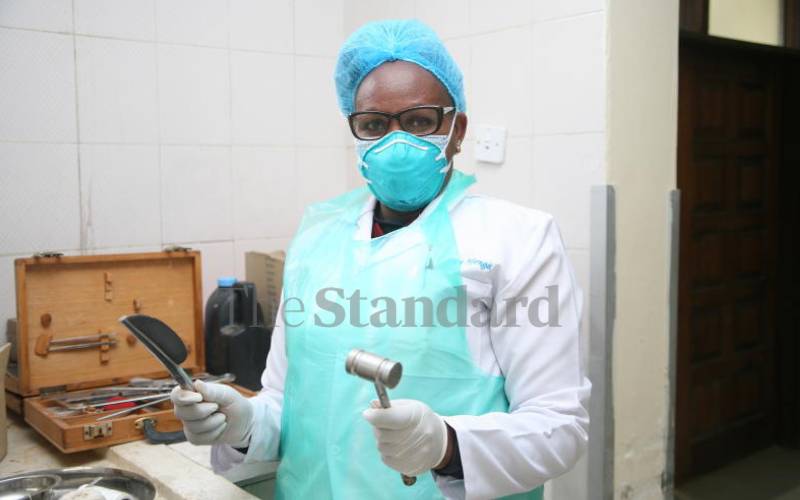 Catherine Njenga a teacher who became a mortician at The Nairobi Women's Hospital. [Wilberforce Okwiri, Standard]
She is warm, soft-spoken and friendly; traits that many don't associate with mortuary attendants.
"Karibuni sana," she says with a mile-wide smile as she welcomes us to her home in Ruaka, Kiambu County.
Catherine Njenga is a teacher by profession, but a mortician by passion. She taught young children for 15 years before shifting careers after seeing how her father's body was handled following his death in 2018.
Catherine now works at the Nairobi Women's Hospital Funeral Parlour, but her journey began with a conversation at the Kenyatta University morgue shortly after her father's death.
"The reception was awesome so I started thinking about doing it," she recalls. "I asked the women there if it was possible for a woman to be trained as a mortician and they told me it was possible."
An online search directed her to the Moi Teaching & Referral Hospital as one of the places where training was offered. The mother of two travelled to Eldoret where she was told that the University of Nairobi also offered similar training.
"I came back and signed up for a three-month mortuary science course," she said. Catherine has now been a mortician for three years. "I wish I knew there was such a course before I got into the teaching profession. This is where I belong."
The mystery and fear of death means that mortuary attendants are treated differently from other professionals. Catherine says her family and friends were not keen on the idea of her handling dead bodies. "At first they thought I was crazy. My mother kept asking me if I was normal, but with time they have accepted it."
Catherine's mother, Fidelis Wambui, says she was shocked that her last-born daughter had made a wrong career switch. "When she first brought up the idea, I told her to go away. I didn't want to be part of it. But she insisted and convinced me that even my husband was taken care of by human beings like her. So, with time, I agreed but told her not to tell everyone about her new job."
Her elder sister, Ida, says she wondered if Catherine was up to the task since "death matters are grave". "But after giving it some thought and talking to her, I realised that this was her interest, her vision and dream. Nothing was going to stop her so we had no choice but to support her."
At the funeral parlour, Catherine receives about seven to 10 bodies a day. Some are road accident victims that need an immediate post-mortem.
Take a quick survey and help us improve our website
Take a survey
 Catherine Njenga a teacher turned mortician at The Nairobi Women's Hospital inspects a coffin and cloth before releasing a body. [Wilberforce Okwiri, Standard]
"The skull is usually very hard so we use this oscillator to open it up. But we try as much as we can to maintain the life-like features of the dead person," says Catherine as she wields the tool that makes a noise similar to an electric drill.
"After the post-mortem, we wash and disinfect the body. Then we leave it to dry for five minutes. We use gravity to embalm," she says, pointing to a container hanging from the ceiling in the embalming room.
A mixture that contains about 10 per cent formalin and embalming fluids is applied to the body to temporarily prevent decomposition and give the body a "natural appearance" when family and friends come for a viewing. The body is left overnight in a cold room.
On the day of the burial, Catherine removes the body from the freezer to allow it to thaw on a stretcher. "Then I wash it again and dress it, put it in the coffin and release it to the family," she says, adding that she also applies makeup, removes nail polish and unbraids hair upon request by relatives.
There is a common belief that morticians abuse alcohol to steel themselves for the job, but Catherine, a staunch Christian, says the perception is not always true.
She says one of her brothers was worried that she would always be high on booze or weed "but I told him I had been to Chiromo Funeral Parlour and people working there were normal."
There is also a stereotype that being a mortician is a man's job. Catherine, however, puts the number of female morticians in Kenya at about 50. The biggest challenge, she says, is when a family refuses to believe that their loved one is gone.
"Sometimes it is a very long healing process. We encourage them to view the body so they can come to terms. That is why we strive to maintain the life-like features because the last view matters a lot."
Catherine also says it is important to comfort the families. "That is what I love doing most. Most say they are glad I helped them overcome grief. That is what gives me the morale to keep coming to work every day."
She says the Covid-19 pandemic introduced an element of fear when handling bodies, but they attended workshops that helped them to cope. Her parting words? "We are all candidates of death so we should learn to take every day as a gift, be humble and kind to everyone."
[email protected]   
Ethiopia postpones sixth general election, date undetermined
Ethiopian authorities on Saturday formally postponed its national election set for June 5, citing low voter registration and logistical issues.
The reasons
Peace increasing unlikely
Oromo, Tigray conflicts
BBI process is people driven, secretariat says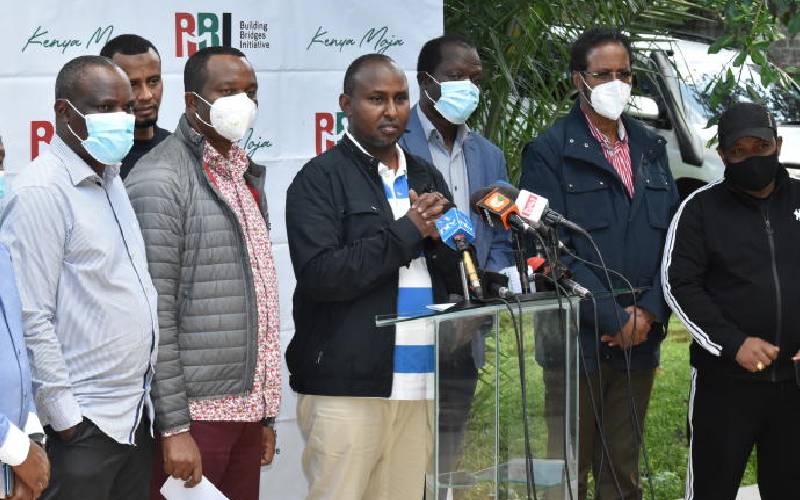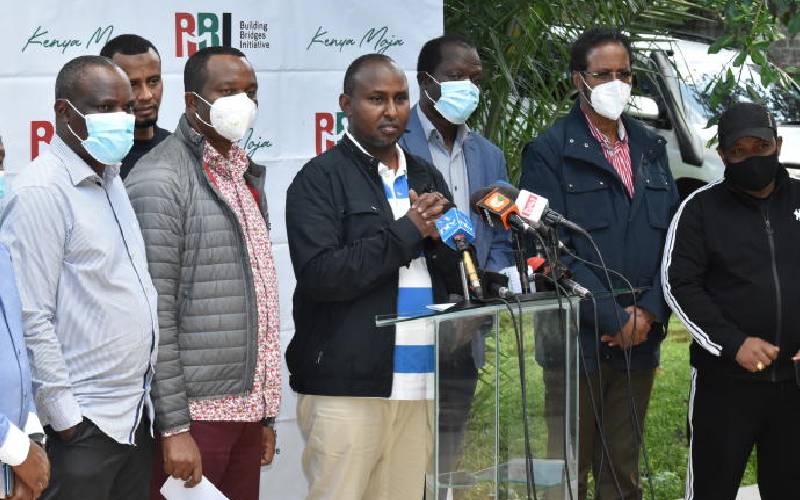 Building Bridges Secretariat and a section of Jubilee Party and ODM Members of Parliament at a press conference.[Samson Wire, Standard]
 
Promoters of the Building Bridges Initiative (BBI) have instructed their lawyers to file an appeal at the Court of Appeal next week and exuded confidence of success, adding that they believe the process is people driven.
 
BBI Secretariat co-chairmen Junet Mohamed and Dennis Waweru described the ruling as more focused on the taskforce and deliberately ignored the BBI Secretariat as the promoters of the Bill.
"The judges stopped the President who is not a promoter of the BBI Bill. We assure Kenyans that we shall continue to promote the constitutional amendment Bill until it is ratified by Kenyans," said Junet.
Yesterday, the secretariat released a list of stakeholders, meetings and number of written submissions that cumulatively helped build the BBI Bill that the courts declared unconstitutional.
They explained that before the Bill came into being, the 14 member BBI Taskforce led by the late Garissa Senator Yusuf Haji engaged deeply and widely including meeting over 400 elected leaders, present and past, prominent local voices from the community and youth and and the 755 handwritten submissions during public forums in the counties
They said the Haji-led taskforce received presentations from 123 individuals representing major institutions, including constitutional bodies and major stakeholders in the civil and private sector spaces and 261 individuals and organisations who emailed memoranda.
Take a quick survey and help us improve our website!
Take a survey
"Due care was taken to ensure that the face of Kenya was captured in this process: The Taskforce consulted more than 7,000 citizens from all ethnic groups, genders, cultural and religious practices and different social and economic sectors," read their statement.
The BBI secretariat said details of all individuals and groups that participated either in person or throughwritten memoranda are at pages 134 to 154 of the taskforce report.
And to prove further wide consultation, the team said the BBI Steering committee was subsequently appointed to validate the report of the taskforce and once again met Kenyans from all walks of life and those who contributed were captured in pages 161 to 173 of the Steering Committee's Report.
"The validation exercise was conducted through the following content and report implementation, national Stakeholder Validation Fora. The Steering Committee held a total of 93 stakeholder consultation meetings at the KICC, Laico Regency hotel and at its offices in Nairobi," the statement added.
The foras, they explained, were attended by representatives from civil society, faith-based organisations, women's groups, youth groups, persons with disability (PWD) groups, cultural leaders and Government and regional meetings took place across the country to discuss and validate the taskforce report.
On Friday, Junet said they respect the High Court's decision, but they do not agree with it and they will explore all options to ensure people-driven review of the 2010 Constitution.
"As law abiding leaders, we respect the decision of the court. But we don't agree with it. Consequently, we are setting up a legal team to look into and appeal the ruling. We assure all Kenyans who believe in the BBI and it's promise, not to give up. It's is not over yet. We will fight to the bitter end for that dream to be realised," said Junet.
Waweru said the BBI process was people driven and Kenyans are will to change the Constitution to improve governance and take more resources to the grassroots. "The proposed additional 70 constituencies will ensure more money is taken to the grassroots and improve the economic situation across the country. The hiccup encountered at the High Court will be over soon," he assured Kenyans.
 [email protected]
Monitor water pumps remotely via your phone
Tracking and monitoring motor vehicles is not new to Kenyans. Competition to install affordable tracking devices is fierce but essential for fleet managers who receive reports online and track vehicles from the comfort of their desk.