It all ends in tears after memes fail to sway president: The Standard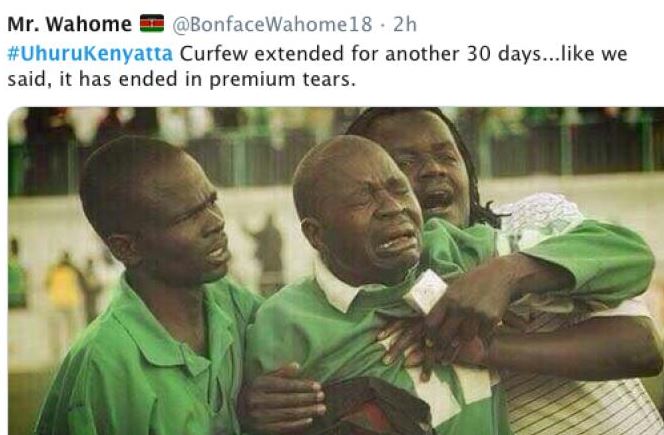 NairobiThe memes told it all. People were waiting with bated breath.
By last weekend, the countdown had begun. People were waiting for the speech that would "declare their freedom". Online and off the Internet, talk was on the things that people wanted to do once the cessation of movement, put in place to contain spread of Covid-19, was lifted. It had been more than two months of restricted movement and curfew, and Kenyans were hoping for change as President Uhuru Kenyatta delivered his eagerly awaited speech from State House yesterday.
There were those who longed to walk into a bar in the darkness of night. There they would caress the frothy bottles of their favourite drinks and stagger out at the first strike of dawn like they used to before coronavirus struck. There were those who wanted to travel out of town to see their loved ones after the sudden separation that came a few days before Easter. Others craved for when they would not have to hurry home, their hearts beating with anxiety, hoping to beat the 6:59:59 stroke of the clock before falling into the hands of police for violating curfew.
The memes told it all. People were waiting with bated breath. A revised version of the Sarafina "Freedom is coming" song was created to reinforce the anticipation that awaited the President's speech.
"Saturday the 6th feels like visiting day. You just don't know if your father will show up with food or just a newspaper," read one of the memes that went viral. In a hilarious attempt to sway the President's mind, letters were written on social media to beg the Head of State to ease the regulations.
SEE ALSO: Hidden allure of one-party state in Uhuru's BBI agenda
"Best performing President, fashion killer, your eight-year legacy unmatched, his Excellency, too young to retire, please do not disappoint us…" they teased on social media.
The President's speech was scheduled for slightly before midday, but Twitter lit up way before 5am.
"Wake up sir! Somebody should wake the President up and tell him we have already showered and waiting for him to release us," was one of the memes that was highly circulated; a cheeky reference to how students in boarding school would wait for the gates to open after a speech by the principal on closing day.
By midday, the anxiety could be felt through the screen. The speech had been moved to 2pm, sparking a wave of more memes. In between were serious posts and comments from people who were desperately waiting for the president to open up the country.
"I am a salonist who had gone to do makeup on a client in Mombasa before the cessation of movement was announced. Then things happened so fast and I am now stuck at my client's house for two months now. I have been watching television since 6am," said Linda Achieng' who was hoping to return to Nairobi.
SEE ALSO: Grim numbers that made Uhuru think twice on reopening
And when the President stepped up to speak, a few minutes after 4pm, he had a different answer. The answer to those who wanted to hold a celebratory party about their "freedom" was 'No'. Kenyatta admitted that he had seen the hundreds of memes on social media, perhaps smiled a bit at some of them, like the one that warned men from sending fare to their girlfriends to travel to the city, but he was not ready to ease regulations yet.
"I saw the memes talking about freedom is coming. This is not about freedom or independence. It is better to be alive than have a few days of leisure and die," he said, deflating the hopes of those who had waited for something different.
"It has ended in tears! Those who had packed and were ready to travel should unpack. It is 30 more days," read a post on Facebook.
The only glimmer of hope were the additional hours that had been added, pushing the curfew to 9pm in the evening to 4am.
"All is not lost. We can still eat mutura which is definitely tastier when eaten in the dark. 9pm is better than 7pm," wrote George Wanjohi on Twitter.
SEE ALSO: Modeling shows grim scenarios if rules are relaxed
Comments
comments
COVID-19 death toll rises to 159 after 5 virus-linked deaths » Capital News
NAIROBI, Kenya, Jul 4 – The country's COVID-19 death toll rose to 159 on Saturday after the Ministry of Health reported five additional coronavirus-related deaths.
With 7,577 virus cases reported since March 14, the country's case fatality rate stands at 2.1 per cent.
The death rate has remained relatively low in the recent months having averaging 5.1 per cent at its peak in April, 3.4 percent in May and 2.5 percent in June.
Through a statement to newsrooms, MOH further noted that the number of patients having recovered from the virus since April 1 had risen to 2,236 after 88 more patients were discharged in 24 hours.
Health Cabinet Secretary Mutahi Kagwe acknowledged the efforts by the health workers in taking care of the patients attributing their efforts to the high recoveries recorded.
"The success is owed to the diligent work and dedication by our healthcare workers.We thank them for this achievement and we want to encourage them to continue offering such selfless service to our people," he said.
Kagwe however raised concern over the rising number of deaths amid increased infections in the country.
READ: 389 COVID-19 cases reported as 4,829 samples screened
"It is indicative that we have lost too many lives already. We cannot afford to lose any more. We, must, therefore as a nation, renew our commitment to observing measures, without which, this disease could very easily overrun our healthcare facilities," he said.
Nairobi recorded the highest number of infections with 248 cases, followed by Kajiado with 36 cases, Kiambu (27), Mombasa (23),  Busia (17), Machakos (10) , Migori (9), Kitui (6), Makueni (3), Uasin Gishu (3), Nakuru (2), Kilifi (2), Garissa (1) ,Muranga (1) and Narok (1).
Kagwe has urged Kenyans to abide the containment measures issued by the ministry in order to prevent further spread of the virus.
"The simplicity of these containment measures makes them very easy to ignore, and some of our people have literally abandoned them. If we must stop the spread of this virus, we have no choice but to obey them," Kagwe added.
Comments
comments
389 more people test positive for COVID-19, as 5 die – KBC
The number of COVID-19 cases maintained an upward trend as 389 people tested positive from 4,829 samples tested in the last 24 hours.
The total number of positive cases in the country now stands at 7,577 from cumulative tests of 185,035 samples.
All except three of the positive cases are Kenyans.  According to disaggregation by gender, 266 are males and 123 are females, while by age; the youngest is one year old, and the oldest 93 years.
This is the highest number to be recorded since the first case was reported in March.
Get breaking news on your Mobile as-it-happens. SMS 'NEWS' to 20153

88 more people have been discharged from various hospitals, bringing to 2,236 the total number of recoveries while five others succumbed raising the number of fatalities to 159.
¨As we celebrate the recoveries, it is saddening to note that, we have also lost another (5) more patients to the disease. This brings to 159 the total number of fatalities. Our sincere condolences and prayers go to the families and friends that have lost their loved ones¨, read a statement.
All positive cases are distributed in the following Counties; Nairobi, (248), Kajiado, (36), Kiambu, (27), Mombasa, (23), Busia, (17), Machakos, (10), Migori, (9), Kitui, (6), Makueni, (3), Uasin Gishu, (3), Nakuru, (2), Kilifi, (2), Garissa, (1), Muranga, (1) and Narok, (1) case.
The cases in Nairobi are distributed as follows; in Nairobi; Dagoretti North, (55), Kibra, (40), Langata, (33), Ruaraka, (17), Westlands, (14), Embakasi East, (13), Makadara, (13), Roysambu, (11), Embakasi South, and Kasarani (8) cases each, Mathare, Starehe, Embakasi Central, and Embakasi West, (7), cases each, Embakasi North (5), and Kamukunji (3).
In Kajiado, the 36 cases are from; Kajiado Central, (32), Kajiado East and Kajiado North, (2) cases each, while in Kiambu, the 27 cases are in; Kiambaa, Kikuyu and Ruiru (6) cases each, Kabete and Kiambu town, (4) cases each and Thika Town, one (1) case.
In Mombasa, the cases are from; Mvita, (9), Nyali (6), Jomvu, (3), Likoni, (2), Kisauni, (2)/ and Changamwe, one (1) case while in Busia, the cases are from; Teso North, (12) and Matayos, (5), while in Machakos, the 10 cases are in; Athi River, (8), and Matangulu (2).
In Migori, all the (9) cases are in Kuria West, while in Kitui, all the (6) cases are from Kitui West. Makueni, has (3) cases in Makueni (2), and one (1) case in Kibwezi East, while all the (3) cases in Uasin Gishu are from Ainabkoi.
In Nakuru, the (2) cases are from; Nakuru East one (1), and Nakuru West, one (1). In Kilifi, the (2) cases are in; Kaloleni (1) and Kilifi North (1). Garissa has (1) case in Daadab, Muranga (1) case in Kihara and Narok (1) case in Narok North.
Comments
comments
Meru suspected kidnappers arrested: The Standard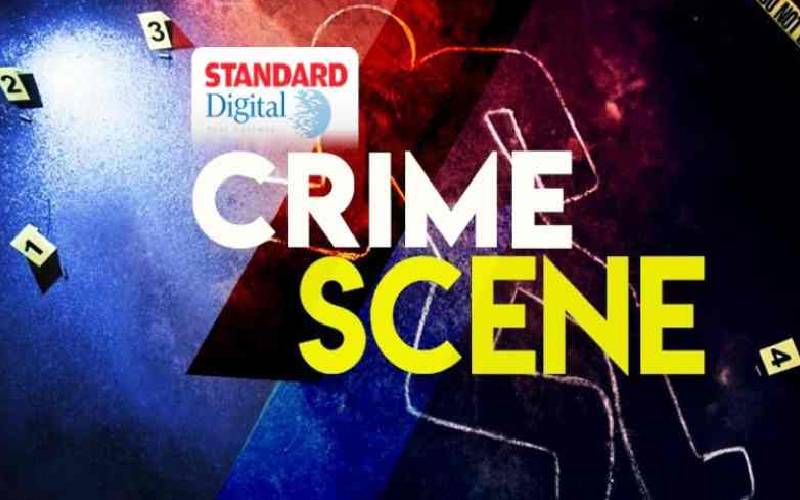 Three kidnapping suspects in Meru county have been arrested for demanding a Sh150,000 ransom.
 
Joseph Kariithi, Patrick Kimathi and Daniel Muroki were linked to a missing person report filed at the Kangeta Police Station on June 19, 2020.
 
The Directorate of Criminal Investigation on Saturday said detectives are working with local police to investigate the matter.
 
The officers raided Kiutune area in Igembe Central Sub-County where the criminals had been spotted earlier by residents who helped the police.
 
Upon being arrested, the gang led police to the victim who had been held for two weeks.
 
The victim was taken for medical check as police picked exhibit from the scene.
 
Last year, seven suspected crooks from Ntumu area in Meru County were held and later charged with assault after they kidnapped a woman and attempted to forcefully circumcise her.
 
It is not known why they wanted to subject the woman to such a barbaric act, but it is widely believed to have been an attempt to punish her on someone's orders.
 
The court heard that the seven were arrested after Christine Murithi, a daughter to the complainant reported the matter to Marima patrol base after which police officers swung into action.
 
The prosecution said that during the attempted heinous act other offences were committed and investigations were still ongoing to seek more evidence and witnesses to further charge the suspects with sexual harassment.
Comments
comments