Insiders are buzzing that Northern Virginia could soon be awarded Amazon's HQ2 as Jeff Bezos makes high-profile visit to Washington, DC (AMZN)
The Washington, DC, area is buzzing with speculation that Northern Virginia could soon land Amazon HQ2.
Two sources said as much to Business Insider.
Amazon CEO Jeff Bezos is amid a high-profile trip to Washington, DC.
The Washington, DC, area is buzzing with speculation that Amazon could soon select Northern Virginia as the location for its highly sought-after second headquarters, two sources told Business Insider.
Amazon has sought to tamp down on the speculation as the company's CEO Jeff Bezos makes a high-profile visit to the region. Ahead of a major event on Thursday night where Bezos will be interviewed by Carlyle Group co-founder and co-CEO David Rubenstein at the DC Economic Club, Amazon told The Washington Post on Tuesday that no announcement would be forthcoming on Bezos's visit to the city. Reached by Business Insider on Thursday, an Amazon spokesperson said they had nothing to add on top of what was reported in The Post.
One person who spoke with Business Insider, a lobbyist, said that Thursday night event was a likely time for the announcement to be made. Speculation has run for months about what, if anything, Bezos will say about HQ2 during the event.
The Post reported that roughly 1,550 people registered to attend Bezos's discussion. That's more than double what the club typically attracts for similar events, The Post noted. Democratic Gov. Ralph Northam of Virginia, Republican Gov. Larry Hogan of Maryland, and Democratic Washington, DC, Mayor Muriel Bowser are all expected to attend, The Post reported.
(Have any information on Amazon's plans for HQ2? Reach out to this reporter at [email protected])
The event's top sponsorship, the Washington Housing Initiative, was paid for by JBG Smith, a local developer and key backer of a plan to bring HQ2 to Crystal City in Northern Virginia. The second person who spoke with Business Insider, a senior staffer to a Virginia politician, said Amazon was zeroing in on Crystal City.
JBG Smith declined comment to Business Insider.
Meanwhile, a source close to Rubenstein told Business Insider they were unaware of any plans for Bezos to make the announcement during the interview. Business Insider reached out to multiple local developers, county officials, and would-be stakeholders in a Northern Virginia-based HQ2. All either declined to comment, did not respond, or said they had not heard of such an imminent announcement.
Joseph Parilla, a fellow at the Brookings Institute's Metropolitan Policy Program, said the Thursday night event was one targeted for a while by observers as one where some HQ2 action could take place. Parilla, who said he had no knowledge of any imminent announcement, added that the Northern Virginia bid has long been viewed as the frontrunner.
Although Amazon said no announcement would be made on Bezos's trip this week, four people close to the company's board of directors told The Post that board members are making the trek to Washington, DC. The Post reported that it was unclear whether any formal meeting of the board is being held. The Post reported that Amazon booked the Renwick Gallery for a 40-person dinner on Tuesday night, a museum spokesman told the outlet, declining to offer any additional details.
Northern Virginia already considered the top contender
There are already plenty of signs pointing to the Northern Virginia bid as the one that will ultimately prove victorious. Oddsmakers have given Northern Virginia the best chances of pulling in HQ2, and GeekWire found last week that Virginia had the highest average number of open Amazon job postings from May through July of any of the HQ2 finalists.
Amazon told Busines Insider it remains committed to announcing the winner before the end of 2018.
In March, Business Insider reported on mounting evidence that HQ2 would ultimately be awarded to Northern Virginia and be built on a 26-acre plot of largely undeveloped land near Dulles International Airport.
Business Insider's Hayley Peterson wrote that the company was quietly expanding its presence near that site on the border of Loudoun and Fairfax Counties.
Less than three miles from that site is a new headquarters for Amazon Web Services, while the company plans to build a 600,000 square-foot data-center campus on a 44-acre plot of land within a 10-minute drive of the possible HQ2 location.
In addition to its location next to the airport, an under-construction Metro station will provide direct access to Washington, DC, and its suburbs.
The site is also at the center of Data Center Alley, what is also known as the "bull's-eye of America's internet" where much of the world's internet traffic travels through.
Additionally, a site adjacent to the proposed HQ2 location is being developed into a 5.5 million-square-foot mixed-use project called The Hub. That project is expected to house office and retail space, residential units, and hotel rooms. The project's developers were involved in the Northern Virginia HQ2 bid.
Olivia Oran contributed reporting
Suluhu: Closer ties for Kenya and Tanzania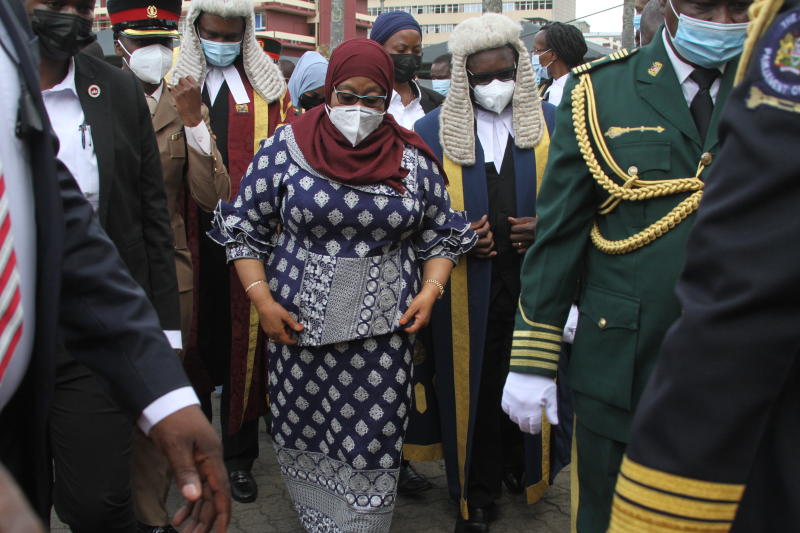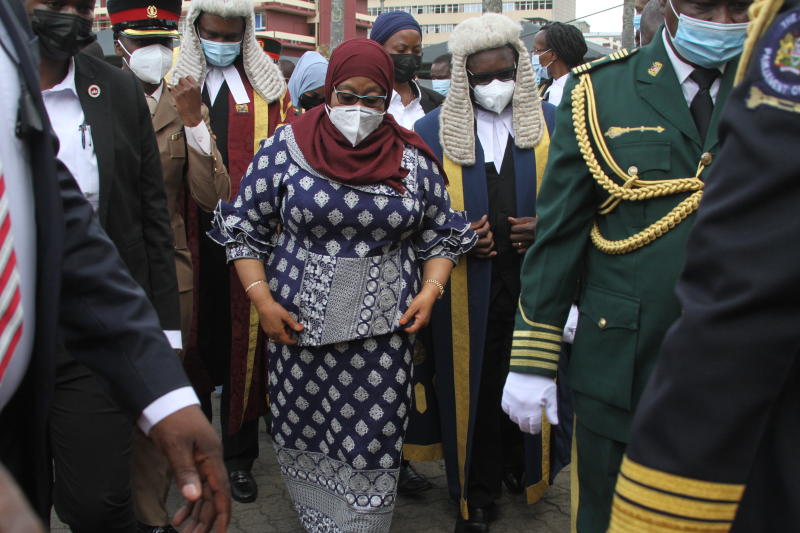 ?President Samia Suluhu's address to Parliament was a masterclass in charm, punctuated by periodic applause and stomping of feet by Kenyan lawmakers.
Covid-19 deaths, hospitalizations soar among youth in Americas – KBC
Hospitalizations and deaths of younger people are surging as the COVID-19 pandemic accelerates across Latin America and the Caribbean, Pan American Health Organization (PAHO) Director Carissa Etienne said on Wednesday.
"Adults of all ages – including young people – are becoming seriously ill. Many of them are dying," Etienne said at her daily press briefing as quoted in a PAHO release.
In Brazil, mortality rates doubled among those younger than 39, quadrupled among those in their 40s, and tripled for those in their 50s, between December 2020 and March 2021, she said.
"For much of the pandemic, our hospitals were filled with elderly COVID patients, many of whom had pre-existing conditions that made them more susceptible to severe disease," Etienne said. "But look around intensive care units across our region today. You'll see they're filled not only with elderly patients, but also with younger people."
Get breaking news on your Mobile as-it-happens. SMS 'NEWS' to 20153

Etienne urged hospitals in the region to increase the size of intensive care units (ICU) in anticipation that the trend will continue, while warning that expansion of ICUs cannot continue indefinitely.
As a result, she urged nations to double down on prevention measures such as lockdowns and facemasks.
Tell Us What You Think
Uhuru wa biashara, Suluhu ya vikwazo: How Kenya-Tanzania trade will be streamlined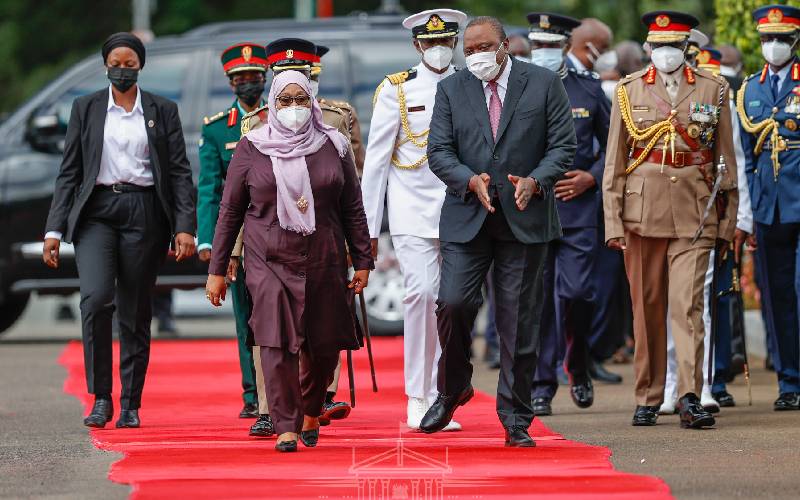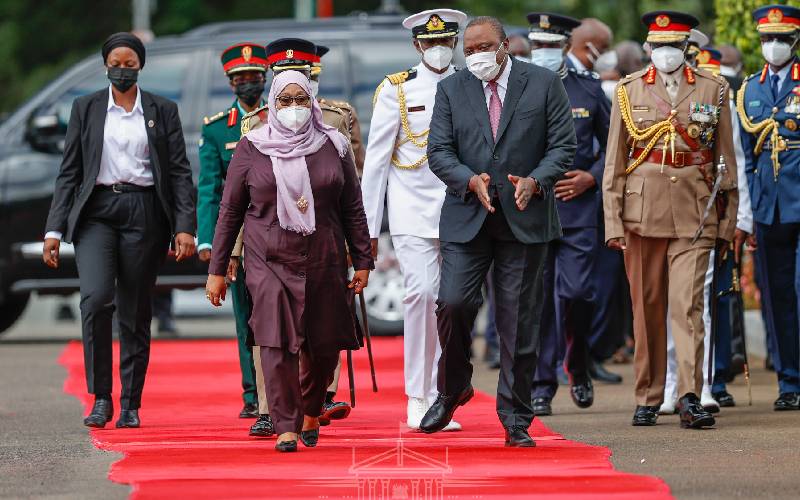 President Uhuru Kenyatta with his Tanzania counterpart Samia Suluhu, who is on a two-day state visit in Kenya.[PSCU]
President Uhuru Kenyatta says ministers from both Kenya and Tanzania should resolve all non-tariff barriers and other restrictions affecting the two countries within four months.
Uhuru, on Wednesday said going forward, there will be no business visa or work permits for Tanzanian wishing to do business in the country.
"You are free to come and trade here in Kenya, there will be no business visas or work permits as long as you abide by the laws of the land," he said.
Uhuru was speaking during the Kenya-Tanzania Investment Forum at Serena hotel. The forum was in line with President Samia Suluhu's two-day state visit.
Kenya has about 513 companies doing business in Tanzania compared to Tanzania's 30 in Nairobi.
Uhuru said in the next two weeks, concerned ministers from both sides should clear all the traffic jams at the Taveta and Namanga border points.
Uhuru said they should pay a special focus to the issuance of Covid-19 certificates to ease the movement of  transit cargo.
"I direct that all the maize lying at the border be cleared in two weeks. We cannot subject businesses to more suffering," Uhuru said.
Take a quick survey and help us improve our website!
Take a survey
Uhuru urged the ministers to move swiftly and ensure the ease of doing business at the border pointswas decisively tackled.
"It is not about wearing suits and meeting over tea.Get to the ground and understand what is affecting those traders. Don't just sit in those offices. If you need to consult, do it and get the work done," he said.
Uhuru's sentiments came shortly after the Kenya Business Community nsaid it was ready to trade with the Tanzanian business community.
Led by the Kenya National Chamber of Commerce (KNCC), the community proposed the formulation of a Joint Business Council that will support the two countries.
KNCC President Fred Ngatia said the council would play a key role in addressing issues that bedevil  Nairobi-Dar trade,
The community said there should be policy forums and investment-focused events that will target small-scale enterprises.
"We are going to focus more on economic projects by identifying favourable financing institutions that will help us settle some of the commercial disputes affecting our community," Ngatia said.
He said this will be made possible through the Public-Private Partnerships offered by the government.
As a result, KNCC in partnership with the Tanzania Chamber of Commerce will host a trade and investment exhibition in Dar es Salaam this August aiming to help SMEs unlock their potential.
So far Trade and Agriculture ministers from the two sides have had a breakfast meeting and agreed to initiate bilateral discussion before the end of the month.
Trade CS Betty Maina said the discussions aim to iron out all issues that have been hampering trade between the two countries.
This includes issues surrounding maize import.
President Samia Suluhu said her government was ready to serve as a bridge to pave way for businesses between the two countries to thrive.
"It is not about competing and complicating things, but about developing business relationships to allow both parties to explore opportunities," she said.
Suluhu said while Tanzania is rich with natural resources and tourist attractions, Kenya is thriving in the ICT world and thus the need for exchange of skills on research and development.
"Muna bahati sana maanake upande mmoja mnao Uhuru wa kufanya biashara na upande mwingine Suluhu la kuondoa vikwazo," Suluhu said.