Inside 150 public servants' allowances
Public servants will lose several allowances paid to them, in a shock move by the Salaries and Remuneration Commission that targets their perks, and which has the potential of heavily affecting household budgets.
Likely to be worst hit are senior government officials who enjoy layers upon layers of allowances, some much higher than their basic salaries.
While the cream of these allowances is enjoyed by the top civil servants, a number of them are spread across all job cadres and are the driver of the government's wage bill crisis, currently at Sh730 billion.
Kenya spends one in every two shillings it collects in taxes to pay its public employees.
A report by the Salaries and Remuneration Commission (SRC) notes that there are 149 allowances payable in the public service today, which cunning civil servants are exploiting at the expense of the taxpayer. Of these, 90 are remunerative while 59 are facilitative.
As a result, the SRC wants only the relevant allowances to be consolidated in the basic salary structure, away from the current scenario where some civil servants live off allowances.
The commission's chairperson, Ms Lyn Mengich, says some allowances need to be either renamed and merged, restructured, retained and harmonised, or reviewed to determine purpose of payment.
"Despite various initiatives taken to rationalise allowances in the public service, they have continued to increase significantly in terms of numbers and amount relative to salaries," Ms Mengich told the Nation on Wednesday.
"Allowances have been used to increase remuneration by various public service organisations, thus acting as a major component of the compensation package," she added.
The effect of this rally has been two-fold: It has created inequity and unfairness within and across public service organisations, and has also been a basis for requests for parity of treatment among cadres performing similar jobs under similar circumstances.
Salaries and Remuneration Commission chairperson Lyn Mengich says some allowances need to be reviewed to determine purpose of payment. ILLUSTRATIONS | MICHAEL MOSOTA | NATION MEDIA GROUP
The SRC says it will deal with the allowance headache in two phases: by first reviewing four allowances — namely house allowance, hardship allowance, leave allowance, and subsistence allowance — and then updating the list of grants and engaging stakeholders before final implementation of the recommendations.
To put the crisis into perspective, the Nation studied a report by audit firm Deloitte that formed the basis of the end-term report by the previous commission, and which showed how important — or painful, depending on whose side one is — allowances have become within the civil service.
For instance, one cadre whose average basic pay was Sh32,367 ended up getting a mean gross salary of Sh158,487 after allowances.
That means employees earned Sh126,120, or 80 per cent of their total monthly pay in allowances.
A summary of all employees across job groups showed that on average, between 65 per cent and 85 per cent of their take-home was just allowances.
This means some of the best-paid civil servants take home nearly five times their basic pay in allowances.
The most experienced at claiming these allowances earned as much as 95 per cent of their total pay in these stipends.
Even for the internationally acceptable allowances, Kenya has some of the most handsome perks for its top civil servants.
Even for the internationally acceptable allowances, Kenya has some of the most handsome perks for its top civil servants. ILLUSTRATIONS | MICHAEL MOSOTA | NATION MEDIA GROUP
However, disparities among various institutions within the same government have led to the abuse of this provision.
For instance, while junior civil servants only take home about Sh3,000 per month as house allowance, senior employees earn in excess of Sh150,000 per month, beating many of their colleagues in the private sector.
Employees of the Parliamentary Service Group were the highest earners, followed by state corporations and the judicial service, the report by Deloitte noted. Teachers, meanwhile, earn the lowest amount of allowances.
Officers at policy level claim between Sh60,000 and Sh100,000 per month as extraneous allowances.
However, their juniors who qualify for this allowance earn between Sh800 and 15,000 per month.
The study says some staff in Parliament, who receive this allowance, are also eligible for responsibility allowance, creating an avenue for overlap of payment and making the allowance prone to abuse.
The SRC now wants allowances that are paid for similar purposes but have different names merged, and those whose rationale is redundant or the purpose overlaps with that of the basic salary abolished.
For responsibility allowance, those who qualify get between Sh10,000 and Sh76,000 on average, whereas entertainment allowance is between Sh20,000 and 100,000.
Some of the allowances do not exist even among the best-paying companies in the private sector. Others are redundant, while many more overlap with the basic salary. ILLUSTRATIONS | MICHAEL MOSOTA | NATION MEDIA GROUP
Commuter and transport allowance ranges between Sh802 and Sh75,600 per month. Members of Parliament get more in mileage claims.
Other allowances include non-practice allowance (Sh15,000 to Sh60,000), hardship allowance (Sh600 to Sh13,000), risk allowance (Sh7,000 to Sh16,000), medical allowance (Sh375 to 2,490), annual leave allowance (Sh4,000 to Sh50,000) and domestic servant allowance (Sh15,600 to Sh30,000).
County bosses enjoy a governors' allowance of Sh84,000 while their deputies get Sh64,000.
Parliament has special parliamentary duty allowances that range from Sh78,000 to Sh150,000
Some of the allowances do not exist even among the best-paying companies in the private sector. Others are redundant, while many more overlap with the basic salary.
This means that staff are paid allowances for doing what they were recruited to do, and for which they earn a basic salary.
Some of the duplicating allowances include the special duty allowance, which is paid to an officer called upon to perform duties of a higher post, but does not possess the necessary qualifications for appointment to that post.
It is expected that that should be covered by the acting allowance, which also exists on the allowances list.
Then there is the responsibility allowance, which is paid to officers whose duties involve added responsibility over and above the normal duties of officers of equivalent rank, and for which regular salary is assigned.
Some of the duplicating allowances include the special duty allowance, which is paid to an officer called upon to perform duties of a higher post. ILLUSTRATIONS | MICHAEL MOSOTA | NATION MEDIA GROUP
Besides the house allowance, personal aide allowance (meant to facilitate public servants using wheelchairs and the visually challenged to pay for their guides), and commuter allowance, there is another layer of allowances that, if exploited well, could turn civil servants into millionaires.
Other allowances include extraneous, hardship, health, and risk grants, which are split, despite addressing difficulties at work.
Making them separate has opened a window where they are as varied as the departments in government are.
A telephone allowance, for instance, is paid to officers to facilitate communication on official duties, and the SRC report says the amount depends on job groups and is paid either through the payroll or airtime scratch cards.
Some parastatal employees, such as those working for the National Housing Corporation, Kenya Power and Kenya Ports Authority, enjoy some unique allowances, including the bicycle allowance that has now been scrapped, and the Greater Duty and Third Shift allowances.
The SRC wants perks whose economic value or rate is not commensurate with the intended purpose restructured, and those whose purpose of payment is still valid retained but harmonised.
"In the absence of data, and the fact that the payroll is not integrated and some of the allowances are paid through vouchers, it is difficult to ascertain the amounts being paid," the commission notes.
The end-term report of the previous commission had noted that although the remunerative allowances are paid and can be tracked through the payroll, quantifying all facilitative payments in the public service was a challenge.
"Some of the facilitative allowances are lumped together with other budget line items such as training and workshop, making it difficult to analyse, budget and report them separately. This creates a gap in audit trail," SRC noted.
Other allowances include extraneous, hardship, health, and risk grants, which are split, despite addressing difficulties at work. ILLUSTRATIONS | MICHAEL MOSOTA | NATION MEDIA GROUP
Judicial officers, nurses and nutrition officers, among other government cadre, draw an allowance for various uniforms and robes. For judicial officers, the allowance is known as the robe allowance.
But this allowance is not just a preserve of those who are required to wear uniforms at work.
A plainclothes allowance is paid to all police officers who are required to wear uniform, but due to their special assignment wear civilian clothing.
Officers handling horses and dogs are paid an animal handlers' allowance to compensate them for the training, risks and strain involved as they handle the animals in their course of duty.
Police officers in the air wing involved in the repair and servicing of aircraft earn an aircraft engineering allowance, while those deployed as pilots earn a police pilot allowance.
A coxswain allowance is paid to water police officers and livestock and fisheries officers who are deployed in marine duties to compensate them for working long hours in unusual and risky environments.
Being on the presidential escort team is one of the most sought-after jobs for police officers, as it attracts the presidential escort allowance.
This allowance is paid to officers deployed from the police service who form the security network of the President and accompany him to functions.
"The allowance is compensation for the extraneous nature of the duties as they are expected to be on call and alert at all times, and have undefined duties that go beyond normal working hours," the SRC says in its report.
Related to this allowance is the VIP protection allowance, which is paid to officers deployed from the police service, and who form the security network of VIPs.
Comments
comments
New home for hand-reared orphaned elephant calves: The Standard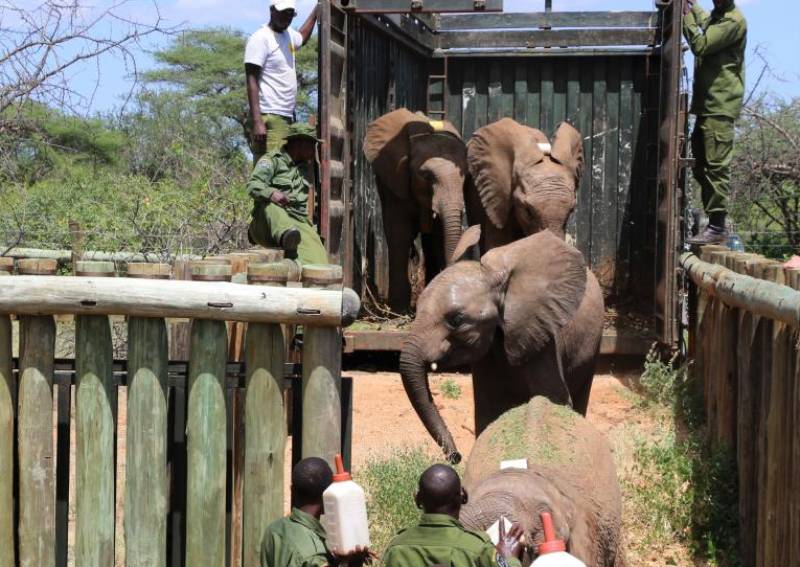 Four orphaned elephant calves are re-introduced to the wild of Sera Community Sanctuary in Laikipia from Reteti Community Sanctuary in Samburu County. [Jayne Rose Gacheri, Standard]
Rift ValleyLoisaba, Baawa, Lchurai and Nadasoit were rescued at young ages, weaned successfully and are now ready to live on their own in the wild.
Four rescued orphaned elephant calves have been re-introduced to their natural environment after a successful weaning process by the Reteti Community Sanctuary.
The calves were released into their new home at Sera Wildlife Conservancy in Laikipia County.
The four – Loisaba, Baawa, Lchurai and Nadasoit – were moved to Sera after the Kenya Wildlife Service (KWS) scientists approved the sanctuary as a suitable "home" for the hand-reared calves.
This is due to Sera's proximity to Reteti. Considered too was its perfect security as the sanctuary has a perimeter fence that keeps at bay large predators such as lions.
SEE ALSO: KWS driver collapses, dies in line of duty
Other preferences that made Sera Rhino Sanctuary an ideal home for the young elephants were that it has an enhanced security team comprising KWS rangers and community scouts, in addition to minimal human activity. The elephant population in the sanctuary is also not a large one.
Reteti manager Moses Lenaipa said the translocation process was agreed on after KWS scientists completed an ecological assessment of the area and determined that the conditions were optimal for the reintroduction.
Perfect sanctuary
Lenaipa said the recent rains have provided a variety of forage as well as surface water and full waterholes for the four elephants. The calves were released in perfect health.
"This brings to 10 the number of calves that have been successfully released from Reteti, and we are proud and thrilled to share this widely, being the only community-owned and managed elephant sanctuary in Kenya," he said.
SEE ALSO: Residents living near forest accuse rangers of brutality
The manager said this is the third release of hand-reared elephants into the Sera Sanctuary since Reteti was established in 2016. Sera is also a community-run sanctuary. The two are part of the larger Namunyak Wildlife Conservancy.
"Barely three and a half years since launching Reteti, we feel proud of what the sanctuary has achieved in the rescue and release of orphaned elephant calves," said Lenaipa, adding that the establishment would continue to build partnerships with stakeholders in conservation.
Loisaba, Baawa, Lchurai and Nadasoit were selected for this latest release because of their age. They are aged between three and four years and have been weaned off their special milk formula.
"They have also gained valuable experience in the bush guided by their handlers, and were in great physical condition at the time of release," said Lenaipa.
He said in the build-up to the release, the calves were familiarised with their travel crate and fitted with GPS tracking collars. This process, he said, was carried out in partnership with KWS personnel who developed the post-release monitoring strategy.
SEE ALSO: Conservationist fears for life after group invades property
"This will enable the monitoring and documentation of the elephants' health, safety and integration," said Lenaipa.
"KWS is proud of its veterinary team that has worked in partnership with Reteti to ensure the calves were rescued most humanely and professionally, given the required medical care and nurtured with the highest animal welfare standard," said Simon Gitau, Assistant Director of Mountain Conservation Area.
According to Antony Wandera, Senior Research and Monitoring officer, Northern Rangelands Trust, the four elephants will be monitored closely for learning purposes.
"The close follow-up will help us to continuously improve the welfare of the elephants and the rewilding process," said the officer.
Bawa, now three and a half years old, was rescued from Nga'bolo after he was found abandoned and stuck in the mud at four months old. "It took a long time for handlers and KWS vet team to wean him back to health," said Lenaipa.
SEE ALSO: Shinyalu locals suffer at the hand of rogue forest officers
Loisaba, three years and four months old now, was found wondering by Loisaba Conservancy rangers at eight months. He was orphaned by the tough drought at the time, but endured to regain strength and be finally released to the wild.
Lchurai, another victim of the drought, was rescued at the Lchurai (after which he is named) area of Laikipia, stressed and traumatised at nine months old. However, the professional handling at the sanctuary made him fit for the wild release, aged three years and seven months old.
Close monitoring
Lastly, Nadasoit was the youngest to arrive at the sanctuary at only three weeks old. He was found in a community well at Naunyak Community Conservancy.
"She had taken a lot of water and was sick with pneumonia, but she proved to be a tough girl and found her way to good health by the time of release at three years and two months old," said Lenaipa.
SEE ALSO: MP wants frequent jumbo attacks halted
The two earlier releases saw Warges, Lingwezi and Sosian reintroduced to the wild in May 2019 while Shaba, Pokot and Mpala were released in November 2019.
"Their release was quite successful as they are currently spending time with wild herds in the area and living without any human contact at all," said Naomi Leshonguro, one of the longest-serving handlers at Reteti Elephant Sanctuary and the first woman elephant handler in Kenya.
David Daballen, head of field operations at the Save the Elephants organization, says data on elephants in the wild released in 2019 shows orphaned jumbos are increasingly integrating with wild ones.
"The data shows their range overlaps with wild elephants with whom they share water points and are often in close contact," says Daballen, adding that the organisation is pleased with the progress of the orphans.
"We look forward to watching them grow to mature males and females and eventually feed on the fenced environment of Sera Rhino Sanctuary to be truly wild."
Comments
comments
Soaring number of sick drivers puts Busia in tight spot: The Standard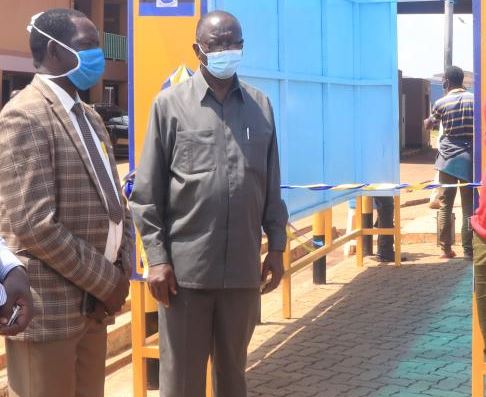 Busia Deputy Governor Moses Mulomi in countersuit (centre) at the Busia One Stop Border Post. [Ignatius Odanga/Standard]
WesternThe facilities have bed capacities of 42 and 200, respectively. Another 50 beds have been added at Alupe that had a 71-bed capacity.
So far, Governor Sospeter Ojaamong's administration has identified Agricultural Training Centre (ATC) and St Monica Chakol as additional centres.
The facilities have bed capacities of 42 and 200, respectively. Another 50 beds have been added at Alupe that had a 71-bed capacity.
The county has been engaging the national government over possibility of converting the Kenya Medical Training Institute in Busia into another isolation facility to handle rising numbers.
But chief officer-in-charge of Health and Sanitation Isaac Omeri indicated that only asymptomatic patients would be accommodated at the ATC. On top of the preventive measures put in place by the county government, five hotels have been identified in Busia town where truck drivers can put up and six others in Malaba border town.
SEE ALSO: Why partnerships in technology are key in fighting pandemic
Dr Omeri said the hotels were specifically for truck drivers to help minimise scenerios where they mingle freely with locals. 
By yesterday, Busia had recorded 178 positive cases, all of them truck drivers.
"We expect the number to go up in coming days. That is why we have decided to get alternative places for patients to be held as they get medication," said Omeri.
The county has mounted disinfectant booths and spray tunnels in strategic places, particularly at the Busia and Malaba border posts, for use by clearing agents and truck drivers.
It has also erected water tanks and provided soap for locals to wash hands regularly.
SEE ALSO: What if Kenyans knew Covid-19 was coming?
Food vendors
Following complaints from a section of locals that some food vendors were hawking food to truckers, the county has launched sensitisation programme aimed at educating the sellers not to have close contact with drivers.
"It is a matter of great concern because some drivers mingle with locals before even knowing their status. We are telling our people and specifically those selling food and fruits to avoid getting into close contact with truckers to avoid contracting the virus," said Omeri.
The Ministry of Health in March identified truck drivers as a weak link in the fight against coronavirus.
For the last three weeks, Busia town and Malaba have been chaotic due to trailer snarl-up.
SEE ALSO: How coronavirus slashed trips to ATMs to an all-time low in April
Uganda has so far returned at least 50 Kenyan truck drivers who tested positive. The county by Thursday had tested more than 7,000 truck drivers.
On Tuesday, Governor Ojaamong and County Commissioner Joseph Kanyiri announced that a driver without a certificate to show they are Covid-19 free would not enter the county.
They said drivers would bear the cost of fumigating their trucks. The response team established that some drivers had no certificates.
Shortage of reagents, personal protective equipment, ventilators, face masks and fewer health care providers have remained the biggest challenges in the fight against coronavirus in the county, said Omeri.
Yesterday, he said the department was keen on paying the heath care providers their subsistence allowances.
SEE ALSO: Sacco relaxes loan terms for members as virus looms
This is after some frontline workers lamented that their morale was low since the county was yet to pay them their allowances.
The affected cadres include doctors, nurses, public health officers and laboratory technologists.
Comments
comments
Woman claims baby swapped with a dead one in hospital: The Standard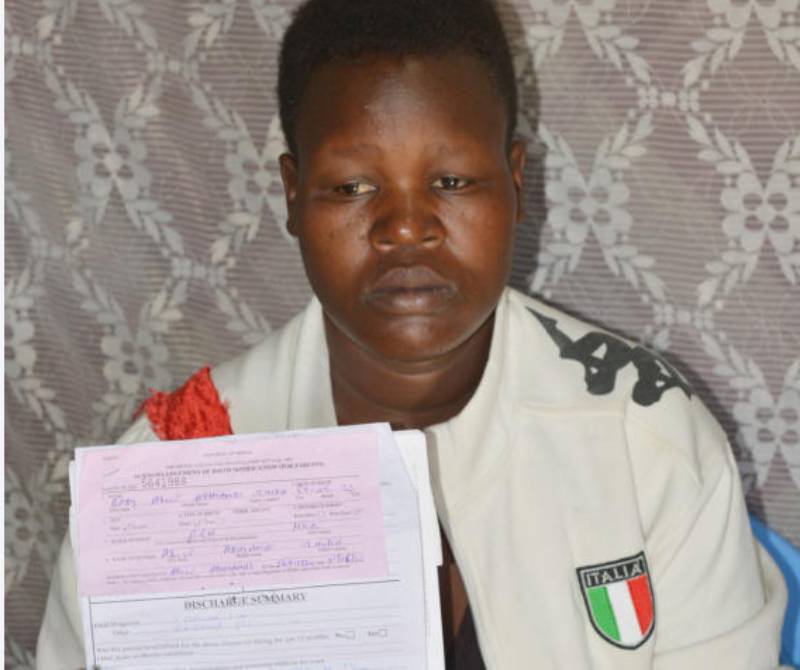 Rift ValleyBut medical superintendent says child was born pre-term and promises to conduct DNA to establish the truth.
A woman has accused Nakuru Level Five Hospital of swapping her newborn with a dead one.
Alice Adhiambo (pictured), 31, said she checked into the facility on May 21 and was admitted after medics reported that she had high blood pressure, thereby placing her and her unborn baby in danger.
"I remained at the hospital until May 29 when I delivered at around 4pm through caesarean section. My baby boy weighed 2.6 kilogrammes at birth and was feeding normally. I spent the day with him on Saturday and Sunday," said Adhiambo.
SEE ALSO: Standing out as tough times push more to side hustles
Details on the Newborn Unit Exit Form indicated that "the child was born pre-term at 31 weeks and 5 days as compared to 40 weeks for a normal delivery."
Adhiambo explained that on Sunday evening, she went to breastfeed her child at 6pm and left the nursery at around 7:30pm hoping to check on the baby again by 9pm.
"At 9pm, I left my bed heading to the nursery. There I met two nurses who asked me where the name tag on my child had gone yet I had left it intact. My baby too was not in his bed," she said.
The distressed mother said the nurses then broke the news to her that her child had died after which she demanded to see the body.
Unique hair
SEE ALSO: Dortmund's Sancho, Akanji fined for getting haircuts without face masks
"My child had unique hair close to the forehead. I was shown an already wrapped baby whose body colour had turned almost green. The dead child had a birth mark on the face while mine had none. The body was too cold to have died minutes earlier," said Adhiambo.
Her attempts to get an explanation on the circumstances under which her baby died were futile as none of the nurses had answers to her queries.
But the hospital's medical superintendent Dr Joseph Mburu has denied Adhiambo's claims.
"There was nothing like a baby swap. The document in our possession clearly show that the child was born pre-term," Dr Mburu said.
The situation became more complicated the following day as Adhiambo was paying her bill when it emerged that she had been given a different file as a record for her child.
SEE ALSO: Keter turn guns to Diamond League debut
On the Discharge Summary Form given to Adhiambo, her patient number was recorded as 792173 but at the hospital billing records the number had been assigned to a different patient.
"At the accountant's desk, the patient number on the form gave the record of a patient named John Ng'ang'a. That was neither me nor my son," she said.
Dr Mburu admitted that there were some errors on the records but the inpatient number belonged to Adhiambo.
"If the child was not hers, we shall have a DNA conducted to establish the truth of the matter," said Dr Mburu.
More discrepancies emerged between the birth notification and a burial permit issued to allow the hospital to dispose of the body.
SEE ALSO: Covid-19: A wake-up call to save the Earth
In the two documents seen by The Standard, the Birth Notification issued on June 1 indicates that the child was born dead on May 29 while the burial permit indicated the child died aged one day.
Adhiambo who works as a security guard in Nakuru town said the torment has been hard for her to bear adding that her husband is still held up in Mombasa due to cessation of movement because of the Covid-19 pandemic.
Comments
comments