Indigenous tree claimed to miraculously heal infections among Luhyas ▷ Kenya News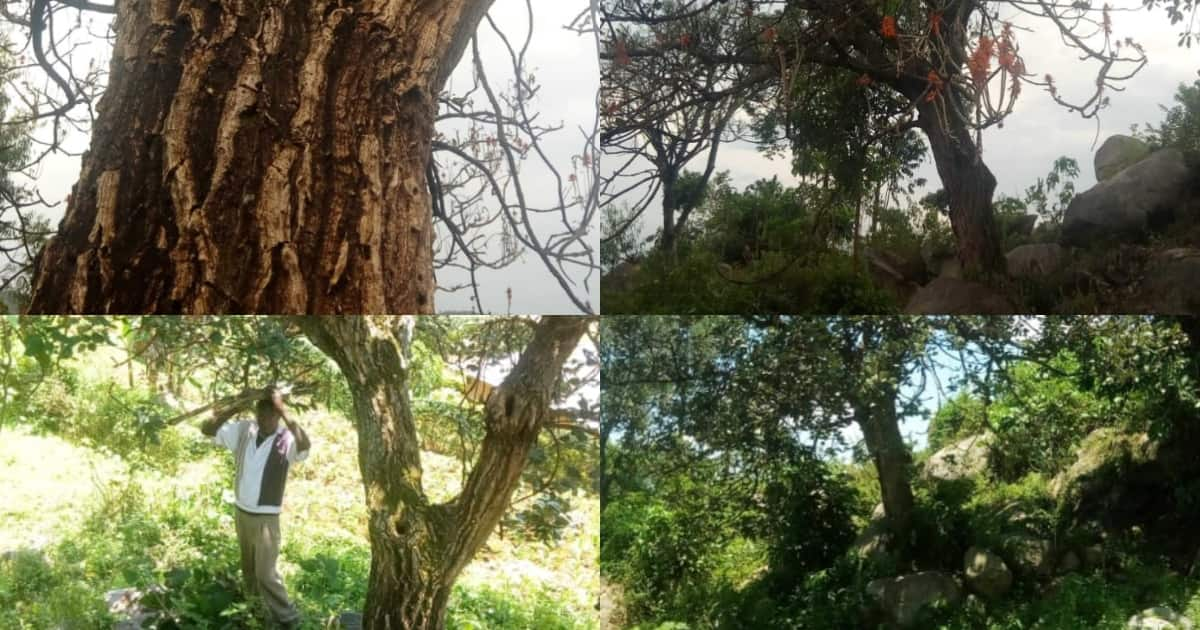 – The Omurembe tree is believed to have supernatural powers that enable it to listen to people and also heal mumps
– Its scientific name is Erythrina abyssica and it was a taboo for it to be cut down; the tree could only be fell with instructions from elders
– When one is attacked by mumps, they are encouraged to visit the tree while carrying firewood and go around it seven times before fleeing without looking behind
– Concern has, however, been raised that the tree is currently facing extinction since it is carelessly being fell for purposes of firewood and charcoal
Just like cold is a common ailment among children, mumps also form another string of viral infection mostly reported in young ones.
This infection is, however, not widely discussed as others since it is believed to only attack a person once in their life time.
READ ALSO: Ndindi Nyoro aomba msamaha kuhusu rabsha zake na Kamanda kanisani
READ ALSO: Angry crowd attempt to chase away Maina Kamanda, team kieleweke from Nanyuki church
Mumps is caused by mumps virus which after invading the immune system, causes swelling of the parotid salivary gland. It's easily spread from one person to another through infected saliva droplets.
According to Mark Sifuma, a Nairobi based medical practitioner, mumps can be treated by basically managing the symptoms which vary from mild to severe by just having a bed rest, isolation of the infected person to avoid spreading of the virus.
READ ALSO: Woman collapses while begging married man to be her lover
"It is contagious within five days of contracting the virus. The infected person should avoid sour food, juices that stimulate saliva production. They are also advised to use painkillers to ease the symptoms.
In cases where the patient starts developing severe abdominal pain, confusion, disorientation and in case of severe cases, one is encouraged to seek medical attention ," Sifuma explained
Sifuma says treatment of the viral disease in Nairobi can cost up to KSh 2,000 depending on the kind of drugs administered as well as the level of the hospital the patient visits
However, in the Luhya community, the viral disease locally known as 'Chindeindei' can be treated at no cost.
All the patient needs to have is access to an indigenous tress identified as 'Omurembe', fire wood an must possess ability to run without looking back.
Richard Sibiriti, a famous herbalist based in Mukuyuni village in Bungoma told TUKO.co.ke during an interview that mumps is not supposed to be treated in hospital at a fee.
The ailment, Sibiriti said, could easily be addressed with traditional remedies that had proved to work for ages.
"We are slowly losing our culture. Why should you go to hospital to be given injections and drugs for as much as KSh 2000, take a whole week suffering when you can just be healed in minutes?" the herbalist posed.
Sibiriti alias Panadol believes that all trees have medical value but God is yet to reveal to his people in totality which species heals which disease(s).
The Omurembe, which goes by scientific name Erythrina abyssica, Sibiriti says has a miraculous power that heals mumps in a jiffy just by going around it several times.
His sentiments were echoed by Daniel Livoi, a member of the Maragoli Council of Elders, who claims that the tree also has capacity to hear what people say.
"For you to be healed, you have to first identity where the tree is then collect some firewood. The second step is to sing at the top of your voice commanding mumps to leave you as you head to the tree.
Once you go round the tree seven times, throw the firewood to the tree in faith and leave as fast as you can without looking back," Livoi explained.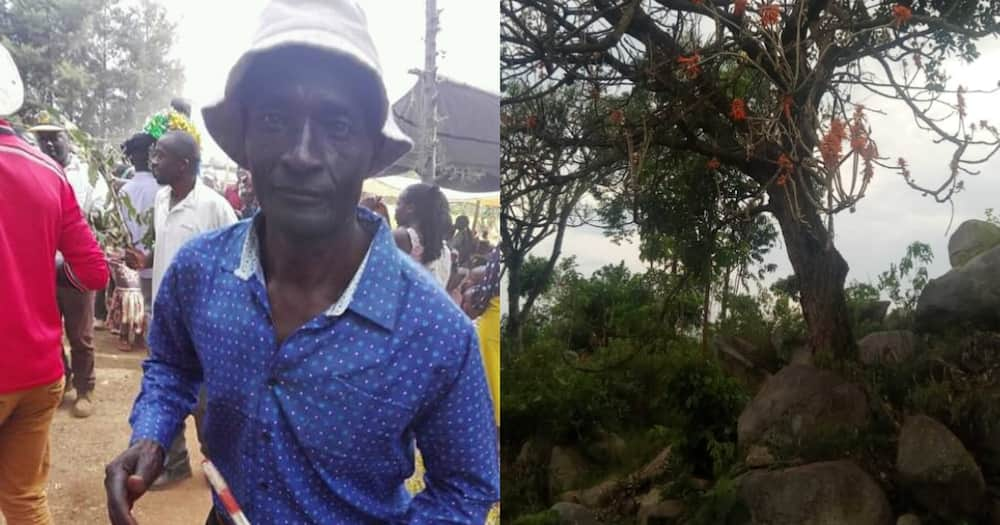 The elder states that though the steps appear simple, looking back after depositing firewood can be the greatest undoing.
Should one look back, Livoi claims they will carry with him all mumps spells other people deposited on the tree.
According to him, the reason why one has to go round the tree seven times is because the number seven is a symbolic figure used for healing even in the Bible singling out the story of Naaman.
"Just like when Naaman, an army commander, was sick, God sent him a Prophet who instructed him to dip himself into River Jordan seven and he was healed," he said.
Among those who claim to have been healed by the tree is Kevin Ayuku, 30. Ayuku stated that though he had little faith in the process, it worked like a charm after he executed it.
"I thought it was a joke until one day mumps attacked me. The feeling was very bad since it affected my feeding. I decided to give the process a try and it healed me," said Ayuku.
Tyvin Musimbi has also gone through a similar experience and Omurembe gave her the healing she had sought from it.
"You just need to have faith. I woke up one sunny morning, walked for several kilometers looking for the tree and when I finally got it. I did as instructed. By the time I reached home in the evening I was feeling better," she explained.
Concern has, however, been raised that the miraculous tree is facing extinction. Sibiriti and Livoi called on both levels of government to invest in protecting the tree species.
Despite being sacred, the duo said, the society had "turned against the holy tree" and it was being harvested carelessly for firewood and burning charcoal.
According to Livoi, once this tree is mature enough, it should not be cut down since it may bring bad luck to those who cut it or to their family members.
If it is a must for it to be fell, then it must be cut with authority from elders.
"Our great grandfathers cautioned us not to cut down this tree anyhow. We must stick to their guidance lest we sufferer harsh ramifications of our careless actions," Livoi concluded.
Story by Enock Ndayala – TUKO.co.ke Correspondent.
Do you have a groundbreaking story you would like us to publish? Please reach us through [email protected] or WhatsApp: 0732482690. Contact Tuko.co.ke instantly.
Meet Hassan Joho's look alike | Tuko TV.
Subscribe to watch new videos
Comments
comments
Before you believe online fodder, know that stars do it for hits
Last weekend, the world's favourite celebrity couple Will and Jada Smith confirmed that she was involved in an 'entanglement' with singer August Alsina. In a twelve-minute video on her show The Red Table Talk, they shattered the idea of a perfect marriage.
"I feel so betrayed," a friend told me after watching that video.
She is not the only one. Scores feel betrayed that the Smiths have for 22 years portrayed a perfect marriage to the media and online. While I am glad that they came out to show that there is no such thing as perfection in relationships, I don't think they owed anyone an explanation.
I mean, they are adults and whether they choose an open marriage or not, it's their business. And we all know that had it been Will involve in some sort of entanglement, it would have barely made news.
Keeping up with the Mwauras'
I have a real problem though with the people who follow celebrities on social media and believe the things they post. My all-time favourite quote is one by American writer Andrea Dworkin which illustrates how the sun never stop its glow to wonder whether it's good enough or worthwhile or even what the moon or Mars thinks of it. The sun just shines, regardless.
I can't say the same of most women, especially the current breed. Today's Kenyan woman is obsessed with keeping up with the Mwauras. She is constantly worrying about what everyone else thinks about her life. Before agreeing to a marriage proposal, before getting off the pill so that she can conceive, even before taking up that amazing job offer, she will stop to think of what her peers will think. She is always seeking affirmation and she's constantly second-guessing herself. Worse, she has gone a notch higher to seek this validation online from strangers and celebrities who have no clue that she exists.
Before she makes a decision, she will post on a group with ten thousand members, none of whom she has met. She will make even important decisions because she saw an Insta-model or influencer say that they do it. She will believe that marriage can be perfect because Will Smith and his wife paint an ideal one.
It's disturbing how committed we are to watching other people's lives. We forget that the lives of celebrities are show business. How much money most of them earn is directly proportional to how much fuss they can create around themselves. That celebrity you see posting pictures of her life by the hour has the mandate to create certain images or illusions of it. Do me a favour, let the credits roll on this Jada and Will video, and watch out for the full movie crew. Who pays for all this talent, if there is no money to be made?
Stars feed on the illusions they can sell to their audience. If she thinks that the illusion of a perfect marriage is what her followers want, they will give it. If a sex tape or controversy is what will sell, then she will create it and if she can't, she will fabricate it. Anything to get more hits.
Before you go using someone on the internet as a benchmark, remember that whatever you saw or heard may not be true. They may not even believe those things they post or sing in their songs.
Send your feedback to [email protected]
Comments
comments
Akothee's sister Cebbi Koks lands lucrative deal with Pete's Cafe and Jada Express
Cebbie Koks Nyasego, sister to prominent Kenyan artiste Akothee, has landed a lucrative deal with famous Pete's Cafe and Jada Express.
Koks partnered with the two brands to help ensure that Kenyans get the best quality when it comes to matters delivery.
A brief history on JADA Express shows that
They cater for those in the legal fraternity.
This is because their personnel are familiar with the court filing process across registries in the lower courts to the Supreme Court.
Their personnel is also familiar with the filing process at the lands and companies registries, meaning you can trust them to do all the dirty work for you.
Jada express also has a licensed process server who is at hand to effect service once documents are filed.
Given the sensitive nature of legal documents, the personnel at Jada are also equipped with the knowledge of strict confidentiality.
Cebbie has proven that she s good at what she does and that she is worth every penny.
Aside from being a brand ambassador, Cebbie is the CEO of a PR company 'virtuatwentyOne.'
She is also a communication and PR Strategist.
Comments
comments
Millennials, hands up if you spent a chilly night outdoors to make sure a cow doesn't snack on her own placenta!
Oh, the things the boy child in my rural generation had to go through!
It's a wonder no fatalities or permanent disfigurements were recorded. The rough and tumble on a daily basis was crazy. First, bullying was a thing, and village cred depended on whether you snitched or not. In any case, any snitching to your folks would spawn more problems.
"What were you doing with those boys to get beaten?"
"And, why didn't you fight back?"
Scraps on the knees would rarely be reported. Tiny bruises would mature into full-blown, septic wounds – and, only then would a lad be taken to the local dispensary for a tetanus jab. That trip would have nothing close to snacking on cookies and fizzy drinks.
The walk would make a huge part of a disciplinary hearing.
One of the lads in the village almost broke his neck in a dare, but luckily escaped with a fractured femur. In those days, the valleys had gigantic, majestic hardwood trees – Camphor, Meru Oak, Meru Teak. These trees would be tall, sometimes close to 100 meters. At the peaks, hawks and eagles would make their nests.
Well, one evening after a river swimming contest, a guy from a rival village comes up with a wild idea.
Who's brave enough to climb up the towering tree and capture a fledgling from the net?
Wait, an eagle's chick is called a fledgling. Thought you should know.
This was the kind of stunts that instantly made you a legend in the village. Even damsels would take note. My village crew wouldn't watch the challenge slip by, and instantly a volunteer stepped forth. I was too little at the time to think about it – not that I would have, anyway.
The guy starts to climb, while we sit and cheer. He's bare chested, and some sections are a challenge. It takes a while, and halfway into it, the crowd falls silent. We all know this is a bad idea, but no one wants to say that.
Our climber didn't even get to the last quarter of the tree, before a pair of eagles re-surfaced. Immediately, the birds of prey staged a double-pronged attack. It was subtle at first – blinding claps to the head with their wings.
The climber is hanging off a branch with one hand and trying to ward off the birds with the other. If the birds hadn't scaled up their attacks with their hooked beaks and talons, perhaps the climber would have got off the tree safely.
A swoop by one of the eagles on his bare back left several gashes. Rivulets of blood started running down the back of his thighs. The tree gets slippery. Another swoop, and our climber is tumbling down.
The damage would have been catastrophic, even fatal, if his fall hadn't been broken by branches on the way down. It didn't take long, but the eagles were still fast enough to claw him all the way down!
He plunged headlong into thick shrubbery growing along the river bed. We all took to our heels – straight home! I later heard that the climber's younger brother had raced to fetch their father. They'd almost taken an hour to retrieve the lad from the shrubbery. He was lucky to escape with just a broken leg.
Recently, with the lockdown due to the pandemic, I spent a chilly night with a vet. The vet says his career path was decided by a near-death episode as a kid. A bull had broken loose and almost trampled him to death – they were having their cow serviced. Since, he's helped phase out traditional bulls in favor of artificial insemination – at reasonable costs.
On this night, our family cow had just delivered – we were waiting to receive the placenta. Cows have an uncanny trick of eating their placentas!
As is with the Covid-19 regulations, the vet insists on cashless means of payment. He easily self-registered online on the New Co-op Internet Banking.
The New Co-op Internet Banking allows a client to handle and track payments to his account, real time. This also allows direct purchase of airtime from a Co-op Bank account, and even pay utility bills like power, water or cable TV packages. To self-register online, click here.
If you survived such adventures, you are a legend!
Comments
comments