Indigenous tree claimed to miraculously heal infections among Luhyas ▷ Kenya News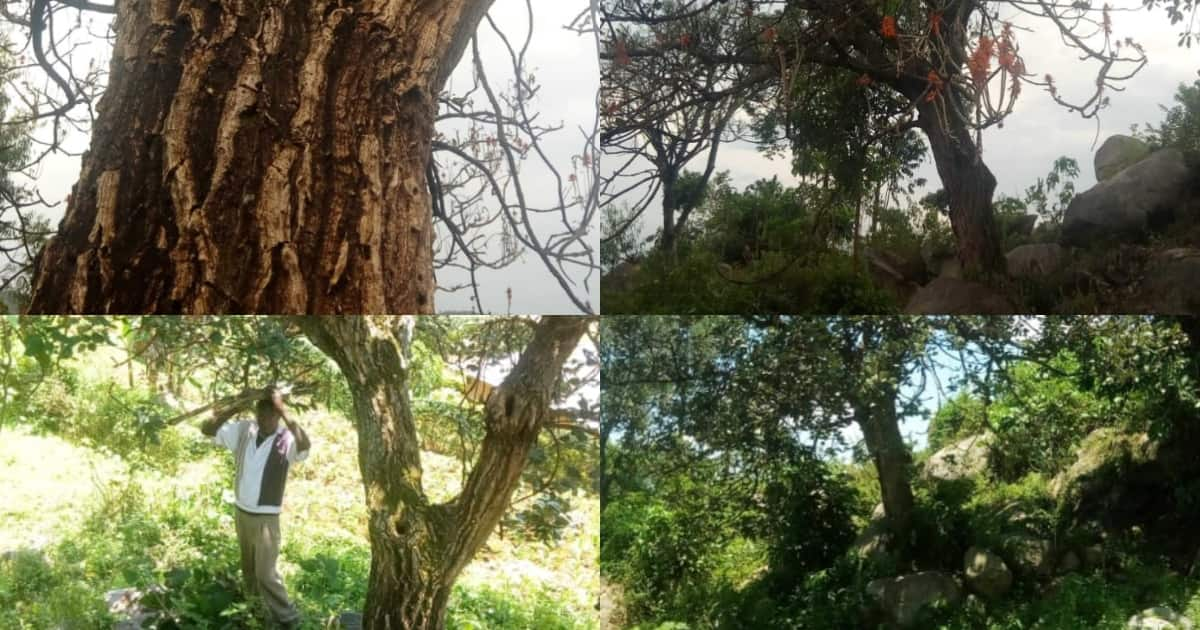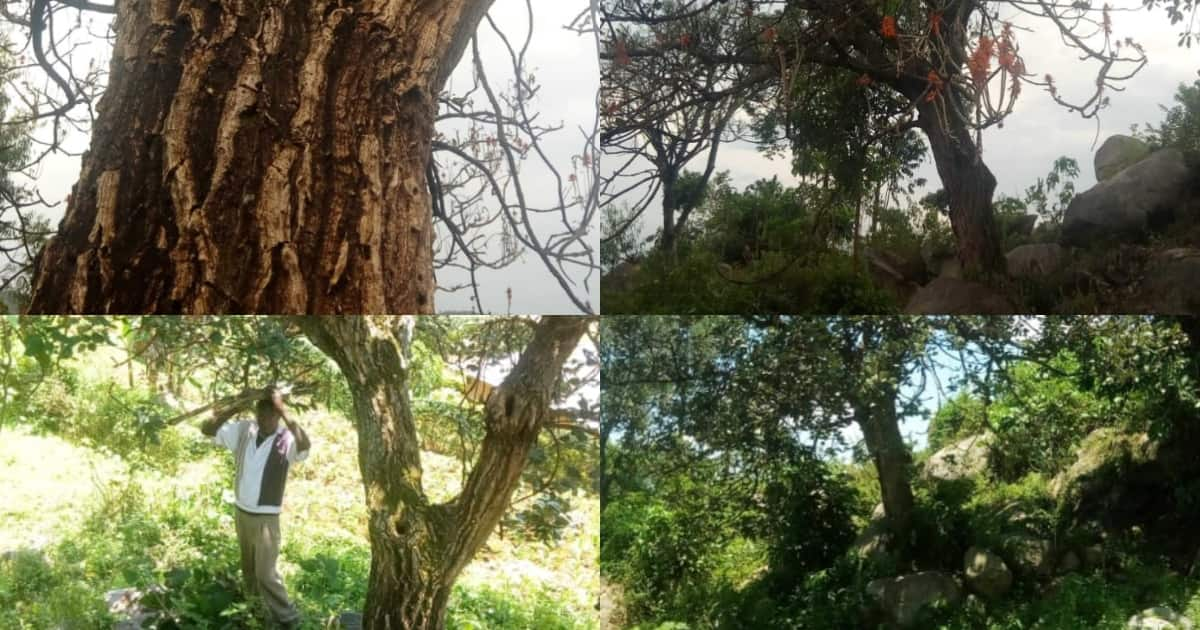 – The Omurembe tree is believed to have supernatural powers that enable it to listen to people and also heal mumps
– Its scientific name is Erythrina abyssica and it was a taboo for it to be cut down; the tree could only be fell with instructions from elders
– When one is attacked by mumps, they are encouraged to visit the tree while carrying firewood and go around it seven times before fleeing without looking behind
– Concern has, however, been raised that the tree is currently facing extinction since it is carelessly being fell for purposes of firewood and charcoal
Just like cold is a common ailment among children, mumps also form another string of viral infection mostly reported in young ones.
This infection is, however, not widely discussed as others since it is believed to only attack a person once in their life time.
READ ALSO: Ndindi Nyoro aomba msamaha kuhusu rabsha zake na Kamanda kanisani
READ ALSO: Angry crowd attempt to chase away Maina Kamanda, team kieleweke from Nanyuki church
Mumps is caused by mumps virus which after invading the immune system, causes swelling of the parotid salivary gland. It's easily spread from one person to another through infected saliva droplets.
According to Mark Sifuma, a Nairobi based medical practitioner, mumps can be treated by basically managing the symptoms which vary from mild to severe by just having a bed rest, isolation of the infected person to avoid spreading of the virus.
READ ALSO: Woman collapses while begging married man to be her lover
"It is contagious within five days of contracting the virus. The infected person should avoid sour food, juices that stimulate saliva production. They are also advised to use painkillers to ease the symptoms.
In cases where the patient starts developing severe abdominal pain, confusion, disorientation and in case of severe cases, one is encouraged to seek medical attention ," Sifuma explained
Sifuma says treatment of the viral disease in Nairobi can cost up to KSh 2,000 depending on the kind of drugs administered as well as the level of the hospital the patient visits
However, in the Luhya community, the viral disease locally known as 'Chindeindei' can be treated at no cost.
All the patient needs to have is access to an indigenous tress identified as 'Omurembe', fire wood an must possess ability to run without looking back.
Richard Sibiriti, a famous herbalist based in Mukuyuni village in Bungoma told TUKO.co.ke during an interview that mumps is not supposed to be treated in hospital at a fee.
The ailment, Sibiriti said, could easily be addressed with traditional remedies that had proved to work for ages.
"We are slowly losing our culture. Why should you go to hospital to be given injections and drugs for as much as KSh 2000, take a whole week suffering when you can just be healed in minutes?" the herbalist posed.
Sibiriti alias Panadol believes that all trees have medical value but God is yet to reveal to his people in totality which species heals which disease(s).
The Omurembe, which goes by scientific name Erythrina abyssica, Sibiriti says has a miraculous power that heals mumps in a jiffy just by going around it several times.
His sentiments were echoed by Daniel Livoi, a member of the Maragoli Council of Elders, who claims that the tree also has capacity to hear what people say.
"For you to be healed, you have to first identity where the tree is then collect some firewood. The second step is to sing at the top of your voice commanding mumps to leave you as you head to the tree.
Once you go round the tree seven times, throw the firewood to the tree in faith and leave as fast as you can without looking back," Livoi explained.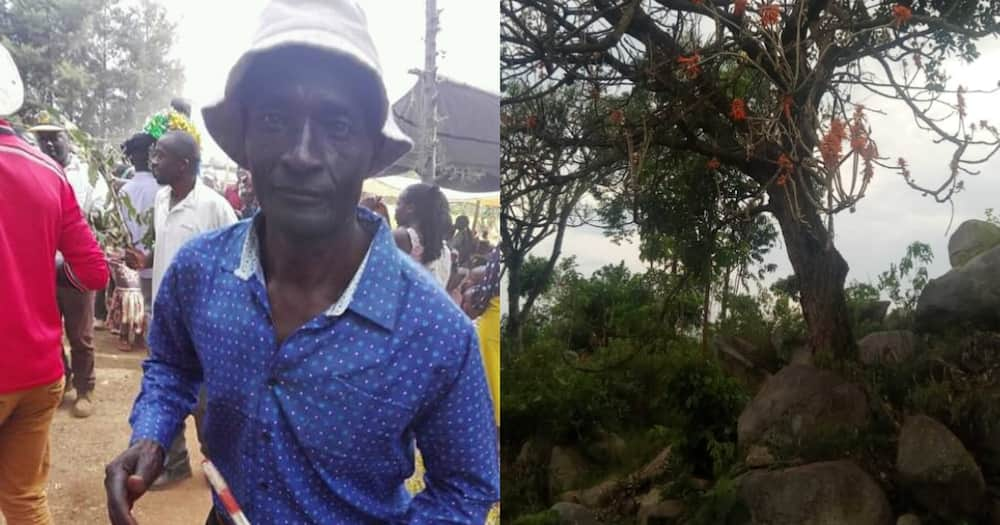 The elder states that though the steps appear simple, looking back after depositing firewood can be the greatest undoing.
Should one look back, Livoi claims they will carry with him all mumps spells other people deposited on the tree.
According to him, the reason why one has to go round the tree seven times is because the number seven is a symbolic figure used for healing even in the Bible singling out the story of Naaman.
"Just like when Naaman, an army commander, was sick, God sent him a Prophet who instructed him to dip himself into River Jordan seven and he was healed," he said.
Among those who claim to have been healed by the tree is Kevin Ayuku, 30. Ayuku stated that though he had little faith in the process, it worked like a charm after he executed it.
"I thought it was a joke until one day mumps attacked me. The feeling was very bad since it affected my feeding. I decided to give the process a try and it healed me," said Ayuku.
Tyvin Musimbi has also gone through a similar experience and Omurembe gave her the healing she had sought from it.
"You just need to have faith. I woke up one sunny morning, walked for several kilometers looking for the tree and when I finally got it. I did as instructed. By the time I reached home in the evening I was feeling better," she explained.
Concern has, however, been raised that the miraculous tree is facing extinction. Sibiriti and Livoi called on both levels of government to invest in protecting the tree species.
Despite being sacred, the duo said, the society had "turned against the holy tree" and it was being harvested carelessly for firewood and burning charcoal.
According to Livoi, once this tree is mature enough, it should not be cut down since it may bring bad luck to those who cut it or to their family members.
If it is a must for it to be fell, then it must be cut with authority from elders.
"Our great grandfathers cautioned us not to cut down this tree anyhow. We must stick to their guidance lest we sufferer harsh ramifications of our careless actions," Livoi concluded.
Story by Enock Ndayala – TUKO.co.ke Correspondent.
Do you have a groundbreaking story you would like us to publish? Please reach us through [email protected] or WhatsApp: 0732482690. Contact Tuko.co.ke instantly.
Meet Hassan Joho's look alike | Tuko TV.
Subscribe to watch new videos
Nuclear science utilized to protect the African Rhino – KBC
On May 13th the innovative anti-poaching "Rhisotope Project" was launched. The project which is based on nuclear science has the potential to drastically reduce Rhino poaching.
The project was initiated by the University of Witwatersrand (WITs) and is being implemented under a global collaboration with the Australian Nuclear Science and Technology Organisation (ANSTO), Colorado State University (USA), ROSATOM (Russian Federation), and the Nuclear Energy Corporation of South Africa (Necsa) as well as global scientists, researchers, South African rhino owners and veterinary surgeon Dr William Fowlds.
The Russian State Atomic Energy Corporation Rosatom is a key supporter and partner of the unique international technology collaboration between universities and nuclear organisations. The launch of the project happened at the magnificent Buffalo Kloof Private Game Reserve, which is also an important collaborator in the project.
On the day of the launch, the first phase of the project was implemented, a trace amount of completely harmless stable isotopes was carefully introduced into the horns of two rhinos. For the next three months scientists will monitor the rhinos and analyse various samples to understand how the isotope interacts within the horn and the animal.
Get breaking news on your Mobile as-it-happens. SMS 'NEWS' to 20153

The key aspect of this research will be to confirm that by introducing radioactive isotopes into the horns of these rare and beautiful animals it will cause them no harm. Computer and phantom modelling will also be used to confirm this as well as identify the appropriate radioactive isotope and quantity to be used.
Igor and Denver are the rhino pioneers and the main heroes of this project. Igor is named after Igor Kurchatov, a Soviet nuclear physicist who contributed greatly to the development of civil nuclear technology as we know it today. Denver is named after the capital of Colorado, in honor of the efforts provided by Colorado State University (USA) in the project.
Professor James Larkin, Director at the Radiation and Health Physics Unit at the University of Witwatersrand in Johannesburg, highlighted the project from a different perspective.
"One of the very few countries in the world, where you can come and see the big five. We've got to work hard to maintain that for the two reasons in the industry: for the people's employment, for the benefit of everyone who lives and works around the game farm. You have to realise that you can shoot a rhino once, but if you shoot it with a camera, you can do it a hundred times, a thousand times and people will keep coming back to see these beautiful animals, that's jobs for a lot of people, that's growth of the economy". He said
The Rhisotope Project is multifaceted and relies on the following key principles, demand reduction and horn devaluation, community upliftment and investment, education as well as rhino research and data collection. By focusing on these principles, the project aims to decrease the demand for rhino horn on the international market as well as make the horn more detectable when crossing international borders.
With over 10 000 radiation detection devices installed at various ports of entry across the globe, experts are confident that this project will make the transportation of horn incredibly difficult and will substantially increase the likelihood of identifying and arresting smugglers.
Once the research work has been completed and a proof of concept has been demonstrated, this technique will then be offered to both state and private rhino owners on the African continent and globally. The intellectual property, as well as training and assistance, will be made freely available to conservation organisations who may wish to utilise this process to further protect their animals from poaching.
"We are incredibly proud to play a fundamental role in this amazing initiative, which has the potential to save this incredible species from certain extinction", noted Ryan Collyer, CEO of Rosatom Central and Southern Africa.
"We are also humbled by the fact that science is able to transcend boundaries, borders and politics as shown by this global initiative in a race against the plight of the African rhino.  We believe that science and particularly nuclear science will play a fundamental role in not only protecting the rhino but our planet in general." He remarked
About Rhino Poaching
South Africa is home to 90% of the world's rhino population. From 2010 to 2019 over 9600 rhinos were killed in poaching attacks. Even though the trade in rhino horn is illegal and banned internationally, there are many countries that drive the illicit sale of horn, countries like Vietnam, China, Cambodia, Croatia and North Korea to name a few.  Now trafficked rhino horn is not an industry of its own, it has become a lucrative "commodity" for the biggest crime syndicates to benefit from.
SportPesa Finally Awards Koth Biro Teams
By Emmaline Owuor
The 2019 KothBiro football tournament winners have finally been awarded their prize money a year after completing the tournament.
The winners had their prize moneys delayed after SportPesa the official sponsors of the tourney in 2019 closed offices in Kenya.
The football tournament which has been running for more than 10 years has never had an issue of not awarding their winners.
In August 2019, the betting company issued an official statement that it was cancelling all local sport sponsorship.
This is after a claim by the government that the betting company have not been paying their Taxes and their company license was at a verge of being revoked.
Speaking to Ghetto Radio, Paul Ojenge one of the Koth Biro officials appreciated SportPesa's move to honour its promise to the clubs.
Ojenge says that the fulfillment of the promise has helped SportPesa clear the tourney's name that they had embezzled funds.
"I want to thank the SportPesa team for giving us the cash regardless the situation that they are passing through. We as the Koth Biro team have depended on their sponsorship for the smooth running of the tournament. We want to thank those who were patient with us and supported us," said Ojenge.
According to Ojenge football foundation starts in the grassroots and the reward from SportPesa is not taken lightly.
"Kenyan Premium League, GorMahia have not been awarded their four million shillings but they have awarded us as KothBiro. This shows that they love us and know the foundation of football that people have ignored," added Ojenge.
SportPesa has sponsored a lot of sporting teams including football teams like, GorMahia and AFC Leopards; rugby teams and also the famous Kenyan Boxer Zarika.
Nicki Minaj pens message to late father on his birthday
American Rapper Nicki Minaj has penned down a birthday message for her deceased father.
The singer shared a photo of her father on Instagram saying she misses him.
"Happy Birthday Daddy. Miss u so much. So much. So so much. Rest In Peace. Oh my God. 🙏🏽" she wrote.

According to Nicki, she has not come to terms with her dad's death that happened in a  road accident in February this year.
She recently opened up on the devastating loss that left her broken.
"Tho I can't really bring myself to discuss the passing of my father as yet; I can say it has been the most devastating loss of my life," the 38-year-old wrote. "I find myself wanting to call him all the time. More so now that he's gone. Life is funny that way. May his soul rest in paradise. He was very loved & will be very missed." Wrote Nicki.
Her father died after a hit and run while walking on the roadway at Long Island. He was rushed to the hospital but declared dead on arrival.