How sustainable development in Africa can be amplified by the media: The Standard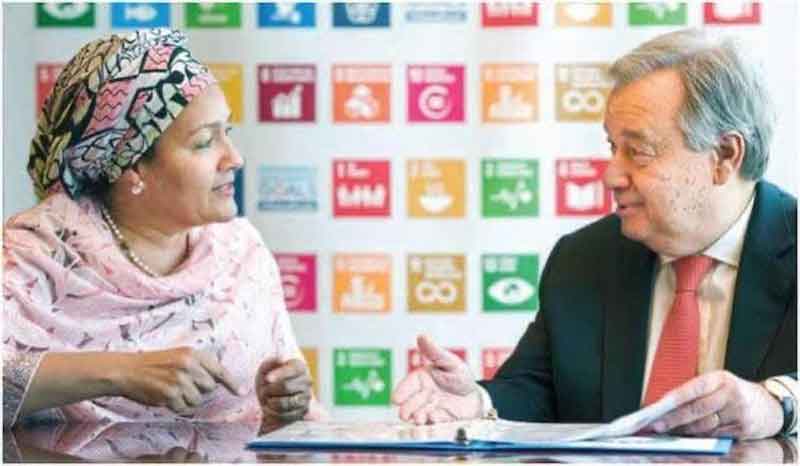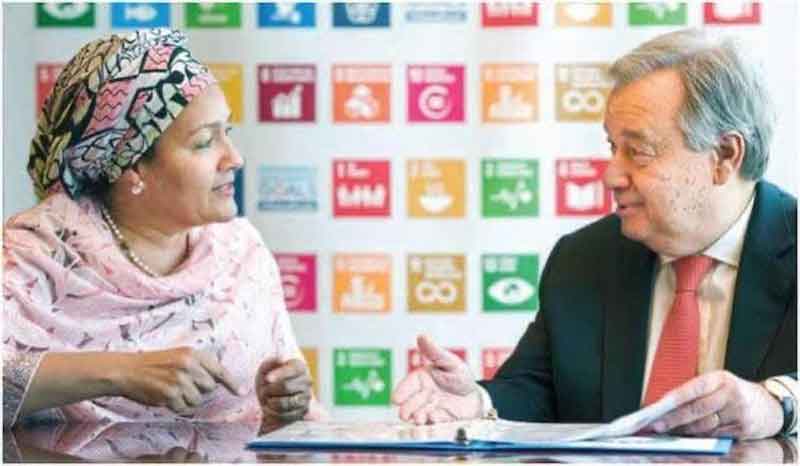 When 17-year-old high school student Darnella Fraizer filmed the last minutes of George Floyd's life under the knee of police officer Derek Chauvin, she could not have imagined that her footage would reignite the explosive global question of racial inequality and the subsequent clamour for reforms in policing.
This act of filming validates the force of the media globally, we need a similar drive for urgent action in Africa. We need the continent's media to help ensure the Sustainable Development Goals (SDGs) are achieved and the life of every African afforded the opportunity they deserve.
"Around the world, success in achieving the SDGs will ease global anxieties, provide a better life for women and men and build a firm foundation for stability and peace in all societies, everywhere," said the UN Deputy Secretary-General, Amina Mohammed. 
Even before the Covid-19 pandemic, a wave of demonstrations from Lebanon to Chile, from Iran to Liberia, was sweeping across countries. This was a clear sign that, for all our progress, something in our globalized society is broken.
SEE ALSO: Standard Group CEO calls for professionalism during layoffs
The Covid-19 pandemic has struck the world like a bolt of lightning exposing the contours of deep inequalities. Media reports have helped reveal the interwoven threads of inequality and health, with poorer people suffering a strikingly disproportionate share of the fallout from the virus, either through infection or loss of livelihoods.
The global sweep of protests due to years of disenfranchisement and racism has made it clear that the world must change to offer equal treatment to all people.  
Media can do the same for the Sustainable Development Goals (SDGs). Achieving the SDGs, and so improving the lives of millions of Africans, depends heavily on increasing public awareness, and on the focused action and funding that such awareness ignites.
One major shortcoming of development progress is the lack of widespread knowledge about the SDGs and the 2030 Agenda. We must look to the media to push the SDG discourse; what is reported and how it is reported helps shape policy and has implications for the millions of people whose lives are affected. Knowledge is power and if citizens are aware of the issues, they are empowered to help determine the national response.
Traditionally, development experts have failed to explain the relatively new concept of sustainable development to influencers such as educators, politicians, and the media. Doing so is key, so that easily understood narratives are developed to raise public support.
SEE ALSO: It's a pity Kenyans are full of negative energy
We are already a third of the way towards the 2030 Agenda deadline which 193 UN member states committed to. But at the current pace of change – notwithstanding the global pandemic – Africa is likely to miss out on the time-bound targets in key sectors – including health, education, employment, energy, infrastructure, and the environment. 
Improved public awareness of the SDGs themselves, and of the actions needed and the bodies responsible for such actions is essential. By stepping up to address and explain the global quest for social justice and equality which the SDGs represent, the media can help galvanise civil society, business, international bodies, regional organizations, and individuals.
Pressure from an informed public, pushes policymakers into action, offering hope to millions of poor people.
Development is never far from the media agenda in Africa, so the opportunity to build understanding of sustainability is there. Sustainable development experts must explain why the SDGs are important, and why 'business as usual' in development is no longer viable in the face of increasing populations and climate change. Then, news outlets, who would then be able to develop compelling narratives to make the concept understandable by all can help raise the SDG profile, thereby raising public support.
We must "flip the orthodoxy".
SEE ALSO: India's Chinese app ban seen jolting $1 billion expansion of ByteDance
What is reported, how it is reported, and on what channels helps in shaping policy and has implications for the millions of people whose lives are affected.
To this end, the media must be brought into the conversation and be made to understand the role they can play towards the greater good.
The SDGs pledge that "no one will be left behind" and to "endeavour to reach the furthest behind first." In practice, this means taking explicit action to end extreme poverty, curb inequalities, confront discrimination and fast-track progress for the furthest behind.
The media can shine a spotlight on those left behind, for example by using COVID-19 to examine the wider issue of universal health coverage, the subject of SDG 3.
It also plays a critical role in holding governments to account for their Agenda 2030 commitments. Though these commitments demand that countries have clear reporting and accountability mechanisms, most nations still have no reliable data on their progress towards specific goals. This matters because countries can only unlock financing for the SDGs by disaggregating data to understand where resources are required. In Africa, where national commitments are rarely backed by adequate investment, this is particularly important.
SEE ALSO: Laughter ends as comedian Kasee dies a sad man
Rapid mobile penetration in Africa offers unparalleled opportunities for content sharing on digital platforms such as Facebook, Twitter, and YouTube. Though the lack of affordable internet connections and poor connectivity remains a challenge, mobile technology is a powerful enabler across many sectors.
One in every six people on Earth lives in Africa; its problems are the world's problems and solving them is the world's responsibility. If Africa fails to achieve Agenda 2030, the implications will be felt across the planet through conflict, migration, population growth and climate catastrophe.
The media in Africa is a stakeholder in the achievements of the SDGs. Let us support the media and enlist their help in the quest for economic, environmental, and social justice across the world.
-Siddharth Chatterjee is the United Nations Resident Coordinator in Kenya. Follow him on twitter- @sidchat1
Comments
comments
Ndegwa brothers reveal Sh3.2 billion NCBA ownership
Ndegwa brothers reveal Sh3.2 billion NCBA ownership
Monday, July 13, 2020 12:28

By VICTOR JUMA
NCBA Group #ticker:NCBA chairman James Ndegwa and his brother Andrew Ndegwa each own a 4.16 percent personal stake in the bank with a market value of Sh1.6 billion apiece.
The Nairobi Securities Exchange-listed firm has made the disclosure through its first annual report based on the requirement that directors of publicly-traded firms reveal their ownership.
The two are non-executive directors of NCBA, the product of the merger of the NIC Group and CBA Group in September last year.
The brothers held shares in the two banks and the merger has consolidated their ownership in NCBA, which is now ranked third in the country by assets.
James previously held 52.5 million shares of NIC and 3.1 million shares of CBA. Andrew held 52.5 million shares of NIC and 3.4 million shares of CBA.
The CBA shares were subsequently multiplied 2.7 times and transferred to the merged bank.
The merger was done through a share swap, with former CBA shareholders ending up with a combined 53 percent equity in the merged entity while former NIC investors were allotted a 47 percent stake.
On completion of the transaction, James' holdings had consolidated into 61.3 million shares equivalent to a 4.09 percent stake in NCBA while Andrew's stood at 62.2 million shares (4.16 percent).
The larger Ndegwa family has an estimated 11.6 percent stake in NCBA with a market value of Sh4.6 billion based on the lender's share price of Sh26.4 on Friday.
The brothers are among a group of top investors with banking stakes valued at more than Sh1 billion each. Others include Equity Group's #ticker:EQTY chief executive James Mwangi who holds a 4.38 percent stake in the lender worth Sh5.4 billion.
Co-operative Bank #ticker:COOP chief executive Gideon Muriuki has a two percent stake in the lender valued at Sh1.4 billion.
It is not clear when the Ndegwa brothers acquired shares in the former CBA but the disclosures ahead of the merger shows that Kenyans became shareholders in the lender after buying out Bank of America between 1984 and 1992.
The Ndegwa family, through their investment vehicle, First Chartered Securities, also acquired their initial 12 percent stake in NIC between 1993 and 1996 by buying shares from the lender's previous owner, Barclays Bank of Kenya.
The family, one of wealthiest in Kenya, later acquired more shares in NIC to reach a 25 percent stake by the time the lender merged with CBA.
The brothers are the sons of late Philip Ndegwa, a former CBK governor, who died in 1996.
The two lenders merged to benefit from economies of scale in a competitive industry where big banks take most of the profits from diversified operations including retail and corporate banking.
NCBA is now ranked third with assets of Sh509.5 billion in the first quarter ended March, trailing Equity (Sh693.2 billion) and KCB #ticker:KCB (Sh947 billion).
Co-op Bank, which is now ranked fourth after the rise of NCBA, had Sh470.4 billion in assets. Co-op Bank, however, retains its rank as the third most profitable lender with net earnings of Sh3.5 billion or more than twice NCBA's Sh1.6 billion in the review period.
"In the next year we will concentrate a lot of our efforts in consolidating our business, ensuring the best of our twin heritage is rolled out smoothly across the region and even internally," James Ndegwa wrote in the NCBA report.
"We anticipate receiving the remaining regulatory approvals in Uganda and Tanzania to operate as NCBA soon and these will allow us to consolidate our business in the region."
Comments
comments
Tatu City & Cold Solutions Ink KSh7.5 Billion Investment Deal
Tatu City and Cold Solutions Kenya Limited have inked a KSh7.5 billion investment deal that will see the latter construct state-of-the-art, temperature-controlled cold storage warehouses in the country.
The firm will construct Cold Solution flagship facility in Tatu City Special Economic Zone in Nairobi, with other facilities located in Mombasa.
The 15,000 square meters grade 'A' cold storage complex will span across six acres at Tatu City, and will be the country's largest, most advanced and efficient in the region. The facility is expected to be operational in 12 to 18 months.
It has been flexibly designed to cater for numerous temperature ranges from +26 to -40 degrees Celsius and multiple product ranges, from fresh fruit and vegetables, to pharmaceuticals and vaccines, meats and poultry, and frozen foods. 
Cold Solutions Kenya Limited is a portfolio company of ARCH Cold Chain Solutions East Africa Fund, a private equity fund advised by ARCH Emerging Markets Partners Limited (ARCH). By establishing the Cold Chain Solutions East Africa Fund, ARCH Emerging Markets Partners Limited intends to spearhead the development and operation of large scale energy efficient cold chain solutions facilities and end to end logistics throughout five countries in East Africa covering Ethiopia, Kenya, Rwanda, Tanzania, and Uganda. 
The fund plans to build up to 10 state-of-the-art temperature-controlled cold storage warehouses in the region. The investment into East Africa will be at least KSh21.4 billion.
See Also:
Comments
comments
Construction of Nairobi Railway City Set to Begin This Year
Commencement of the Nairobi Railway City construction is set to kick off this year, after the formation of the RCDA (Railway City Development Authority).
This follows a directive by President Uhuru Kenyatta in March for Nairobi Metropolitan Service (NMS) to work closely with relevant institutions to establish the Authority and identify anchor projects and investors for the project.
Implementation of the plan is projected to cost about KSh27.9 billion for putting up the infrastructure for the railway city, which will include landscaping, roads & pavements, railway infrastructure, water supply, sewerage systems, telecommunications, and power.
The Nairobi Railway City project will be implemented on a 425-acre piece of land stretching from Haile Selassie Avenue, Uhuru Highway, Bunyala Road, Commercial, and Landhies Road.
The full implementation of the plan is expected to take 20 years and is divided into three phases. Phase one involves developing basic infrastructure (2020-2030), phase two for activation of the city's economy (2030-2035), and phase three, which will allow for spontaneous development following planning and development guidelines.
The Nairobi Railway City plan includes building a new railway station that allows for the integration of BRT and other public transport modes as well as other commercial developments, including skyscrapers, residential flats, a cultural center, and a museum.
The project is divided into three components, with the first component entailing the construction meeting facilities, incentive conferences, and exhibitions, which will be located along Bunyala Road.
The next will be an economic zone comprising hi-tech industries and small and medium enterprises. 
The final component, the East core, will comprise a residential complex – including a school, park, and affordable housing units – to accommodate approximately 28,000 residents. It will be built in Landi Mawe and Industrial Area.
See Also:
Comments
comments