Govt Slates Budget Day For June 11
NAIROBI, Kenya, May 23 – National Treasury Cabinet Secretary Ukur Yatani will read this year's budget statement on the 11th of next month at the National Assembly Chambers.
Yatani will read a statement that covers the 2020/2021` financial estimates is set to be announced at 3.00 pm on that day.
It will come at a time when a lot of resources are being put in the war against coronavirus which has so far infected 1,161 Kenyans.
Of note will be the measures put in place by the government to cushion Kenyans from the pandemic which has left many jobless.
It also comes when the country has received billions of shillings as loan from international lenders, to fill in the deficit occasioned by the coronavirus pandemic.
This week alone, the World Bank has announced that it will be lending more money.
The latest monies, the World Bank said it will be for fighting desert locusts that have invaded several counties and threatened food security to about three million people.
For fighting locusts, the bank will lend Kenya Sh4.6 billion and for budget support a whooping Sh106.8 billion.
"Without immediate intervention, the locust attack could lead to a deterioration in food security towards the end of 2020 and possible rise in food prices," said World Bank Country Director for Kenya, Felipe Jaramillo.
"We are working with other development partners to provide, restore, and enhance the livelihoods of affected farmers, pastoralists, and vulnerable households that have been affected by the locust attack and are food insecure."
Comments
comments
EDITORIAL: Fight Covid-19 in slums
EDITORIAL: Fight Covid-19 in slums
Friday, May 29, 2020 0:01

By EDITORIAL
The rising number of Covid-19 cases in slums should draw attention of the policymakers to the potential that the crisis could escalate faster and affect more people than has been projected.
Recently, health authorities said that the number of cases will increase and peak in September, but with the disease situation in slums getting worse this could change. The peak could come later and with even more cases than projected.
That could mean having well over 300 cases per day as opposed to the slightly over 200 cases projected to be reported daily for September. And then the problem could go on for longer and spread faster.
One of the reasons for the spread in the slums are the cramped conditions in which the dwellers live: There is hardly any space to ensure social distancing and there is shortage of water and other sanitary facilities. Again people are either not wearing masking while in public spaces or have them on but are not wearing them appropriately.
The situation calls for increased vigilance, including providing ample water coupled with teaching the public the need to raise their hygiene standards. Further, the slum dwellers should be encouraged to use masks properly in public places and to ensure that they do not share their masks. One major way for the State to convince residents that it cares for their welfare is by dispensing the masks for free.
Comments
comments
DP Ruto allies ask Uhuru not to forget their support since 2002
A section of leaders from Deputy President William Ruto's backyard have waded into the widening rift in Jubilee Party telling President Kenyatta not to forget that he is where he is because of the Kalenjin community's support.
The North Rift leaders were Wednesday categorical that it was the former President Moi who forced the late former nominated MP Mark Too to step down for him to pave the way for a young Uhuru to enter Parliament and subsequently contest the presidency.
Nandi Governor Stephen Sang and Chesumei MP Wilson Kogo said had Mr Too declined to resign, Mr Kenyatta probably would not have made it politically.
"The Kalenjin community has supported the President since 2002 including when Kanu lost power in 2013 and 2017 elections. It is only fair that the community is treated with decorum in Jubilee," said Mr Sang.
Mr Ruto's allies have continued to be ousted out of key positions in Senate with former majority leader Kipchumba Murkomen, majority whip Susan Kihika and Deputy Speaker Kithure Kindiki already stripped of their seats.
Jubilee secretary-general Raphael Tuju on Tuesday also announced the restructuring of Senate committees which saw the DP's allies kicked out of key positions. The purge is now said to be headed to the National Assembly.
The DP's allies have however read mischief and are categorical that the purge is targeting leaders who have taken certain political stands and it has nothing to do with what Mr Tuju calls instilling discipline in the party.
"As Jubilee leaders from Rift Valley and the entire Kalenjin community, we are very concerned with what's happening in Jubilee. We supported the president overwhelmingly but he seems to have forgotten us," said Mr Kogo.
Chama Cha Mashinani leader Isaac Ruto, however, said the ongoing purge was normal in any democracy and called on the community not to panic.
"Claims that the restructuring is targeting supporters of certain individuals is neither here nor there" the former Bomet governor said by phone.
He said a party leader has a prerogative to restructure Parliament to ensure his agenda is pushed and crucial bills passed.
But Mr Sang said that all happenings in Jubilee at the moment point to attempts to force the DP out of the 2022 race.
"Such schemes will not succeed. We are owners of Jubilee and we are there to stay," said the close DP ally.
Comments
comments
Giraffe Manor opens doors since Covid-19 struck: The Standard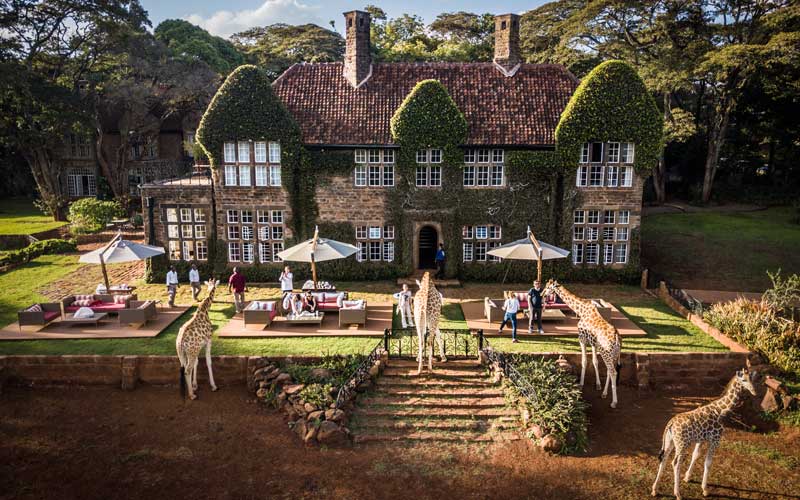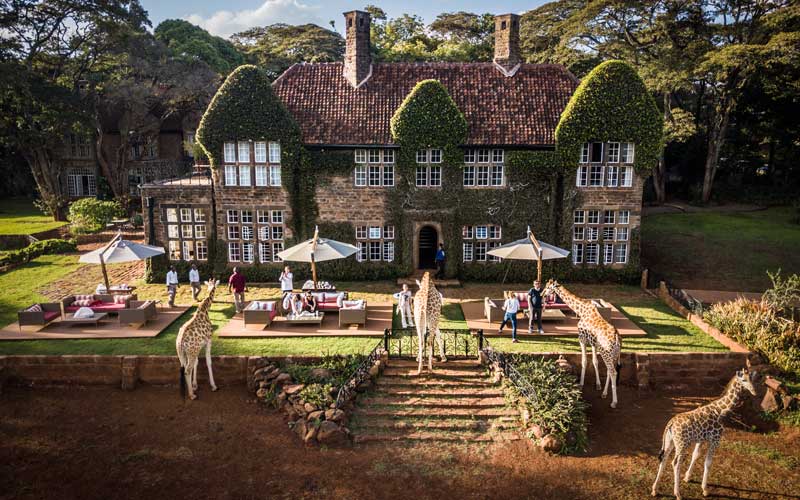 Business News
Kenyans welcome to experience hotel whose availability is hard to come by as it is often booked a year in advance
As a powerful indicator of light at the end of the covid-19 tunnel, one of Kenya's most iconic tourism destinations, the Giraffe Manor re-opens tomorrow May 29, 2020.
The hospitality industry in Kenya, as most of the world, closed temporarily since March when flights were suspended and major restrictions imposed by the government to curb the spread of Covid-19.
The re-opening thus is a welcome development for an industry, and especially thousands of anxious workers, which has borne the harshest effects of the global pandemic.
Often referred to as one of the most Instagrammed properties in the world, the exclusive boutique hotel is set in 12 acres of private land within 140 acres of indigenous forest in the Lang'ata suburb of Nairobi.
SEE ALSO: Dealing with lockdown loneliness – from keeping active to coping without hugs
The historic manor house, modelled on a Scottish hunting lodge in 1932, has extraordinary appeal that harks back to the 1930s when European visitors first flocked to East Africa to enjoy safaris.
With its stately façade, elegant interior, verdant green gardens, sunny terraces and delightful courtyards, guests often remark that it is like walking into the film Out of Africa: indeed, one of its twelve rooms is named after the author Karen Blixen.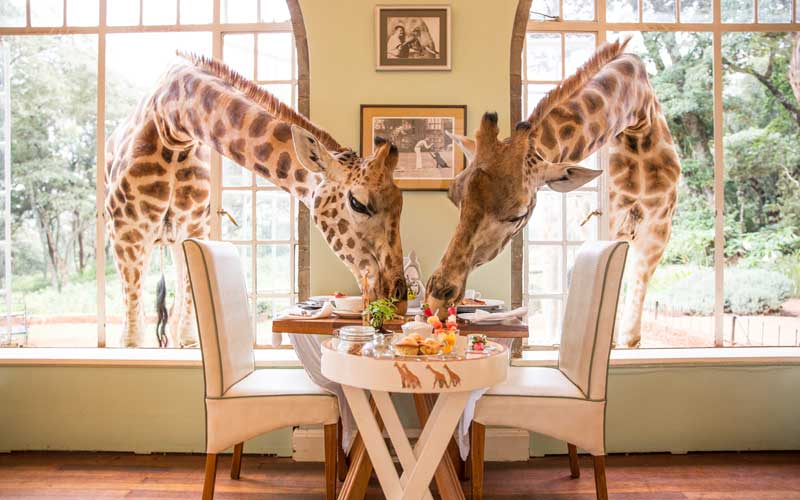 One of the most fascinating things about Giraffe Manor is its resident herd of Rothschild's giraffes who may visit morning and evening, poking their long necks into the windows in the hope of a treat, before retreating to their forest sanctuary.
The elegant long legged giraffes have roamed its lawns since the 1970s when conservationists Jock and Betty Leslie-Melville first adopted an orphaned Rothschild's giraffe called Daisy. Since then, the globally recognised hotel has been the choice host for celebrities visiting Africa including Ellen DeGeneres, Mick Jagger, Brooke Shields, among others
For a start, however, a chance to experience the all-inclusive bucket-list property will only be available Kenyan citizens and residents who can still travel within Nairobi.
SEE ALSO: Hospitals opt for staff pay cuts, unpaid leave
This is an opportunity to experience an establishment whose availability is hard to come by; the hotel is often booked a year in advance.
Strict hygiene protocols and a special resident rate, valid for the month of June 2020, have also been announced to entice visitors.
Comments
comments