Giraffe Manor opens doors since Covid-19 struck: The Standard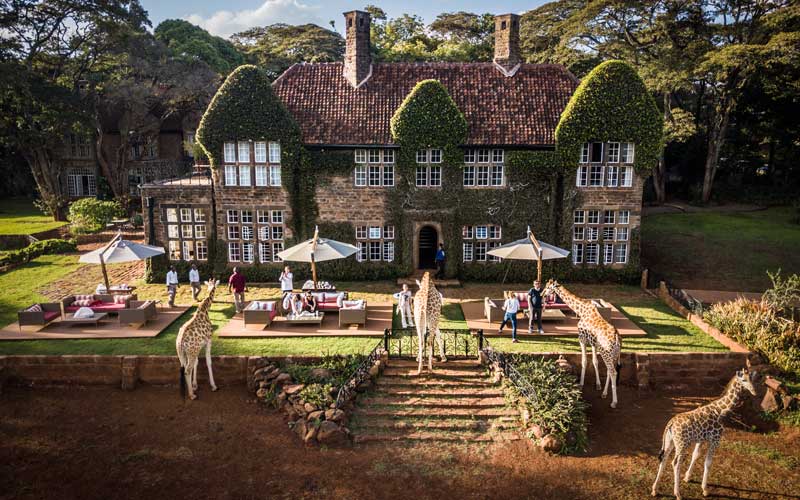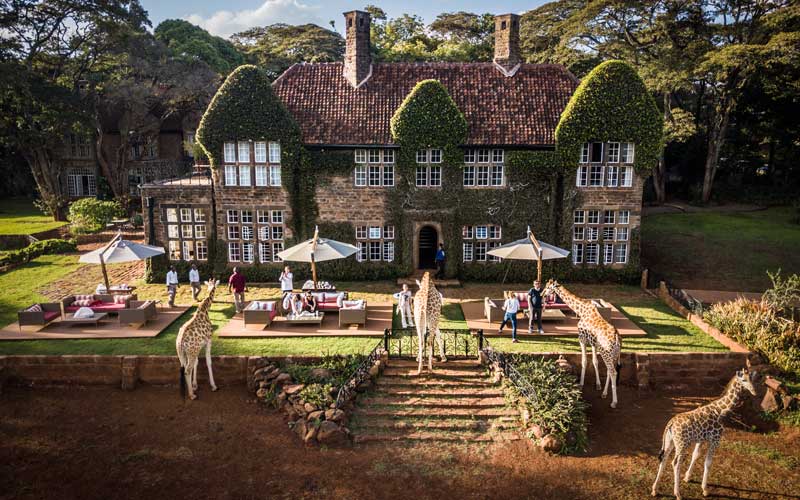 Business News
Kenyans welcome to experience hotel whose availability is hard to come by as it is often booked a year in advance
As a powerful indicator of light at the end of the covid-19 tunnel, one of Kenya's most iconic tourism destinations, the Giraffe Manor re-opens tomorrow May 29, 2020.
The hospitality industry in Kenya, as most of the world, closed temporarily since March when flights were suspended and major restrictions imposed by the government to curb the spread of Covid-19.
The re-opening thus is a welcome development for an industry, and especially thousands of anxious workers, which has borne the harshest effects of the global pandemic.
Often referred to as one of the most Instagrammed properties in the world, the exclusive boutique hotel is set in 12 acres of private land within 140 acres of indigenous forest in the Lang'ata suburb of Nairobi.
SEE ALSO: Dealing with lockdown loneliness – from keeping active to coping without hugs
The historic manor house, modelled on a Scottish hunting lodge in 1932, has extraordinary appeal that harks back to the 1930s when European visitors first flocked to East Africa to enjoy safaris.
With its stately façade, elegant interior, verdant green gardens, sunny terraces and delightful courtyards, guests often remark that it is like walking into the film Out of Africa: indeed, one of its twelve rooms is named after the author Karen Blixen.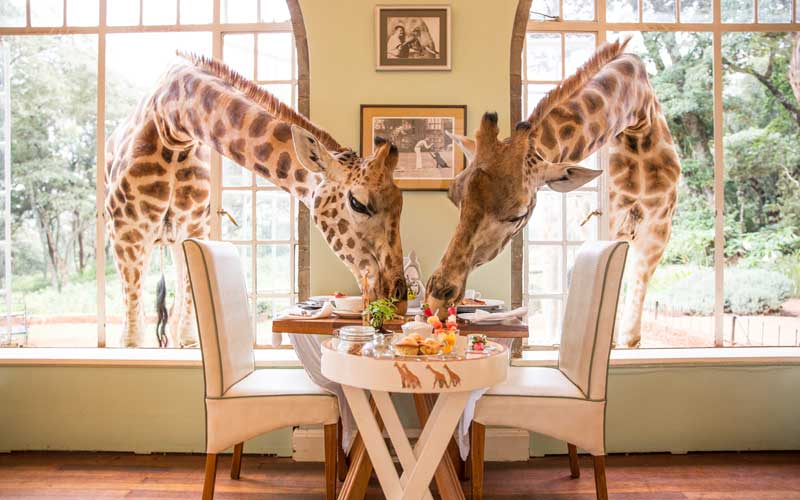 One of the most fascinating things about Giraffe Manor is its resident herd of Rothschild's giraffes who may visit morning and evening, poking their long necks into the windows in the hope of a treat, before retreating to their forest sanctuary.
The elegant long legged giraffes have roamed its lawns since the 1970s when conservationists Jock and Betty Leslie-Melville first adopted an orphaned Rothschild's giraffe called Daisy. Since then, the globally recognised hotel has been the choice host for celebrities visiting Africa including Ellen DeGeneres, Mick Jagger, Brooke Shields, among others
For a start, however, a chance to experience the all-inclusive bucket-list property will only be available Kenyan citizens and residents who can still travel within Nairobi.
SEE ALSO: Hospitals opt for staff pay cuts, unpaid leave
This is an opportunity to experience an establishment whose availability is hard to come by; the hotel is often booked a year in advance.
Strict hygiene protocols and a special resident rate, valid for the month of June 2020, have also been announced to entice visitors.
Comments
comments
A Season of Online Streaming
A Season of Online Streaming
Saturday, July 4, 2020 17:05

By BILL ODIDI
These are some of the highly recommended new music releases currently available to stream online from some of Africa's finest musicians, Oumou Sangare of Mali, a new collaborative project by legendary Mulatu Astatke of Ethiopia and an exciting new star from South Africa, Zoe Modiga.
A set of songs that allows one of Africa's most famous voices to get back to basics and shine through in its rawest form, away from all the electric instrumentation that would in other circumstances drown out this golden voice.
This is an unplugged album, the first time one of Africa's most accomplished singers has officially recorded her music in this format. The Grammy Award winning Malian singer who has popularised the music has taken songs from her 2017 album 'Mogoya' and rendered them in acoustic fashion.
"I suggested to Oumou that she records this album after a show in London to celebrate 15 years of No Format (record label)," says label founder Laurent Bizot in a statement.
"At that concert, for the first time, she agreed to try out this acoustic approach, which is all about letting go. The space it created for her voice was wonderful."
Which is precisely one of the joys of listening to this wonderfully gifted singer expressing herself with very sparse instrumentation. As Oumou says in an interview in the June issue of Essence Magazine, the album is reminiscent of when she sung accompanied with just one instrument or her days singing in the streets of her hometown.
The songs were recorded over two days in live sessions at the Midi Live studio just outside Paris with longstanding band members Guimba Kouyate on guitar, Brahima Diakite on the kamele ngoni (harp) and backing singers Emma Lamadhi and Kandy Guira. The album also features Vincent Taurelle on toy organ and celeste.
Among the highlights on the album is 'Diaraby Nene' which received global fame when it was sampled by Beyoncé along with Jay Z and Childish Gambino for the song "Mood 4 Eva" for the "The Lion King" soundtrack in 2019.
The first video released from the album is the wonderfully upbeat 'Djoukourou' which has turned out to be one of the favourites at Sangare's concerts since the release of the original album in 2017. The album was released on all streaming platforms on June 19 and physical formats will be available on August 28.
A new powerful voice out of South Africa modelling herself after illustrious female singers like Busi Mhlongo, Letta Mbulu, Nina Simon and Erykah Badu.
This is Modiga's second album following her much-acclaimed debut 'Yellow: The Novel' which was nominated for Best Jazz Album and Best African Artist at the 24th South African Music Awards in 2018.
'Inganekwane' translated from Zulu as 'Fairytale' is a collection of 16 songs, mostly in her Zulu dialect except for the jazzy 'Black Butterfly.'
The album sleeve has a picture of the singer standing in a cow pen which she says is a recollection from her childhood where she would visit her grandmother and 'stare into the eyes of cows and watch them chewing the cud and feel as though it was a moment of true divinity.'
From her upbringing in the townships of Johannesburg, she learnt the power of storytelling, which she has channelled to her songwriting, and studied classical piano, clarinet, and vocals from a young age. Modiga later graduated in Jazz Performance from the College of Music, University of Cape Town. She has performed with some of her country's top musicians like Ladysmith Black Mambazo, Simphiwe Dana, and the late Johnny Clegg.
Highlights on the album include 'Abantu' her interpretation of Miriam Makeba's 'Ilanga Lishonile' and the infectious groove of 'Lengoma' featuring Mpho Moloi from the village Urban Village.
Mulatu Astake & Black Jesus Experience 'To Know Without Knowing'
The legendary 76-year-old Ethiopian multi-instrumentalist returns with another exciting collaborative project, this time with the Australian-based outfit, Black Jesus Experience (BJX) for a nine-track album.
Mulatu is internationally renowned for creating Ethio-Jazz, a hybrid of traditional Amharic rhythms with Latin grooves and jazz-rick guitars.
BJX is an eight-piece multi-cultural band comprises singers, rappers and instrumentalists drawn from Morocco, Zimbabwe, Ethiopia, New Zealand and Australia.
The album contains a reworked version of the classic 'Mulatu' with the veteran playing his signature instrument, the vibraphone and reaches a climax with rap by MC Monk of Black Jesus Experience.
Another highlight is a new arrangement of the Mulatu classic 'Mascaram Setaba' (When September Comes) a reference to the New Year in the Ethiopian calendar. The album is available on streaming platforms from today July 3, 2020.
Comments
comments
Coping with Widowhood: What Bob Collymore's Death Has Taught Me
Coping with Widowhood: What Bob Collymore's Death Has Taught Me
Saturday, July 4, 2020 17:00

By JACKSON BIKO
"I know I will need these for this conversation," Wambui Collymore says, setting down a box of tissues.
We are in the backyard garden of her new home, a balmy afternoon that would soon turn grey as the clouds hide the sun like a player would a white ball on a pool table. Palm trees rise all around us and birds chirp and hop from branches. There is postcard-like beauty in this backyard, but there's also grief and deep loss, hard to stare at with the naked eye because then it'd be akin to staring at your own mortality.
Her husband's — Bob Collymore — first anniversary is looming in a few days and sorrow seems to be in every room of her home, in every bone of her body and — like morning dew— on the leaves in this garden. Her heart is filled with it at this moment as it is filled with the beautiful memories of their four-year marriage nipped in the bud by cancer.
Two battles rage in her; one of honour, promise and love and the other of just being human, of a woman widowed before her 40th.
And indeed during the two-hour conversation with Jackson Biko, she reaches out for the tissues severally. She weeps. At the end she reads out loud, a small passage about mortality from her favourite book 'The Prophet' by Kahil Gibran and then from a quirky, dark but interesting children's book about death having a conversation with a duck, titled 'Duck, Death and The Tulip' by Wolf Erlbruch. Bob's ashes are scattered in the faraway ocean and, it seems, so is her heart.
I don't remember you to be so…?
Tiny? I have lost some weight. You're catching me in a difficult week. I had actually gained it back about three weeks ago, but then in the lead-up to July 1, my mind is so active, I have begun to lose it, happens when I am under stress. I don't really eat.
What's your state of mind now?
I'm worried. I'm concerned about the lead up to July. What it's going to be like. And then there's also the knowledge that as each year comes the further away you get from the time spent with the person.
When my mom died eight years ago, at some point, a couple of years later, I had a real fear that I would forget her memory. Has that been your experience so far; do you fear that one day you will forget Bob's memories?
I think everybody who experiences grief goes through that fear. And you try and hold onto things; how they smelled or what their voice sounded like or how their touch felt like. I lost my dad 12 or 13 years and sometimes I think about it as a consolation that I know I have not forgotten my dad, and therefore I'm not gonna forget Bob. But there's always that raw fear.
I'm grateful that he was a public figure because I have YouTube videos where I watch him talking and hear him laugh even though it's still not the same. Something happens— his voice sounds different from how I remember it. It's like the person is detached from the voice. He sounds different.
Has he shown up in your dreams?
Oh yeah! They happen so often I no longer remember them very clearly. But we have mutual friends— Jessica and Kennedy Odede— who the other day called me and told me that she ( Jessica) had a conversation with him. She recently had a baby, and Bob loved children, babies especially.
Bob had a conversation with her that he was tired and that we all needed to let him go. And she said to him well we're not ready. (Chuckles). And I think that kind of echoes my feeling as well. There's a sense in which I am slowly becoming more free to let him go. I am no longer trying to hang on to his very presence, to look for a sign, a symbol that says I'm still here.
What was his mood at the very last minute before he died? Do you mind describing that for me?
(Pause) He was waiting. That's the sense I got. (Pause) When we found out that he only had four to six weeks to live we got down to figuring out what he needed to do so that he would have a peaceful death.
I think it's very important to prepare for death. So one of the things he wanted to do was to see his daughter, Sarah, who lives in the UK, and to see his mother. Unfortunately his mother couldn't travel, but his daughter did.
He also wanted the menu to be changed, he wanted to eat a particular Indian curry that I made that he quite liked. We ate that for the next four weeks. He was also very clear he wanted to spend more time with the people who were close to him; his immediate family and some very close friends. And then he set about clearing his desk.
His desk was neat but never as neat as I found it after he died; the mouse, the keyboard, all arranged neatly.
We sat down and talked about what life would be like after he was gone and we set a few plans for the next couple of years, what I need to be achieving or working toward. And one of the things we agreed is I would not use alcohol as an escape. We also talked about the sort of friendships that will exist after he's gone. He pointed out who I should depend on for the immediate period and for what I should depend on them.
Bob had done many trips throughout his whole life and the anxiety of going on a trip was increased by the fact that he had to pack. This one time, maybe days before he died, he said, that this felt like going somewhere but without having to worry about packing.
When you had the interview with him he knew he was dying and that night he came home and told me, 'I told Biko some stuff but they will only make sense to him after I'm gone.' He said this with a big smile on his face.
(Chuckles) Yes. He said that it was interesting to know that you are dying and everybody else around you doesn't know and because of that you can speak the truth, even if it will only make sense to them after. (Pause) His last night, he was home in bed because he was clear he didn't want to die in a hospital. We were waiting. It was going to be any moment.
(Pause) I hadn't slept for 72 hours. His doctor had come in early in the afternoon and left. The children had earlier taken turns to say bye to him. We made sure that he was comfortable and warm and hydrated because as you're dying, I was told, you get dehydrated.
We played soft jazz music in the room, because he loved jazz. The children— after saying goodbye to him earlier— later didn't want to leave his side so they came into the room and eventually slept on the sofa in the room. Now we were waiting. Just before 2 am, he asked me to remove the oxygen mask from his face because he was very weak.
He turned to one of the nurses in the room and although he didn't have strength to say anything my senses were so heightened and I knew him so well, so I knew what he was trying to convey. I told the nurse, 'he's saying thank you.' Then he turned to the other nurse and I told her the same thing. (Pause) Then he turned to me and told me what he needed to say— which I can't tell you— plus a message to the children. Then he just took his last breath and he died. (Weeps softly).
Who was the first person you called?
Bob had made a list of the people to call when he died. I called his bodyguard — Isaac — who had been very close to him. Then Mike Kariuki, the head of security at Safaricom. Then Patrick Quarcoo. I called his son. I might not recall the order now.
He seemed prepared for his death.
He had time to plan for his death. He wanted a simple coffin, a box, with no linings, none of that velvet stuff. And a very modest urn. He wore a white linen suit by Mudi Africa, his favourite African designer.
He was cremated barefoot, no watch, no glasses, no jewellery. He wanted his ashes deposited in the sea, in Diani. We had a bonfire on the beach that night.
He didn't want anyone hanging onto the aspect of his body because he was no longer in his body and hanging on to his body would have meant that I couldn't move on. And I'd keep going back to the place where his body was buried to look for him. So it was a way of letting go of him.
You know your body is just a vessel. We attach so much meaning to the body without realising that the beauty is actually the soul and the spirit. And the body is supposed to decompose anyway. It feeds the soil. That's what it does. It returns to nature. It is the very essence of "from dust you came and to dust you shall return."
What has all this taught you; knowing Bob, loving Bob and burying him, so to speak?
Spend more time doing the things that make you happy. But don't be selfish about it because the world needs you. Also, I now have a philosophical understanding of death although the experience of it is very different.
So even in grief right now, I struggle between the philosophical understanding of death versus the reality and experience of it.
His doctor actually said something to me which I think has been very healing. She said Bob's was the most beautiful death she'd ever seen all her years of practising medicine. I think it was important for me to hear that as someone who was taking care of another person who was in the process of death.
Whatever happened to Bob's beautiful suits and fancy shoes?
Oh! And his polo shirts. He loved polo shirts. They are in boxes. (Pause) I have repacked them twice. We recently had some of his things dry-cleaned just to keep them fresh.
Some of them I have given away to people who needed clothes, some I have given to Isaac, so that he has something that belonged to Bob. And there are a few close friends who I have given a shirt or two or whatever it is.
We're starting something called the Bob Collymore Foundation. And I am debating the idea of auctioning some of his items to raise funds for the Bob Collymore Foundation, some of his ties, because he had such a fantastic tie collection.
Over this past year, what's the one question you've been asked most?
How are you? (Chuckle) Which is a difficult question to answer. "I'm present," is usually the answer. Because I think it's important to be present to the emotions.
And what's the one question you've asked yourself over this past year?
(Sigh) I'm still trying to find the comforting answer to that question. I think even if you put your best effort to help someone have a peaceful death, you will still have questions because the person is not there to tell you that you did it right.
At what point did it dawn on you that you were a widow?
Aha! Best question ever! (Laughs) When I went to the bank and on the form I couldn't find the right box to tick. There was Ms, Mrs, Miss. There is no box for a woman who has lost her husband.
Because you were married to a public figure, the scrutiny on you is much more. Are you conscious of how long you should stay before you start dating or marrying again?
Oh yeah! It's easier for men to remarry with expectations that women will remain married to Jesus. (Laughs) I keep joking with my friends that the next guy who comes along is just gonna be ripped apart. He would be measured against Bob.
(Chuckles) He has no hope. The person that I end up with needs to be strong and to know that this is what they're gonna face. He will always be measured against Bob by the public, not by me because I'm not going to be looking for Bob in him.
Who was a better artist? You or Bob? And don't be modest just because he's no longer here.
We're not going to have to ask, I will always say it and I always said it to his face; I was always the better artist. (Laughs) He was actually a brilliant painter for portraits, and he got better over time. When I met him he hadn't touched a paint brush in over 20 years. And when he started painting again, he admitted that he was better then than he was when he was younger. He said he was able to observe more at a later stage in his practice than when he was younger.
(Pause) Hey, can I read you something very nice? (She reads the books.)
When you think of Bob's smell. What's that smell?
Soft. (Looks away with a private smile) He smelled soft. (Pause) He smelled soft and clean. Yeah…and comforting.
Comments
comments
Which Polo is Polo? Luxury Firm Loses Exclusive Selling Rights
Which Polo is Polo? Luxury Firm Loses Exclusive Selling Rights
Saturday, July 4, 2020 16:02

By OTIATO GUGUYU
In Nairobi's Gikomba market, a smartly dressed man out of place in the baled lumps of second-hand clothing would probably be lured by the promise of an original polo which could be bargained for as little as Sh400 if your sheng is good enough.
But in the upmarket, polo brands are for the discerning, pricey items whose supply chain shipped some 8,800 units from Europe, the US and South Africa is being fought for viciously in the corridors of courts and intellectual property rights agency.
Polo described as a cotton shirt with a collar, a few buttons at the neck, and a short sleeve is marked by a rider on a horse holding a mallet that demonstrates the sport.
However, the direction of the rider, his mallet the number of horses are all jealously guarded items by different companies who have monopolised access of the middle-class markets who can tell one from each other.
Kenyan market has been controlled primarily by South Africa's firm LA Group for decades and listed its patent in Kenya in 2014.
The South African firm has been able to keep other brands out of Kenya and Africa, stating that it had invested in creating brand awareness and the introduction of similar brands should be curtailed.
However, in a ruling in May this year, the South African luxury clothing firm lost exclusive rights to sell polo branded clothes in Kenya after the intellectual property rights body ruled that a US firm could also sell similar apparel in the country.
SA firm LA Group had sought to block Beverly Hills Polo Club from registering patents in Kenya arguing they had spent a fortune to market themselves locally, had held patents, and sold goods in Kenya for more than 10 years and the entry of the US company would cause confusion in the brands. Kenya Industrial Property Institute assistant registrar of trademarks Eunice Njuguna however ruled that Beverly Hills Polo Club was not the same as Polo and Polo Pony patents registered by LA Group citing that polo was a descriptive name and that high-end buyer were able to tell the difference between the rival brands.
"While considering the issue of similarity I had stated that the respective trademarks are not similar and that the entry of the two marks in the Kenya register of trademarks is not contrary to provisions of section 15 (1) of the Trademarks Act," the assistant registrar ruled.
The South African firm has maintained a hold of the high-end brand in Kenya and Africa by fighting off any entrants from the exclusive market.
Last year, LA Group won a court case for exclusive rights to the use of the Polo brand on shoes and clothing in Kenya against Wardrobe Collections Clothing stopping it from using Classic Polo as a trademark in Kenya arguing that allowing the move would create confusion among consumers to the detriment of Polo South Africa.
The Johannesburg based firm had sued for rights for exclusive use, claiming it applied and registered the use of Polo in Kenya in April 2014 and Polo Pony in January 2014.
But the tide may have turned for the South Africans who recently lost to another American brand, the US Polo Association (USPA).
Comments
comments