Ghana bids farewell to former UN chief Kofi Annan – KBC
Ghana bid farewell to former U.N. Secretary-General Kofi Annan on Thursday in a state funeral attended by African leaders and international statesmen who hailed his record as an advocate for humanity and world peace.
Annan, a Ghanaian national and Noble laureate, died in a Swiss hospital last month at the age of 80. His body was flown to Accra on Monday for burial in his homeland, where he is seen as a national hero.
Around 6,000 mourners packed the auditorium for Thursday's official service – the climax of a multi-day funeral ceremony, which has seen his coffin, draped in the Ghanaian national colours, displayed for public viewing.
Current U.N. Secretary-General Antonio Guterres was among the dignitaries in attendance, alongside former Ghanaian presidents, the leaders of Ivory Coast, Liberia, Namibia and Niger, and the Crown Prince of Norway.
Get breaking news on your Mobile as-it-happens. SMS 'NEWS' to 22163

In an address, Guterres hailed Annan, who served as the seventh U.N. Secretary-General between 1997 and 2006, as an exceptional global leader with a deep faith in the role of the United Nations as a force for good.
"As we face the headwinds of our troubled and turbulent times, let us always be inspired by the legacy of Kofi Annan," Guterres said.
"Our world needs it now more than ever," he said.
The ceremony was projected onto big screens outside the auditorium for the crowds of mourners that could not fit inside the venue. Many commuters in the capital wore black as a sign of respect.
On Wednesday, Annan's family and Ghanaian dignitaries were among hundreds to file past his casket amid traditional rites by local chiefs and clan leaders. [nL5N1VY5SX]
Annan, a Ghanaian of Ashanti lineage, was granted a royal title by the Ashanti king in 2002. The elders said the rites, including presenting him with clothing and water, were necessary to clear the path for a peaceful "travel" for their royal.
Some mourners, like New York-based community mayor Delois Blakely, had flown long distances to pay their respects.
Blakely, who served as an ambassador of goodwill to Africa at the United Nations, told Reuters: "I had known and worked with Kofi for close to 10 years. He spent his life trying hard to fix our broken society."
Tell Us What You Think
102-year-old contracts Covid-19 as positivity rate doubles – KBC
The daily Covid-19 positivity rate doubled to 7.5 pc after 469 people Tuesday among them a 102-year old tested positive from a sample size of 6,244 tested in the last 24 hours.
The positivity rate is now 7.5pc up from 3.5pc pushing up the country's caseload to 166,006 from 1,752,693 cumulative tests conducted so far.
Of the cases, 363 are Kenyans while 106 are foreigners. 280 are males and 189 females. The youngest is a two-year-old baby while the oldest is 102 years.
This time around,  Kisumu recorded the highest number of positive cases at 102, Nairobi 77, Mombasa and Kericho 27 cases each, Siaya and Busia 18 cases each, Meru 17, Kisii 16, Nyeri 14, Kitui 13, Nyamira and Kilifi 12 cases each, Nandi 11, Uasin Gishu 10, Turkana 9, Bungoma and Makueni 8 cases each, Kakamega and  Kiambu 7 cases each, Nakuru and Homa Bay 6 cases each, Murang'a 5, Embu, Laikipia, Machakos and Vihiga 4 cases each, Taita Taveta, Bomet, Kajiado, Trans Nzoia and West Pokot 3 cases each, Kirinyaga, Migori, and Tharaka Nithi 2 cases each, Isiolo and Marsabit 1 case each.
Get breaking news on your Mobile as-it-happens. SMS 'NEWS' to 20153

Health CS Mutahi Kagwe announced eight more deaths in the last 24 hours, three of them having occurred on diverse dates within the last one month while five are late deaths reported after conducting a facility record audit in the last month.
"This now pushes the cumulative fatalities to 3,021. Our sincere condolences to the families and friends who have lost their loved ones" he said in a statement.
43 new recoveries have been reported, 29 from the Home-Based and Isolation Care, while 14 are from various health facilities countrywide.
Total recoveries now stand at 113,917 of whom 82,806 are from Home Based Care and Isolation, while 31,111 are from various health facilities.
A total of 1,039 patients are currently admitted to various health facilities countrywide, while 4,714 patients are on the Home-Based Isolation and Care Program.
108 patients are in the Intensive Care Unit (ICU), 22 of whom are on ventilatory support and 71 on supplemental oxygen. 15 patients are under observation.
Another 91 patients are separately on supplemental oxygen with 87 of them in general wards and 4 in High Dependency Units (HDU).
Sentence Jane Muthoni to death, the State urges court in husband murder case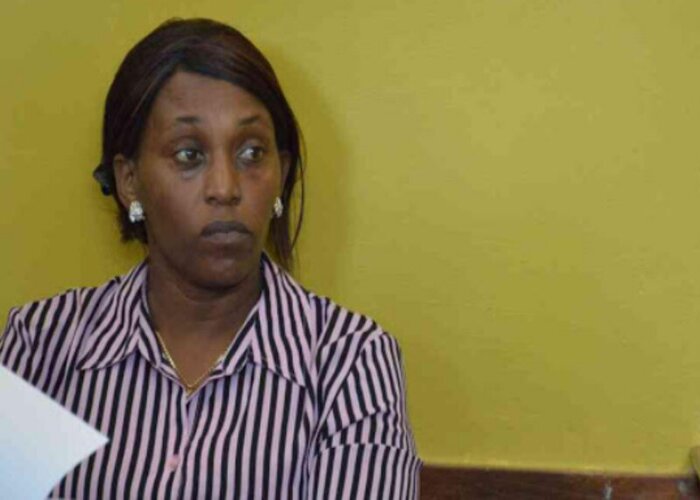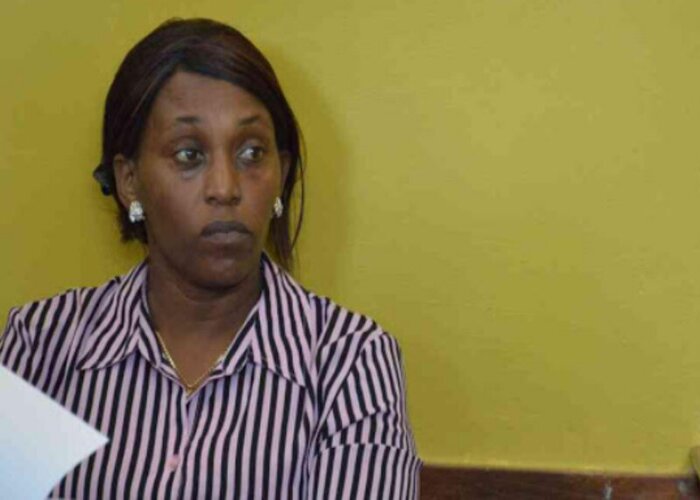 Jane Muthoni hired men, including her co-accused, to kill her husband Solomon Mwangi in November 2016. [File, Standard]
The Office of the Director of Public Prosecutions (ODPP) wants Jane Muthoni, who was found guilty of her husband's murder on April 22, sentenced to death.
Muthoni, alongside her co-accused Isaac Ng'ang'a, was declared guilty of Solomon Mwangi's murder, which occurred in November 2016.
State Prosecutor Catherine Mwaniki told the Nakuru High Court on Tuesday, May 18 that the crime committed by the two; and the manner in which the murder was executed, "deserves a severe punishment such as death sentence".
"This is a case that meets the threshold of a death penalty," said Mwaniki.
"We are looking at the seriousness of the acts that led to Solomon Mwangi's death. In our conclusion, we pray that this court finds that the element of the statutory premeditation was satisfied in this case," she submitted.
According to the prosecutor, her team proved beyond any reasonable doubt that there was "substantial orchestration and planning" of Mwangi's execution by Muthoni and Ng'ang'a.
"Mwangi's death was not caused by a spontaneous act of violence, or an act of self-defense by the accused," said Mwaniki, who proposed Muthoni and Ng'ang'a be sentenced to death.
Lawyer Wokabi Mathenge, who represented Solomon Mwangi's family in the case, reiterated the Prosecution's recommendation, terming Mwangi's killing as "Murder Most Foul".
Take a quick survey and help us improve our website!
Take a survey
"He was defenseless while being killed," said Mathenge.
The lawyer said Muthoni was yet to express any remorse to Mwangi's family over his murder.
"The first accused (Muthoni), being a teacher, was expected to impart ethics to learners. In this case, she was the mastermind of her husband's death. She, therefore, conducted herself in a manner not expected of a person of her stature," said Mathenge.
According to the lawyer, Mwangi's murder deprived his four children of fatherly love.
"We urge the court to find that a death sentence will suffice. Mwangi's death was premeditated and well-planned," he emphasised.
The accused's lawyer, Francis Njanja, however defended Muthoni and Ng'ang'a against death sentence, stating the two have cooperated with the courts thus far.
Njanja maintained that even though the courts found the duo guilty of murder, they were "still innocent".
Muthoni, who addressed the court via video conferencing, pleaded her innocence, saying her family had suffered throughout the period she's been in custody.
"I'm the only hope and surviving breadwinner in my family. My children are suffering, yet those who killed my husband are out there walking freely," she said.
Ng'ang'a, on his part, pleaded with the court to consider a lenient sentence on him.
Justice Joel Ngugi said the two persons will be sentenced on June 3, 2021.
How Mwangi's murder was planned
During the trial, the court heard that in early November 2016, Muthoni hired two men to kill her spouse, the principal of Kiru Boys' High School in Mathioya, Murang'a County. One of the hired killers was Muthoni's co-accused, Isaac Ng'ang'a. The other, Nelson Njiru, disappeared shortly after learning that Muthoni and Ng'ang'a were being hunted.
Muthoni had been directed to Ng'ang'a and Njiru by Joseph Kariuki, who turned into a Prosecution witness following a plea negotiation. Kariuki was, however, sentenced to seven years in jail for manslaughter.
Upon arrest in mid-November 2016, Muthoni and Ng'ang'a, alias Gikuyu, were charged with Solomon Mwangi's murder.
The court, through Kariuki, heard that Muthoni engineered her husband's killing after he allegedly kick-started a relationship with another woman, identified in court as MWK or M-Pesa Lady. The plan was to eliminate Mwangi's lover and then kill him, the court was told.
After four years in court, the case came to a close on Thursday, April 22, 2021, when Muthoni and Ng'ang'a were declared guilty of Mwangi's murder.
"The offence of murder is established against both the first and second accused persons (Muthoni and Ng'ang'a respectively). Consequently, I find and hold that both accused persons are guilty of the murder of the deceased. I hereby convict both of them accordingly," Justice Ngugi pronounced himself on the case.
In the ruling, the judge observed that Muthoni did not physically kill Mwangi, but "evidence demonstrated that she was the author of the plot".
Muthoni reportedly parted with Sh50,000 for Mwangi's killing, which was conducted by Ng'ang'a and another person not before the court Nelson Njiru. The hired killers strangled Mwangi to death on November 6, 2016, and dumped his body in Karakuta Coffee Estate in Juja, Kiambu County.
The court relied on 18 SMSs between Muthoni and Njiru, and 21 Prosecution witnesses to conclude that Muthoni had masterminded her husband's murder.
Monitor water pumps remotely via your phone
Tracking and monitoring motor vehicles is not new to Kenyans. Competition to install affordable tracking devices is fierce but essential for fleet managers who receive reports online and track vehicles from the comfort of their desk.
AG withdraws application for stay of BBI judgment opting for appeal court route » Capital News
NAIROBI, Kenya, May 18 — Attorney-General Kihara Kariuki on Tuesday withdrew an application he had filed at the Constitutional Court seeking to stay the Building Bridges Initiative (BBI) judgment which had nullified the process.
Kihara will instead seek a stay alongside a substantive appeal at the Court of Appeal.
"The Attorney General hereby withdraws his notice of motion Application dated 14th May as that he is desirious of invoking the concurrent jurisdiction of the Court of Appeal to seek similar reliefs," the AG said in a statement dated May 18.
The AG withdrew the case moments after the five-judge Constitutional Court bench confirmed receipt of his stay application and set a date for the ruling on the application.
"The court notes that the application has been served electronically on all the parties and directs that all the parties file their response on 19 May. The applicants to file and serve their submissions before 20 May," the bench had said of the AG's application.
The court was expected to give a ruling based on the written material placed before it by email on May 26.
Justices Joel Ngugi, George Odunga, Jarius Ngaah, Chacha Mwita, and Teresiah Matheka were to decide if they will temporarily suspend the judgement they issued pending the hearing at the apex court.
Raila Odinga, a co-sponsor of the BBI process, through his lawyer Paul Mwangi had already filed an application at the Court of Appeal seeking to dismiss the ruling that halted the constitution review process.
In his withdrawn application, the AG said any move by the applicants to implement the judgement would render his intended appeal nugatory and cause him irreparable harm.
"Being dissatisfied with the decision of the five judge-bench consisting of Justice J.M Ngugi, Justice J.V Odunga, Justice Ngaah Jairus, Justice E.C Mwita and Lady Justice Mumbua T Matheka, intends to appeal to the Court of Appeal against the whole of the said decision," he said.
Kihara was contesting the ruling by the five-judge bench in the Constitution and Human Right Court which also found President Uhuru Kenyatta to have violated the Constitution, particularly Chapter 6, when he initiated the process following his handshake with former Prime minister Raila Odinga.
In its ruling, the court declared the basic structure of the constitution could only be amended by invoking a four-phased process entailing, "civic education; public participation and collation of views; Constituent Assembly debate; and ultimately, a referendum."
"A constitutional amendment can only be initiated by Parliament through a Parliamentary initiative under article 256 or through a Popular Initiative under Article 257 of the Constitution," the bench ruled.