Former CS Echesa arrested moments after leaving DP Ruto rally
Former Sports Cabinet Secretary Rashid Echesa has been arrested in Kakamega.
Echesa was arrested moments after leaving a meeting in Malinya, Ikolomani where DP William Ruto had addressed area leaders including Bonny Khalwale who later announced his defection to Jubilee party.
Echesa was taken to the Kakamega Central Police Station and is reportedly being interrogated over the recent Matungu killings that left 12 people dead.
During a leaders' meeting, Malinya, Ikolomani, Kakamega County. pic.twitter.com/6kYDZ3uEdk

— William Samoei Ruto, PhD (@WilliamsRuto) May 17, 2019
His arrest comes just moments after Kakamega Senator Cleophas Malala was also nabbed.
Detectives from the Directorate of Criminal Investigations (DCI) are holding Malala at the Kisumu Central Police Station.
At least 30 people were injured in the Matungu attacks that saw Interior CS Fred Matiangi send officers from the General Service Unit (GSU) to Kakamega County.
The area OCS and the AP officers were also transferred to other areas and immediately replaced.
Echesa was sacked on March 1 this year after a short stint at the Sports ministry.
His tenure was riddled with scandals which were seen to be what pushed the hand of President Uhuru Kenyatta to remove him from office.
At one time, eight Pakistani women, who were said to have been flown into the country with the assistance of Echesa, were deported.
It was suspected that they were victims of human trafficking.
Echesa later picked a fight with former Prime Minister Raila Odinga swearing to never call him "Baba" and even daring the political titan to sack him.
"I want to dare you Tinga wherever you are, come and sack me, kuja unifute. Kama ni wewe appointing authority Kenya hii, come and sack me please. I have a very young family to look after…" he said during a past public rally.
Echesa's comments angered many and this came to the fore escalated on August 6, 2018 after Alego Usonga MP Samuel Atandi brawled with him at Kisumu International Airport.
Sources at the airport revealed to the Nation that the two engaged in a near-fist fight after Mr Atandi told the CS to "go to school."
Video Of The Day: This new man in Harambee Stars jersey Christopher Mbamba
Comments
comments
Thousands join new US anti-racism protests as Trump vows crackdown » Capital News
Minneapolis, United States, May 29 – Anti-racism protestors again took to the streets in cities across the United States Sunday to voice their fury at police brutality as the Trump administration branded the instigators of five nights of rioting domestic terrorists.
While local leaders appealed to citizens to give constructive outlet to their rage over the death of an unarmed black man, night-time curfews were again imposed in cities such as Los Angeles, Houston and Minneapolis, which has been the epicenter of unrest.
Thousands of National Guards troops have been deployed across the country in a bid to restore calm but protesters and police were involved in stand-offs in several cities while there were also fresh reports of looting.
The most closely-watched protest was outside the state capitol in Minneapolis' twin city of St. Paul where several thousand people gathered before marching down a highway.
"We have black sons, black brothers, black friends, we don't want them to die. We are tired of this happening, this generation is not having it, we are tired of oppression," said Muna Abdi, a 31-year-old black woman who joined the protest.
"I want to make sure he stays alive," she added in reference to her son aged three.
Hundreds of police and National Guard troops were deployed ahead of the protest although there were no immediate reports of unrest.
There were other large-scale protests in cities such as Miami and Washington DC where riot police lined up outside the White House as the crowds gathered at a nearby park.
– Stores ransacked –
While there was no immediate repeat of the large-scale violence that has rocked cities in recent days, looters ransacked stores in a neighborhood of Philadelphia.
And in the Los Angeles suburb of Santa Monica, looting was reported at stores in a popular beachside shopping center with people running out of stores that had been broken into.
Officials in LA — a city scarred by riots over the police killing of Rodney King nearly three decades ago — imposed a curfew from 4:00 pm Sunday until dawn.
The shocking videotaped death Monday of an unarmed black man, George Floyd, at the hands of police in Minneapolis ignited the nationwide wave of outrage over law enforcement's repeated use of lethal force against unarmed African Americans.
Floyd stopped breathing after Minneapolis police officer Derek Chauvin knelt on his neck for nearly nine minutes. Chauvin has been charged with third-degree murder; three other officers with him have been fired but for now face no charges.
Governor Tim Walz has mobilized all of Minnesota's National Guard troops — the state guard's biggest mobilization ever — to help restore order.
Police fired tear gas and stun grenades to clear streets of curfew violators Saturday night in Minneapolis.
Walz extended a curfew for a third night Sunday and praised police and guardsmen for holding down violence, saying, "They did so in a professional manner. They did so without a single loss of life and minimal property damage."
"Congratulations to our National Guard for the great job they did immediately upon arriving in Minneapolis, Minnesota, last night," President Donald Trump said in a tweet adding that they "should be used in other States before it is too late!"
The Department of Defense said that around 5,000 National Guard troops had been mobilized in 15 states as well as the capital Washington, with another 2,000 on standby.
The widespread resort to uniformed National Guards units is rare, and it evoked disturbing memories of the rioting in US cities in 1967 and 1968 in a turbulent time of protest over racial and economic disparities.
Trump blamed the extreme left for the violence, saying he planned to designate a group known as Antifa as a terrorist organization.
"The violence instigated and carried out by Antifa and other similar groups in connection with the rioting is domestic terrorism and will be treated accordingly," added Attorney General Bill Barr.
– 'A nation in pain' –
But Atlanta Mayor Keisha Lance Bottoms said that Trump, who has often urged police to use tough tactics, was not helping matters.
"We are beyond a tipping point in this country, and his rhetoric only enflames that," she said on CBS. "And he should just sometimes stop talking."
Democratic presidential candidate Joe Biden visited the scene of an anti-racism protest in the state of Delaware on Sunday.
"We are a nation in pain right now, but we must not allow this pain to destroy us," Biden wrote on Twitter, posting a picture of him speaking with a black family at the cordoned-off site where a protesters had gathered on Saturday night.
"As President, I will help lead this conversation — and more importantly, I will listen."
Police in Houston, Texas, made more than 130 arrests overnight. The Denver mayor said people had been stopped while bringing "assault weapons, handguns (and) baseball bats" into the city.
In New York, Mayor Bill de Blasio said a video showing a police car forcing its way through protesters in Brooklyn was "upsetting" but that he did not blame the officers, who faced "an extremely dangerous situation."
But unlike other mayors, de Blasio declined to declare a curfew and said he opposed bringing in "outside military forces" to help local police.
The death of Floyd has triggered protests beyond the US, with hundreds rallying outside the US embassy in London on Sunday in solidarity.
"I'm here because I'm tired, I'm fed up with it. "When does this stop?" Doreen Pierre told AFP at the London protest.
In Germany, England football internatinal Jadon Sancho marked one of his three goals for Borussia Dortmund against Paderborn by lifting his jersey to reveal a T-shirt bearing the words "Justice for George Floyd".
burs-co/bgs
Comments
comments
John Nzenze: Music legend who left many with a 'twist': The Standard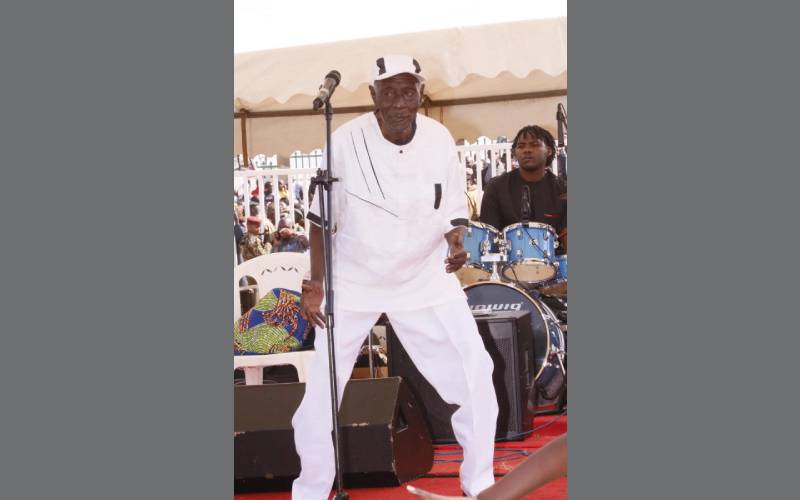 John Nzenze entertains during a past Mashujaa Day. [Benjamin Sakwa]
WesternA rather stirring and charming singer, guitarist and dancer, Nzenze captured the imagination of many
In his 1961 classic twist Angelike, legendary singer and guitarist John Amutabi Nzenze pours his heart out to his estranged lover Angelike as he charms her back into his life.
He implores her lamenting their unfortunate breakup, this having been his first love affair. A twist dance tangle had them falling for each other.
If we were still living in the Nyayo era, entertainers of Nzenze's caliber would be the ones highlighting today's Madaraka Day celebrations, an elaborate affair that would feature cultural dancers from different ethical setups and school choirs in a myriad creative bonanza.
We would be expecting rib-cracking presentations from the Vitimbi TV drama crew, Vioja Mahakamani, Muungano Choir, Maroon Commandos and the Angelike singer, who was arguably the last Kenyan twist music style veteran.
Back then, it was all about patriotism when it came to making an impression before the president during such epic national ceremonies. Nzenze was of the sort of thrillers.
What a great day this would be to celebrate Nzenze, the veteran artiste who died on Saturday while receiving treatment at St Elizabeth Hospital, Mukumu. He had been at the Kakamega-based facility for a month as he battled hypertension and stomach ulcers.
The musician had been diagnosed with prostate cancer some time back. According to family sources, the popular Benga crooner had been operated on four weeks ago on his prostate, and was recuperating well before his situation deteriorated on Friday leading to his death on Saturday.
"John Nzenze was a veteran singer who was among the first bunch of Kenyan artistes to popularise the twist genre or what we would still refer to as Benga across the world. He was a patriot who was also among the first Kenyans to grace international festivals with the unique Kiswahili lyrics that flew the Kenyan flag high," says John Katana, also a pioneer singer with Them Mushrooms.
A rather stirring and charming singer, guitarist and dancer, Nzenze captured the imagination of many in the early 1960s when he and other singers recorded songs in Kiswahili, away from local dialects, ideally to get a wider audience through radio play. At the time, he lived in Muthurwa, Nairobi, and would often get performance sessions at the Norfolk Hotel where he worked.
Natural talent
His talent was quite natural as he had grown in a musical family where his father was a guitarist. At the age of 12, he was already strumming the strings.  
Hit songs such as Julieta rudi tuone and Habari za Nairobi are among the big numbers that propelled him into regional limelight even as he teamed up with Daudi Kabaka, another fallen music icon, with whom he recorded popular hit Masista, Bachelor Boy and Nyumba za Tobacco – all released by Jambo Records.
"These were the real pioneers of the Kenyan music industry and we all ought to celebrate them for their brevity especially in being patriots who became ambassadors of our country to the world through positive songs about Kenya," applauds Japheth Kassanga, also a veteran musician and the chairman of the Music Copyright Society of Kenya (MCSK) where Nzenze once served. Kassanga, a celebrated gospel singer, says Nzenze made extraordinary achievements that only few African singers of his days could equal.
"Their lyrics carried strong messages touching on societal issues and they were not lured by Western culture as they remained firm in doing songs and acts that represented their culture and society," he said.
"Back then, the entire Kenyan urban lot was dancing to Helule Helule, Harambee, Msichana wa Elimu, Lunchtime Nairobi and Angelike among other hit songs by Kabaka, Nzenze, Laban Juma and Gabriel Omollo among others.
That was the sound in town. I was happy when Nzenze got a Head of State Commendation award by former President Mwai Kibaki too," affirms music composer and former MCSK chairman Michael Maganzo.
Twist stars
True to it, music opened doors for the Luhya star. His popularity in East Africa opened doors to tours in Japan and Britain among other countries.
After representing Kenya at All African Music Festival in Algeria and finishing third in 1968, President Jomo Kenyatta feted him and his Air Fiesta Matata band with an invite to State House.
After this, Emperor Haile Selassie invited Nzenze to perform in Ethiopia. He led his band in major international performance in Germany – where they performed with Miles Davis who consequently arranged for them a tour of America.
Cutting their niche as the 'Kenyan twist' stars, in 1971, Nzenze and his band were awarded the BBC World Service Best Band in Africa. It was after this that the Julieta rudi tuone man left his group and embarked on a solo career, mostly decorated by his performances at Panafric Hotel where he played for tourists.
But as the years went by and his strength faded with age catching up, he later retreated to his Kakamega backyard where he would play in local clubs almost a forgotten hero.
"I recall hits such as Marashi ya warembo, Maoni ya twist, Kumbuka nyumbani and Wanawake kuwakimbia mabwana as some of the big numbers that are still fresh in people's minds. This kind of music defies age. It cuts across generations," Kassanga added.
Comments
comments
Alarm as town becomes new pandemic hotspot: The Standard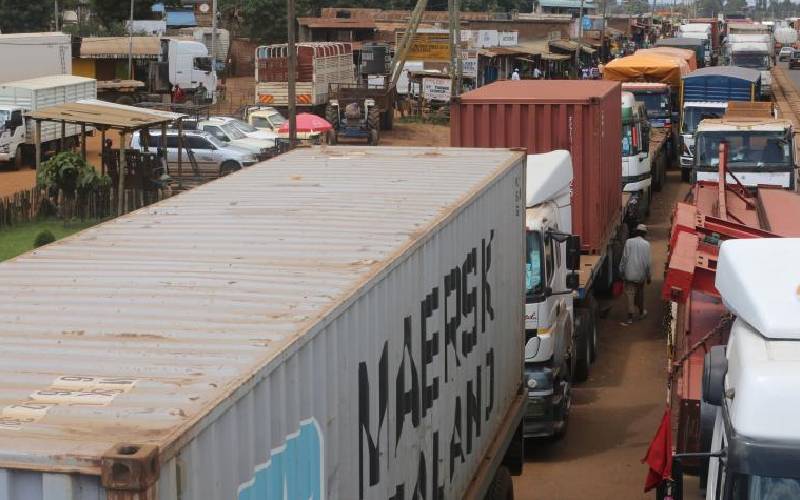 Trucks ferrying goods from Mombasa, queue along the Eldoret-Kipkarren road in Turbo Constituency, Uasin Gishu County, before crossing over to Uganda. [Peter Ochieng, Standard]  
Rift ValleyUasin Gishu Governor Jackson Mandago on Thursday warned truck drivers from visiting their relatives
Shaban Juma jumps out of his truck and walks into a shop in Jua kali town in Uasin Gishu County, to buy a cigarette.
The visibly frustrated truck driver has stayed in Jua Kali, a village trading centre located about 30 kilometres from Eldoret, for the last eight days.
He mingles with a number of residents as he returns to his truck where about ten other truck drivers from Mombasa, heading to Uganda and Congo gather for a discussion. This has been his new routine for days.
Juma left Mombasa more than a week ago and is stuck in the highway town located in Turbo constituency, Uasin Gishu County.
SEE ALSO: Hell for man forced to spend night alone with his wife's corpse
Business as usual
Like him, more than 700 trucks and a group of 1,400 drivers and their turn boys have been camping at Jua Kali for more than a week owing to a Covid-19 testing deadlock at the Kenya Uganda border.
Despite the rising coronavirus cases, restaurants and shops are operating as usual.
Worryingly, Turbo in Uasin Gishu County is the new epicentre of the Covid-19 pandemic, after tests confirmed that 26 out of 28 Uasin Gishu's coronavirus positive cases are truck drivers from Mombasa who make stopovers along towns on the highway.
Last Friday and Saturday, eight and 11 truck drivers respectively tested positive for the disease, according to daily reports by Ministry of Health.
SEE ALSO: Tana River girls in dire need of sanitary pads as World marks menstrual hygiene day
To contain the spread, the government set up a testing centre at Huruma, one of the areas where the truck drivers have been spending the nights en route to Uganda.
Jua Kali is less than ten kilometres from the mobile testing centre in Huruma.
The truck drivers and their turn boys say they decided to crowd in the small town until a traffic snarl-up occasioned by delays in Covid-19 testing in Malaba on the Kenya-Uganda, eases.
Juma explains why most of them have been camping in the area instead of the border area.
"We have more than 700 trucks here and more are still coming because it is better to spend the days here than be stranded on the Kenya-Uganda border," Juma says.
SEE ALSO: 300 stray dogs killed after protests
He says they were tested for Covid-19 before leaving Mombasa and have never undergone the tests in Uasin Gishu, but residents along the towns are expressing fears of contracting the disease.
Truck driver Michael Kariuki says his body temperature was taken once for the entire eight days he has been camping in Turbo.
Mr Kariuki says he had learnt about the rising numbers of truck drivers testing positive in Turbo yet there was no testing taking place.
He says more trucks are leaving Mombasa and they will stop in Eldoret until a traffic that has reached Webuye in the neighbouring Bungoma County.
And there is a downside to these negative reports.
SEE ALSO: How varsity used Sh58m to defend Sh38 million claim
Fueling stigma
"The Covid-19 reports have led to our stigmatisation here in Kenya and Uganda. Ugandans are good people but the Kenyan government is recklessly publicising information that has created a perception that all truck drivers from Mombasa are Covid-19 positive. Our government should be sensitive on the reports it is relaying about us," he says.
Lazaro Wanjohi, a trucker who has also been in Turbo for over a week, says they have been asked by authorities in Uasin Gishu not to interact with locals but no government official was enforcing the directive.
"We rarely see police providing security here. You can't stop people interacting and buying from locals," Wanjohi says.
At a guest house along the busy highway, several Kenyan and Congolese drivers and some mechanics from Uasin Gishu, had gathered to enjoy a meal as they share their frustrations.
SEE ALSO: Bank profits drop as virus ups risks
A worker at the joint says they were instructed not to allow truck drivers to spend the nights in the hotel but she admitted that several male clients were spending time, during the day with their girlfriends – a worrying habit.
"We receive clients who spend day times with local women in the hotel rooms but sleep in their trucks at night," the worker says.
In a spot check, The Standard discovered that several eateries along the new 35 kilometres hot spot highway stretching from Eldoret to Turbo town were receiving customers, both locals and truck drivers.
Jua Kali resident Silas Kipkemboi, a mechanic, said he has not stopped fixing puncture and other technical issues for truckers despite the fears.
"They cook here at night and we share meals. During the day, most of them take their meals in eateries," he says.
Samuel Karanja, another resident said: "Most truck drivers are our friends. We do business with them. We have heard on TV that most of them are testing positive for coronavirus but here things are just normal."
Uasin Gishu County Executive Committee member (CECM) for health Evelyne Rotich said county authorities were not in a position to monitor the conduct of truck drivers while making stopovers along the highway.
"We can't track movements and interaction of the truck drivers. This a multi-agency issue and all of us have a responsibility to enforce the measures," Ms Rotich said.
She said of 17 cases confirmed positive by Friday, eight of the truckers were residents of Uasin Gishu.
Uasin Gishu Governor Jackson Mandago on Thursday warned truck drivers from visiting their relatives whenever they were on their way to Uganda.
"We are asking truck drivers from Uasin Gishu to spare their families during this period," Mandago warned.
Uasin Gishu County Commissioner Abdirisack Jaldesa said the issues that have been causing delays at Malaba border have been resolved.
"Moi Teaching and Referral has been testing truck drivers who have not been tested in Mombasa and those whose test certificates have expired," the commissioner said.
He added: "Yes, there have been contacts between the long distance drivers and locals. We have held meetings and this will not happen again because we are clearing all trucks in Uasin Gishu."
Comments
comments