Former Chelsea defender turns down Spartak Moscow
Former Chelsea and England star John Terry has rejected the chance to make a shock move to Russian club Spartak Moscow.
Terry was reported to be on the verge of signing for Spartak after being flown by private jet to Rome on Friday for a medical.
The 37-year-old defender was believed to have been offered a wages in the region of £3 million ($3.9 million) for a one-year deal.
Spartak appeared confident of securing the high-profile signing, announcing on social media that they were preparing for "a very important guest".
But after weighing up the move with his family, Terry, who has two children with his wife Toni, has opted against making the switch to Moscow.
"After considerable thought, I have decided to decline a contract offer from Spartak Moscow. I would like to take the opportunity to thank Spartak and wish them and their supporters well for the rest of the season," Terry wrote on his official Instagram account.
"They are an ambitious club and I have been very impressed with their professionalism.
"But after assessing this move with my family, we've decided this is not the right move for ourselves at this time. Good luck Spartak."
Terry spent last season with Championship side Aston Villa, but left after they failed to win promotion to the Premier League.
Following Villa's play-off final loss to Fulham, Terry had considered retiring, but he told the Daily Mail on Saturday that he is keen to keep playing as long as possible.
Terry was one of Chelsea's most decorated players, winning five Premier Leagues, five FA Cups and the 2012 Champions League during his time at Stamford Bridge.
He also won 78 caps for England and captained his country on numerous occasions before being stripped of the armband after the Football Association ruled he had racially abused QPR's Anton Ferdinand.
Uhuru wa biashara, Suluhu ya vikwazo: How Kenya-Tanzania trade will be streamlined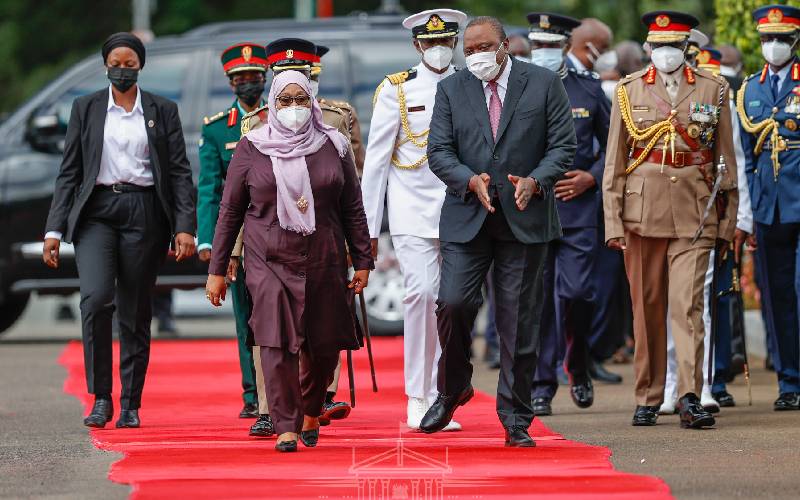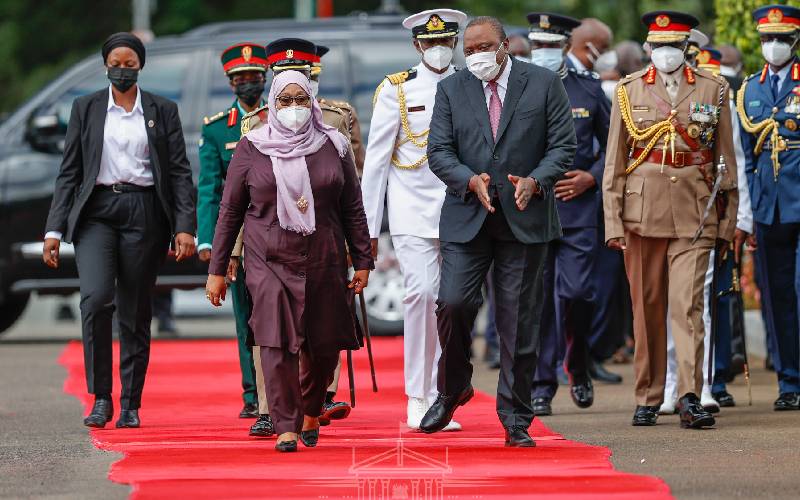 President Uhuru Kenyatta with his Tanzania counterpart Samia Suluhu, who is on a two-day state visit in Kenya.[PSCU]
President Uhuru Kenyatta says ministers from both Kenya and Tanzania should resolve all non-tariff barriers and other restrictions affecting the two countries within four months.
Uhuru, on Wednesday said going forward, there will be no business visa or work permits for Tanzanian wishing to do business in the country.
"You are free to come and trade here in Kenya, there will be no business visas or work permits as long as you abide by the laws of the land," he said.
Uhuru was speaking during the Kenya-Tanzania Investment Forum at Serena hotel. The forum was in line with President Samia Suluhu's two-day state visit.
Kenya has about 513 companies doing business in Tanzania compared to Tanzania's 30 in Nairobi.
Uhuru said in the next two weeks, concerned ministers from both sides should clear all the traffic jams at the Taveta and Namanga border points.
Uhuru said they should pay a special focus to the issuance of Covid-19 certificates to ease the movement of  transit cargo.
"I direct that all the maize lying at the border be cleared in two weeks. We cannot subject businesses to more suffering," Uhuru said.
Take a quick survey and help us improve our website!
Take a survey
Uhuru urged the ministers to move swiftly and ensure the ease of doing business at the border pointswas decisively tackled.
"It is not about wearing suits and meeting over tea.Get to the ground and understand what is affecting those traders. Don't just sit in those offices. If you need to consult, do it and get the work done," he said.
Uhuru's sentiments came shortly after the Kenya Business Community nsaid it was ready to trade with the Tanzanian business community.
Led by the Kenya National Chamber of Commerce (KNCC), the community proposed the formulation of a Joint Business Council that will support the two countries.
KNCC President Fred Ngatia said the council would play a key role in addressing issues that bedevil  Nairobi-Dar trade,
The community said there should be policy forums and investment-focused events that will target small-scale enterprises.
"We are going to focus more on economic projects by identifying favourable financing institutions that will help us settle some of the commercial disputes affecting our community," Ngatia said.
He said this will be made possible through the Public-Private Partnerships offered by the government.
As a result, KNCC in partnership with the Tanzania Chamber of Commerce will host a trade and investment exhibition in Dar es Salaam this August aiming to help SMEs unlock their potential.
So far Trade and Agriculture ministers from the two sides have had a breakfast meeting and agreed to initiate bilateral discussion before the end of the month.
Trade CS Betty Maina said the discussions aim to iron out all issues that have been hampering trade between the two countries.
This includes issues surrounding maize import.
President Samia Suluhu said her government was ready to serve as a bridge to pave way for businesses between the two countries to thrive.
"It is not about competing and complicating things, but about developing business relationships to allow both parties to explore opportunities," she said.
Suluhu said while Tanzania is rich with natural resources and tourist attractions, Kenya is thriving in the ICT world and thus the need for exchange of skills on research and development.
"Muna bahati sana maanake upande mmoja mnao Uhuru wa kufanya biashara na upande mwingine Suluhu la kuondoa vikwazo," Suluhu said.
Kenya and Tanzania agree to iron out trade barriers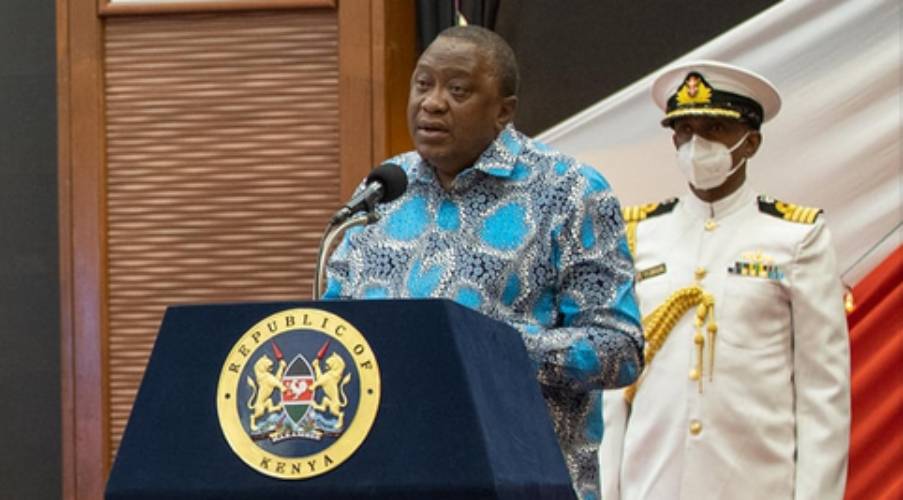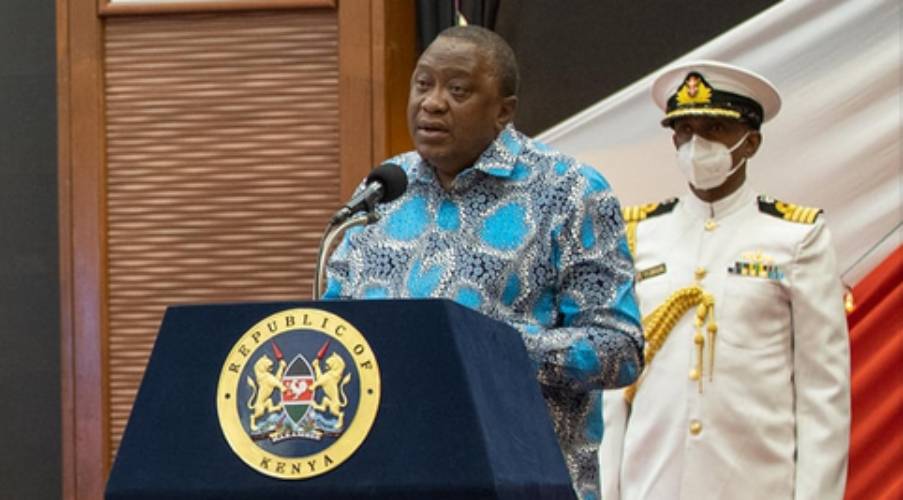 President Uhuru Kenyatta (PHOTO: PSCU)
NAIROBI, KENYA: A business forum held on Wednesday between Kenya and Tanzania agreed to iron out challenges constraining business between the neighbouring countries.
President Uhuru Kenyatta and Tanzania counterpart Samia Suluhu Hassan during the forum noted that trade opportunities between the two countries have not been fully exploited. Trade volume between the two countries was valued at Sh60.4 billion in 2012 and Sh47.5b, Sh45.6billion and Sh47.5 billion in 2016, 2017 and 2018 respectively.In 2020, President Uhuru Kenyatta noted that the volume was valued at Sh50 billion.
"Trade between the two countries has thrived over the past due to robust private sector, entrepreneurial citizen among other factors, however from the volumes we have not exploited the opportunities to full capacity," he said.
"There is an urgent need for cooperation between the two countries to iron out issues hindering the growth of trade," he added.
He noted that the economies need to drop unhealthy competition which he said work against investment in the two neighbouring countries.
The President also directed responsible government officials to meet within this week or the week after to iron out issues around the Covid-19 certificate. He also directed CS Agriculture and Livestock Peter Munya to allow maize to be cleared at the border.
Reading from the same script, his counterpart Suluhu Hassan noted that real development between the two countries can get better if they develop together.
"We need to work on a conducive environment by creating efficient courts, harmonize tax regimes, work on the investment climate and better legislation," she said. She noted that Kenya can benefit from Tanzania's rich mineral sector while Tanzania can borrow from Kenya's thriving technology sector.
Take a quick survey and help us improve our website!
Take a survey
The private sector represented by the East African Business Council noted the decline in intra EAC trade is due to several barriers to trade, investment and movement of persons. Intra-EAC trade currently stands at below 20 per cent vis a vis SADC at 48 per cent and European Union at 70 per cent.
"There's a need to embrace digitalization particularly in moving goods and services across the EA region and harmonizing the tax regimes, we need to also strengthen the East African Secretariat," said Nick Nesbit, Chairman of East African Business Council.
He also underscored the need to promote value addition in manufacturing and diversification of our products and the elimination of Non-Tariff Barriers, which will go a long way towards increasing intra-EAC trade from the current below 20 per cent.
Ministers from the two countries are expected to meet before the end of the month to iron out issues affecting trade between the two countries.
Delayed Sh70 billion to counties hampering COVID war: Wambora » Capital News
NAIROBI, Kenya, May 5- The Council of Governors has decried their inability to fight the COVID-19 pandeic due to lack of finances from the national government.
The Council's Chairperson Martin Wambora said the National Treasury is yet to release Sh70.2 billion owed to the counties, despite the clock ticking to the end of the financial year on June 30.
"Last week I reported that the total outstanding amount owed to County Governments is Sh70.2 billion. Despite having only one month left to the end of the financial year, the National Treasury is yet to disburse this outstanding amount to Counties," he told a news conference on Tuesday.
He said the delay has "compromised response measures towards the COVID-19 pandemic and service delivery to members of the public."
Some counties are yet to pay staff salaries for more than three months.
On the shortage of HIV and AIDS commodities, Wambora said Counties with high stock are now considering redistributing them to those with low stocks.
He said the Council of Governors will engage the Ministry of Health to fast-track the release of the pending products for HIV/AIDS stuck at the Mombasa port.
Further, he said, County Governments will prioritize a long-term solution in financing HIV, TB and Malaria response through domestic financing and increased Government resources to the programs.
Wambora further welcomed President Uhuru Kenyatta's decision to lift a lockdown on five Counties declared disease zones in March, saying it will allow businesses to thrive.
Nairobi, Kiambu, Kajiado, Machakos and Nakuru were on a partial lockdown until May 1 when President Kenyatta revised the night curfew to start at 10 pm to 4 am from the earlier 8pm.
He however, urged Kenyans to remain cautious since the threat of COVID-19 was still real.
On waste management, Wambora decried an influx of medical waste, particularly used PPE kits which are disposed in the dumpsites.
He noted that "this is hazardous waste should be treated in hospitals and disposed in a safer manner in order to prevent further transmission of the virus."
"To address the issue, County governments have strengthened enforcement through County Environmental Inspectors to ensure integrated waste management systems are adhered to thereby limiting waste influx in undesignated areas and landfills, he said.