Five tips on how to sleep when pregnant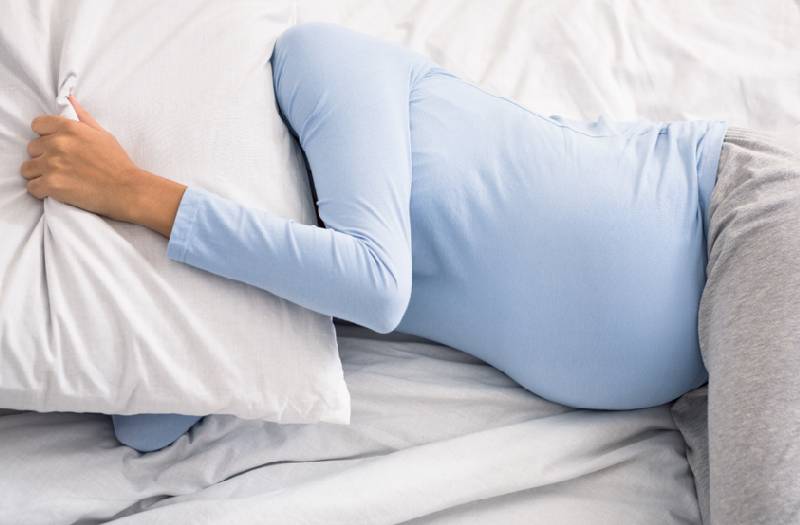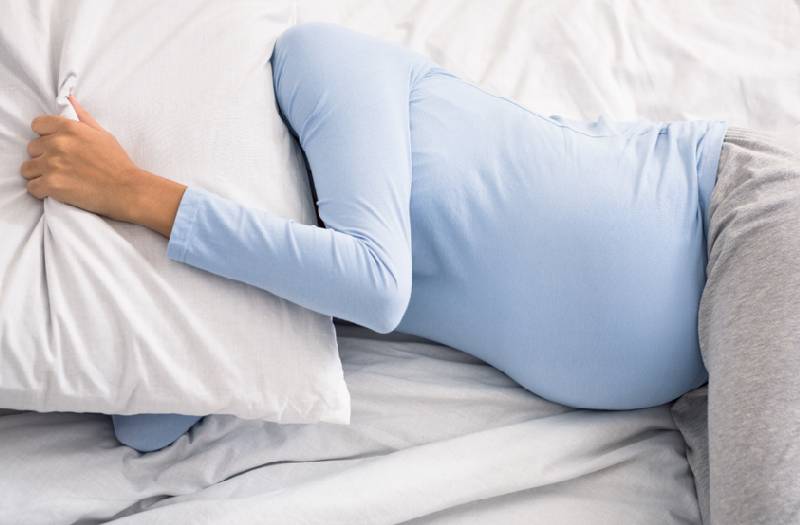 For the most part, pregnancy brings a lot of joy when you're in the process of bringing an angel into the world. You spend your time buying baby clothes and cute items in preparation for a new season in your life, and it is wonderful.
ALSO READ: Five things you didn't know could happen during labour
Along with the positive experiences are some challenges that all expectant women deal with, one of them being sleep problems.
Something as simple as getting a good night's rest can turn into a far-fetched idea because you might be dealing with insomnia, body aches, stress and overall discomfort when you're trying to get some rest.
These are five tips you can use the next time you're having sleep troubles.
i.Work on your sleeping positions
The best position to sleep in is on your sides, more specifically, the left side. When you sleep on your back, you're putting a lot of pressure on your blood vessels which hinders blood from circulating properly.
You'll probably wake up feeling very uncomfortable and that might even disrupt your sleep cycles midway.
You can choose to sleep on either your right side or left although the left side optimizes blood flow to supply nutrients to the baby and reduce discomfort.
ALSO READ: What you need to know about depression and pregnancy
ii.Use pregnancy pillows
These have got to be the best pregnancy hack to ever be invented. There are so many to choose from, from the U-pillow, the wedge, J-shaped pillows and others.
They will deal with the soreness by alleviating the pressure from areas like your legs and back, and ensures your comfort is prioritized.
Do your own background research to determine the best pillow that will suit your needs.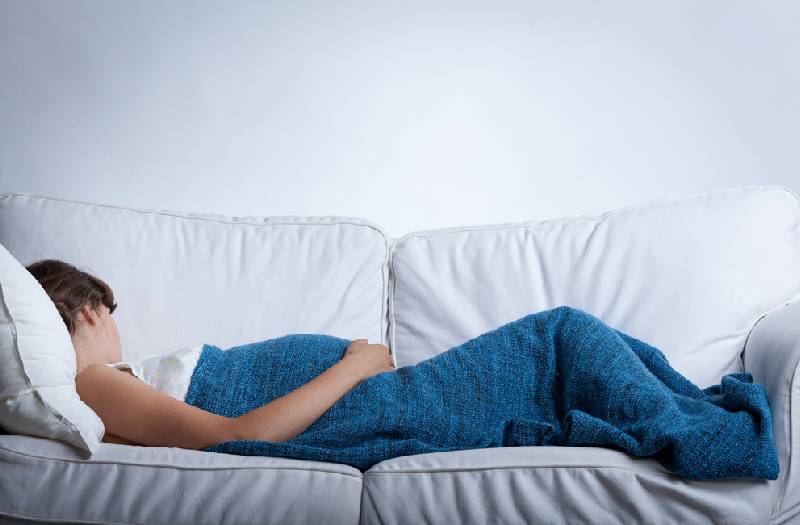 iii.Take more naps
If you haven't had enough sleep at night, try and catch a few Z's during the day. This will reduce the pregnancy fatigue you might be feeling.
You shouldn't fight the fatigue because your hormones are at work and your body is working hard to ensure your baby develops properly.
ALSO READ: Healthiest ways to manage weight post-pregnancy
You need more rest for now so nap away as much as you can.
iv.Embrace different relaxation techniques
For More of This Stories Subscribe to the Standard Epaper to get a copy of Eve Woman in the Standard
Some women feel a lot of pregnancy anxiety which keeps them awake for way too long. You can try out different methods to help you relax so you can get more rest.
Drink chamomile tea-not too much before bed, light some nice scented candles, download relaxing nature sound apps, get a massage, basically anything that makes you feel calm.
As you go ahead with whatever relaxation technique you decide to use, don't try too hard not to think about the anxiety because that could only make it worse.
Learn to enjoy the moment and eventually you'll have peace of mind.
v.Do some exercise
Expectant mothers should be more open to exercising. It won't hurt your baby in any way as many people believe.
It's only dangerous if you're lifting heavy weights or straining which is why you have to focus on simple exercises that are suitable for pregnant women.
Workouts will improve blood circulation, reduce aches and pains and you'll have better sleep after a good workout session. And if you have no idea where to begin, make YouTube your friend.
Do not miss out on the latest news. Join the Eve Digital Telegram channel HERE.
Comments
comments
Number of medics infected with Covid-19 rises to 54 cases
The number of health workers who have tested positive for Coronavirus in the country has risen to 54.

Acting director-general for Health Dr. Patrick Amoth said Thursday that the toll represents 3.5% of the total infections in the country.
Gladly, no fatality has been recorded among the health care workers in the country.
On his part, health Cabinet Secretary Mutahi Kagwe urged health workers to prioritize their own health and safety, even as they attend to Covid-19 patients.
Get breaking news on your Mobile as-it-happens. SMS 'NEWS' to 20153

He also praised them for being on the front line in fighting the virus.
Kagwe pledged more government support to improve their welfare during this pandemic period.
At the same time, Kiambu governor James Nyoro called for the recruitment of more health workers to help boost efforts in addressing the Coronavirus pandemic at the county level.
Kagwe says the government is on course to ensure that the country achieves the envisaged Universal Health Coverage goal.
The Cabinet Secretary who spoke in Kiambu County said that the government is intent on making health more accessible to all by putting in place measures that make healthcare affordable.
Universal health coverage is a healthcare system in which all residents of a particular country or region are assured of access to healthcare.
UHC answers to Sustainable Development Goal number three which is Good Health and Well-being.
The CS called on Kenyans to register for the National Health Insurance Fund noting that it is through contribution to the fund that the government can ensure accessible healthcare to all.
Also read https://www.kbc.co.ke/kenyas-covid-19-cases-test-positive/
Tell Us What You Think
Comments
comments
At the End of June, It Will Be Life Support for Kenyan SMEs
Seventy-five (75%) percent of Kenyan Micro, Small, and Medium Enterprises (MSMEs) will be running the risk of collapsing at the end of June as COVID-19 continues to ravage the business entities that form the bedrock of the country's economy.
Central Bank of Kenya (CBK) Governor Dr. Patrick Njoroge in a Monetary Policy Committee (MPC) virtual briefing on Thursday expressed concern that three-quarters of small and medium Kenyan businesses do not have the wherewithal to withstand the pandemic stressing the urgent need for a formula to stop their imminent death.
According to Dr Njoroge, a survey conducted by the monetary policy regulator in April shows that SMEs are running on empty, struggling to sustain operations including paying suppliers.
"Whatever policy action put in place to help MSMEs needs to go beyond finance, into finance plus, including linkages to other markets, " said Dr. Njoroge.
The CBK Governor also called on Kenyans not to hesitate sharing the challenges they are facing while servicing their loans adding that the regulator is working with banks to make sure that borrowers get the relief they need to to overcome the crisis.
As part of the measures to support businesses, Njoroge said, Kenyans should be ready to explain the challenges they are experiencing with their banks while servicing loans.
Thursday's briefing was a follow up of a Monetary Policy Committee (MPC) decision to maintain the base lending rate at 7.00%.
Worrying Times
SMEs form the cream of Kenya's economy constituting 98% of all businesses in the country according to CBK statistics.
Conversely, this boards gloom for the SMEs which employ approximately 14.9 million Kenyans.
As it stands, SMEs have already taken a beating from the restriction of movement within and outside the country compounded by the widespread loss of jobs in the country.
In the same vein, another survey by the Kenya National Bureau of Statistics (KNBS) shows that a third of Kenyans are struggling to pay rent over the pandemic.
The survey dubbed Socio-Economic Impact of COVID-19 on Households Report, 30.5 percent of households were unable to pay rent on the agreed date in April citing reduced income.
All these factors combined are piling pressure on the government to reopen the economy to cushion Kenyans who are struggling to sustain their livelihoods without a source of income.
Comments
comments
EXCLUSIVE: "He is not my type, he is too bitchy," VDJ Jones fires at Magix Enga over the Rudra Kartel scuffle
For while now music producer Magix Enga has been a topic of discussion in most digital media spaces. It started out with the noise of an alleged fall out with one of his proteges Rudra Kartel.
An incident where the lad, Rudra accused Enga of manipulating him with a contract.
Also read: EXCLUSIVE: Magix Enga finally reveals why he was forced to kick out Rudra Kartel
Well three weeks in Ghafla got the chance and spoke to VDJ Jones who was in the middle of the scuffle with Magix Enga over Rudra and he had a lot to say about Enga.
According to VDJ Jones, Rudra reached out to him with the claim that Enga had done nothing to help him since he was unveiled. Thus the video that went viral with Rudra ranting the producer being a let down.
In the case Jones said he tried to reach out to Enga but the two could not come to an agreement. Furthermore, Enga accused Vdj Jones of promising the young lad a free collabo. This something that Jones adamantly refutes.
Asked whether he had any project with Rudra he said he has none. Thus calling Magix Enga a liar.
This writer went ahead to ask if he can work with Magix Enga and Rudra, Jones vehemently shut us down shooting at Enga.
"He is not my type coz that guy is too bitchy, ako na issuez za kidem he thrives on scandals and for me I don't work that way!!"
Enga's clout chasing
Consequently, the exchange went on for a while but all of a sudden Enga is now promoting Rudra Kartel's new upcoming Ep.
The same  guy he said he would never take back. Talk of clout! Enga is good at it whatever makes him a trend sales for his brand. Am  sure we are aware of his recent noise around wanting to sign Tanzania's WCB arists.
Below is the link of the interview with VDJ Jones.
Entertainment news writer, I review music from the African region and also an opinion writer.
Comments
comments