Five killed in freak Londiani road accident: The Standard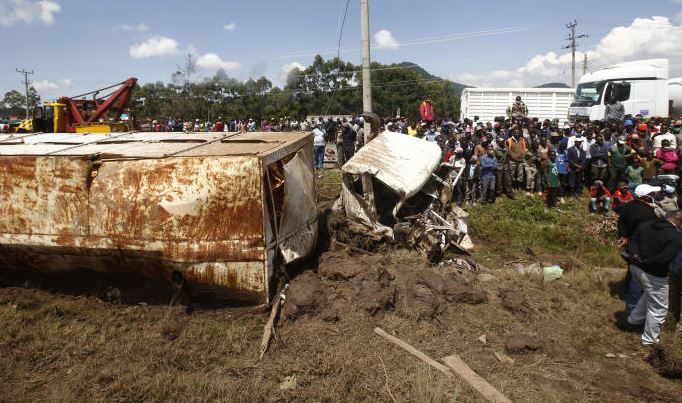 Wreckage of a trailer that crashed into five matatus and a private car at Londiani area along the Nakuru -Kericho highway. [Kipsang Joseph/Standard]
Rift ValleyFive people died while twelve others sustained multiple injuries after they were involved in a tragic road crash along the Nakuru-Kericho highway.
Five people died while twelve others sustained multiple injuries after they were involved in a tragic road crash at a roadblock mounted along the Nakuru- Kericho highway.
The accident victims, three males and two females died after a trailer rammed into five PSVs and a private car that had been flagged down for Covid-19 screening and routine motor vehicle check near Londiani road junction.
The fatal road accident which caused a huge traffic jam occurred at 11:30 am on Saturday. The victims' personal effects were strewn all over the accident scene.
As if to indicate the horror the victims underwent, a leg broken was also lying at the scene when The Standard arrived there.
SEE ALSO: Five killed in freak Londiani road accident
"A Mitsubishi trailer which was being driven from Nakuru heading towards Kericho side and on reaching the scene of the accident, it's driver lost control due to break failure and rammed into six oncoming vehicles. He hit an electric pole before landing on the right-side ditch," said Londiani OCPD Musa Kongoni.
Three male adults died on the spot while two female adults died on arrival at the hospital. One of them died at Londiani sub-county hospital while the other while being rushed to Kericho County hospital.
"Twelve survivors of the accident were seriously injured and rushed to Londiani sub-county hospital," said Mr Kongoni.
Among the accident's lucky survivors was the badly injured lorry driver who the Standard team bumped into as he was being transferred to Kericho County hospital.
"We have secured the road and all wreckages of the vehicles involved in the accident have been towed to Londiani police station awaiting inspection," said Kongoni.
SEE ALSO: Five killed in Londiani road accident
Comments
comments
Sudan says three jailed Bashir aides have virus
Sudanese authorities said Wednesday that three former senior aides to ousted president Omar al-Bashir have caught the novel coronavirus in prison.
Former officials Ali Othman Taha, Ahmed Mohamed Haroun and Abdulreheem Mohamed Hussein have been held in Khartoum's Kober prison since Bashir's military ouster in April 2019 following mass protests against his rule.
All three are awaiting trial in Sudan for corruption and other offences.
Haroun and Hussein, who held top government positions under Bashir, are wanted by the International Criminal Court over their role in the Darfur conflict.
On Wednesday, Sudan's public prosecution said the three men had tested positive for Covid-19, which has so far infected 4,146 people and killed 184 in the country.
Haroun has been in an isolation centre in northern Khartoum since late April, the statement said.
Prison authorities tested the others on May 20 and transferred Hussein to a hospital in Omdurman, Khartoum's twin city, and Taha to an isolation centre in central Khartoum, according to the statement.
Taha served as vice president under Bashir between 1998-2013, and was previously Sudan's foreign minister.
Hussein served in several positions including defence and interior minister. He was also assigned governor of Khartoum before Bashir's ouster.
Haroun served as minister of state for the interior, minister of state for humanitarian affairs, and governor of the conflict-ridden South Kordofan.
All three were members of Bashir's now-defunct National Congress Party.
The Hague-based ICC charged Bashir and others — including Haroun and Hussein — with war crimes and crimes against humanity in the Darfur conflict which erupted in 2003.
The fighting started when ethnic minority rebels took up arms against Bashir's Arab-dominated government, accusing it of political and economic marginalisation of their region.
The United Nations estimates around 300,000 people were killed and 2.5 million others displaced in the conflict.
Human rights groups say Khartoum targeted suspected pro-rebel ethnic groups with a scorched earth policy, raping, killing, looting and burning villages.
In February, Sudan's transitional authorities, who took power in August, agreed that Bashir and his aides should stand trial before the ICC.
Comments
comments
Covid-19 team wants schools to reopen in September
Schools, colleges and universities may remain shut beyond June 4 if a preliminary report by a committee formed to advise Education Cabinet Secretary George Magoha is adopted.
Additionally, national exams scheduled for November will be administered in February 2021, according to the report by the Covid-19 Education Response Committee chaired by Kenya Institute of Curriculum Development Council chairperson Sara Ruto.
Although the Nation could not independently verify the highlights of the report, sources on the committee said Prof Magoha has been advised to start putting in place mechanisms to prepare for the reopening of schools in September.
The CS had set June 4 as the tentative opening date, pending the advice of the committee and the Ministry of Health.
That seems unlikely, considering the rising number of coronavirus infections. Kenya has 1,618 cases, with 147 reported Thursday.
"The final decision on when to reopen schools rests with the minister and the President, but we have presented our views," the source said.
Members of the committee are understood to have spent the better part of Thursday in a meeting "tying the loose ends of our report".
Prof Magoha is expected to present his recommendations to President Uhuru Kenyatta, who announced the closure of learning institutions on March 15.
BOOST FUNDING
Mr Kenyatta last week hinted at adopting measures to open up the country's economy.
The night-time curfew and restriction on movement from and into Nairobi, Mombasa, Kwale, Kilifi and Mandera counties expire on June 6.
Dr Ruto's committee recommends that the Education ministry change the academic calendar to start in September and provide the requisite resources to run schools smoothly.
The team has also asked the CS to enhance funding for schools. Schools had not received all the State funding by the time they closed.
Many are struggling to pay auxiliary staff and teachers hired by boards of management.
Private schools have also been hit by the prolonged closure, as they depend on fees to pay staff, rent and loans.
The task force says money due should be released in full in September.
The committee has also come up with rules for reopening schools in compliance with World Health Organisation guidelines on managing Covid-19.
It advises the ministry to ensure social distancing and high levels of hygiene are observed in schools.
SAFEY GUIDELINES
The source said education stakeholders should be involved in executing the back-to-school programmes.
Teachers' unions protested their exclusion from the committee. More than 3,000 people and institutions submitted their views to the team.
The recommendations came a day after the Kenya National Union of Teachers, University Academic Staff Union, Kenya Human Rights Commission, Kenya Medical Practitioners, Pharmacists and Doctors Union, Forum for African Women Educationalists-Kenya and Elimu Tuitakayo Network said schools should remain closed until September.
They also proposed that national exams be postponed to the first quarter of 2021.
The organisations recommended an elaborate and solid plan on safety in schools by the Directorate of Occupational Safety and Health be put in place before schools reopen.
Comments
comments
Covid-19: 147 more test positive
Kenya on Thursday reported 147 new Covid-19 cases and three more deaths, raising the tally of infections to 1,618 and the death toll to 58.
Health Cabinet Secretary Mutahi Kagwe said in a briefing that 13 coronavirus patients left hospitals in the past 24 hours, taking the number of recoveries in the country to 421.
All the 147 patients who tested positive are Kenyans and the youngest is one-year-old, Mr Kagwe said.
Comments
comments