Exclusive: Ten New Taxes Uhuru Increased That Media Did Not Tell You; Mpesa, bank transfers, Telephone Calls, Data etc
Just finished reading the memorandum by the Uhuru on the Finance Bill. It is a shame the media is just focusing on the 8% VAT on fuel. In the 20 page document the president has made ten recommendations as follows;
1.Definition of betting winnings to include the full payment without subtracting the expenses of the winner. Winnings to be taxed at 20%
2.Reduction of petroleum VAT from 16% to 8% and its implementation date changed from September 2020 to September 2018. Calculation of VAT not to include excise duty, fees and other charges.
3.Motor Vehicle Excise Duty of between 20% and 30%
4.Sugar confectioneries including white chocolate at Sh 20 per kg
5.Telephone and internet data services excise duty at 15% of excisable value (up from current 10%)
6.Money transfer services fees Excise duty at 20% of excisable value (up from current 10%)
7.Other fees charged by financial institutions Excise duty at 20% of excisable value (up from current 10%)
8.Reduction of lotteries, betting and gaming taxes from 35% to 15%
9.Housing Development Fund tax to be paid by the employee at 1.5% and employer at 1.5% of the monthly basic salary. Penalty of 5% for employer who fail to submit the contributions
10.Adulteration levy on kerosene at the rate of KShs 18 per litre. Disel and Kerosene to cost the same to end adulteration


I heard a man being interviewed about the impact of VAT on fuel by a TV station. He says that the kerosene he can now afford to buy is no longer enough to finish cooking a meal. So he cooks the vegetable stew and takes the ugali half cooked.
As MPs vote on this issue on Thursday let them know the impact on Kenyans is very direct and dire. Let them remember what it means for those who voted for them. Let the words of their party leaders mean nothing in view of the pain their voters are going through.
Giving Jubilee more money is like collecting water using a sieve.
Lami Technologies closes $1.8 million seed funding to accelerate growth of digital insurance in Africa
NAIROBI, Kenya May 5 – Lami Technologies, a Kenyan insurance technology (insurtech) company that aims to democratize insurance products and services for low-income Kenyans, announced today it has raised $1.8 million in seed funding.
The round was led by Accion Venture Lab's seed-stage investment initiative that provides capital and extensive support to innovative fintech startups that are improving the reach, quality, and affordability of financial services for the underserved.
Founded by Jihan Abass in 2018, Lami is a digital insurance platform that enables partner businesses – including banks, tech companies, and other entities to easily and seamlessly offer digital insurance products to their users via its API. Lami can also be used by partner businesses to manage their own insurance needs.
Lami connects partner organizations, such as e-commerce platform Jumia, with underwriters and allows them to offer a superior customer journey. Through its API, users can get a quotation for motor, medical, or other tailored insurance products in seconds, then customize the benefits and adjust the premium to suit their needs, get their policy documents instantly, and claims are paid in record time.
Lami's services are enabled by its flexible insurance rating engine and direct integration with several parties and insurance companies. Lami co-designs innovative products with its underwriting partners to enable businesses to offer unique insurance products to their underlying customer base, with flexible options that meet their needs and cash flows, such as monthly medical policies for startup employees.
Jihan Abass, CEO, Lami, said: "This funding will allow us to invest in hiring more people, improving our technology, and growing our presence across Africa as we can continue to address the persistent insurance gap. At Lami, our vision is to help improve the financial resilience of millions by making insurance products more accessible and affordable for underserved populations. By enabling our business partners to offer customized insurance solutions, we are helping them provide more value to their customers, while enabling large volumes of users to access insurance, often for the first time."
Africa's insurance market currently stands at a 3 percent penetration rate, expect for South Africa, and is facing modernization and innovation challenges. Most insurance providers on the continent fail to offer flexible, affordable and tailored insurance coverage that can provide a safety net for the African consumer. Low insurance uptake is partly due to the traditional distribution and administration of policies, which mainly still relies on brick-and-mortar channels where policies are sold and processed.
safaricom share price declines lowering NSE activity
Safaricom Plc, the most capitalized at the Nairobi Securities Exchange(NSE), had its share price dip by 0.16%, bring down turnover at the bourse by 50% to KSh 249.4 Million.
Figures from the bourse indicate that Safaricom was the top mover at the bourse with a volume of 4.58 Million shares, followed by KCB( 838,100), Kenya Re(461,300), Centum (255,300) and NSE( 227,700).
Eveready E. A was the top gainer with a 9% gain to KSh 1.09, followed by Sasini, which was up 7.37% to KSh 18.95, Carbacid Plc which gained 5.50% to KSh 11.50, Home Afrika, which gained 5.26% to KSh 0.40 and Housing Finance which appreciated 4.72% to KSh 3.90.
The worst performing counters were led by Centum, followed by I&M, Longhorn, Safaricom and Absa Bank.
Eveready E. A Plc was the top price gainer at the lacklustre Nairobi Securities Exchange(NSE), its share price rising 9% and closing at KSh 1.09.
The listed firm began the year with a share price of KSh 1.20 but has since lost 9.17% off that price valuation, ranking it 50th on the NSE in terms of year-to-date performance.
Turnover at the NSE dropped to KSh 249.4 Million with a total of 7,540,900 shares in 955 deals traded.
Eveready was followed by Sasini Plc (7.37%), Carbacid Plc(5.5%)and Home Afrika Plc(5.26%).
Compared with the Tuesday, May 4th 2021 trading day, today's data shows a 47% decline in volume, a 50% decline in turnover, and a 3% decline in deals.
Centum Investment Plc was the worst performer, its share price falling 3.22% to KSh 15.05 per share. Others were I&M Holdings Plc which declined (0.7%), Longhorn Publishers Plc(0.66%) and Safaricom Plc (0.61%).
The benchmark NSE All-Share Index [NASI] declined 0.38 points to close at 169.69. The NSE 20 Share Index gained 16.68 points to close at 1862.07. The NSE 25 Share Index fell 0.23 points to close at 3685.10
The derivatives market had 32 single stock futures contracts valued at KSh 1.58 Million concluded, compared to the 70 SSF contracts valued at KSh 2.76 Million ended during the previous session.
The secondary bond market had bonds worth KSh 2.97 Billion transacted in 61 deals than the KSh 5.42 billion worth of bonds achieved in 137 deals in the preceding session.
ALSO READ: Safaricom's Bid for Ethiopian Telecom license excites Investors
Domestic air travel fares double on high demand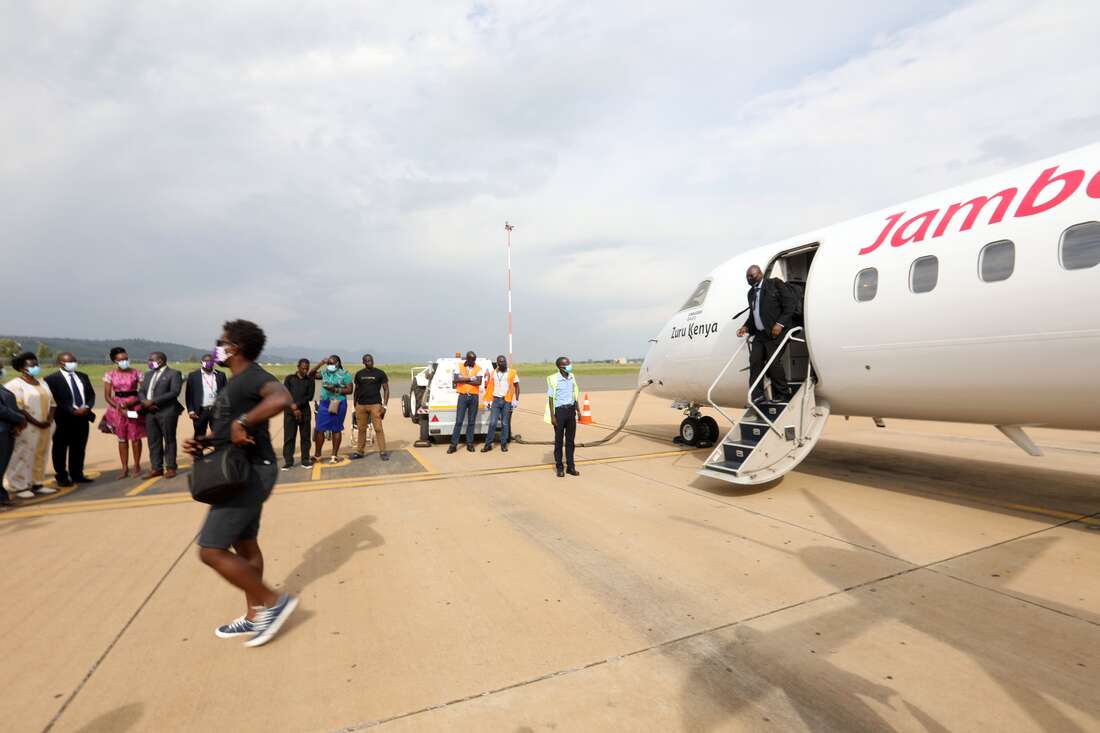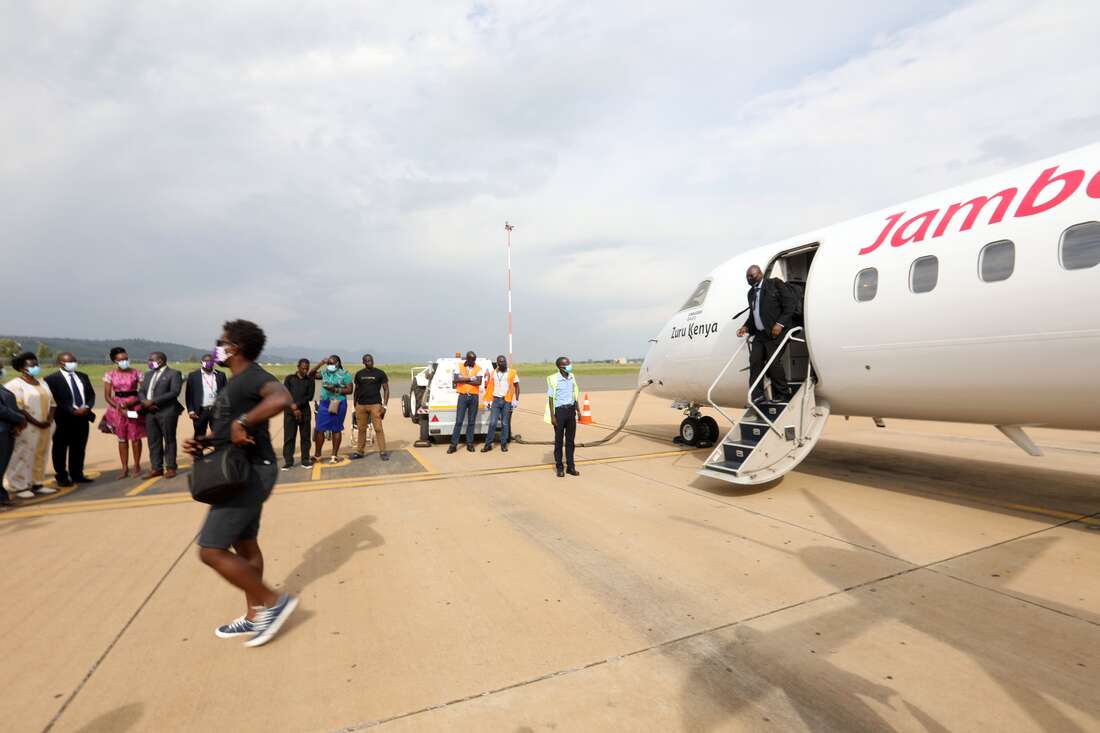 Domestic air travel fares double on high demand
Thursday May 06 2021

The cost of domestic flights has doubled on some routes since Sunday when the air travel resumed after the lockdown as airlines record high demand, forcing carriers to increase frequencies on different routes.
Kenya Airways ticket price have shot to Sh10, 050 on Mombasa and Kisumu routes from a low of Sh5, 000 when the flights resumed on Sunday.
KQ, which started with two flights to Mombasa and one in Kisumu on Sunday, has so far added additional flights on these routes.
Curbs on travel in the Nairobi and four surrounding counties were lifted Saturday following the easing of restrictions that saw a reopening of bars and restaurants, religious services and schools as the rate of infections eases.
Budget carrier Jambojet was charging Sh4,600 on Sunday in almost all the routes but the fares have so far gone up to Sh6,100, reflecting a 32.6 percent jump.
KQ will now operate up to six flights on Mombasa route with the Kisumu journey having been scaled up to two. Jambojet is operating four flights a day to Mombasa and two to the lakeside city and Eldoret (two).
"We are increasing the frequencies of our domestic flights. Fly three times a daily with us from May 4 and six times daily from May from May 7 from Nairobi to Mombasa," said Kenya Airways.
Jambojet said the demand for flying has so far picked when compared with Sunday when they resumed their operations.
"We have seen the demand going up compared with Sunday when we started, there is a growth in bookings in the coming days especially for those who are making future bookings," said Jambojet.
Passengers who booked KQ flight yesterday (Wednesday) for 5pm parted with Sh10,050 for a one way to Mombasa with a low of Sh5,070 in the morning and midday flights, while the cost of a seat on Jambojet to the same route is going for Sh6,100.
This are almost the same rates that the airlines were charging before the carriers were grounded after the government imposed a second lockdown in March.
An increase in frequencies and relatively high fares is an indicator that the aviation sector, which has been hit hard by Covid-19, is witnessing enhanced demand on number of passengers seeking air travel.
Fares to Eldoret on Jambojet range from Sh4,600 to Sh7,100 on some days such as yesterday (Wednesday), while the Kisumu route is going at between Sh5,100 and Sh6,100.
Return ticket from Kisumu to Nairobi on some days go as high as Sh7,100 with the lowest fare going at Sh4,600 for a one way ticket while it will cost a passenger between Sh4,600 and Sh5,600 to fly from Mombasa to Nairobi.
The government had in March restricted movement of people in and out of Nairobi and four other neighbouring counties to slow the spread of Covid-19, cutting movement of air travel on western Kenya and coastal Kenya out of Nairobi, which is a hub for all the local carriers.
The five counties are being treated as one Covid-19 high risk zone, with residents barred from crossing over to other areas.