Diana Marua showers nanny with goodies, advises employers to treat househelps with dignity ▷ Kenya News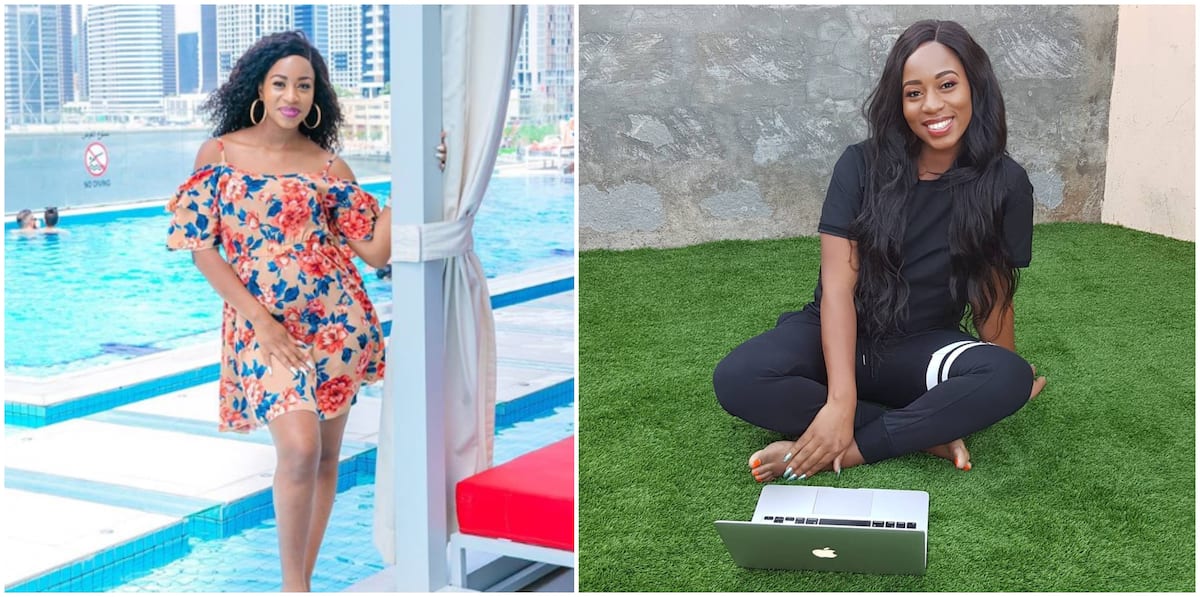 Gospel singer Bahati's wife Diana Marua has proved to the world she has a big heart.
This is after the mother of two decided to treat her nanny Irene Nekesa like a queen just but to appreciate her.
READ ALSO: Auntie Boss actress Siphrosa denies dating married MCA
READ ALSO: Senator Murkomen explains extent of his injury after video of him screaming went viral
Marua shared a video on her YouTube channel through which she showed the world how nice she can treat her househelp.
For starters, the lass helped her nanny to drop her son to school before heading out to get her a superb gift.
Diana drove all the way to Two Rivers Mall and bought the DM(Domestic manager) a brand new smartphone to replace her old one which was giving her problems.
READ ALSO: TZ rappers attend radio interview accompanied by medicine men
According to Diana, the nanny deserved the gift because she has been a very good helper and good to her babies.
Diana could not stress enough on how much she thanks her for taking care of her kids tirelessly.
Bahati's wife stressed her point further with an Instagram post;
READ ALSO: Biashara ya kando anayoifanya Anne Kansiime, mchekeshaji matata wa Uganda
"You leave your children behind and your nanny takes care of them. Human nature, you do not expect to treat her rudely and expect her to treat your child right. Very few can show love to your child even when you are rude.Treat them as your own and you will never worry about your child,"
The DM exploded with joy upon receiving her gift and duly thanked her employer for being very considerate.
Do you have an inspirational story you would like us to publish? Please reach us through [email protected] or WhatsApp: 0732482690 and Telegram: Tuko news.
Brave Kenyan woman who turned down cancer treatment to save her baby has died | Tuko TV
Subscribe to watch new videos
Comments
comments
Why Betty Kyallo and her new man will last long
Betty Kyallo has a new man whom she has been flaunting and if indeed he is not just a prop being used to insult our intelligence, then the couple will indeed last a long time yet.
Why you ask? Because Betty Kyallo has something that is a hidden trump card of sorts that she did not have in her previous relationships.
With her dalliance with Hassan, it is rumoured to have come right at the heels of her relationship and wedding to Denis Okari. Infact, rumour has it that the powerful man paid for their honeymoon but do not quote me, quote me, quote your housegirl.
Anyway, during her relationship with denis Okari, Betty Kyallo was a young girl just at the cusp of her prime. She and Okar had a child but the world was her oyster. And as a result of beauty being its own reward, she caught the eyes of Hassan.
That relationship too didn't last very long as Hassan is married and Betty was said to be angling to be not just the main but the only bean in his githeri. Whatever the case may be, we then saw her with an Indian and a Somali Bae. It is actually a great thing that Ms Kyallo isn't plagued by prejudices against certain races and ethnicities.
All those relationships ended but I would wager my house that this one, if it is indeed a real relationship will last long. Why you ask? Because Betty has doubtless come to the realization that this is her last hurrah! That's right, she knows that this is her last best bet at hitting that buzzer-beater.
So we must celebrate the fact that even her perception of things seems grounded in pragmatism. Betty Kyallo even stated recently that she has been calling her exes to find out what she needs to do to get that ring. Besides that, she has been mending the fences with her ex-husband denis Okari and we can only hope that he has told and taught her a thing or two about marriage.
That would mean that even as she seeks to move her life forward both professionally and in terms of romance, she can only come to the table better prepared. So her smarter head and more grounded self is the type of stuff that almost guarantees that the relationship she is currently flaunting on social media is going to be her longest lasting.
I just hope I haven't wasted my time typing out these words when all along Betty Kyallo new she was pulling a Zari and "King Bae".
For forethought provoking opinion pieces, click here. And be sure to like our Facebook page.
Comments
comments
Revenge is a dish best served cold
It is time for us to focus on Maureen Waititu and what her next couple of moves could be and ultimately what her next couple of moves should be.
This ofcourse follows the tell-all interview that her ex-husband and his new bae, Corazon Kwamboka granted micro-blogger Edgar Obare.
During the conversational interview, a lot was revealed about the nature of the relationship between the two and the fact that indeed, Maureen Waititu's ex-husband is expecting a child by the former Nairobi socialite.
Alot of the questions that were asked hinted at the awareness that Maureen Waititu would indeed seek to have the last word. And there is the usual, almost stereotypical manner in which a woman can attack her ex-husband; she is an independent single mother who don't need no man is one. The other would be less passive and more aggressive as she goes out of her way to further shame the man she claimed to love just one year ago.
And indeed, it isn't beyond the realm of possibility for Maureen Waititu to decide to use any one of the methods available to her that I have previously mentioned, for her to insult her ex. They are the low hanging fruits but they are no less effective for simply being cheap shots.
However, she could easily opt for a different revenge strategy that would yield more longterm fruit but would essentially be her delaying gratification. Maureen Waititu could get revenge by not doing anything other than living her best life.
You see, life doesn't stop. Frankie Kiarie has made his decision to continue living his life after she dumped him. Corazon Kwamboka is definitely living her life and she is happy. Hell, she has a baby to boot: from the man you did not deem worthy to spend the rest of his life with you.
So what Maureen Waititu should do is for her to continue eating healthy, continue taking care of herself by exercising, continue making her money, continue raising her sons and she should continue to pursue whatever makes her happy.
Her revenge will come from living her best life.
That said, I do not see her agreeing to live her life like this. I honestly see Maureen Waititu seek to hit out at Frankie Just Gym It. And I see Frankie actually being the winner out of this. Why? Because watching him on Edgar Obare's Instagram live video interview showed me a calm, composed side of the man. And while he doesn't seem to have control of his little head, he does seem like a calm contrast to the drama that he is embroiled in.
For more thought-provoking opinion pieces, click here. And be sure to like our Facebook page.
Comments
comments
Frankie Just Gym It doesn't owe anyone an explanation
Frankie Just Gym It is currently the bad guy in many a narrative told by bitter Bettys who are upset that their own love lives are so deep in the shitter, they qualify to be used as the manure used to grow the food that feeds Nairobi.
The focal point of all the diatribe is the fact that he and his new lady love, Corazon Kwamboka are expecting a baby. Frankie Just Gym It did not cheat on his ex, Maureen Waititu nor did he dump her. He was the one who was left and he is the one who had to move out of their hearth and home.
Frankie Just Gym It, was dumped and he elected to do what any sane man should do: move on. He has picked up the pieces of his life and he has moved on. He started seeing someone else and whether or not you agree with his choice, he has the right and freedom to make the choice. And he chose Corazon Kwamboka and everything was consensual.
So why then is Frankie Just Gym It being lampooned by Maureen Waititu's fans? What the actual fluff is driving these bitter women?
The answer is that Maureen Waititu probably thought he would come back begging her to return. Also, the fact that these women have a dried and shrivelled up love life means that they had banked their hopes on Maureen Waititu and Frankie Just Gym It. And when that relationship went belly up like a dead dog by the side of the road, they were hurt. And now, that hurt is being compounded by the fact that he has moved on already and the woman he is now with is arguably hotter than Maureen Waititu.
I would further wager, the fandom is upset because they know how hard it is for a woman with two children to move on to another meaningful relationship. Also, the fact that Maureen Waititu lost the Wafula Thundercock that is Frankie Just Gym It.
But at the end of the day, Frankie's main focus is for him to create a fulfilling life for himself, then for him to be a great father to his children. And that is the only thing he has to focus on. Not your opinions and certainly not mine though I will admit that he completely played himself like a fiddle with his choice of partner.
For more thought-provoking opinion pieces, click here. And be sure to like our Facebook page.
Comments
comments