Cutting Costs as Timber Prices go up
Cutting Costs as Timber Prices go up
Friday, May 24, 2019 13:53

By COLLINS OMULO
With the prices of timber going up since the ban on logging in Kenya, constructing a house or a building has become more expensive.
Developers are now forced to incur additional costs when using timber with some opting to hire when doing formwork for beams or slabs.
Ephantus King'ori, the director of Abib Jaus Construction Company, a firm based in Nairobi, explains that the nationwide ban on logging by the government dealt a huge blow to builders as the prices are prohibitive, increasing by about 36 percent.
"Nowadays to get timber is very hard. Saw millers are unable to meet demand from builders, carpenters and block-board manufacturers. Sometimes, we are forced to get timber from Congo," he says.
To cut costs, some developers are using light gauge steel trusses and flat slabs.
For construction, timber is used at the foundation stage to act as a trapper for concrete and also for roofing.
"It is now more economical to use steel structures during construction to cut costs. They are readily available and one is advised to use the right gauge," he says.
On his part, Felix Onyango of Dominion Valuers, a real estate firm, says constructors can incorporate steel structures as a way of minimising costs or as alternatives to timber in construction. He says that during roofing, one can use light gauge steel truss instead of timber trusses or purlins as well as integrating the use of more steel in the construction of scaffoldings— a temporary structure on the outside of a building, made of wooden planks and metal poles, used by workmen while building.
Mr Onyango explains that a steel truss is made from steel coils coated with a protective alloy of aluminium that forms a protective barrier against corrosion. It also uses zinc for safeguarding the edges and scratches and silicon as a binding agent.
"Use metal to build instead of timber. During installation or roofing, the material is cut to size then delivered to site in neat packs. Truss is screw-fastened using self-tapping screws and a screw gun," he says. The real estate expert explains that one can even avoid using timber when building ceilings, windows and floors.
For floor finishes, use granite or ceramic tiles instead of wood blocks or timber laminate strips while in ceilings incorporate the use of PVC T&G instead of timber T&G boards.
For windows, he explains that a developer can opt for steel or aluminium casements or UPVC casements instead of timber casements.
"These should help provide some level of savings and alternatives to timber in construction," says Mr Onyango.
Comments
comments
Kenya records highest Covid-19 recoveries as cases rise by 123
Kenya records highest Covid-19 recoveries as cases rise by 123
Wednesday, June 3, 2020 18:26

By ANNIE NJANJA
Kenya has reported the highest Covid-19 recoveries to date in a single day, after discharging 54 people from hospitals who tested negative for Covid-19.
The new recoveries now brings to 553 the total persons discharged from hospitals since April 1- when the first person was reported to have made a full recovery.
"I want to take this opportunity to thank and pay tribute to our healthcare workers for this success. This demonstrates that, with good management, this disease, when clinically manifested, is curable and not a death sentence," said Ministry of Health Chief Administrative Secretary Rashid Aman.
The Ministry of Health also reported 123 new Covid-19 cases in the country over the last 24 hours bringing the total to 2,216. Some three persons, including a 12 year boy discovered to have had the virus posthumously, also died bringing the total deaths to 74.
Truck drivers flouting guidelines
Mr Aman also noted the increasing cases among truck drivers and the flouting of the Covid-19 guidelines issued by the ministry amongst this group.
Already governor's of counties along the transport corridors and borders have sounded an alarm over the rising Covid-19 cases in their counties due to congestion caused by truck drivers waiting for their results.
Truck drivers are required to take a Covid-19 test every 14 days and 48 hours before they depart for neighbouring countries, a guideline that a majority are not adhering to causing congestion at the borders.
Some 35 truck drivers from Busia's Malaba border, Turbo in Uasin Gishu and in Namanga in Kajiado county were yesterday found to be Covid-19 positive.
"We have noted that a majority of truck drivers arrive at our borders without this valid document, expecting to be tested at the border. This has caused unnecessary snarl ips and delays that you have witnessed. These are scenarios that can very easily be avoided," said Mr Aman.
The 44 cases in Nairobi are distributed in Kibra, Westlands, Dagoretti North, Embakasi West and South, Langa'ata, Makadara, Mathare, Kasarani, Ruaraka and Kamukunji. Mombasa had 34 cases while Nyeri had three and Garissa and Laikipia had a case each.
Comments
comments
NTSA plans mandatory cashless fare payment: The Standard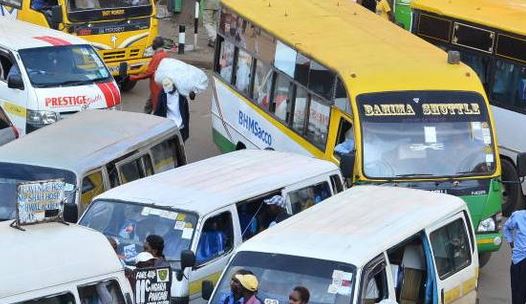 Sci & Tech
It will soon be illegal to pay bus fare with cash as the government makes another attempt at digitizing payments in the Sh200billion matatu sector.
It will soon be illegal to pay bus fare with cash as the government makes another attempt at digitizing payments in the Sh200billion matatu sector.
The National Transport and Safety Authority, NTSA has begun the work of registering service providers to offer cashless payment systems to matatu operators across the country.
The move comes even as new infections for the COVID 19 coronavirus continue to be recorded with the NTSA looking to launch a contact tracing app with the new regulations.
"Pursuant to section 30(2) of the NTSA Act, 2012, the authority plans to introduce mandatory use of cashless payment for all public service vehicles (PSV),' said the NTSA in a public notice.
SEE ALSO: NTSA warns against 'wide-load' sign display on vehicles
"The cashless payment system will also provide a platform for deployment of an effective contact tracing (passenger manifest) application to support the government's effort in addressing the coronavirus pandemic," said the notice.
Contact tracing apps use Bluetooth technology to notify smartphone users when they are in the vicinity of someone who has been exposed to COVID 19.
Several governments across the world including China, South Korea, and Germany have developed nation-wide contact tracing apps as a means of fighting the spread of the virus even as experts caution about their effectiveness.
"Unfortunately, the science of how COVID-19 transmits remains unsettled, as is often the case in emergent epidemics," said Sean McDonald, a policy analyst at the Center for International Governance. "As a result, contact tracers are left casting a wide net."
"In countries where new technology for contact tracing has been employed with some success, such as in South Korea and Singapore, this technology is mostly experimental and in addition to work carried out by human contact tracers," explains McDonald.
SEE ALSO: Be careful before pasting the wide-load sign on your vehicle
The rollout of a contact-tracing app by the NTSA is likely to raise questions over the state agency's capacity to manage a complex system with significant implications to Kenyans' personal data.
In February the NTSA was accused of overstepping its mandate through the draft Operation of Digital Hailing Operators Regulations, 2019.
Among the proposals in the new law was to have taxi-hailing operators like Uber, Little and Taxify submit to NTSA a list of all the drivers on their staff as well as a data security policy that ensures protection of the drivers' and passengers' personal information.
According to data from the Kenya National Bureau of Statistics, KNBS, the number of 14-seater matatus in the country last year stood at 47,183, with mini-buses (15-33 seater) and buses (34 and above seaters) standing at 8,969 and 7,786 respectively.
Matatu Owners Association boss Samuel Kimutai welcomed the move to make cashless payments mandatory saying the government should first consult sector players and develop a robust legislative framework.
SEE ALSO: Thousands of new vehicles stuck in Mombasa due to Covid-19 shutdown
"We have tried this in the past but there was no proper legislative policy to support our efforts," said Mr. Kimutai. "Matatu owners lose the most from corruption in the sector. We need to be included in the discussions to ensure we have competent service provides who will not take exorbitant commissions."
Comments
comments
Over 150,000 jobs at stake if Treasury effects proposed changes on recoverable excise duty – KBL
NAIROBI, Kenya, Jun 3 – Kenya Breweries Limited has petitioned the National Treasury to delete the proposed reduction on excise duty remission from 80 percent to 60 percent.
In a letter addressed to the Ministry's Cabinet Secretary Ukur Yatani, KBL wants Treasury to let the excise duty remain unchanged, as per the current legal notice 52 of 2017.
KBL Managing Director Jane Karuku said the proposal to reduce excise duty remission has a net negative impact of Sh16.5 billion annually to the keg value chain.
Karuku said it will also lead to total direct job losses of over 150,000.
The losses, according to Karuku, exclude the impact of Covid-19, which has seen the 100 percent collapse of the Keg beer trade, with massive losses in revenue for both government and KBL.
"With the reduction in remission to 60 percent post Covid-19, we estimate the demand for Keg beer, which is made exclusively from Sorghum grain, will drop by 84 percent, from pre Covid-19 FY 2019/20 annual projection of 3.7million hectolitres to a post covid-19 FY2020/21 volume of 0.6 million hectolitres. The reduction will be due to excise-driven increase in the price of a single 300ml serve of Keg beer by 35 percent of Sh10 from an effective consumer price of Sh28.50 to Sh38.50."
The company says in addition, the levels of illicit have been much higher than the pre-Covid levels of 44 percent with the closure of bars and no take away keg beer alternative.
"We understand the need for government to recoup some of the loss in revenue due to tax measures taken by cushion Kenyans from the economic losses from covid-19 pandemic. However, this measure will be more costly to all stakeholders without any commensurate benefits to any of them. Therefore, we submit that this proposal be deleted," the Managing Director said.
KBL's Sh14 billion Keg plant in Kisumu remains closed since 23rd March 2020 due to closure of bars and the fact that Keg has no take home option.
According to the company this has led to 100 percent collapse of the Keg value chain with increase rate of unemployment among women and hundreds of thousands of youth who benefit from it.
The impact of the collapse has been manifested in the unprecedented increased incidents of illicit brew consumption.
Additionall, Karuku said this will only get worse with excise-led increased Keg beer prices once bars are reopened since low income consumers who survive on daily wage and look for alternative to informal sources of alcohol are severely affect. She added that some have resulted to consumption of illicit brew and surrogate alternatives such as hand sanitisers.
Treasury slashed the remission of excise duty targeting beer made from sorghum, millet, cassava or any other product made in Kenya from 80 percent to 60 percent.
On 29th May 2020, the National Treasury and Planning posted an online public notice, inviting comments on the draft Excise Duty (Remission of Excise Duty) (Amendment) Regulations, 2020.
The regulation is proposing to amend Regulation 2 of the Excise Duty (Remission of Excise Duty) Regulations, 2017 as follows: – "deleting the words "eighty percent" appearing in paragraph (1) and substituting therefore the words "sixty percent".
Comments
comments