Covid-19: 52 more test positive
Kenya on Friday recorded 52 new Covid-19 cases bringing the national tally to 1,161.
Health Cabinet Secretary Mutahi Kagwe said 2,567 samples were tested in the last 24 hours.
The Health minister, in his daily briefing, said Nairobi accounted for 23 of the new cases, Mombasa and Busia seven each.
Eight of the cases in Nairobi were recorded in Kibera which has become a virus hotspot in the capital.
"Kibera is worrying as it now has eight cases and we will make a decision based on scientific research," Mr Kagwe said.
He lauded Mombasa making significant progress in containing the disease.
Kenya, which confirmed its first case of the virus on March 13, had tested a total of 55, 074 samples from different parts of the county by May 22.
The minister also announced that the number of recoveries had risen to 380 with the discharge of five more patients.
The ministry further said that the number of fatalities had remained the same, 50.
At the same briefing in Machakos, Mr Kagwe announced that Kenya will no longer import Personal protective equipment (PPE) because local manufacturers are now able to produce quality gears for health workers.
Comments
comments
After failed bid to become a nun, now I rescue girls: The Standard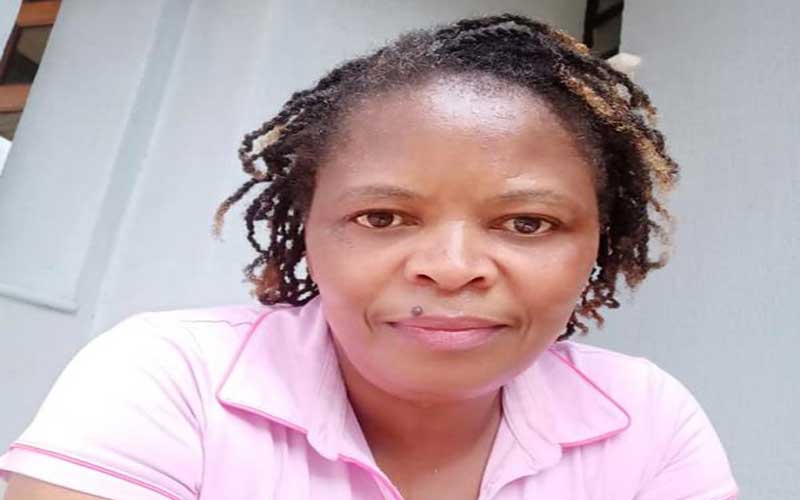 NairobiSeeing the violence meted on women as she grew up, Wangari sought to become a nun to avoid marriage, now her eyes are set on helping vulnerable girls
Growing up in Ndunyu Chege, Muranga County, Wangari (pictured) says she witnessed untold gender-based violence meted on women in her village.
"What was happening in the village was like a competition to see man could beat their wives more severely; I remember one time when a man chopped his wife's arm from the shoulder!" she says.
Wangari says such incidents made her hate the institution of marriage. In Class Six when a group of nuns visited her school to speak to students, she made up her mind to become one of them. This was a decision made to avoid the institution of marriage and the violence she had come to associate it with.
SEE ALSO: The unseen victims of coronavirus
"When the nuns visited and told us about the vocation, I got a way out of what I thought was bad and I started wearing gowns synonymous with how nuns dress," she recalls.
Her father, a teacher in a local school, supported her choice and changed how he looked at girls and their place in society. He encouraged Wangari to follow her heart.
She would make the first false start into sisterhood when after her O-Level education at St Francis Girls School Mangu, she joined Little Sisters of the Poor, a religious community.
"The sisters run a home for the old people and this is where I was taken and I was given a job of looking after an 89-year-old man," Wangari says.
After a few days, she quit and joined Ursuline Sisters but, in her mind, it was still about escaping the institution of marriage. Her superiors realised this and gave her a two-month break to go and reflect on whether this was what she really wanted.
SEE ALSO: Government offers lifeline to victims of gender based violence during this Covid-19 period
"Two senior sisters in the community sat me down and asked me if I had really made the right decision and I tried to convince them that indeed I had but they decided that I had to go and think over it before I could come back," she says.
She never went back.
On the same day she left, she went to live with a lady whose husband was a military officer to avoid going back home. While in the house, she recalls the husband meting out violence on his wife to the point of burning her with a hot iron despite the fact that she was pregnant.
That very day, she left the house and went back home to her parents. 
"I told them that I was no longer going to be a nun, so my dad took me to college where I studied for a diploma in marketing," she says.
SEE ALSO: How I became a mother of two by the age of 16
She got her first job, starting off as at the front office desk at the Kenya Accountants and Secretaries National Examinations Board (Kasneb), she would work at the institution for 14 years before she left and started a magazine focusing on gender-based violence.
The journey to saving girls from early marriages would start in earnest when she was called to the Nairobi Women's Hospital's Gender Recovery Centre to do a story about a 13-year-old girl who had been defiled by a teacher and gotten pregnant.
She recalls: "We were told that the teacher had bribed the girl's father with Sh3,000 and I asked to be given the girl to care for after she had left hospital."
From this experience, Wangari says she realised she did not have to wait until girls got themselves into these sticky situations before they were rescued. She says prevention is better than cure.
The 52-year-old has since then been involved in gender-based violence recoveries through the organization, Woman's Hope.
She has been rescuing girls from early marriages and pregnancies and putting them back in school. Through the organisation, she has rescued more than 500 girls.
How does she do this?
Using local chiefs and the Nyumba Kumi committees, she gets to know vulnerable girls who she picks and takes through a programme at the centre she runs in Karen. Social workers also help in identifying these girls.
After rescuing the first girl, she started an initiative called 'Sweat It out for a Needy Cause' where the fitness enthusiast would, together with her friends, donate Sh500 whenever they ran. From the funds they collected, they bought hygiene effects for vulnerable girls.
"We realised that these vulnerable girls were prone to getting early pregnancies and (into) marriages because of promises for small things like sanitary towels; we then started training the girls we rescued at a house we had rented which could care for 30 girls before moving to the current bigger centre in Hardy, Karen," says Wangari.
The girls are taken through a three-month training every year during school holidays in April, August and December, where they learn some basic skills. They meet counselors and mentors who speak to them. As part of the initiative, she came up with a 'Dignity Pack', which contains sanitary towels, panties, soap and petroleum jelly because in giving sanitary towels, some girls would come saying they have no panties which still exposes them to predators. 
Wangari says that through the initiative, girls have learn skills while other have gone back to complete their formal education. "When I get a girl who should be in school, I ensure that they first get back to school because I have experienced that in waiting we could lose the girl to early marriage of pregnancy," she says.
Currently, the centre is making face masks for sale to as a means of sustaining the girls and some of the families they support. She has also roped in her zumba class to help in feeding the vulnerable, especially in Gataka, during these difficult times, which have left families struggling.
When we caught up with her earlier this month, it was at an event at Tone La Maji Centre in Nakimurunya, Kajiado County, putting a smile on the faces of 33 boys.
Comments
comments
Debt burden, economic sanctions key concerns as OACPS discuss Covid-19 – KBC
Countries that form the Organization of the African, Carribean and Pacific States (OACPS) have identified the growing debt burden and existing economic sanctions among its members as challenges that are aggravating the negative effects of the Covid-19 pandemic.
Speaking Wednesday during a virtual summit of Heads of State and Government that was convened by President Uhuru Kenyatta in his capacity as the organization's President-in-Office, the leaders welcomed the various debt relief measures being rolled out by global lenders but called for more interventions including debt cancelation.
In his opening remarks, President Kenyatta observed that the debt of many OACP countries continues to rise saying close to half of low income and least developed countries have hit debt crisis levels.
"The debt of many member states continues to rise. Forty four (44) percent of low income and least developed countries (LDCs) are in debt distress or assessed as being at high risk of external debt distress," President Kenyatta noted.
Get breaking news on your Mobile as-it-happens. SMS 'NEWS' to 20153

He added: "Covid-19 and related global economic shocks will exacerbate this problem".
In his recorded address, French President Emmanuel Macron challenged global lending institutions to go beyond current relief measures and consider debt cancelation for the most vulnerable countries.
Mrs Erna Solberg, the Prime Minister of Norway said his country supports the debt moratorium issued by multilateral lenders and assured OACP nations that her country will "remain a close partner throughout the crisis".
Led by President Cyril Ramaphosa (South Africa) who is also the current Chairperson of the African Union, the OACPS leaders who included Paul Kagame (Rwanda) and Edgar Lungu (Zambia) urged for the lifting of economic sanctions against Sudan and Zimbabwe.
They said the international community needs to lift the sanctions so as to enable the two African nations to apply their resources in mitigating their populations from the adverse socioeconomic effects of the current health crisis.
The meeting, also attended by OACPS development partners led by France, Norway and Canada, expressed dissatisfaction at the recent decision by the European Union (EU) to list some of its members as high risk nations for money laundering and terrorism financing.
The countries blacklisted by the EU in May this year include The Bahamas, Barbados, Botswana, Cambodia, Ghana, Jamaica, Mauritius, Mongolia, Myanmar, Nicaragua, Panama and Zimbabwe.
Prime Minister Mia Amor Mottley of Barbados, speaking on behalf of the Carribean Community (CARICOM) termed the EU decision as unilateral saying the process leading to the listing was "not transparent".
President Danny Faure of Seychelles asked the OACP secretariat to push for a moratorium on the publication of the "list of shame" and reiterated the Barbados Prime Minister's sentiments that the EU's decision was unilateral.
In line with the "Nairobi Nguvu ya Pamoja Declaration" made during the 9th OACPS summit held in Nairobi last year, the leaders resolved to deepen cooperation through South-South, North-South and Triangular Cooperation.
President Kenyatta said diversified partnerships established through these new avenues will help alleviate the health and socioeconomic disruptions caused by Covid-19.
"At the national level, Covid-19 has led to a shrinking of fiscal space while at international level, the pandemic has weakened the pipeline of resources dedicated to development programmes," President Kenyatta said.
Alongside debt relief and lifting of economic sanctions against Sudan and Zimbabwe, the OACPS leaders called for global solidarity in the fight against Covid-19 and voiced their support for Dr Tedros and the World Health Organization.
Further, the leaders agreed to broaden sources of financing Covid-19 response and recovery interventions through public-private partnerships as well as through increased access to concessional financing.
President Kenyatta was joined in the meeting by Foreign Affairs CS Raychelle Omamo, her Principal Secretary  Macharia Kamau and Head of Public Service Joseph Kinyua as well as State House Deputy Chief of Staff incharge of Strategy Ruth Kagia.
The theme of the inaugural Extra-Ordinary Inter-Sessional Summit of the Heads of State and Government of OACPS was, "Transcending the Covid-19 Pandemic: Building Resilience through Global Solidarity".
Comments
comments
AfDB wars: Targeting an African man or an African bank?
Dr Akinwumi Adesina was probably more known for working with rural agricultural communities than scandal. Now, as President of the African Development Bank (AfDB), he may be punch ball of a global political agenda pitting the US against African leaders, and maybe China.
Since last month, Dr Adesina has been fighting allegations of inappropriate acts that could ruin his career and roil a near-certain unopposed re-election this August. But his stay, or going, could punctuate relations between Africa and the US.
On Tuesday, some observers told the Nation the impasse over the credibility of the Bank's President could ruin more than his career.
"The leadership crisis at the AfDB is too important to ignore, especially at this time when the lender is raising funds to shore up its capital base for onward lending to African countries, many of which are battling debt crisis and the corona pandemic," Dr Peter Mwencha, a specialist in international political economy and CEO of the International Relations Society of Kenya said, referring to the Bank's bid to raise more than $100 billion from shareholders.
"From a geopolitical perspective, this issue has brought up concerns about allowing foreigners an outsized stake in African affairs. Africans are questioning why foreigners should have such a huge influence in such an important African institution," he added, but challenged African leaders to consider raising their shareholding of the Bank.
Here is how: As Nigeria's Agriculture minister, Dr Adesina was named Forbes Person of the Year in 2013, for 'revolutionising' agricultural policies in his country.
There had been no scandal against him since he took over as President AfDB in 2015. In fact, he has led the institution, formed in 1964, on a campaign to steer clear of fossil fuel projects, dumping all dirty coal-related funding and instead focusing on powering rural homes using renewable energy.
That was until January this year when anonymous employees of the bank wrote to some directors alleging Dr Adesina had overreached his hand, awarding contracts to his cronies and relatives as well as using the position to enhance his personal stature.
When more allegations, anonymously, emerged in April about how he had paid employees who resigned mysteriously, the AfDB board endorsed an internal audit. That committee returned a report suggesting there had been no evidence linking Dr Adesina to the allegations.
But the US government wasn't satisfied so Treasury Secretary Steve Mnuchin wrote a letter rejecting the results of the internal audit. He argued the dismissal of all allegations against Dr Adesina will "tarnish the reputation of the institution," according to a May 28 letter to the AfDB board.
One employee of the Bank, who wished to remain anonymous told the Nation AfDB has witnessed high profile resignations in the past five years, with the officials being paid handsome severance packages suspected to buy their silence. Dr Adesina denies any wrong doings.
But the US stance, to have Dr Adesina re-investigated, has seen African leaders, including Nigeria where he comes from rally behind their man.
Nigerian ex-President Olusegun Obasanjo rallied more than a dozen other former leaders to endorse an open letter to Washington, warning the stance would divert the Bank's attention to the Covid-19 pandemic.
"At this critical time that Africa is battling with Covid-19, the Bank and its President should not be distracted," Mr Obasanjo argued in a letter that was also signed by Mr Jakaya Kikwete, Mr Goodluck Jonathan, Mr Joachim Chissano, Ms Ellen-Johnson Sirleaf, Ms Joyce Banda, Mr Tandja Mamadou and several other leaders.
While the leaders called for respect for protocol, they raised a pan-African issue, indicating the Bank was the most important institution on the continent and that it was "the pride of Africa.
All African countries are members of the Bank, but it also has 27 members from countries outside the continent. It, however, lends exclusively to Africa.
Nigeria and the US are the biggest AfDB shareholders. The two command a 15 per cent share combined, but Nigeria has 9.1 per cent in the institution formed 55 years ago.
Comments
comments