Court temporarily halts ban on betting adverts
The High Court has temporarily suspended the directive that banned celebrities from participating in gambling advertisements.
The ban had been put in place by the Betting Control and Licensing Board in a bid to curb addiction on gambling.
But Justice James Makau issued the order after an artiste moved to court claiming that his source of livelihood and that of others like him had been interfered with.
"Pending the hearing and determination of this case, a conservatory order is issued staying the implementation of the decision by the BCLB  issued on April 30 touching on advertisement and endorsement of betting, lottery, gaming and prize competitions," said Justice Makau.
The ban, which was to take effect on May 30, had stopped outdoor advertisements of gambling and advertising on social media.
Celebrities had also been barred from endorsing gambling operations.
Broadcast of betting advertisements had been restricted to between 10pm and 6am.
The suit was filed by Mr Kamau Wanjohi who uses the stage name MC Moreydoc. He sued the betting board, its chairman Cyrus Maina and chief executive officer Liti Wambua, and the Attorney-General.
According to the artiste, as someone involved in recording, performing and distribution of music, the said decision was irrational.
He argues that the ban was issued without having public participation and that the use of the word of a celebrity in the directive is vague.
Even though the definition of a celebrity is in dispute, celebrities have been granted a leeway to continue endorsing gambling and betting advertisements.
Comments
comments
Warder nabbed in act with patient: The Standard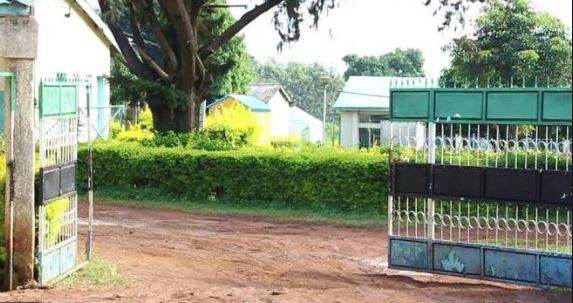 A prisons officer has been quarantined after he was caught red-handed sexually assaulting a female Covid-19 patient in isolation at the Busia Agricultural Training Centre in Busia County.
The incident that happened on Thursday night has left many in shock, with others questioning how safe female patients in isolation centres are.
A police report shows the accused Busia Prisons warder was in the company of a colleague, Jeff Obondo, on the fateful night, patrolling the facility, before the suspect sneaked to rape the patient.
The officer went into the room of the patient, while Obondo proceeded with patrol not knowing what was happening behind his back.
SEE ALSO: Teenage pregnancies: State is the main culprit
Colleague disappeared
Out of curiosity, Obondo decided to return to check where his colleague had disappeared to, and when he could not spot him, alerted his seniors.
"He (Obondo) informed his colleagues of what was happening. All the officers went to check on what was going on but they did not find the officer. They got suspicious and started looking around," reads the police report.
As they were searching, they heard noise and commotion from one of the female wards in the facility located in Busia town.
Obondo and his colleagues went to the scene and found all the patients outside complaining that the prison officer was raping a Covid-19 patient in the room.
SEE ALSO: Antibody levels in recovered Covid-19 patients decline quickly: research
"It was indeed established that the officer was together with the patient in her room," reads the report.
The warder attempted to escape through the window when he realised he had been caught. 
Health officers were called to the scene and respondent promptly. According to police reports, the said officer was immediately arrested by his seniors and quarantined.
Dr David Mukabi, the Head of Response Team in Busia, was unavailable for comment.
Comments
comments
Driver's renewed passion in virus fight: The Standard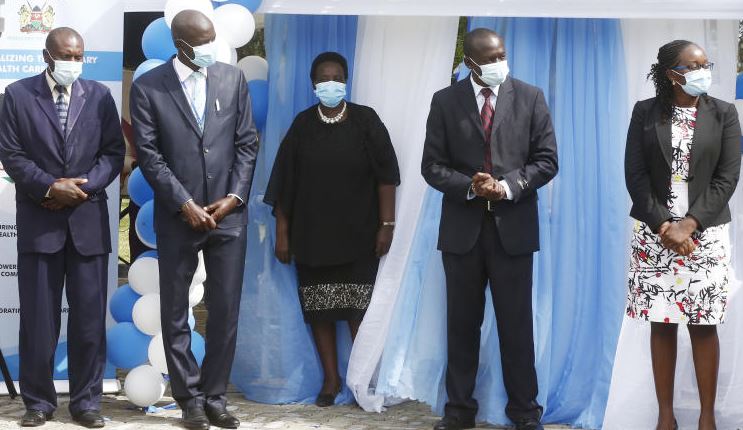 Imagine being picked as a front line worker, with no knowledge in medicine, to join the fight against a new disease that is devastating the world.
This is the story of 54-year-old driver, Mr Joseph Mbuthia, who has been transporting Covid-19 samples for tests at influenza laboratories in Nairobi from Nakuru.
At first, Mbuthia, who hails from Engashura village in Bahati Sub-county, was reluctant to pick up the role over safety concerns for himself and his family.
However, his wife and children encouraged him to take up the role he now performs with passion. His efforts have not been in vain. Mbuthia is among front-line workers, including four medics who were applauded by Health Cabinet Secretary Mutahi Kagwe on Thursday.
"All healthcare workers have been on the forefront, and I appreciate their work. But for this driver, he has constantly ferried samples to laboratories in Nairobi, on a daily basis. He is available after normal working hours," Kagwe said.
Mbuthia said the recognition was God's making.
Speaking to Saturday Standard, Mbuthia, who is attached to Rift Valley Provincial General Hospital, said service to humanity drove his passion for the job.
At times, he is called in the wee hours to collect samples from various areas. "I know Covid-19 is a deadly disease, and when called upon, I do not hesitate because I think delay may result into death of a patient, or cause more complications," he said.
Initially he used to make three trips to Nairobi to deliver samples, but he currently transports the same as per service need.
Samples are packed in a cooler box during transportation.
The Naivasha Hospital in-charge Dr Angeline Ithondeka said 316 healthcare workers had been trained on how to handle Covid-19 patients.
Ithondeka is the brainchild of the six-pointer plan that is helping manage Covid-19 positive patients at the hospital.
Elements of the plan entail picking a team leader from all departments at the hospital, including nurses, doctors, clinical officers, laboratory technicians and non-subordinate staff.
"Everyone at the hospital seemed confused, and did not know what to do, yet the number of patients was rising. I, therefore, identified hospital champions in charge of sensitising other staff about the disease," she said.
Nakuru Governor Lee Kinyanjui applauded medics for working tirelessly to treat patients.
Comments
comments
Alarm as safety bridge turns into suicide spot: The Standard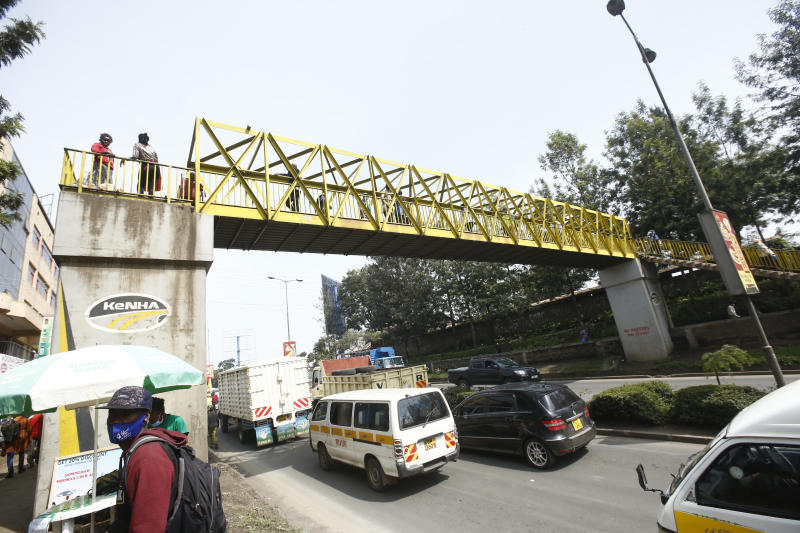 As one enters and exits the Nakuru Central Business District (CBD) from the east, a 30 feet foot bridge hanging over the Nairobi-Nakuru highway offers the safest way for pedestrians to cross the busy road.
But besides the safe crossing, the bridge is also known for its more intriguing title as the most popular site for suicide jumps in the county.
Just before getting to Gatehouse Roundabout you find two bridges running parallel to each other across the four-lane Nakuru-Nairobi Highway.
SEE ALSO: Matiang'i caught up in demo over road block
The first is an old colonial era railway bridge, which is 18 feet high and is still used by cargo trains from Nairobi to Kisumu and Malaba.
Next is a 30 feet high footbridge set up in 2010 by the Kenya National Highways Authority (KeNHA) supported by concrete pillars on either ends of the road.
Along the entire length of bridge are pieces of metal interconnected to form a web, one meter high. The rest of the upper part of the bridge has widely spaced bars, leaving enough room for an adult to squeeze through and have a clear view of the highway.
Below the bridge is a gentle slope that entices motorists leaving the town to accelerate, oblivious of any object or even a person who may be falling over from the bridge above.
The bridge was constructed with an aim to minimise accidents of speeding motorists knocking down pedestrians crossing the dual carriageway.
For years, the bridge has served those heading to Nakuru Level Five Hospital, Nakuru Annex Hospital and to the newly established bus park. However, in the recent past, the bridge has turned out to be a death spot. It is now an infamous suicide spot that has so far claimed five lives, among them a man, woman and three street children.
On July 12, Julia Wanjama was busy selling masks to passersby next to the bridge before her routine was interrupted by a loud thud from below the bridge.
"I heard a loud bang behind me and thought it was a tire burst. People started wailing pointing below the bridge. I saw an adult woman lying next to a car," said Wanjama.
She learnt later that the woman, who had passed next to her a minute earlier, had committed suicide by throwing herself from the bridge.
"She hit the tarmac head first. The skull burst open and her body hit a passing car. Within minutes she had died," said Wanjama.
Nakuru East Sub-Ccunty Deputy Police Commander Phanton Analo confirmed the incident.
"The motive of the suicide is yet to be established. The woman didn't have any identification documents on her at the time of the incident. Her body was taken to the county morgue and an inquest file opened," said Analo.
The Standard has since established that the woman was a mother of four living in Kanyon Estate in the outskirts of Nakuru town.
Afraha Sub location chief Timothy Ali said they had managed to trace her family and she was set to be buried in Vihiga County on Saturday.
The administrator added that the deceased informed her friends of her intentions before she committed suicide.
"As she left home she told her neighbours that she was going to kill herself. They didn't take it seriously as they thought she was drunk or joking. They were later shocked to hear of her demise," said Ali.
A similar incident happened on April 25 when a county government employee used the same spot to take his life.
Burton Onyaru said his 28-year-old son Jonathan Onsongo was heading to the matatu terminus when he jumped off the bridge, missing a truck that almost ran over him before hitting the tarmac.
"I'm not sure what triggered his action. He wasn't drunk. It was around 1pm and he was on his way home," said Onyaru.
However, he noted his son was battling depression linked to his social life after separating from his wife with whom they had a four-year-old child. He was planning to get another wife.
"He didn't show signs of depression, but as a parent I felt he was not at peace," said Onyaru.
Traders operating in buildings near the bridge said at least five suicide cases have happened at the spot since December last year, with some people being rescued before taking their lives.
"In March, a woman was almost jumping off the bridge when people noticed and called her out in time. A traffic police officer manning the Gatehouse Roundabout rushed to the scene and pulled her back. Another man killed himself at the bridge on Christmas day," said Wanjama.
Psychiatrist Iregi Mwenja (pictured) said the increased suicide cases at the spot are triggered by already reported cases of depression among the population.
"We can't run from the fact depression is a serious challenge in our societies. These could be copycat suicide cases triggered by having knowledge that someone else killed themselves there," said Mwenja.
Comments
comments