Cost of living: Ok, it's officially time to panic
You thought living in Nairobi was expensive? You ain't seen nothing yet.
I just received my electricity bill and it is two times more than last month's. As much as I would like us all as citizens of the Republic of Kenya to have access to electricity, if it costs this much, how would my lovely grandmother afford this?
This morning, I took a taxi to a meeting and when I saw the amount charged, I exclaimed, "What? But how?"
What a rhetorical question; we do know how. The hullabaloo we are witnessing is not just about the prices of fuel increasing, we suddenly realise that everything is about to go up and we are feeling the panic.
Members of Parliament are scrambling to stop the new VAT on fuel, but one cannot help feeling that this dramatic charade is too little, too late.
This is the new lifestyle that is about to become ours. Kenyans tend to adapt quickly. When things similar to this happen, we find ways to adjust.
Perhaps we use our cars less. The boda boda business is picking up because it is more affordable. Middle-class families will choose to carpool to get to work to reduce the number of cars leaving the same neighbourhood.
Perhaps bulk shopping with neighbours is also on the cards. All that time being spent trying to outsmart the tax monster eating away our hard-earned money.
So when my taxi fare came as such a shock, I wondered why I just did not walk. Well, walking would have taken me about 30 minutes, I am a very slow walker, and I had stumbled out of my house late. It did bring me to the conclusion that saving money in Kenya takes time.
You want to buy something affordable; you have to be clever. It takes time to compare prices but sometimes being cheap is expensive. The fundi who can fix something for half-price? You find yourself calling him multiple times for other smaller unforeseen issues. The time it takes to compare prices because you want the best is often wasted.
Well, the taxi ride was not a complete loss. At least I had a conversation with the young driver. He looked like he should be in class, a college student. Perhaps he was heading there after dropping me.
He mentioned casually, "I want to retire early. I wish I could. In fact, I want to get to a point where my money works for me." At this point my pessimistic personality nearly made me yell, "In this country, you won't!"
But I refrained, and he continued, "I have three jobs; the way things are now, you have to have more than one. Our parents worked hard. They probably worked hard in one place for up to 30 years. Seeing their salary increase gradually, very slowly, but they managed.
"For us, we have to hustle. I drive a taxi, I also have an online shop that sells happy socks and another that sells shoes. I work all the time. But you have to do that to fulfil your basic needs."
Suddenly, I had a sense of respect for him. Like the street hawkers who are harassed by the city council by day but now fill the city streets at night to make some money. Here he was making do with what he had.
I find this preferable to being harassed by security guards who feel the need to tell you the cold has lasted abnormally long and because it is cold, you are expected to buy them tea… Or the boys who signal for you to park in a particular spot downtown and demand compensation for showing you a parking you had already seen without their assistance.
They used to accept anything; these days, they are likely to retort, "What am I supposed to do with these 20 shillings?"
What ticks me off the most is not the huge ocean of debt we find ourselves drowning in, it is the lack of urgency to tackle corruption. Nobody in their right mind would continue to pour water into a metal drum and expect it to fill up without patching the holes in its bottom.
Nerima Wako-Ojiwa is executive director at Siasa Place. Twitter: @NerimaW
Covid-19 deaths, hospitalizations soar among youth in Americas – KBC
Hospitalizations and deaths of younger people are surging as the COVID-19 pandemic accelerates across Latin America and the Caribbean, Pan American Health Organization (PAHO) Director Carissa Etienne said on Wednesday.
"Adults of all ages – including young people – are becoming seriously ill. Many of them are dying," Etienne said at her daily press briefing as quoted in a PAHO release.
In Brazil, mortality rates doubled among those younger than 39, quadrupled among those in their 40s, and tripled for those in their 50s, between December 2020 and March 2021, she said.
"For much of the pandemic, our hospitals were filled with elderly COVID patients, many of whom had pre-existing conditions that made them more susceptible to severe disease," Etienne said. "But look around intensive care units across our region today. You'll see they're filled not only with elderly patients, but also with younger people."
Get breaking news on your Mobile as-it-happens. SMS 'NEWS' to 20153

Etienne urged hospitals in the region to increase the size of intensive care units (ICU) in anticipation that the trend will continue, while warning that expansion of ICUs cannot continue indefinitely.
As a result, she urged nations to double down on prevention measures such as lockdowns and facemasks.
Tell Us What You Think
Uhuru wa biashara, Suluhu ya vikwazo: How Kenya-Tanzania trade will be streamlined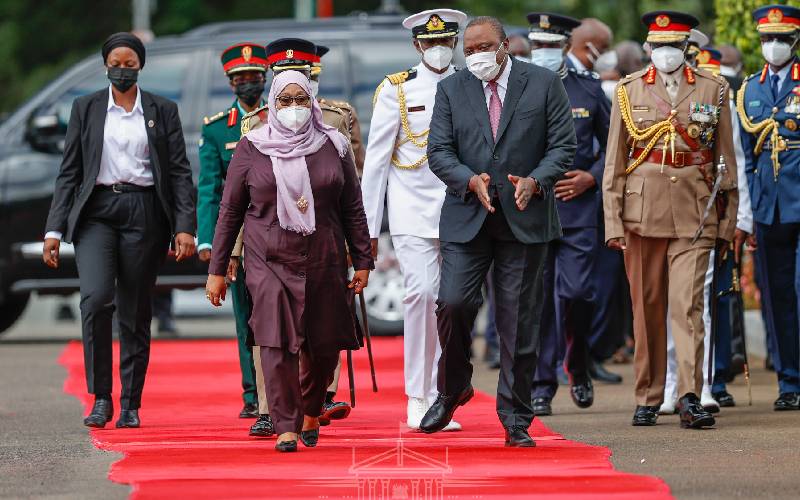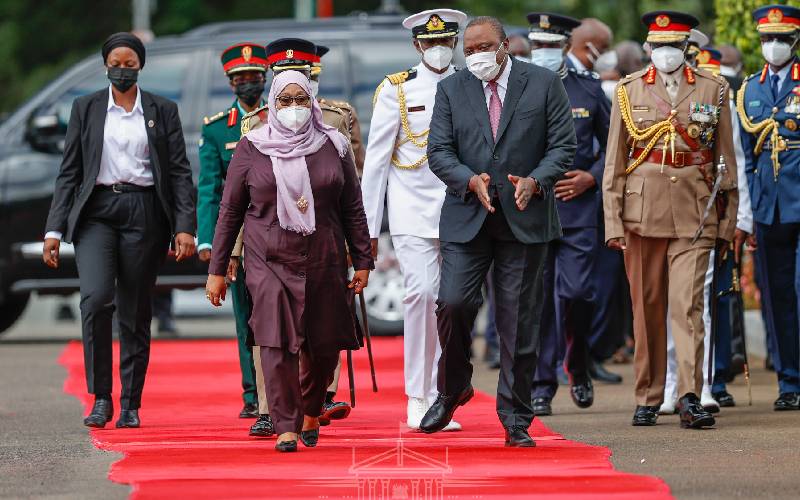 President Uhuru Kenyatta with his Tanzania counterpart Samia Suluhu, who is on a two-day state visit in Kenya.[PSCU]
President Uhuru Kenyatta says ministers from both Kenya and Tanzania should resolve all non-tariff barriers and other restrictions affecting the two countries within four months.
Uhuru, on Wednesday said going forward, there will be no business visa or work permits for Tanzanian wishing to do business in the country.
"You are free to come and trade here in Kenya, there will be no business visas or work permits as long as you abide by the laws of the land," he said.
Uhuru was speaking during the Kenya-Tanzania Investment Forum at Serena hotel. The forum was in line with President Samia Suluhu's two-day state visit.
Kenya has about 513 companies doing business in Tanzania compared to Tanzania's 30 in Nairobi.
Uhuru said in the next two weeks, concerned ministers from both sides should clear all the traffic jams at the Taveta and Namanga border points.
Uhuru said they should pay a special focus to the issuance of Covid-19 certificates to ease the movement of  transit cargo.
"I direct that all the maize lying at the border be cleared in two weeks. We cannot subject businesses to more suffering," Uhuru said.
Take a quick survey and help us improve our website!
Take a survey
Uhuru urged the ministers to move swiftly and ensure the ease of doing business at the border pointswas decisively tackled.
"It is not about wearing suits and meeting over tea.Get to the ground and understand what is affecting those traders. Don't just sit in those offices. If you need to consult, do it and get the work done," he said.
Uhuru's sentiments came shortly after the Kenya Business Community nsaid it was ready to trade with the Tanzanian business community.
Led by the Kenya National Chamber of Commerce (KNCC), the community proposed the formulation of a Joint Business Council that will support the two countries.
KNCC President Fred Ngatia said the council would play a key role in addressing issues that bedevil  Nairobi-Dar trade,
The community said there should be policy forums and investment-focused events that will target small-scale enterprises.
"We are going to focus more on economic projects by identifying favourable financing institutions that will help us settle some of the commercial disputes affecting our community," Ngatia said.
He said this will be made possible through the Public-Private Partnerships offered by the government.
As a result, KNCC in partnership with the Tanzania Chamber of Commerce will host a trade and investment exhibition in Dar es Salaam this August aiming to help SMEs unlock their potential.
So far Trade and Agriculture ministers from the two sides have had a breakfast meeting and agreed to initiate bilateral discussion before the end of the month.
Trade CS Betty Maina said the discussions aim to iron out all issues that have been hampering trade between the two countries.
This includes issues surrounding maize import.
President Samia Suluhu said her government was ready to serve as a bridge to pave way for businesses between the two countries to thrive.
"It is not about competing and complicating things, but about developing business relationships to allow both parties to explore opportunities," she said.
Suluhu said while Tanzania is rich with natural resources and tourist attractions, Kenya is thriving in the ICT world and thus the need for exchange of skills on research and development.
"Muna bahati sana maanake upande mmoja mnao Uhuru wa kufanya biashara na upande mwingine Suluhu la kuondoa vikwazo," Suluhu said.
Kenya and Tanzania agree to iron out trade barriers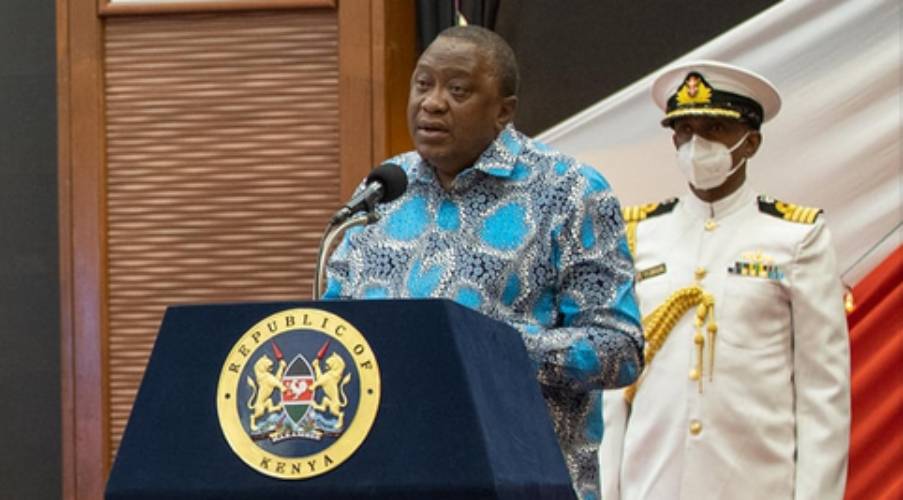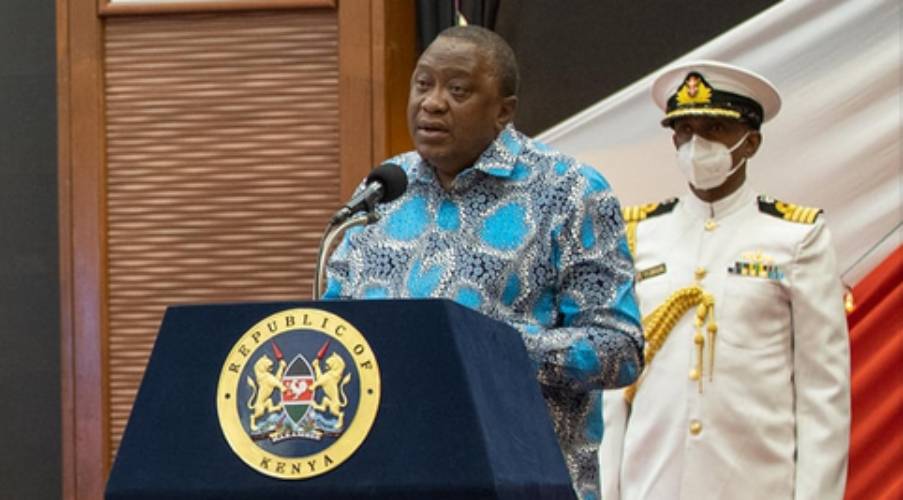 President Uhuru Kenyatta (PHOTO: PSCU)
NAIROBI, KENYA: A business forum held on Wednesday between Kenya and Tanzania agreed to iron out challenges constraining business between the neighbouring countries.
President Uhuru Kenyatta and Tanzania counterpart Samia Suluhu Hassan during the forum noted that trade opportunities between the two countries have not been fully exploited. Trade volume between the two countries was valued at Sh60.4 billion in 2012 and Sh47.5b, Sh45.6billion and Sh47.5 billion in 2016, 2017 and 2018 respectively.In 2020, President Uhuru Kenyatta noted that the volume was valued at Sh50 billion.
"Trade between the two countries has thrived over the past due to robust private sector, entrepreneurial citizen among other factors, however from the volumes we have not exploited the opportunities to full capacity," he said.
"There is an urgent need for cooperation between the two countries to iron out issues hindering the growth of trade," he added.
He noted that the economies need to drop unhealthy competition which he said work against investment in the two neighbouring countries.
The President also directed responsible government officials to meet within this week or the week after to iron out issues around the Covid-19 certificate. He also directed CS Agriculture and Livestock Peter Munya to allow maize to be cleared at the border.
Reading from the same script, his counterpart Suluhu Hassan noted that real development between the two countries can get better if they develop together.
"We need to work on a conducive environment by creating efficient courts, harmonize tax regimes, work on the investment climate and better legislation," she said. She noted that Kenya can benefit from Tanzania's rich mineral sector while Tanzania can borrow from Kenya's thriving technology sector.
Take a quick survey and help us improve our website!
Take a survey
The private sector represented by the East African Business Council noted the decline in intra EAC trade is due to several barriers to trade, investment and movement of persons. Intra-EAC trade currently stands at below 20 per cent vis a vis SADC at 48 per cent and European Union at 70 per cent.
"There's a need to embrace digitalization particularly in moving goods and services across the EA region and harmonizing the tax regimes, we need to also strengthen the East African Secretariat," said Nick Nesbit, Chairman of East African Business Council.
He also underscored the need to promote value addition in manufacturing and diversification of our products and the elimination of Non-Tariff Barriers, which will go a long way towards increasing intra-EAC trade from the current below 20 per cent.
Ministers from the two countries are expected to meet before the end of the month to iron out issues affecting trade between the two countries.