Coincidence in deaths of two of a kind, 2 days and 2 continents apart
Early April, I emailed fellow columnist and business executive Karanja Kabage, to remind him of a conversation we had last November to jointly work on his memoirs.
He emailed back to say: "Don't think our project is forgotten. It is still alive but for the timing…." I entirely agreed.
After all, the man whose work we wanted to fashion the memoirs on, American Lee Iacocca, was 95 years old — 25 years older than Mr Kabage. But we forgot that man's timing is often different from God's.
My conversations with writer, business executive, and lawyer-politician Karanja Kabage began in December 2017. The Daily Nation had published a commentary he'd written on the need for Kenya to embrace nuclear energy for faster economic take-off, a subject very close to his heart, and for which he was writing his dissertation for a doctoral degree.
What drew my attention to the article is the manner he'd broken the subject down to a point it could be understood by a layman to whom mention of "nuclear" only conjures images of the deadliest weapon ever invented by mankind.
I emailed a compliment to him for the brilliant write-up. He replied back to say thank you and to suggest we plan to have a cup of tea and get to know one another.
We left it at that. After the March 2018 "handshake" between President Uhuru Kenyatta and Opposition leader Raila Odinga, I wrote in this column a piece on what I called "Seven rules of power" as gleaned from numerous conversations with my late Senator, GG. Kariuki. Mr Kabage quite liked the piece and texted a compliment and invitation to have a cup of tea with him.
We instantly hit it off, maybe because of the "brotherhood" of writers, but more so when he learnt that, like him, I was born and spent my early life in Elburgon in Nakuru. Henceforth we would respectively address the other simply as "KK" and "KN".
Lee Iacocca, Founding Chairman of The Statue of Liberty-Ellis Island Foundation, Inc speaks during the 2004 Ellis Island Family Heritage Awards at the Ellis Island Museum in New York City on April 20, 2004. Lee Iacocca died July 2 at his home in the Bel-Air area of Los Angeles PHOTO | PAUL HAWTHORNE | AFP
Over a cup of tea, I suggested to him that since he was such a prolific writer it would be great if he put his scattered writings in one book.
I even had carried one of the titles by US corporate executive and automaker, Lee Iacocca, to show him the kind of memoirs I had in mind. The latter was one-time celebrated chief executive of then US giant automakers, Ford and Chrysler corporations.
It turned out to be another point of convergence for KK and I. He, too, was an admirer of Iacocca's work and had read the title I carried: Talking Straight, and two others, Iacocca, a biography, and Where Have all the Leaders Gone? (a title he particularly liked).
He welcomed the idea of writing a book, which he said he had been toying with. Then he said: "Come to think of it, instead of keeping the idea of a memoir on hold until when I get time to sit and write, why not give my story to you to write it for me? I like your style and would be happy if you do the job."
I was flattered to hear he likes my style of writing, something my editor has deliberately refused to acknowledge, lest I use it to demand a pay increase!
I had no problem writing. We left it at that as he put his thoughts together before meeting again to come up with the book outline and schedule sessions to sit with him and record the story of his life. He would also give me his published and unpublished works.
I happened to be engaged on another book project, as I waited until he was ready. That came eight months later in November last year when he called me. We sat for half a day in his office as he took me through various stages of his life. I did the outline in a couple of days and we had another session to go through it together.
My suggested working title for the memoir was: From Elburgon to the Boardroom, but he changed it to From Elburgon to the World. We settled on having nine sections in the book.
The first section would be on his early life. It would include his roots, birth and growing up in Elburgon; temporary repatriation to his family's Murang'a County home during the colonial state of emergency that started in 1952, and the strength of a woman as his mother single-handedly took care of the family with the father placed in detention.
The section would end with his return to Elburgon to squat on government forest land where his father was engaged as a casual labourer, and starting school.
Section two would be on his venturing to Nairobi for post-primary education at Ofafa Jericho Secondary School, and landing his first job with a stock brokerage firm. Section three would be on finding a career in the insurance industry and which would become a lifetime passion.
Section four would be on return to school in his adulthood and his philosophy that education only begins but never ends, that it is a lifelong process with no end to the quest for knowledge.
He returned to school in his 50s to earn a Bachelor's degree in business administration, then proceeded to study for undergraduate and Master's degree in law, and a postgraduate diploma for admission as an advocate of the High Court of Kenya. At the time of his death, he was in the final stages of course work for a doctorate in nuclear studies.
Section five would be on venturing on his own as an entrepreneur and lessons learnt in the hot kitchen of hands-on experience. Closely related would be section six where he wanted to share his experiences sitting in many corporate boardrooms, including the intrigues therein.
There would also be a section on his travels and lessons learnt outside Kenya. He was an extensively travelled man and joked during our conversation that if he were to show me immigration stamps on his past and present passports, I'd easily conclude he was a stamps collector! Then there would be perhaps the most engrossing section of the memoir where he would discuss his interactions and views on notable personalities, including former presidents Daniel arap Moi and Mwai Kibaki, and his encounters with President Kenyatta, Deputy President William Ruto, and Mr Odinga.
In a nutshell, Kabage told me that although Moi was his good friend, he would often tear into the land grabbing mania under his watch, and running down of State corporations. As for Kibaki, Kabage promised to reveal how difficult it was to deal with him because he never quite let you know exactly what was on his mind.
He gave a personal example when he and other local entrepreneurs attempted to salvage the Kenya Bus Service company only to be let down by the Kibaki administration.
For now, I choose to withhold what he told me about Uhuru, Ruto and Raila.
The book would end with a section on lessons learnt from the school of life. He told me the first lesson is in what his father told him: That the sky is the limit to be what you want to be in life. He called it taking a mental flight to your desired destiny.
Lesson number two is that your past shall always follow you to your present and to your future. At the time we drew the outline, US President Donald Trump's nominee to the US Supreme Court, Brett Kavanaugh, had trouble getting confirmation after allegations of sexual harassment against him when he was a teenager came up. The nominee claimed he'd no memory of such a thing to which KK joked to me: "Do you think there is a man who ever forgets the first time he had sex and how it happened at whatever age?"
Kabage told me the last lessons learnt from the kitchen of life is that one should always stick to what they do best. In that case, he told me he'd write about his misadventures that include unsuccessfully seeking electoral office in Nakuru. His American inspirational figure, Lee Iacocca, also once intended to dabble into politics by running for presidency but was advised against it, and told to stay in the boardroom where he was good at. He heeded the advice.
Having agreed on the outline to the book, we parted for the Christmas holiday as he promised to call early in the year to fix a date for the commencement of the project. He never did. On April 4, I emailed to remind him of the project. He wrote back to assure me it was still on course, but for the timing, which I concurred with. We were wrong.
Too bad we will not get to read KK's memoirs, unless done posthumously.
Postscript: What is in a number? Kabage was born on the 9th day of the 9th month of 1949. He died in 201(9) just past the age of 6(9) years and 9 months. In his last speech, made the day before he died, he urged Kenya to raise her energy capacity from the current 2,500MW to (9) 000MW, the same as in South Korea.
RIP in Cloud 9, Bwana KK.
Comments
comments
Interior PS Karanja Kibicho hints at reopening of the economy: The Standard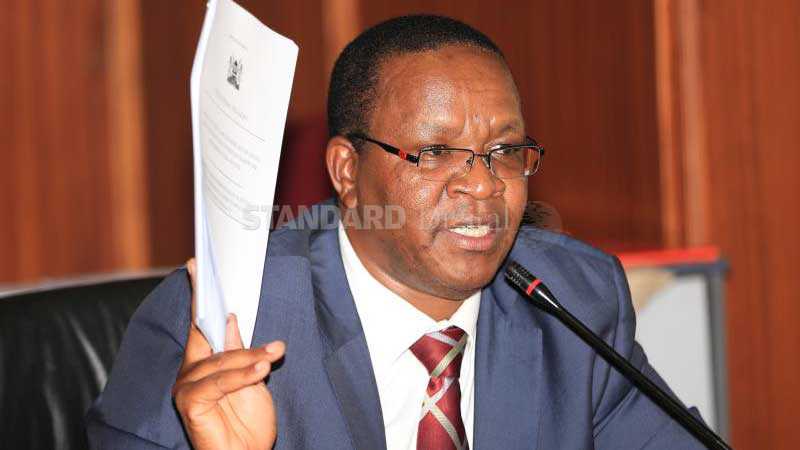 Interior Principal Secretary Karanja Kibicho. [File, Standard]
NairobiOn Saturday June 6, President Uhuru Kenyatta is expected to give a way forward in regard to cessation of movement in the affected counties
Interior Permanent Secretary Karanja Kibicho has hinted on a likely phased re-opening of the country even as Kenyans await eagerly on the new measures set to be announced on Saturday.
In an interview with Radio Citizen, Kibicho said the government had found itself in a difficult position since recorded Covid-19 cases in the country are on the rise but noted high-level discussions were ongoing.
"We cannot lock-down forever, the government makes its money from taxes, currently people are not at work, personally I think we can re-open but under strict guidelines," Kibicho said.
According to the PS, some restrictions may be lifted although the government will not be relaxing the requirements on face-masks and social distancing.
SEE ALSO: COVID-19: The interruption of customs
"Companies willing to re-open will need to ensure guidelines on face-masks and social distancing are adhered to because the new coronavirus is still here with us," he added.
Kibicho urged Kenyans to remain vigilant and not to expect a sudden normalcy saying the re-opening of the economy was a very delicate balance requiring the participation of everyone.
On Saturday June 6, President Uhuru Kenyatta is expected to give a way forward in regard to cessation of movement in the affected counties. The previous containment order directive affecting Nairobi, Mombasa and Kwale counties will elapse on Saturday.
The daily dusk-to-dawn curfew which had been extended by a further 21 days will also be lapsing on June 6.
On Monday during Madaraka Day celebrations held at State house, President Uhuru Kenyatta hinted at the reopening of places of worship.
SEE ALSO: Kenya Power employees turn Covid-19 positive
While delivering his speech, the President said he shared the heavy hearts of all those who can no longer worship as they used to.
"I direct the Ministry of Interior and the Ministry of Health to continue and hasten their engagement with religious leaders; with the objective of developing protocols that will be adopted to guide a more participatory way of worship while guaranteeing the safety of worshipers," he said.
During his seventh national address on the progress made in containing the virus in the country, the president noted that every Kenyan would have to take responsibility to prevent the spread of the highly infections virus.
"We will not continue with the lock-down and the curfew, I have told health officials and my ministers that they should start telling Kenyans that we cannot be under a curfew or lock-down forever," he said.
Comments
comments
54 COVID-19 patients discharged raising cleared cases to 553 » Capital News
NAIROBI, Kenya June 3 – Fifty-four COVID-19 patients have been discharged after recovering form the virus, representing the highest single-day recovery rate recorded yet since the first patient was discharged on April 1.
The total recovery toll now stands at 553 representing a 25 per cent recovery rate against the global average of 48 per cent.
Health Chief Administrative Secretary Rashid Aman on Wednesday attributed the high number of recoveries to the commitment and diligence of health workers on the frontline in the war against the pandemic.
"This recovery is attributed to the diligent and committed work of health workers operating in enabled health systems, this shows that with good management, this disease when clinically manifested is curable and not a death sentence," he asserted when he addressed the press during a regular status update on COVID-19.
Aman reiterated government's commitment to combat the spread of the virus while urging the public to maintain adherence to COVID-19 containment measures in order to support government efforts to flatten the infection curve.
"We must wear masks at all times to protect ourselves and our loved ones and avoid the risk of being infected or infecting others," the Health CAS added.
He however raised concern over the violation of social distancing guidelines by some restaurants warning that the actions pose a huge risk in the fight against the virus.
"The only measure that has been relaxed is the measure that allowed operation of restaurants and eateries based on strict adherence to the social and physical distancing guidelines," he said.
Out of the 2,112 samples analysed in 24 hours leading to Wednesday, Aman noted that 123 tested positive for the virus bringing total number of infections to 2,216.
The cases are distributed in Nairobi(44), Mombasa (34), Uasin Gishu (12), Kiambu (3), Kajiado (3), Nyeri (3) , Kilifi (2), Garissa (1) and Laikipia(1).
The country's death toll now stands at 74 after 3 more patients succumbed to the virus, two of them from Nairobi, the third was reported in Nyeri.
"The youngest one is a 12-year-old boy while the other two are 41 years and 71 years ofage. Our heartfelt condolences to their families and friends," Aman noted.
Comments
comments
Man arrested after his goggles were found at murder scene – Nairobi News
The Directorate of Criminal Investigations [DCI] is holding a man arrested after a pair of his googles was recovered from a murder scene.
Kelvin Otieno Oduor was arrested after his spectacles were found beside the lifeless body of Duncan Odhiambo Buda, who was found dead outside St John's Church in Korogocho slums on May 27.
But Oduor said he was handed the goggles at Kariobangi police station where "I was informed that I was involved in the murder of a person I don't know".
The deceased was found with several stab wounds suspected to have been inflicted by two men among them Oduor on the morning of the same day.
The death was reported to Korogocho police post by the deceased's wife.
Detective constable Collins Musiomi of Starehe DCI offices obtained orders at Makadara law courts to detain Oduor for 14 days pending investigations.
Musiomi said the scene of the crime was photographed by the scenes of crimes personnel and he drew the sketch plan before the body was collected and taken to City Mortuary.
The detective said Oduor has not been interviewed and witnesses including the deceased's wife Linet Otieno have not recorded statements.
He said none of the statutory police procedures including mental assessment of the suspect and the postmortem of the deceased has been done.
Comments
comments