Co-op Bank renews vehicle financing scheme with Isuzu, Simba Colt: The Standard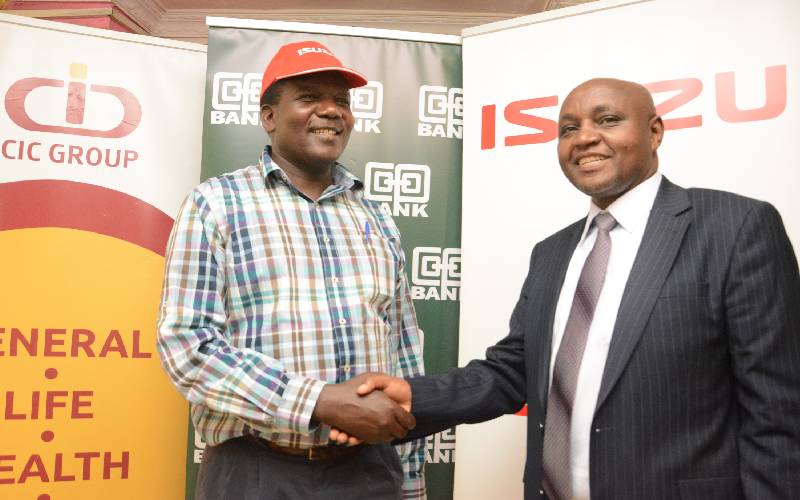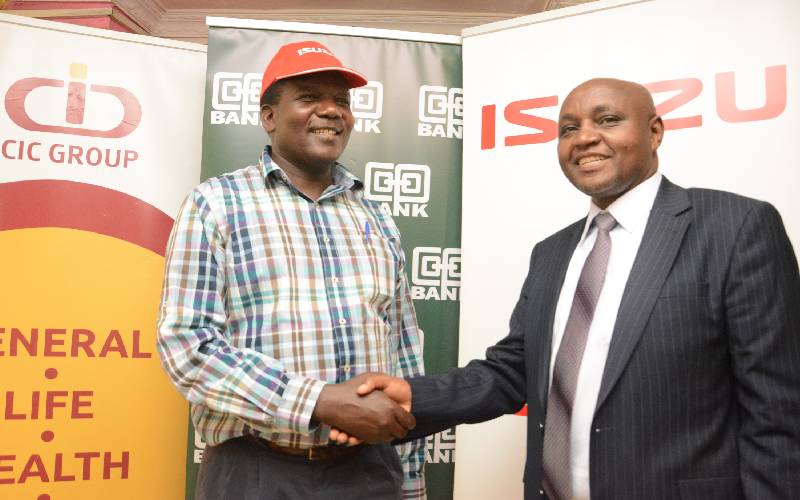 Business News
The loan has one the longest re-payment periods in the market – five years, and further has a 60 days' grace period
Co-operative Bank has renewed the special Motor Vehicle Purchase Schemes between the bank and major motor vehicle dealers, Isuzu East Africa Ltd and Simba Corporation Group, to help Micro, Small and Medium Enterprises (MSMEs) acquire the vehicles at negotiated terms.
It is the fifth year running, the special scheme which makes the process of buying vehicles most affordable, with the bank financing upto 95 per cent of the purchase price has been renewed.
In addition, customers can apply for a Sh500,000 working capital facility to support their businesses especially at this difficult Covid-19 season.
The loan has one the longest re-payment periods in the market – five years, and further has a 60 days' grace period and a negotiated motor vehicle insurance cover. 
SEE ALSO: Co-op Bank renews vehicle financing scheme with Isuzu, Simba Colt
The Bank's head of business banking Moses Gitau said: "As partners, we had to renew this joint scheme due to its huge popularity among SMEs, who have told us the scheme is currently the most affordable means of acquiring a wide selection of vehicles such as the popular Isuzu TFR and Mitsubishi Fuso, for their various transport needs."
Vehicle models under the special scheme for Isuzu are Pickups – TFS and TFR series, Isuzu N-series Models – NHR, NKR, NQR, NPR; Isuzu F-Series models – FRR, FSR. 
Simba Colt are offering Mitsubishi Canter FE 71, 84,85CG, 85CH, Mitsubishi trucks and Mitsubishi pickups. 
SMEs and other business customers are invited to apply for this special motor vehicle purchase scheme at any of the 155 branches of Co-operative Bank countrywide, or Isuzu East Africa dealers and Simba Colt dealers to access the offer.
Comments
comments
Border bottlenecks slow food deliveries in EAC: The Standard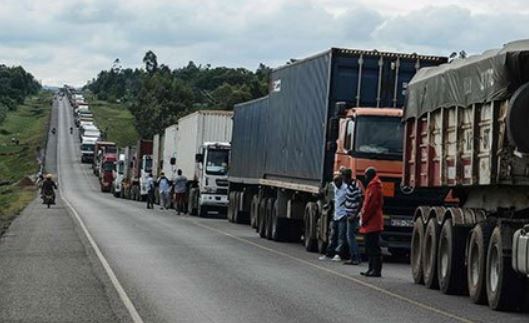 Financial Standard
The line of lorries at the border town of Malaba between Kenya and Uganda stretched 60km this week
Bottlenecks at borders as government screen lorry drivers to contain coronavirus are putting the delivery of vital food supplies in East Africa at risk, the UN's World Food Programme (WFP) warned on Friday.
"We could have problems feeding our beneficiaries … if the situation doesn't improve," Julie MacDonald, WFP's deputy director in Uganda said. She said they only had enough food left for June.
The agency is shipping in 2,000 tonnes of beans and cooking oil to feed some of Uganda's 1.4 million refugees. Some of it is stuck at Kenya's Mombasa port and some is stuck at the Ugandan border, she said.
The line of lorries at the border town of Malaba between Kenya and Uganda stretched 60km this week, said Mercy Ireri, an official from the Kenya Transport Association. Mombasa port and Tanzania's Dar es Salaam are the main gateway to the Indian Ocean for several landlocked nations.
SEE ALSO: Truckers say Covid test fee too high
Uganda requires truck drivers from neighbouring Kenya and Tanzania to take coronavirus tests before they are allowed to enter. Tests are also being carried out on the Tanzania-Kenya border.
But delays in returning results has forced truckers to wait for up seven days, said Jackson Katende, spokesman of the Ugandan cargo transport industry body.
"Business is at a standstill," he said. Paralysis at the Uganda-Kenya border, he said, had more than doubled the time for goods to move from Mombasa to Kampala.
Uganda started imposing restrictions on truckers late April after incoming drivers increasingly tested positive for the disease.
Comments
comments
State mulls locking down Kibra to curb coronavirus spread
State mulls locking down Kibra to curb coronavirus spread
Tuesday, June 2, 2020 18:31

By ANNIE NJANJA
The government is mulling locking down Kibra following the growing Covid-19 cases in Kenya's most populous informal settlement, this coming as the Ministry of Health (MoH) announced 72 new coronavirus cases in the country.
Tuesday, 16 out of the 39 cases found in Nairobi were from Kibra. Last Friday, Kibera also reported 45 cases out of the 127 cases confirmed in the country while the day before it had 35 incidents out of 147 national tally.
The possible lockdown was announced Tuesday by the MoH Chief Administrative Secretary Rashid Aman as he reported 17 new discharges and two fatalities by bringing total recoveries and deaths to 499 and 71, respectively.
"In terms of putting down measures that will completely lock them (Kibera) down, this is clearly on the table and it is something that the government will put in place as soon as the government feels the need to do that. But we have to access and balance these things," said Mr Aman.
The ministry has in the past raised concerns of a rapid spread in the city's densely populated informal settlements where social distancing rules are difficult to enforce and most residents have lost their livelihoods.
"We are continuing to watch this epicenter within Kibra and very very closely, we are looking at where this cluster may be, we are mapping it. It is possible that it is not the entire Kibra where we are getting this high transmission, it may be a particular pocket," said Mr Aman.
He also added that the ministry will make a final decision once it has enough information that the transmission continues to spread rapidly.
"…As I said before, these options are always on the table," he said while adding that informal settlements present their own unique challenges that need to be look at carefully.
Other cases in Nairobi, eight were found in Embakasi South and five each in Lang'ata and Westlands. A case each was found in Embakasi West, Starehe and Dagoretti North.
In Mombasa cases the eight cases are from Mvita, Changamwe, Kisauni, Liloi and Nyali. In Kajiado, three cases were found at the border and one in Kitengela. Cases in Migori, Kiambu, Garissa and Kisumu, were from Isebania border point, Githunguri, Garissa Central and Kisumu Central, respectively. A total of 2,093 samples were tested.
Comments
comments
Rwanda deploys robots to beat Covid–19: The Standard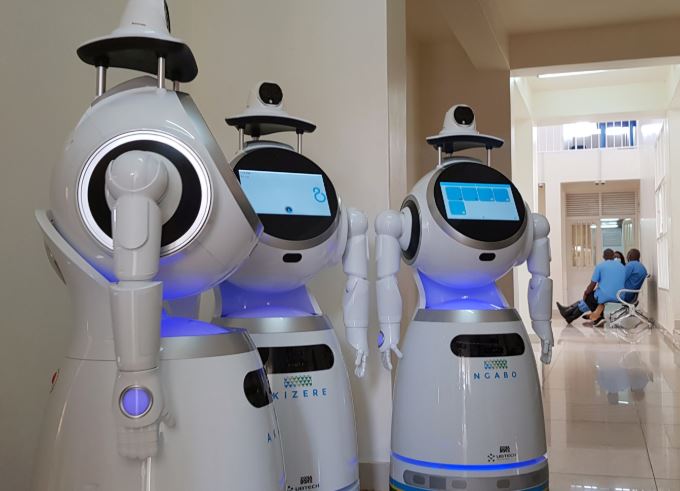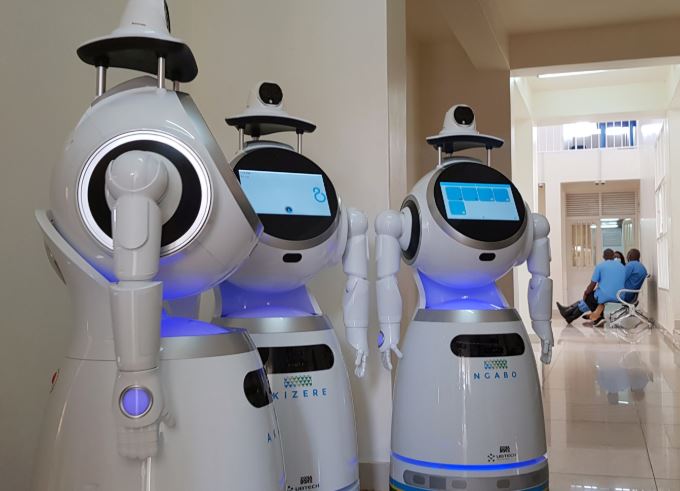 Sci & Tech
The country has deployed the three robots to carry out simple tasks like taking temperatures and monitoring patients.
At the Kanyinya Covid-19 treatment facility a short distance from Rwanda's capital Kigali, Fairmont The Norfolk's and Ngabo report for duty, but these are no ordinary health care workers.
In a bid to minimise contact between patients infected with the coronavirus and doctors and nurses, the country has deployed the three robots to carry out simple tasks like taking temperatures and monitoring patients.
The sleek white robots, with big bright blue eyes and a rather human appearance, were donated by the United Nations Development Programme (UNDP) and are helping frontline workers tackle the coronavirus crisis in the East African nation which so far has 370 confirmed cases and one death of the Covid-19 disease.
"The three robots that we have are part of the treating team," said David Turatsinze, a doctor at the 75-bed facility, which housed 65 patients when the Reuters team visited.
SEE ALSO: South African shoppers stock up on booze as sales resume
By relaying messages to doctors and helping the team assess the effectiveness of their clinical decisions, the robots cut the number of bedside visits that doctors have to make.
Francine Umutesi, a bio-medical engineer who works as a health technology operations specialist at the ministry of health, said the robots were a first for Africa and had the potential to offer even more support to medical teams.
"It doesn't remove the tasks the doctors are supposed to do, it's just complementing their efforts," she said.
Rwanda already uses drones to deliver blood and enforce restrictions designed to slow the spread of Covid-19. There are two more robots at the country's other Covid-19 treatment centre, Nyamata, in south east Kigali.
Officials said the robots will be programmed to carry out additional tasks.
SEE ALSO: Rwandan medical workers deploy robots to minimize coronavirus risk
"In the future if they are programmed to take even blood pressure and the (blood) sugar, that definitely would be so helpful," said Turatsinze.  
Comments
comments