Climate change is going to hold you tight and give you fever
Half a century ago concerns about climate change, environment vulnerability, population density and the sustainability of earth systems reached a broad audience. This was clear from books like Silent Spring, published in 1962, and The Limits to Growth, published 10 years later.
These works influenced environmental activism at the time. They also publicised the growing scientific evidence that climate change was happening and was negatively affecting the earth.
But one piece of the puzzle remained missing: The impact of climate change on people, and specifically, on public health.
This changed at the beginning of this century with growing advocacy and gatherings such as the Conference of Parties and the publication of new research. Scientists began writing about the earth moving into a new era called the Anthropocene.
This is an era in which ecosystems are increasingly affected by human behaviour, and in which people are directly affected by the changes brought about by their actions.
The Anthropocene provided the impetus for renewed attention to health and the sustainability of all species. This new understanding led to new research across disciplines, to new interdisciplinary journals, and to policy documents on the impact of climate change on health.
No more disciplinary silos
Major new insights began to emerge. These included the fact that changes in weather patterns were affecting the behaviour of mosquitoes. This in turn was affecting our ability to control disease.
A raft of work also started to emerge on the effects of changing weather patterns, heat waves, and access to clean water on people's health.
The next step along this journey was that academics came to realise that they can't work in disciplinary silos. For example, health scientists realised that they needed anthropologists, sociologists and economists for a full understanding of the impact of climate change. The circle of knowledge has, as a result, begun to expand.
Parallel to these efforts, artists and advocacy groups have worked to keep climate change on international and national policy agendas. For example, artists have taken inspiration and drawn from scientific research in engineering, chemistry, biology, and the earth sciences to make their art.
In a first of its kind on the African continent, these efforts are reflected at a 10-day public and academic programme at the University of the Witwatersrand. The programme enmeshes art and science to provoke new thinking about water and how its politicisation affects public health.
Insights from different disciplines
Extreme weather events, shifts in temperature variation and precipitation, and higher mean temperatures have dramatically affected human health and wellbeing.
From a health perspective, incremental environmental changes over time have undone decades of investment in the control of infectious diseases.
Many of these are waterborne and water-washed diseases, such as dysentery and scabies. They are result of poor personal hygiene because of inadequate water availability. These diseases, common throughout Africa, are often described as neglected diseases of poverty.
Scientists have started to explore the various affects in different settings in relation to different diseases.
For example, changes in temperature and rainfall have, in turn, changed the behaviour of vectors such as mosquitoes, flies and snails, with other factors complicating the spread of disease.
This means the settings that create the conditions for debilitating and potentially fatal diseases such as malaria, zika, and dengue have shifted. Thus mosquitoes have moved to new areas, introducing infection to previously unaffected people and certain animals.
Anthropologists have used a different lens to understand the impact. Research shows that inequality influences people's exposure to vector-borne diseases and other environmentally sensitive infections. Gender, class and age have also emerged as points of vulnerability for disease and poor health in the context of climate change.
Climate change has, most notably, begun to affect weather patterns. Changes in precipitation and quantity, floods and droughts, and water insecurity are increasingly common as the planet warms.
Scientists have begun to track how this affects food production and other farming activities. This in turn affects people's livelihoods and food security.
These changes are increasingly being followed not just by climate scientists, but also by academics from disciplines such as economics and politics.
This follows the realisation that the challenges of ageing infrastructure and water governance complicate finding solutions to the challenges posed by global warming.
Scientists in the spheres of social, biological, and physical sciences as well as the humanities and arts – need to continue to work on ways to interrupt disease transmission in the context of global warming.
They need to identify appropriate interventions where climate change affects health – and to come up with creative solutions that cut across narrow paths of thinking. Artists and civil society have a key role to play by creating narrative, visual and acoustic forms to support advocacy on issues of climate change, pollution, the ecology and environmental justice.
Lenore Manderson is distinguished professor, Public Health and Medical Anthropology, at the University of the Witwatersrand.
102-year-old contracts Covid-19 as positivity rate doubles – KBC
The daily Covid-19 positivity rate doubled to 7.5 pc after 469 people Tuesday among them a 102-year old tested positive from a sample size of 6,244 tested in the last 24 hours.
The positivity rate is now 7.5pc up from 3.5pc pushing up the country's caseload to 166,006 from 1,752,693 cumulative tests conducted so far.
Of the cases, 363 are Kenyans while 106 are foreigners. 280 are males and 189 females. The youngest is a two-year-old baby while the oldest is 102 years.
This time around,  Kisumu recorded the highest number of positive cases at 102, Nairobi 77, Mombasa and Kericho 27 cases each, Siaya and Busia 18 cases each, Meru 17, Kisii 16, Nyeri 14, Kitui 13, Nyamira and Kilifi 12 cases each, Nandi 11, Uasin Gishu 10, Turkana 9, Bungoma and Makueni 8 cases each, Kakamega and  Kiambu 7 cases each, Nakuru and Homa Bay 6 cases each, Murang'a 5, Embu, Laikipia, Machakos and Vihiga 4 cases each, Taita Taveta, Bomet, Kajiado, Trans Nzoia and West Pokot 3 cases each, Kirinyaga, Migori, and Tharaka Nithi 2 cases each, Isiolo and Marsabit 1 case each.
Get breaking news on your Mobile as-it-happens. SMS 'NEWS' to 20153

Health CS Mutahi Kagwe announced eight more deaths in the last 24 hours, three of them having occurred on diverse dates within the last one month while five are late deaths reported after conducting a facility record audit in the last month.
"This now pushes the cumulative fatalities to 3,021. Our sincere condolences to the families and friends who have lost their loved ones" he said in a statement.
43 new recoveries have been reported, 29 from the Home-Based and Isolation Care, while 14 are from various health facilities countrywide.
Total recoveries now stand at 113,917 of whom 82,806 are from Home Based Care and Isolation, while 31,111 are from various health facilities.
A total of 1,039 patients are currently admitted to various health facilities countrywide, while 4,714 patients are on the Home-Based Isolation and Care Program.
108 patients are in the Intensive Care Unit (ICU), 22 of whom are on ventilatory support and 71 on supplemental oxygen. 15 patients are under observation.
Another 91 patients are separately on supplemental oxygen with 87 of them in general wards and 4 in High Dependency Units (HDU).
Sentence Jane Muthoni to death, the State urges court in husband murder case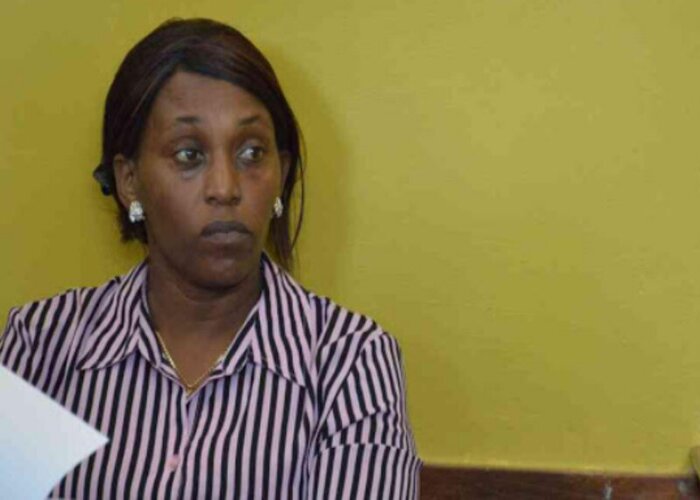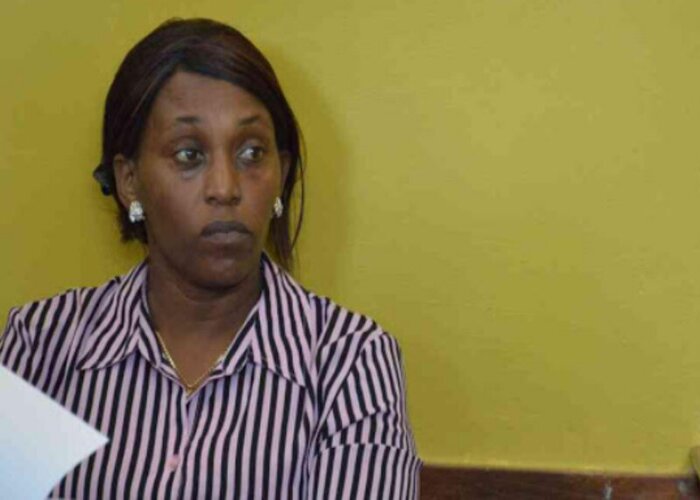 Jane Muthoni hired men, including her co-accused, to kill her husband Solomon Mwangi in November 2016. [File, Standard]
The Office of the Director of Public Prosecutions (ODPP) wants Jane Muthoni, who was found guilty of her husband's murder on April 22, sentenced to death.
Muthoni, alongside her co-accused Isaac Ng'ang'a, was declared guilty of Solomon Mwangi's murder, which occurred in November 2016.
State Prosecutor Catherine Mwaniki told the Nakuru High Court on Tuesday, May 18 that the crime committed by the two; and the manner in which the murder was executed, "deserves a severe punishment such as death sentence".
"This is a case that meets the threshold of a death penalty," said Mwaniki.
"We are looking at the seriousness of the acts that led to Solomon Mwangi's death. In our conclusion, we pray that this court finds that the element of the statutory premeditation was satisfied in this case," she submitted.
According to the prosecutor, her team proved beyond any reasonable doubt that there was "substantial orchestration and planning" of Mwangi's execution by Muthoni and Ng'ang'a.
"Mwangi's death was not caused by a spontaneous act of violence, or an act of self-defense by the accused," said Mwaniki, who proposed Muthoni and Ng'ang'a be sentenced to death.
Lawyer Wokabi Mathenge, who represented Solomon Mwangi's family in the case, reiterated the Prosecution's recommendation, terming Mwangi's killing as "Murder Most Foul".
Take a quick survey and help us improve our website!
Take a survey
"He was defenseless while being killed," said Mathenge.
The lawyer said Muthoni was yet to express any remorse to Mwangi's family over his murder.
"The first accused (Muthoni), being a teacher, was expected to impart ethics to learners. In this case, she was the mastermind of her husband's death. She, therefore, conducted herself in a manner not expected of a person of her stature," said Mathenge.
According to the lawyer, Mwangi's murder deprived his four children of fatherly love.
"We urge the court to find that a death sentence will suffice. Mwangi's death was premeditated and well-planned," he emphasised.
The accused's lawyer, Francis Njanja, however defended Muthoni and Ng'ang'a against death sentence, stating the two have cooperated with the courts thus far.
Njanja maintained that even though the courts found the duo guilty of murder, they were "still innocent".
Muthoni, who addressed the court via video conferencing, pleaded her innocence, saying her family had suffered throughout the period she's been in custody.
"I'm the only hope and surviving breadwinner in my family. My children are suffering, yet those who killed my husband are out there walking freely," she said.
Ng'ang'a, on his part, pleaded with the court to consider a lenient sentence on him.
Justice Joel Ngugi said the two persons will be sentenced on June 3, 2021.
How Mwangi's murder was planned
During the trial, the court heard that in early November 2016, Muthoni hired two men to kill her spouse, the principal of Kiru Boys' High School in Mathioya, Murang'a County. One of the hired killers was Muthoni's co-accused, Isaac Ng'ang'a. The other, Nelson Njiru, disappeared shortly after learning that Muthoni and Ng'ang'a were being hunted.
Muthoni had been directed to Ng'ang'a and Njiru by Joseph Kariuki, who turned into a Prosecution witness following a plea negotiation. Kariuki was, however, sentenced to seven years in jail for manslaughter.
Upon arrest in mid-November 2016, Muthoni and Ng'ang'a, alias Gikuyu, were charged with Solomon Mwangi's murder.
The court, through Kariuki, heard that Muthoni engineered her husband's killing after he allegedly kick-started a relationship with another woman, identified in court as MWK or M-Pesa Lady. The plan was to eliminate Mwangi's lover and then kill him, the court was told.
After four years in court, the case came to a close on Thursday, April 22, 2021, when Muthoni and Ng'ang'a were declared guilty of Mwangi's murder.
"The offence of murder is established against both the first and second accused persons (Muthoni and Ng'ang'a respectively). Consequently, I find and hold that both accused persons are guilty of the murder of the deceased. I hereby convict both of them accordingly," Justice Ngugi pronounced himself on the case.
In the ruling, the judge observed that Muthoni did not physically kill Mwangi, but "evidence demonstrated that she was the author of the plot".
Muthoni reportedly parted with Sh50,000 for Mwangi's killing, which was conducted by Ng'ang'a and another person not before the court Nelson Njiru. The hired killers strangled Mwangi to death on November 6, 2016, and dumped his body in Karakuta Coffee Estate in Juja, Kiambu County.
The court relied on 18 SMSs between Muthoni and Njiru, and 21 Prosecution witnesses to conclude that Muthoni had masterminded her husband's murder.
Monitor water pumps remotely via your phone
Tracking and monitoring motor vehicles is not new to Kenyans. Competition to install affordable tracking devices is fierce but essential for fleet managers who receive reports online and track vehicles from the comfort of their desk.
Poll ranks Muthomi, Waiguru best performing Governors – KBC
Tharaka Nithi Governor Muthomi Njuki has been ranked the best performing Governor in the Country in an opinion poll by Mizizi Africa.
Kirinyaga Governor Ann Waiguru ranks second with 79.4% while Nandi Governor Stephen Sang was third with 79%.
The opinion poll conducted in all 47 Counties between March and December 2020 had a sample size of 47,000 respondents.
Mombasa Governor Ali Hassan Joho, Kisumu Governor Anyang' Ny'ongo, Kiambu Governor James Nyoro and Taita Taveta Governor Granton Samboja were the other top perfoming Governors.
Get breaking news on your Mobile as-it-happens. SMS 'NEWS' to 20153

Thika Town MP Wainaina Jungle and Westlands MP Tim Wanyonyi were ranked the best performing legislators with 65.9% followed by Uriri MP Mark Ogallo with 65.5%, Kiharu MP Ndindi Nyoro and Mvita MP Abdulswamad Shariff with 65.1% to complete the top five best ranked MPs.
In the Counties, Nyeri Speaker John Kaguchia was rated the best with 69.7% while Baringo Speaker Douglas Mbilu was second with 69.6% followed by Embu Speaker Josiah Muriithi with 69.5% and Kwale Speaker Sammy Ruwa with 69.3%.
Biashara Ward MCA Elijah Njoroge, Kinoo Ward MCA Samuel Kimani, Khalaba Ward MCA Majimbo Okumu, Ichagaki Ward MCA Mwangi Ng'ang'a and MUvuti/Kiima Kimwe Ward MCA Caleb Mutiso were the top five best performing Members of the County Assembly.
Tell Us What You Think