Caroline Mutoko launches her line of lipstick – Nairobi News
Media personality and former radio queen, Caroline Mutoko, has launched her line of lipstick.
The popular vlogger, while launching the new lipstick dubbed 'I AM', said she has teamed up with Pauline Cosmetics to create this product.
"It's for the fierce boss lady who never stopped being a girl, it's for the lady who still wants to bring style and glamour to the boardroom, it's for the woman who is still 'becoming' and for that super woman who is doing it all but still cares for how she looks," Caroline said.
RETAIL PRICE
'IAM', which is a limited-edition lipstick, comes in four beautifully designed, packaged and color selection and retails at Sh1,800.
Caroline now joins a growing list of international celebrities who have stepped into the cosmetics industry, whether it's their own or an alliance with a famous brand.
These include Rihanna, Kylie Jenner, Drew Barrymore, Victoria Beckham, and Eva Mendez.
Comments
comments
Fibromyalgia: When your body's pain volume is always turned up: The Standard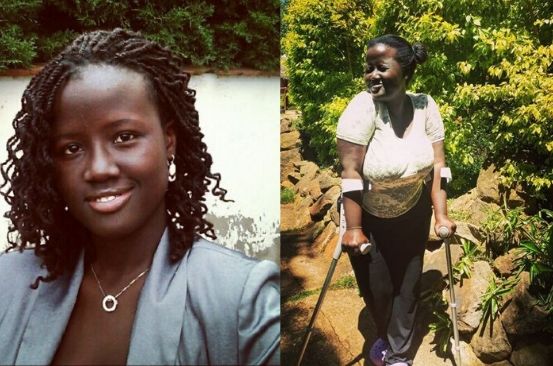 To feel pain more intensely than most, where scraping a knee feels like you have been hit by a sledgehammer, is something Laura Litaba has had to live with.
Although she was always a sickly baby, and even though throughout her school-going years she had incessant back pains and headaches, Laura didn't think that her health could get any worse.
But it did. At least a few decibels of pain higher when in 2011 she began experiencing splitting headaches, and no painkiller could take away the pain.
"Sometimes I would take more than the recommended dosage," she says.
While between migraines, she decided to see a specialist who would hopefully tell her why she couldn't get a reprieve from the pain in her head.  
But the neurologist told her he couldn't find a thing wrong with her head. And so, defeated, Laura trudged back home.
Pretty soon though, the pain began manifesting in other parts of her body.  
"I had back pains, chest pains and fatigue that I couldn't explain away. I could sleep for more than 12 hours but still wake up very tired," she says.
Just as she had through her childhood, she decided to grit through her pain and live life, at least as much as she could and as pain-free as she could manage.
She even joined university where her musical gift shone brightly. She was determined to live fully through the pain. But in 2016, things began falling apart.
"I was just back in the country after participating in a music concert and my body was aching all over. I brushed it off thinking that it was due to the travel and had probably picked up a bug. But a visit to the doctor showed I had rheumatoid arthritis," she says.
Laura had never heard of the disease. And the doctor didn't care to explain it to the shell-shocked Laura.  
"He prescribed the drugs and sent me on my way. But even with the medication, the pain remained and even got worse. My aunt, a paediatrician, recommended that I see a rheumatologist."
And so she did. After a battery of tests, the rheumatologist confirmed she had fibromyalgia.
Fibromyalgia, she soon learnt, is a disorder characterised by widespread musculoskeletal pain accompanied by fatigue, and sleep, memory and mood issues.
Since the disease has no cure, she was prescribed drugs that would reduce the symptoms.
"I wish I had known earlier what was ailing me. In school, I would go to class and when it's over, it would take me forever to stand up as my legs would be numb, with painful joints and muscles. I had to ask lecturers every semester to allow me to come to class when I could. With medication, life could have been easier," she says.
Fibromyalgia is accompanied by chronic fatigue syndrome, a condition that leaves one feeling constantly tired, and Laura has found that difficult to deal with.
She has once been forced to resign from a job she loved after she experienced a flare up.
"I had chest pains and was admitted to hospital for pneumonia. I had to be away from work for weeks on end and thus had to resign and move back home."  
Sometimes she experiences what is referred to in medical circles as a fibro fog. This is when one can't focus on the task at hand and has a problem retaining information.
"I once went on a job interview and my mind went blank for a whole minute. My concentration sometimes is so poor I can read something and not understand it," she explains.
Living with fibromyalgia means coping with the nausea, nerve pains, insomnia, irritable bowel syndrome and twitching that are common occurrences.
The helplessness that comes with the constant pain was a major cause of stress for Laura.
"I used to do most of my chores independently, but now I need help doing almost everything. I can't carry heavy things because my hands are in pain. The only thing I do on my own is bathing. I wish I could hire a home care nurse but I can't afford the cost that comes with it," she says.
Embracing the pain
This, added to difficulties in walking, made Laura a recluse, choosing to stay indoors.
But earlier this year, she decided to do what she once did so bravely: embrace her pain and live fully.
"So I got myself a wheelchair and joined my friends outside. That felt great. I have to admit though that it does sting some when I see people attending parties and concerts because that was my life a few years ago," she says nostalgically.
Laura now has resorted to learning new languages online, acquiring new skills and working online since she can't dabble in public relations, which was once her area of specialty.
Despite her joints aching and muscles sore, she is ready to start a new chapter in life, one without self-pity.
"I can't really do much out there in my state but I know I will find a way to shine bright," she says.
Atta girl. We wish Laura all the best
The Standard
Just as she had through her childhood, she decided to grit through her pain and live life
Comments
comments
Alikiba's Kenyan son gives many baby fever with his new adorable photos!
Alikiba and his wife Amina Khaleef are currently Co parenting; and from the look of things, the lady is no longer as bothered as she was about her husband back in the day.
Well, this could be because she recently learnt that her husband has been having cheating on her with his long term side chick, Lulu Diva! The Clouds FM radio presenter revealed this in a detailed post where she distanced herself from Kiba after 10 years of dating him on the side.
Alikiba who never imagined being exposed has been making a few efforts to win back the love his fans once had for him. However most seem to have been disappointed with the fact that he is not any different from Diamond Platnumz; who is better off since his life is not fake.
Also read: Check out the multimillion mansion Jalang'o lives in!
Kiba's son, baby Keeyan
Away from that, Alikiba's adorable son Keeyan has left many women with baby fever thanks to his new photos shared by his parents on social media.
At 1 year and about 5 months, baby Keeyan is proving to look everything like his parents and of course he has his dad's looks which cannot go unnoticed. Keeyan also happens to look like his mum in terms of skin tone and the Arab vibe in his appearance.
Amina Khaleef and Alikiba's relationship however remains on the line as no one knows whether they will be getting back together or not.  So far it is no secret that the two don't live together and this is why Alikiba did not appear in any of Keeyan's new photos.
Disappointment
Having cheated with Lulu Diva even after their grand wedding; fans feel that Alikiba did not just embarrass his wife but disappointed her in a way that she is keeping him away from their son.
Anyway hopefully these two will learn to forgive each other and move on with their lives.
I write entertainment stories as well review and critic local music. Apart from my busy schedule you can catch me on social pages by clicking on them below
Comments
comments
Covid-19 pandemic just part of a cocktail in matatu woes
The falling fuel prices should have brought fortunes for the public transport sector largely dominated by buses and 14-seater passenger vehicles, popularly known as matatus. That is if there was no lockdown, curfew or raft of restrictions that have come with the Covid-19 pandemic.
The sector, viewed as among the weakest link in the spread of the contagion that's the coronavirus, has now been tightly controlled, driving it to the edge of the odds that have ravaged almost all businesses.
In Nairobi, which has been on lockdown for weeks now, hundreds of matatus have been parked on the outskirts of the city as the number of commuters have significantly dropped. The matatus are also restricted on their carrying capacity.
Matatu saccos that spoke to Smart Company said they have cut their fleet by over half and are struggling to get even enough passengers to meet the half capacity allowed by the government, apart from making fewer trips to the city centre as most commuters continue to stay away from town and work from home under the new measures to control Covid-19.
"Then we have to provide passengers with sanitisers and take the buses for spraying just as a precaution because the crew have to remain cautious just in case they get exposed," said Edwins Mukabana, Kenya Bus Services Managing Director.
"It's a delicate balance that is driving the already difficult business far from being profitable because we have to avoid anything that will put us at the centre of blame during this pandemic."
The countrywide curfew means all the drivers have to plan how to drop the commuters by 7pm and then get to their houses before this time. This, too, has hit the city matatus hard as the evening commute peaks at 7pm on normal days — a moment for gold rush, as the operators usually hike fares and occasionally overload.
Despite the increased compliance costs and reduced business opportunity, the matatus have no leeway to increase fares for the few passengers they are allowed to carry as that will prove counterproductive in a situation where demand itself has been depressed. The government has also warned against overcharging.
This is a perfect catch-22 for a sector that has always had its way in controlling fares; it cannot do that now with the few vehicles it can put on the road even as it struggles to find the commuters. This grim situation arguably presents the toughest time for the matatu sector.
Yet the virus is not the only affliction eating away matatus' earnings. Another big challenge is fuel. Diesel this month began retailing at Sh78 per litre in Nairobi and Sh75 in Mombasa, another city under lockdown. The stationary fleet in these towns means they are most likely staying idle with the more expensive March and April fuel in their tanks.
They've no chance to enjoy the cheaper fuel. But there is an even worse situation.
Some matatu saccos, and particularly long-distance buses, have a fuel purchase plan that has seen them come up with huge storage facilities to cushion them when fuel prices fluctuate. It's not clear how much the city saccos had stocked, but it's said to be in hundreds of thousands of litres.
It's also not precisely predictable what level the fuel prices will be when normalcy resumes, but the global crude prices are no longer looking south, and that means the opportunity to buy a litre of fuel at almost half the cost of that of water will have passed.
"We were completely unprepared with fuel stock and I had even acquired a few new buses and serviced several others in preparation for the Easter high season when the (lockdown) announcement was made on April 6. We refunded some travellers who had booked and several costs are running whether we are on the road or not," said a director of an upcountry bus company based at the Nairobi railway terminus said, asking not to be quoted, so as not to be seen as lamenting on government measures to contain the pandemic.
Several costs like insurance will definitely roll on as the buses stay idle and those that expire during the pandemic will have to be renewed much as they were unused for some time.
The costs are usually based on the vehicle's carrying capacity, which has now been cut by half thanks to the coronavirus, while the costs have not changed.
A typical 51-seater bus pays Sh8,000 monthly for a seasonal ticket to the city authorities and another Sh720 per seat for insurance. The smallest ones, the 14-seaters, pay Sh3,600 to terminate at the city every month. None of these have changed and time is ticking towards the third month of bad business.
There is no system to tell which vehicle is operating and which one is not and saccos are forced to pay for the entire fleet or risk being kicked off the termini.
Then there is the cartel comprising the terminus crew and those popularly known as the squad, which comprises drivers and conductors unknown to the vehicle owners or the saccos. They take over the vehicles midway and drive them around as they fill.
them up with passengers at a fee. Although the number of matatus have been reduced, this group remains demanding their pound of flesh.
Along Ngong Road, such a gang assembled just after the Shade Hotel take turns to get into the buses in groups of three to replace the genuine drivers and conductors who alight about a kilometre before Ngong. The gang then takes control of the bus until they reach Karen on the way back to town. Although they hardly find passengers because of Covid-19 measures, the squad still gets paid.
This cartel, including organised criminal gangs, rogue traffic police officers, county askaris and touts are said to be bleeding the sector of some Sh47 billion annually. Those who refuse to cooperate with them are either pushed out of business or forced off lucrative routes.
In town, the county askaris are still there and the rogue traffic police officers continue to collect cash from the operators.
"We used to pay Sh200 every morning at the railway bus terminal, but now we pay Sh100 in the morning and then another Sh50 or 100 every trip. We also buy sanitiser", which may cost Sh100 per trip. "The casual crew in the major stops and those that take over the bus before we get to Ngong are also paid something," Mr Mogaka, who drives a matatu route 111, told Smart Company.
At the bus station, every trip is charged Sh200, an amount that matatus also part with at Kibera and Kawangware stops. Other stops along the way charge at least Sh20 for picking up and dropping off passengers. Bus owners have also to part with up to Sh30,000 to operate a new vehicle on a route and be allowed to pick passengers on certain bus termini.
All these add up to make matatu industry the only business where miscellaneous levies almost override the main costs.
It is startling that the sector, which is critical to the economy, has been allowed to degenerate into a cartel-controlled business under the watch of the authorities.
With the heavy revenue leakages in the sector, many investors have decided to stop operations due to the inability to meet running costs with the 51-seater buses, which usually have targets of Sh9,000 daily, now said to be making a paltry Sh3,000.
Stakeholders say proper regulation and removal of cash transactions from the system will be a big boost to the sector where investors sink up to Sh7 million to buy one bus.
"We can remove cash from the system completely and this Covid-19 should have been the time to do that and then all these gangs will have nothing to collect. Just like the National Youth Service is helping man the airport, they would do this sector a huge favour by managing the termini even if it means taking the same people in the termini for training for at least some formality and order," Mr Mukabana said.
With more employers creating measures to allow remote operations, and rising Covid-19 cases now threatening to cause more cessation of movement in parts of the cities like it has been done at Nairobi's Eastleigh and Mombasa old town, the sector that keeps the city on the move will struggle in the post pandemic recovery as it remains outside the radar in the offers being given to businesses to cope, thanks to its informal nature
Comments
comments