Bond trader fined Sh208 million for rigging : The Standard
NAIROBI, KENYA: Case on the rigging of bonds has given the Capital Markets Authority Sh374.9 million in fines on the conspirators.
The scheme-involved use of sensitive information to buy bonds when anticipating an order from the government, quickly making an extra buck at the expense of other investors called front running.
Capital Markets Authority on Wednesday slapped Rodrick Muhoro, a bond trader with a Sh208 million fine for his role in the scheme.
CMA had also previously fined former CBA Capital bond trader, David Maena Sh166.9 million.
SEE ALSO :Blue chip shares turn into penny stocks
"Following the conclusion of investigations with respect to the allegation of irregular trading of Government Securities in 2016 and 2017, CMA has imposed a financial penalty of Sh208 Million being twice the amount of benefit Mr. Muhoro received from irregular trading," CMA said.
A whistleblower helped CMA unravel the scheme involving collusion between fixed income dealers at investment banks, asset management firms and brokerage firms.
The market players colluded with individual bond facility holders in bank custodial accounts to trade bonds ahead of orders placed by non-suspecting investing clients.
"Mr. Muhoro colluded with fixed income dealers at brokerage firms through the creation of artificial arbitrage opportunities, thereby realising a capital gain of Sh104 million by taking advantage of the price differential before the client orders were executed," CMA said.
Mr. Maena apparently supplied Muhoro with insider information on bond trades, which he used to front-run the market and make dual trades in order to benefit at the expense of other investors.
SEE ALSO :Financial market alarmed by firms' delay to publish results
CMA also used surveillance systems that helped track the gains shared between fixed income dealers and the bond facility owners.
The regulator said the gains would later be shared between Muhoro and fixed income dealers at brokerage firms in contravention of provisions of the Capital Markets Act.
For the latest news in entertainment check out Sde.co.ke and Pulser.co.ke , for everything sports visit Gameyetu.co.ke and ladies we have you covered on Evewoman
Related Topics
Comments
comments
Release SME cash now, Central Bank boss tells Treasury: The Standard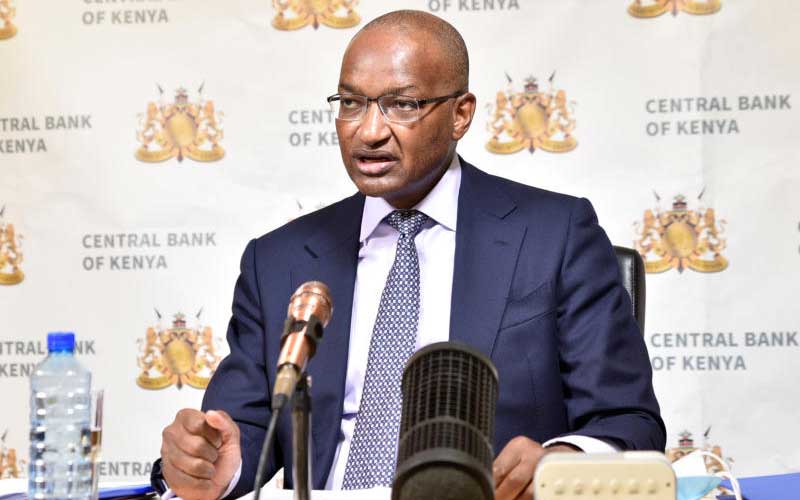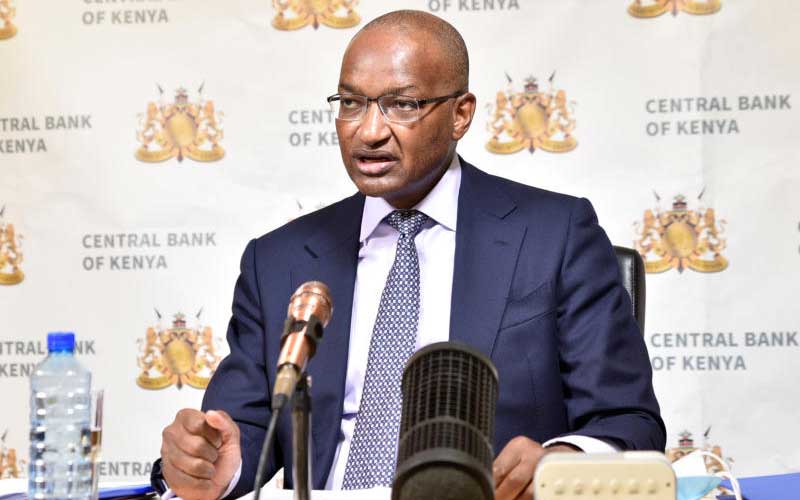 Business News
. Worry is lifeline unlikely to come before July when the next financial year kicks in
Central Bank of Kenya (CBK) Governor Patrick Njoroge has urged the government to urgently unveil the planned credit guarantee scheme to forestall the death of small businesses.
Briefing the press in Nairobi yesterday, Dr Njoroge noted that micro, small and medium-sized enterprises (MSMEs) have thin buffers, which can barely last them more than two months.
Pointing out that it was still unclear when the scheme would be rolled out, the governor said it had to "be as soon as possible".
"MSMEs don't have a lot of buffers. They generally would die quickly," said Njoroge during the regulator's post-Monetary Policy Committee (MPC) briefing. He cited a survey which showed that three-quarters of SMEs do not have cash that could last them past two months, with most of them unlikely to survive beyond June.
SEE ALSO: Three-quarters of MSMEs likely to face closure
"They (MSMEs) are on the ropes," said Njoroge, noting that they needed both financing and other assistance, such as being provided with appropriate solutions and products.
Under the guarantee scheme, the government will pay part of the loans taken by SMEs, thus enabling banks to extend more loans to small businesses at lower rates.
However, it looks like the fund might be implemented in the next financial year that starts in July, way past next month when Njoroge noted most SMEs are expected to buckle under the weight of the Covid-19 pandemic. 
As part of his Sh53.7 billion eight-point economic stimulus programme that he unveiled on Saturday, President Uhuru Kenyatta noted that the government will inject Sh3 billion as seed capital for the SME Credit Guarantee Scheme.
"The intention here is to provide affordable credit to small and micro-enterprises and to do so in an efficient and structured manner, borrowing from the professional standards and practices of private sector credit arrangements," said President Kenyatta.
SEE ALSO: Why CBK wants no more delays in rollout of SMEs credit scheme
The National Treasury and a number of International Finance Institutions (IFIs), including the World Bank, are working on modalities of the scheme.
Having a credit guarantee scheme in place will ensure that banks lend to risky borrowers, including SMEs without fearing default.
In his last press briefing, Njoroge was, however, quick to clarify that such a scheme was likely to have less moral hazard where borrowers default knowing that they are guaranteed, a situation that would hit the government coffers. "This will ensure that SMEs borrow at rates that are affordable. Work is ongoing in that area and will come into fruition in the near future," he said.
To support financial sector lending to MSMEs, the World Bank has proposed the enhancement of de-risking instruments such as payment/credit guarantees for small enterprises.
Credit to the private sector in May grew by nine per cent in the 12 months to April, with manufacturing registering the highest jump at 20.1 per cent.
SEE ALSO: Government payments, support from CBK lift lenders' liquidity
Credit growth to trade grew by 10.3 per cent, transport and communication (9.1 per cent), building and construction (7.7 per cent) and consumer durables (19.6 per cent).
CBK on Wednesday retained its benchmark lending rate – the Central Bank Rate (CBR) – at seven per cent, signalling cheaper loans for borrowers distressed by the Covid-19 pandemic.
Following the outbreak, the repayment period of personal/household loans amounting to Sh102.5 billion, or 13.1 per cent of the banking sector personal/household gross loans, had been extended by the end of April.
For other sectors, a total of Sh170.6 billion had been restructured, with beneficiaries being trade, manufacturing, tourism and real estate. This pushed the total loans restructured to Sh273.1 billion. The retention of CBR came at a time when banks are swimming in cash, with the interbank rate, or the rate at which banks lend to each other, dropping to a low of 3.4 per cent by the end of yesterday. The interbank rate, which is critical for banks under a cash crunch, was at 3.92 per cent on Tuesday.
This year, the economy is expected to register a slower growth than in 2019 when the gross domestic product (GDP) expanded by 5.4 per cent. Most forecasters expect real GDP to expand by less than three per cent.
SEE ALSO: Ex-MP stares at bankruptcy over Sh6 million debt
However, banks have also been forced to set aside billions as insurance against possible loan defaults.
With prudential rules requiring any loans to be put under watch even before they become non-performing (not serviced for more than three months), banks have been provisioning for loan-loss even for accounts whose loans have been restructured.
Banks have also been recalling dividends just in case they are faced with a liquidity crisis, a move that Njoroge supported.
He said in case banks need additional liquidity, they will still need shareholders' funds. "It is important; in the end if they need additional liquidity it should come from shareholders," said Njoroge.
Bad loans, those which have gone for more than three months without being serviced, as a share of gross loans increased to 13.1 per cent in April, compared to 12.5 per cent in March.
SEE ALSO: Why Kenya is not begging rich nations for debt relief even as coffers run empty
Comments
comments
Portland Cement in fresh round of employee layoffs
Portland Cement in fresh round of employee layoffs
Friday, May 29, 2020 0:01

By JOHN MUTUA
East African Portland Cement Company (EAPCC) #ticker:PORT has announced further job cuts through a voluntary retirement scheme that targets all employees in the wake of Covid-19 related hardships.
Acting managing director Stephen Nthei said Thursday the early retirement scheme is open to all workers with applications expected between Thursday and June 15, 2020.
He added that the move is intended to keep the loss-making cement maker afloat as it grapples with declining production and revenues.
The move comes barely four months after EAPCC terminated contracts of an estimated 150 employees in administrative roles as the firm eyed to cut its work-force by a quarter from 800.
"We remain focused on managing our cost base and affirm that the restructuring will not have any negative impact on the services and products we offer," said Mr Nthei Thursday in a statement.
The cash-strapped firm has been shedding jobs over the years as performance waned. At the close of June 2017, it had 1,265 employees.
EAPCC in its half-year report for the period ended December last year disclosed that it spent Sh281.9 million to pay off the sacked employees.
Mr Nthei, however, said the sacked staff were eligible to apply for the merged jobs but on a 40 percent salary cut from their previous pay.
The firm had declared intentions to dismiss the junior staff upon the sale of its two parcels of land comprising 2,000 acres as it eyed reducing its staff count from 800 employees.
EAPCC's net loss widened to Sh1.5 billion in the six months to last December from Sh1.2 billion in a similar period in 2018.
The cement maker's staff costs stood at Sh4 billion last year, meaning that employee expenses consumed 80 percent of its sales.
The cement maker's sales have declined sharply over the years from Sh9 billion in the period ended June 2014 to Sh5 billion in 2018 in a period that has seen rivals eat into the company's market share, which currently stands at 11 percent, down from about 30 percent a decade ago.
Comments
comments
EDITORIAL: Fight Covid-19 in slums
EDITORIAL: Fight Covid-19 in slums
Friday, May 29, 2020 0:01

By EDITORIAL
The rising number of Covid-19 cases in slums should draw attention of the policymakers to the potential that the crisis could escalate faster and affect more people than has been projected.
Recently, health authorities said that the number of cases will increase and peak in September, but with the disease situation in slums getting worse this could change. The peak could come later and with even more cases than projected.
That could mean having well over 300 cases per day as opposed to the slightly over 200 cases projected to be reported daily for September. And then the problem could go on for longer and spread faster.
One of the reasons for the spread in the slums are the cramped conditions in which the dwellers live: There is hardly any space to ensure social distancing and there is shortage of water and other sanitary facilities. Again people are either not wearing masking while in public spaces or have them on but are not wearing them appropriately.
The situation calls for increased vigilance, including providing ample water coupled with teaching the public the need to raise their hygiene standards. Further, the slum dwellers should be encouraged to use masks properly in public places and to ensure that they do not share their masks. One major way for the State to convince residents that it cares for their welfare is by dispensing the masks for free.
Comments
comments