Bobi Wine's fans in Nairobi fall over themselves for selfie opportunity with Ugandan MP – PHOTOS
Ugandan Member of Parliament Bobi Wine caused a stir at the Jomo Kenyatta International Airport (JKIA) in Nairobi on Thursday morning during a brief stopover enroute to Entebbe.
Excited Kenyans mobbed the musician-turned-politician with several requests for 'selfie' opportunities.
Bobi Wine made the stopover at the JKIA enroute to his native Uganda from the USA, where he has been receiving specialized treatment for the last few days.
Dressed in a dark blue suit and his trademark red beret, Bobi Wine (real name Robert Kyagulanyi) who was walking with the aid of a walking stick, smiled warmly even as he obliged to the requests from ordinary Kenyans and airport staff.
Bobi Wine has in the recent past endeared himself to Kenyans on social media, following his arrest by President Yoweri Museveni's regime over treason charges.
TENSION IN KAMPALA
He was initially locked up at a military camp where he claims to have been tortured by the army, before he was transferred to a remand prison.
During that period, Kenyans joined in the call for his release using the hashtag #FreeBobiWine on Twitter.
Bobi Wine is expected to arrive in Kampala at around 1 pm and already there is tension after journalists from different media houses were blocked from accessing Entebbe International Airport to cover his arrival.
Two other journalists attached to Kingdom TV and NTV Uganda are also reported to have been arrested.
Others who have been arrested include Bobi Wine's brother Nubian Li, former Makerere University Guild president Roy Semboga and a certain Dan Magic.
Meanwhile, some of the opposition members, including Kampala Mayor Erias Lukwago, are also reported to be under house arrest.
Homa Bay health workers: MCAs interfere with health services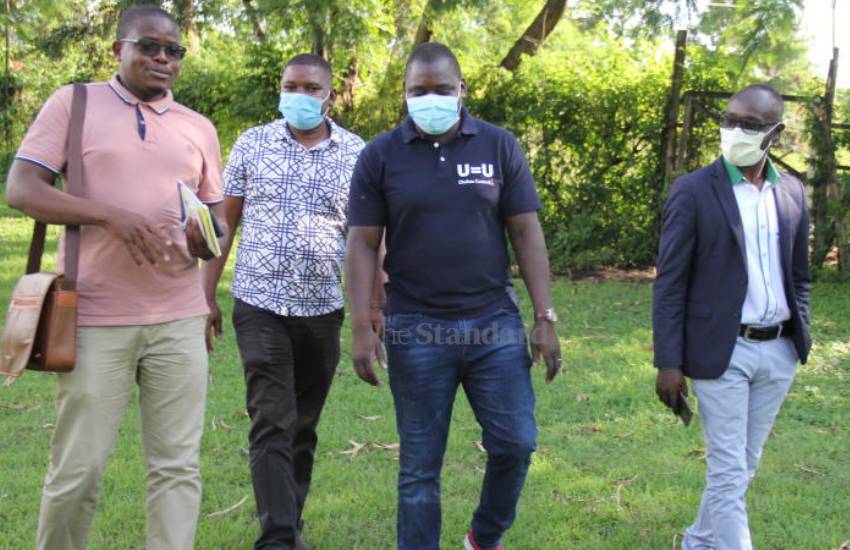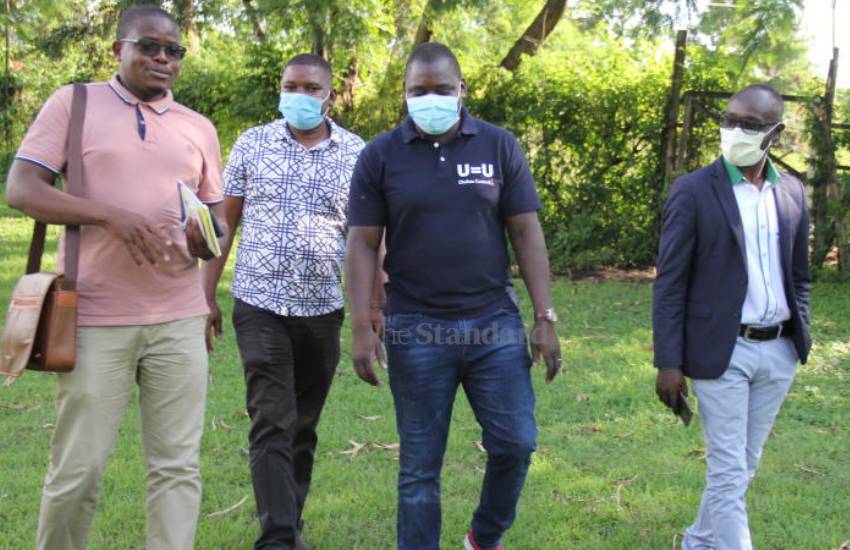 Homa Bay County KNUN Secretary Omondi Nyonje, KUCO Executive Secretary Philip Mbom and KUCO chairman Stephen Obunga. [James Omoro, Standard]
Health workers' unions in Homa Bay have accused Members of the County Assembly (MCAs) of interfering with health services at the County Referral Hospital.
The County Assembly recently adopted a report that the acting Chief Executive Officer of the hospital Peter Ogolla be removed to pave way for the reinstatement of the former CEO Dr Lilian Kocholla who was recently shown the door.
Dr Kocholla was sent on compulsory leave because of alleged poor management which had put the hospital in a deplorable state.
This made MCAs through the Health Committee conduct investigations which revealed the hospital lacked many essential drugs including panadol.
Instead, the MCAs blamed the health executive Prof Richard Muga for the problems in the hospital, before they impeached him a few days later.
But the Kenya National Union of Nurses (KNUN) and Kenya Union of Clinical Officers (KUCO) accused the MCAs of interfering with the service delivery at the facility.
The county KNUN Secretary Omondi Nyonje, KUCO Executive Secretary Philip Mbom and KUCO chairman Stephen Obunga said changes in the management of the hospital should not be altered again.
"It is true that there has been an issue of poor management at the hospital and that is why patients were forced to buy many essential items including gloves for medics to attend to them," Nyonje said.
Take a quick survey and help us improve our website!
Take a survey
He, however, noted that the new management should be given time" to enable Dr Ogolla to apply all his skills of correcting anomalies which were caused by the previous management."  
Mbom argued that the recommendation by the MCAs to reinstate Dr Kocholla is tantamount to interfering with the provision of health services at the hospital.
"The change of management was made to correct weaknesses which impeded the proper provision of health services in the hospital. Any attempts to defeat the changes mean impending delivery of health services to Homa Bay residents," Mbom said.
Obunga said health is a sensitive department that should be handled keenly. "We urge MCAs to handle health department with utmost care because any mistake by management of a health facility can cause loss of lives."
The County Assembly Health Committee chairperson Joan Ogada said their aim was to improve service delivery in the hospital.
"The staff at the hospital should forge a spirit of teamwork and unity to ensure quality health service delivery to Homa Bay residents," Ms Ogada said when she tabled the investigative report in the Assembly. 
The fate of Prof Muga now lies in hands of Governor Cyprian Awiti who can decide to sack or retain him in his executive committee.
Congo President Sassou Nguesso appoints son as minister in new govt
The Republic of Congo's President Denis Sassou Nguesso has chosen a new government that includes his son as well as an opposition leader, according to a statement read on public television.
Other appointments
Senate to decide Wajir Governor's fate on Monday afternoon – KBC
The Senate will on Monday, May 17 hold a special sitting to decide the fate of Wajir Governor Mohammed Abdi Mohamoud.
In a Gazette notice Senate Speaker Kenneth Lusaka said the only business to be transacted during the afternoon sitting will be the consideration of a report of the Special Committee on the proposed removal of Mohamoud from the Office of the Governor.
In what has been an anxious wait, the Governor will know his fate on Monday at 2.30 p.m when the House reconvenes to discuss the report of the 11-member Senate Committee that probed his removal by way of impeachment.
The Committee led by Senator Okong'o Omogeni concluded its two-day hearing sessions on Thursday last week after gathering evidence from the County Assembly and the Governor's defense teams.
Get breaking news on your Mobile as-it-happens. SMS 'NEWS' to 20153

Governor Mohamud was impeached on account of abuse of office, financial impropriety, gross misconduct, and gross violation of the Constitution.
In his submission the Governor urged the committee to give a credible verdict for the benefit of the Wajir residents.
He was impeached on April 27 in a vote supported by 37 MCAs against 10.
Tell Us What You Think