AMUKE: Why Kofi Annan may need no introduction in Kenya
On stepping down as UN Secretary-General, Kofi Annan and his wife Nane borrowed a friend's house next to a forest in Como, Italy, where they intended to stay for three months, to recharge after what had been an illustrious diplomatic career.
The plan was for them to cut off contact with the world, meaning no radio, TV or newspaper.
They would maintain a simple routine, mainly taking long walks in the forest. However, after three weeks, Annan developed the urge to read a newspaper.
He, therefore, broke his own seclusion rule, bringing with him the small group they were staying with, making their way to the nearest convenience store.
As they were walking, a man seeming to recognise Annan made for the group.
''Mr Morgan Freeman,'' the man said, ''could you please sign for me an autograph?''
Annan couldn't believe his luck. He had panicked as the man approached, regretting that he had blown his cover.
But seeing that the man mistook him for actor Morgan Freeman – whose features remotely resembled Annan's – the former Secretary-General gladly signed the autograph.
''K. Freeman,'' wrote Annan, possibly an inside joke for Kofi Freeman, a new moniker.
After the incident, Annan's wife Nane remarked that indeed that was the right way to sign the autograph, since Annan was now a free man, away from his UN responsibilities.
Annan liked telling this story whenever he made public appearances – emphasising that he didn't assume everyone knew him – urging those introducing him to audiences not to make the "here is a man who needs no introduction" presumption.
Yet in Kenya, Annan is someone who may need no introduction.
Following the 2007/2008 post-election violence, Annan midwifed talks which culminated in Mwai Kibaki and Raila Odinga shaking hands at Harambee House, signifying a ceasefire.
Sticking to his approach of full disclosure, Annan became a common feature on Kenyan media, thanks to his periodic press briefings as the country held its breath, hoping for a breakthrough. There was even that one time Annan was caught on camera taking an evening walk around Central Park, behind the Serena Hotel, still dressed in a suit and tie.
Wearing sunglasses and with bodyguards in tow, Annan looked more like a lead detective in a Hollywood movie – more like his lookalike Morgan Freeman – than a member of The Elders, the global collective of eminent persons.
There is no doubt that the Annan-engineered Kibaki-Raila handshake meant a lot to Kenya. However, the success of that particular mediation process meant even more to Annan, whose past at the UN was riddled with accusations of not having done enough in instances where he's believed to have had the power to, including in Rwanda's case in 1994.
Working as Assistant Secretary-General heading the Department of Peacekeeping Operations at the UN, Annan was accused of either not having taken seriously the initial reports originating from Rwanda, or having taken too long to act in preventing the genocide.
In his defence, Annan insisted that much as he wished the UN could have done more, critics needed to be alive to the convoluted bureaucracy within the organisation – which made decision making take longer – coupled with the eternal challenge of inadequate resources.
Annan argued that the UN's Force Commander in Rwanda, Romeo Dallaire – Annan's personal friend – needed 5,000 soldiers for him to make an intervention, but had only 2,500 troops.
In Annan's words, the soldiers were ''too few to act and too many to hide,'' opining that it was risky to put the lives of the troops on the line when the UN felt ill-equipped.
Observing that member states would have withdrawn their soldiers were there to be casualties due to the UN's unpreparedness, Annan cited the case of the US pulling out of Somalia earlier in 1993, following the killing of 19 of its soldiers in what became the Black Hawk Down movie.
So when he became Secretary-General, and in wanting to do more, one of the concepts Annan pushed for was the Responsibility to Protect, or simply R2P.
Adopted by UN member states in 2005, the facility sought to allow for the immediate overruling of a country's claim to sovereignty – prescribing urgent external intervention – were risks of genocide, war crimes, ethnic cleansing and/or crimes against humanity to be ascertained.
In mourning Kofi Annan, Kenya should remember how much it meant to the man, and keep the peace.
Police in hot pursuit of gang that car-jacked a Ruaka resident – KBC
Kiambu based detectives are pursuing a dangerous and armed criminal gang that car-jacked a Ruaka resident on Friday, before disappearing with his Toyota Premio as he drove to his residence.
According to the Directorate of Criminal Investigations(DCI), the victim had pulled over by the apartment's gate at Ruaka One River Apartments, unaware that a gang of three assailants was laying in wait for him.
As the gates opened, the driver's window was suddenly smashed with an iron rod, before two shots were fired in the air from a pistol in an attempt to subdue him.
However, he managed to force his way into the parking lot, but before he could jump out of the car and scamper to safety, the trio caught up with him and roughed him up before grabbing his car keys and phone.
Get breaking news on your Mobile as-it-happens. SMS 'NEWS' to 20153

On receiving the report, DCI detectives based at Kiambaa launched a manhunt for the suspects.
The vehicle was found abandoned in Kagongo village, having been vandalized.
Detectives believe that the three suspects are part of a larger criminal syndicate operating within Kiambu County.
They have been targeting taxi drivers while posing as customers, only to turn against them at isolated places, then vandalize their vehicles.
" Some members of the syndicate have previously been arrested and arraigned in court." Said the DCI
The DCI has cautioned Kenyans on this trend of crime.
Tell Us What You Think
Nyandarua County Assembly Speaker impeached for third time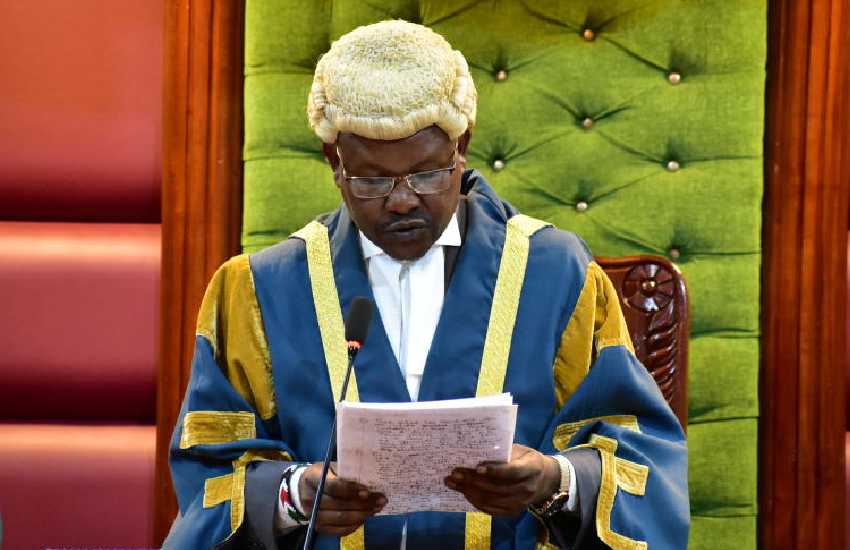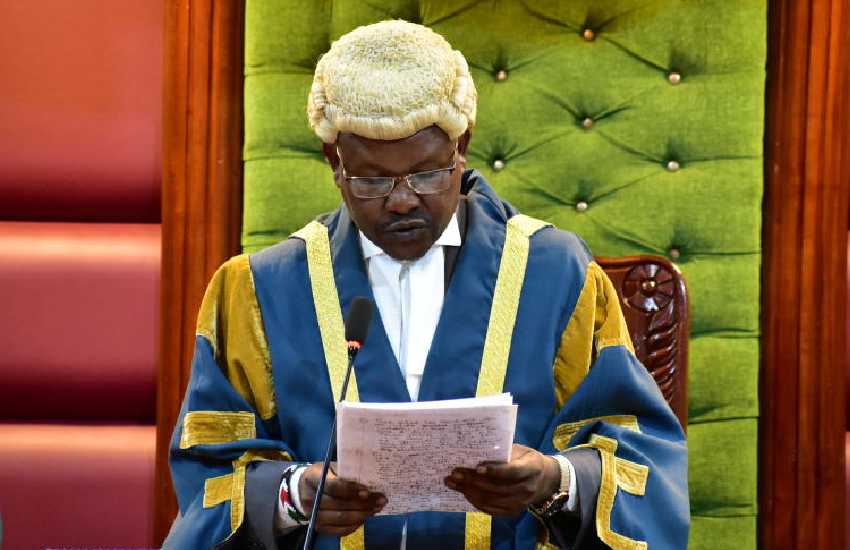 The special sitting was held despite a court order that reinstated the speaker.
Nyandarua County Assembly Speaker Ndegwa Wahome has been impeached for the third time.
Wahome was voted out over gross misconduct, abuse of office and nepotism in a special sitting held on Saturday.
31 out of the 38 ward representatives supported the impeachment motion while six opposed and one abstained.
The special sitting was held despite an order by Nakuru High Court Judge Hillary Chemitei reinstating Wahome until a case he had filed against his removal was heard and determined.
Reading out the charges, the mover of the motion, Majority Leader Edinard Kingori, accused Wahome of favouritism in assembly functions.
Kingori claimed that Wahome also failed to account for monies meant for the construction of Nyandarua County Assembly offices.
Nyandarua County Assembly Leader of Majority Edinard Kingori displays a notice of impeachment motion against speaker Ndegwa Wahome.
The Majority Leader alleged that the embattled speaker colluded with some MCAs and undermined Governor Francis Kimemia's leadership.
"The speaker has outrightly shown that he is unable to hold office. That is why we want him out. All he keeps asking from the executive is for more money yet he cannot account for the ones he has been allocated. We cannot allow this anymore. He has been discriminating against some of us in county assembly functions while favouring others. Is this fair?" posed Kingori.
Take a quick survey and help us improve our website!
Take a survey
Responding to the allegations, Wahome, who defended himself via zoom, said the impeachment was merely a political act.
"We know whose hand is behind this. My hands are clean and everyone can attest that I have run this assembly professionally since I took over eight years ago," said Wahome.
Wahome said that his demand for accountability and firm stand against corruption in the county was the root cause of his predicament. 
The speaker was represented by lawyers, Martin Waichungo and Mathea Gikunju.
Will retiring governors be kingmakers in 2022 contest?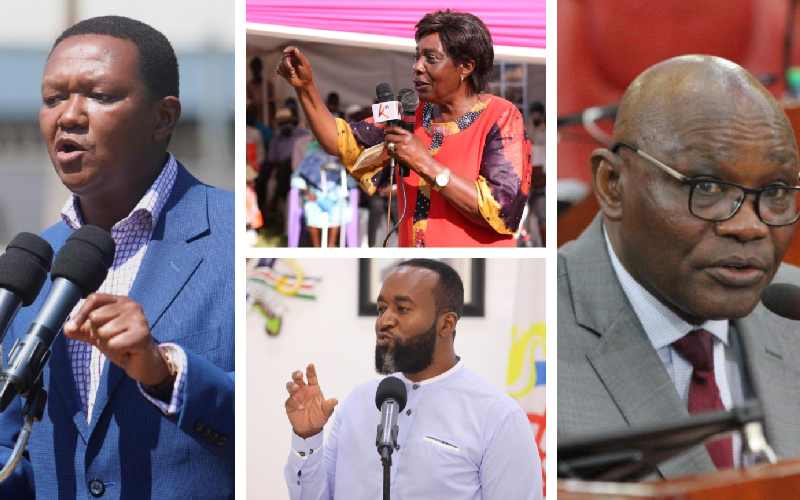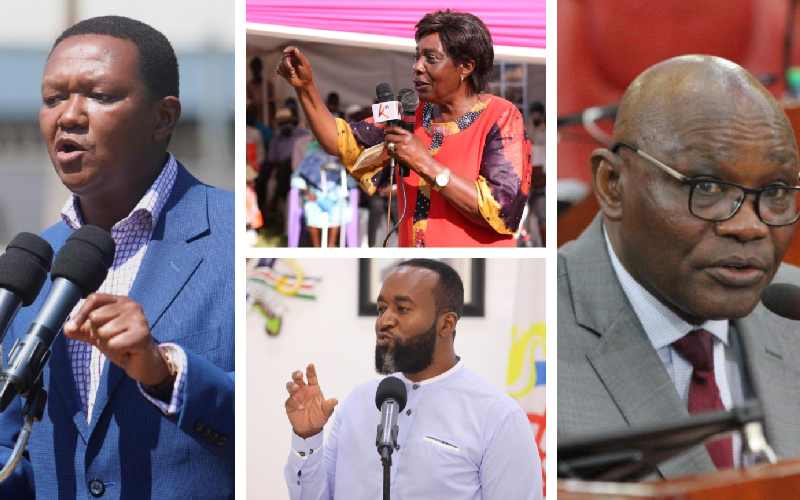 Key political players eyeing to succeed President Uhuru Kenyatta are wooing retiring county bosses, hoping to ride on political influence for votes.