AfDB wars: Targeting an African man or an African bank?
Dr Akinwumi Adesina was probably more known for working with rural agricultural communities than scandal. Now, as President of the African Development Bank (AfDB), he may be punch ball of a global political agenda pitting the US against African leaders, and maybe China.
Since last month, Dr Adesina has been fighting allegations of inappropriate acts that could ruin his career and roil a near-certain unopposed re-election this August. But his stay, or going, could punctuate relations between Africa and the US.
On Tuesday, some observers told the Nation the impasse over the credibility of the Bank's President could ruin more than his career.
"The leadership crisis at the AfDB is too important to ignore, especially at this time when the lender is raising funds to shore up its capital base for onward lending to African countries, many of which are battling debt crisis and the corona pandemic," Dr Peter Mwencha, a specialist in international political economy and CEO of the International Relations Society of Kenya said, referring to the Bank's bid to raise more than $100 billion from shareholders.
"From a geopolitical perspective, this issue has brought up concerns about allowing foreigners an outsized stake in African affairs. Africans are questioning why foreigners should have such a huge influence in such an important African institution," he added, but challenged African leaders to consider raising their shareholding of the Bank.
Here is how: As Nigeria's Agriculture minister, Dr Adesina was named Forbes Person of the Year in 2013, for 'revolutionising' agricultural policies in his country.
There had been no scandal against him since he took over as President AfDB in 2015. In fact, he has led the institution, formed in 1964, on a campaign to steer clear of fossil fuel projects, dumping all dirty coal-related funding and instead focusing on powering rural homes using renewable energy.
That was until January this year when anonymous employees of the bank wrote to some directors alleging Dr Adesina had overreached his hand, awarding contracts to his cronies and relatives as well as using the position to enhance his personal stature.
When more allegations, anonymously, emerged in April about how he had paid employees who resigned mysteriously, the AfDB board endorsed an internal audit. That committee returned a report suggesting there had been no evidence linking Dr Adesina to the allegations.
But the US government wasn't satisfied so Treasury Secretary Steve Mnuchin wrote a letter rejecting the results of the internal audit. He argued the dismissal of all allegations against Dr Adesina will "tarnish the reputation of the institution," according to a May 28 letter to the AfDB board.
One employee of the Bank, who wished to remain anonymous told the Nation AfDB has witnessed high profile resignations in the past five years, with the officials being paid handsome severance packages suspected to buy their silence. Dr Adesina denies any wrong doings.
But the US stance, to have Dr Adesina re-investigated, has seen African leaders, including Nigeria where he comes from rally behind their man.
Nigerian ex-President Olusegun Obasanjo rallied more than a dozen other former leaders to endorse an open letter to Washington, warning the stance would divert the Bank's attention to the Covid-19 pandemic.
"At this critical time that Africa is battling with Covid-19, the Bank and its President should not be distracted," Mr Obasanjo argued in a letter that was also signed by Mr Jakaya Kikwete, Mr Goodluck Jonathan, Mr Joachim Chissano, Ms Ellen-Johnson Sirleaf, Ms Joyce Banda, Mr Tandja Mamadou and several other leaders.
While the leaders called for respect for protocol, they raised a pan-African issue, indicating the Bank was the most important institution on the continent and that it was "the pride of Africa.
All African countries are members of the Bank, but it also has 27 members from countries outside the continent. It, however, lends exclusively to Africa.
Nigeria and the US are the biggest AfDB shareholders. The two command a 15 per cent share combined, but Nigeria has 9.1 per cent in the institution formed 55 years ago.
Comments
comments
Two more people killed in Makueni-Kajiado boundary clashes: The Standard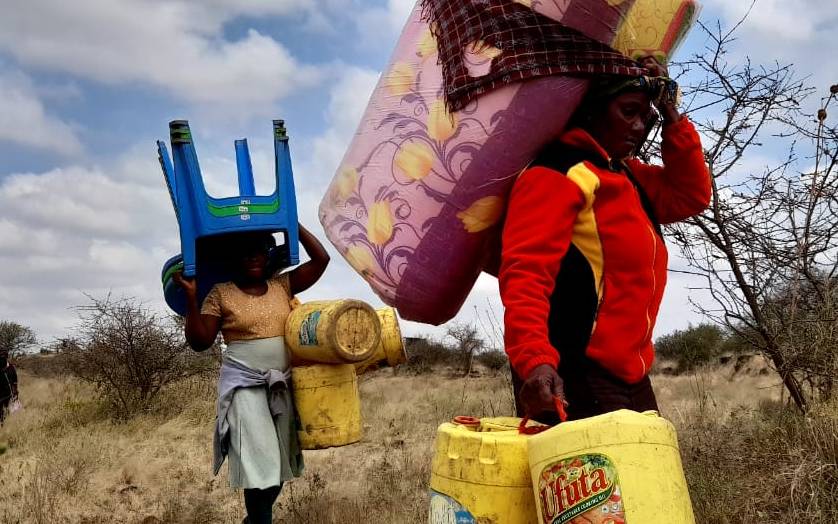 Two women carry belonging as they migrate from war-hit Kibwezi West Constituency area. Two people were killed in fresh attacks. [Stephen Nzioka, Standard]
Two more people were on Monday killed in the escalating inter-communal fights between two communities at the border between Makueni and Kajiado counties.
Four people have now been killed in the past three days in the disputed Mikululo ranch which is located in Kibwezi West Constituency.  To the west of the ranch is Ilukulenyeti in Kajiado East constituency.
One person is seriously nursing injuries at Makueni Referral Hospital.
According to a woman who had her son and neighbour killed, the attackers struck at the middle of the night armed with spears and swords demanding to know why they had occupied the land.
"Since February I have been living here in peace. Yesterday around 6 pm is when I arrived home from my daily hustle and we stayed here with my two children together with a neighbour who had visited us," said Florence Nduku.
She said they were in fear after another attack happened a night before and that was the reason to why they had invited their neighbour, a 70, year-old man to come and keep vigil together.
"We retired to bed around midnight. Before we could settle the worst struck. I saw a group of armed men approaching. They accessed the house by destroying the wall. They asked why we had occupied their land," she added
Nduku said that she escaped by a whisker as the attackers concentrated on her two sons and her neighbour.
She returned the following day only to find her son, 18, and their neighbour had been killed.
Erick Mwendwa, who was lucky to be alive, described in pain how he stared at death.
"They killed the old man kneeling down outside my house while my brother was killed as he tried to escape," said Mwendwa
One neighbour accused police of taking sides. He said they were woken up by loud noise from the scene and whistleblowing.
"We tried to intervene but when we met police and tried to show them the direction which they are not aware of they refused. They told us to go our own ways. They came back one hour later when killers had already disappeared," said Mwangangi Musila
When we visited, people were still in shock at the scene as the majority were collecting their belongings.  One by one, they picked their pieces; hens with their eggs, iron sheets, bedding and the little they could salvage.
A day before the attack, Makueni County Commissioner Maalim Mohammed gave an assurance that no more attacks would be orchestrated but killings have continued.
The ranch members were granted the 73,000 ha by a Machakos court on February 22, 2019. The Mikululo Ranching Company Limited was termed as the rightful owners of a parcel of land.
 Judge A. Ongote ruled that a permanent injunction be issued restraining Kenya Wildlife Service from evicting Mikululo residents from the piece of land.
Politicians from both sides of the counties and administrators in Makueni were reported to be highly involved in the land matters.
A security meeting ongoing as at now at a KWS camp at the periphery of the ranch.
Comments
comments
Kenya uses app in battle against desert locusts: The Standard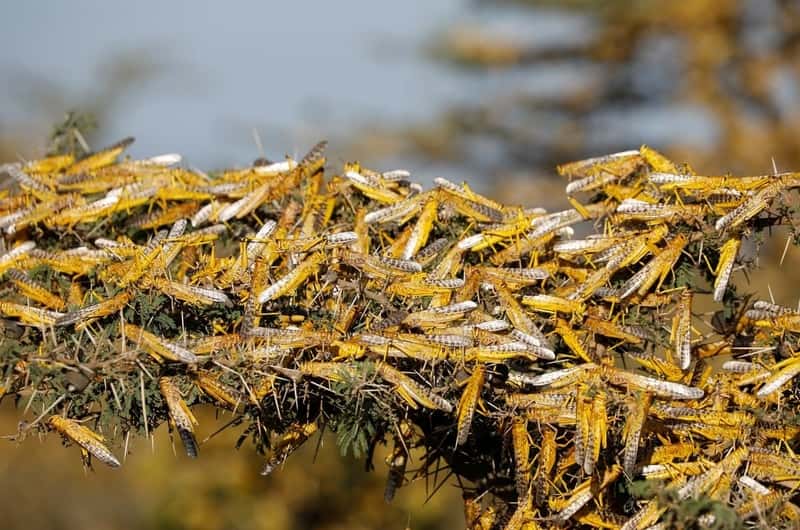 FILE PHOTO: Desert locusts are seen on a tree at a ranch near the town on Nanyuki in Laikipia county, Kenya, February 21, 2020. REUTERS/Baz Ratner
Lorugum village in northwest Kenya is under siege. Hundreds of thousands of young desert locusts perch on trees, shrubs, and in the grass.
In the coming days or weeks, their bodies will turn from pink to yellow, their wings will harden and, if nothing is done to stop them, they will begin to swarm, with disastrous consequences for agricultural production and the environment.
Using his smartphone camera, Christopher Achilo takes photos and videos of a tree trunk in the village that is crawling with the pink insects and uploads the images onto an app.
"One locust eats food equal to his weight (every day), so imagine having millions of locusts, if you cannot even see over the trees," he said.
SEE ALSO: US, China trade wars will hurt consumers
"Within some time, all the trees are just naked. Even they go inside the farms, they strip the farms, so it is a very big impact on the food security." 
Achilo is one of a team of locust scouts trained by local aid group ACTED, with the help of the United Nations Food and Agriculture Organization (FAO) and Turkana County regional government, to spot and report sightings using a new application, E-Locust.
The information he and the others collect is sent in real-time to a database in Lodwar, Turkana's main town, which is then used by another team deployed to spray the insects with pesticides to prevent swarm formation.
Locust numbers, the worst in three generations, surged in East Africa and the Red Sea region in late 2019 and early this year, encouraged by unseasonably wet weather and dispersed by a record number of cyclones.
The pests could cost East Africa and Yemen Sh 906 billion($8.5 billion) this year, the World Bank has said.
SEE ALSO: Technology will keep universities afloat in spite of coronavirus
Swarms can fly up to 150 km (93 miles) a day with the wind, and a single square kilometre swarm can eat as much food in a day as 35,000 people. Desert locusts feed on nearly all green vegetation and crops, including leaves, flowers, bark, fruit, millet and rice.
In a bulletin from July 3, the FAO said it expected swarm formation in Kenya to continue until mid-July. It said that in June, control operations treated around 30,830 hectares against locusts, around 8,500 hectares by air.
Comments
comments
Uhuru orders probe on surging family disputes » Capital News
NAIROBI, Kenya, Jul 6- President Uhuru Kenyatta has directed the National Crime Research Centre (NCRC) to probe escalating cases of gender-based violence, teenage pregnancies, and violation of children's rights.
The President said he was concerned at the increased cases of family disputes, since March when he directed stringent COVID-19 containment measures.
Within the 30 days, he said "the Centre is further directed to prepare an advisory to our security agencies on remedial action and initiate immediate prosecution of all violators."
Several incidents of murder, rape and other violent cases across the country. Women and children are most affected.
"We must always remember that the family is a projection of the State. If the family is under attack, the State is under attack. If the family is weak, the country is weak," the President said on Monday during a televised address when he ordered a phased-reopening of the country which has been on a partial lockdown for the past three months.
The night curfew will however, remain in force for the 30 days.
The worst incident was reported recently in Naivasha where a woman killed her four children in what she attributed to frustrations after losing her job. She is facing murder.
In Kisumu, a man survived miraculously after his wife who is a police officer reportedly shot at him two times, accusing him of giving their house-help Sh50 without consulting her.
Comments
comments