AFCON 2019 semi finals tips and predictions ▷ Kenya News
The ongoing 32nd edition of the Africa Cup of Nations is now at its peak even as the qualifying countries prepare for the oncoming semi-final matches. These Confederation of African Football organized games has left fans with sleepless nights trying to offer support and mine AFCON 2019 semi finals tips and predictions.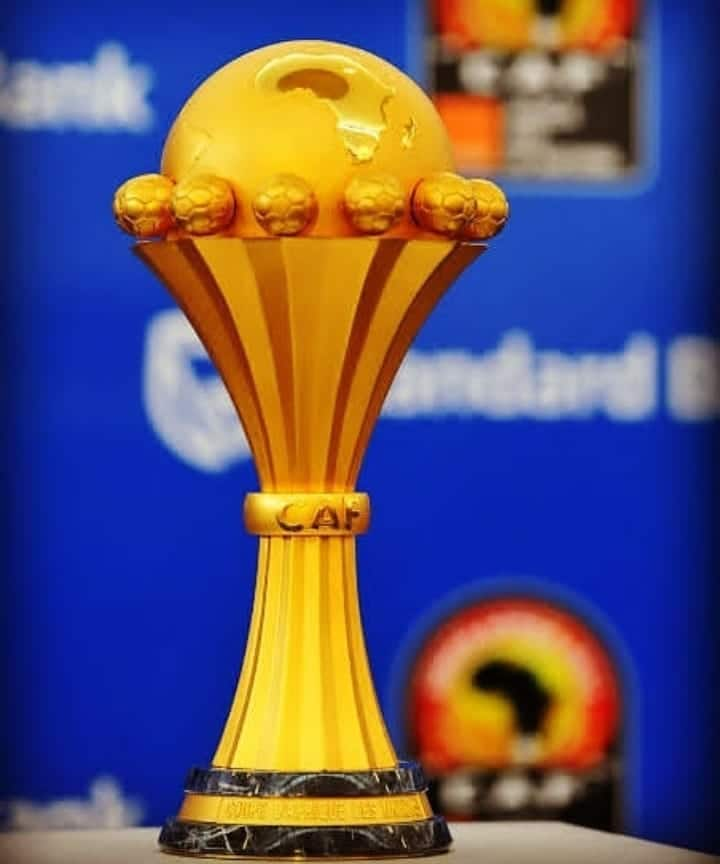 AFCON remains the largest competitions in the continent engaging qualifying national teams across Africa. Even as these teams prepare to combat, fans are busy seeking for tips and predictions in favour of their bets.
READ ALSO: CHAN qualifiers: Harambee Stars squad for tournament named
Egypt 2019 AFCON
Starting on 21st June, these Egypt based men's football competition is scheduled to end on 19th July, entertaining fans in a more significant part of this summer. Many teams have already left their mark with several others scheduled to lock horns in the semi-finals competition. Experts in African footballs have already rolled out predictions to help fans hold their breaths even as they wait for these games.
Teams progressing to AFCON semi finals 2019
In a matter of days, the green Egyptian lawns will welcome the AFCON semi finals starting on the 14th of July, 1900hrs (East African time). Various giant teams expected to participate in the semi-finals include Nigeria and Senegal among other contestants that until yesterday, were fighting for their place. AFCON 2019 predictions on who will make it to the semis saw many lose their bets, while a few who predicted correctly went to bed happy.
Host team Egypt having won against Zimbabwe has heightened stakes on the competitiveness of AFCON 2019 semifinals. The just concluded quarter final matches saw Algeria and Ivory Coast contest for a place in the upper tiers.
Algeria vs Ivory Coast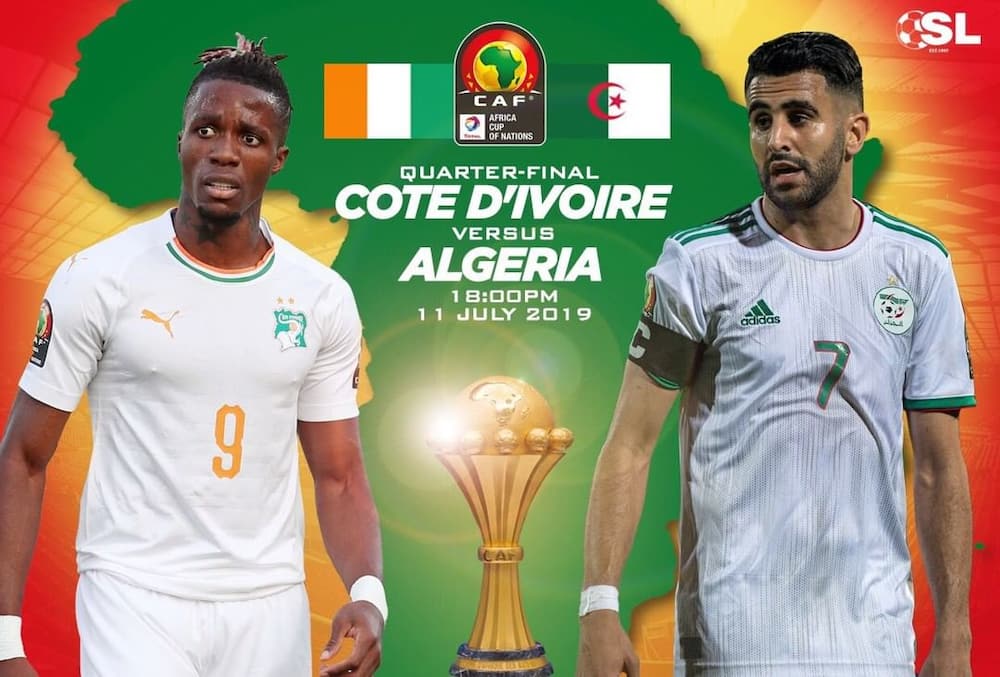 The new Suez Stadium serveD as the battle ground for the two footballing giants in the 2019 AFCON quarter finals. The Elephants have progressively performed well but arguably had a bigger task to accomplish in yesterday's match. Did the Desert Warriors defend their 100% win record in the AFCON competitions?
Head to head record: Algeria vs Ivory Coast
1968 – Algeria 0-3 Ivory Coast – Group stage
1988 – Algeria 1-1 Ivory Coast – Group stage
1990 – Algeria 3-0 Ivory Coast – Group stage
1992 – Algeria 0-3 Ivory Coast – Group stage
2010 – Algeria 3-2 Ivory Coast – Quarter final
2013 – Algeria 2-2 Ivory Coast – Group stage
2015 – Algeria 1-3 Ivory Coast – Quarter final
Having already destroyed competitive teams such as Guinea, Kenya, Senegal, and Tanzania, Algeria had garnered more considerable momentum and was expected to win against Ivory Coast for semi-final qualifiers. However, the fact that Ivory Coast lost to Morocco but won against South Africa and Namibia placed the match against Algeria on balance. Full time, the teams drew 1-1, and proceeded to penalties that saw Algeria win 4-3.
Madagascar vs Tunisia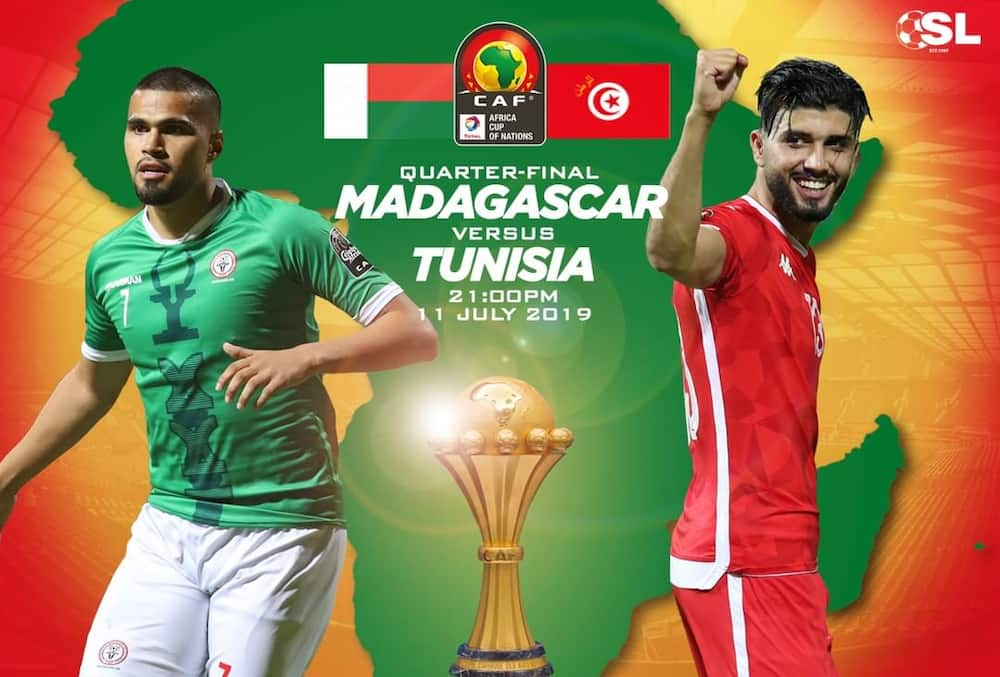 The combat between Madagascar and Tunisia was another must watch game in the eve of the oncoming semifinals. Having won against Nigerians with double scores, Madagascar had proven capable of knocking off Tunisia who were yet to win or lose in the quarter finals. The two teams had not rivaled in the AFCON before, despite good performances against other teams. Against most people's expectations, Tunisia made it to their first AFCO semis since 2004 in a 3-0 win against Madagascar.
2019 AFCON semi-finals predictions
Looking for semi-finals AFCON predictions? In the AFCON league semi finals draw to find out who will make it to the finals, Algeria will play against Nigeria (2100 hrs) and Tunisia will play against Senegal (1800 hrs) this coming Sunday 14th July 2019.
Senegal Vs. Tunisia
Tip: For the last 3 consecutive matches, Senegal has kept a clean sheet. Will this be the same case during the finals? With Tunisia's glory in yesterday's match, Senegal will have to up their game in order to win.
Match prediction: Senegal 2- 1 Tunisia. Senegal wins
Algeria Vs. Nigeria
Tip: If Nigeria scores the first goal, there are higher chances of the team winning, but incase Algeria scores first, there are close to zero chances of Nigeria winning.
Match prediction: Algeria 1- Nigeria 0. Algeria wins.
READ ALSO: Wilfried Zaha: Arsenal ready to offer Crystal Palace £40m plus three players for star forward
Obviously, 2019 Africa Cup of Nations qualification predictions given above are not a sure bet. AFCON 2019 semi finals are expected to be very competitive, making it difficult to predict the teams that will win and meet in the finals. All in all, may the best men win!
Subscribe to watch new videos
READ ALSO
Source: Tuko.co.ke
Europe beckons for South African rugby after Kiwi snub
JOHANNESBURG, South Africa, Jul 20 – World Cup-winning Springbok Schalk Brits believes the future of South African rugby lies in Europe after New Zealand said there was no room for sides from the republic in Super Rugby.
"All of this jet lag and flying across different time zones just does not work," said the hooker who retired after the triumphant 2019 World Cup campaign.
"We have got so many South Africans playing in Europe and it would be awesome to see them in action here for European clubs."
With New Zealand favouring a trans-Tasman Super Rugby competition, South Africa Rugby chief executive Jurie Roux will address the media Tuesday about the way forward.
There has been no rugby in South Africa since mid-March due to the coronavirus pandemic, which claimed 5,033 lives by late Sunday, the most in an African country.
Here, AFP Sport looks at the possibilities for the world champions Springboks and Super Rugby teams the Bulls, Lions, Sharks and Stormers.
Rugby Championship
There has been speculation that the six-round annual tournament will be cut to four matches with New Zealand and Australia playing in South Africa only every second year.
That would be a huge blow for SA Rugby coffers as the century-old rivalry with the All Blacks makes them a huge drawcard.
South Africa might consider abandoning the Championship and pursuing a suggestion by former All Blacks Justin Marshall and Jeff Wilson for three-Test tours between the great rivals.
"British and Irish Lions tours are so successful because we look forward to them," noted another ex-All Black, John Kirwan. The same could be said of an All Blacks-Springboks series.
'Seven Nations'
Should South African franchises move north, would the Springboks follow suit and apply to join England, France, Ireland, Italy, Scotland and Wales in a 'Seven Nations' championship?
Having the world champions on board would surely excite the organisers and costs would be greatly reduced if the Springboks played their three away matches on consecutive weekends.
England, Ireland, France and Wales, in particular, would bring freshness for rugby followers, who have not rushed to the turnstiles for Championship visits by Australia and Argentina.
Ask the SA Rugby treasurer for his 'dream' line-up and he would surely say a multi-Test tour by the All Blacks and participation in the 'Seven Nations'.
Super Rugby
Although not official yet, the reality is that New Zealand want to play some Australian sides and the Pacific Islands in a new competition while excluding South Africa and Argentina.
The original version, a Super 10 between 1993 and 1995, was a superb competition, but constant tinkering and expansion has led to waning interest in a difficult-to-follow event.
Even those supporting the Golden Lions of South Africa could not have derived too much satisfaction from a 94-7 thrashing of Japanese visitors the Sunwolves three years ago.
South Africa sides often battled with time differences in Australasia — New Zealand is 11 hours ahead of the republic — and were weary after four-match tours.
'Pro16'
Pro14 chief executive Martin Anayi says he would welcome Super Rugby 'rejects' the Bulls, Lions, Sharks and Stormers into an expanded edition.
"The tournament works well but could be even better if we added some South African teams," he said, referring to a competition that also includes Irish, Italian, Scottish and Welsh teams.
But there may be no room for the two current South African Pro14 participants, the Cheetahs and Kings, who have experienced very different fortunes.
While the Cheetahs have been competitive, the Kings won just four of 55 matches in three seasons with some of the losing margins embarrassing.
Currie Cup
The domestic competition has survived constant format changes to remain the vital 'nursery' from which Springboks emerge.
First staged in 1892, it was the bedrock of South African rugby until the dawn of professionalism after the 1995 Rugby World Cup.
As Test and Super Rugby fixtures took up an increasing amount of the season, the Currie Cup often battled for calendar space.
But it survived and this year could feature the four Super Rugby sides plus the Cheetahs, Kings, Griquas and Pumas, if play is possible amid the coronavirus.
Kenya records highest number of deaths from Covid-19
Kenya's coronavirus cases rise to 13,771 after 418 more infections
Kenya on Monday reported 418 more Covid-19 infections, raising the country's tally to 13,771 since the virus was first confirmed on March 13.
Health Chief Administrative Secretary (CAS) Rashid Aman also reported four more deaths, raising the toll to 238. He rectified an earlier report about 19 deaths in a single day, which would have been the highest number ever recorded in Kenya.
The 418 new patients were found following the testing of 2,474 samples in the last 24 hours.
Four hundred and eight of them were Kenyans and 10 foreigners while male patients numbered 263 and female patients 155.
Dr Aman also announced that 494 patients had been discharged, raising the country's total number of recoveries to 5,616.
Of the recovered patients, 465 were under home care and the rest in hospitals.
More to follow