6 Reasons Why You're Pooping More Than Usual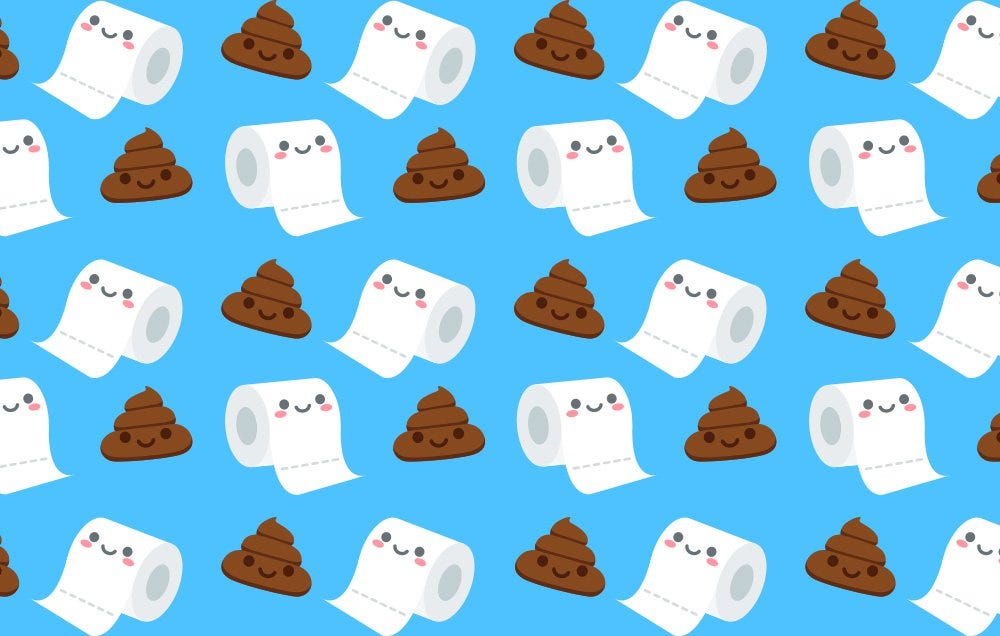 Everybody poops—it's a simple fact of life. Maybe you usually go right when you get up or an hour after you have coffee in the morning, or you regularly take a mid-afternoon poo. Whatever it is, you probably have some kind of routine. So it's completely understandable that you'd get a bit freaked out when you suddenly start going more.
While going number-two more than usual can be a sign that something is off, it's not usually a reason for an otherwise healthy young women to freak out, says Kyle Staller, MD, a gastroenterologist at Massachusetts General Hospital. "Probably one of the most common things would be dietary intolerances—you ate something that doesn't agree with you," says Dr. Staller. This is especially true if you have a change for a few days and then it goes back to normal. Beyond that, these are the biggest reasons why your two-a-days may suddenly have increased.
1. You started eating healthier
One of the most common reasons why young women start pooping more is because they increased their fiber intake, says Rudy Bedford, MD, a gastroenterologist at Providence Saint John's Health Center in Santa Monica, California. So, if you suddenly started pooping more around the time you started adding more vegetables to your diet, that's likely why.
2. You got an infection
Viral and bacterial infections (think: everything from the flu to E. coli) can cause excessive pooping and diarrhea, says Dr. Staller. While this is normal, if you have bloody poop or a fever with it, you should get it checked out.
3. You increased your workouts
Stepping up your exercise routine can make you go more than usual, says Dr. Bedford. Here's why: Exercise increases muscle contractions in your colon, working number two out of your body faster than it did before. That's why doctors may encourage you to work out more if you're constipated.
4. You have IBS
Irritable bowel syndrome (IBS) is no joke, and Dr. Staller says it's common in young women. The condition, an intestinal disorder that causes pain in your stomach, gas, and cramping, can also make you poop a lot. "The classic patient gets sudden abdominal pain and cramping associated with constipation or diarrhea," says Dr. Staller.
5. You're stressed out
For people who already have gastro issues like IBS, stress can be a poop trigger. "Many people have more loose bowel movements when they're under stress," says Dr. Staller.
6. You're on your period
Many women who are just about to get their periods or already have their periods will have looser or more frequent BMs. It's likely due to a shift in hormones around your cycle (specifically progesterone), and is "very normal," says Dr. Staller.
How can you tell your poop issues aren't something more serious?
Dr. Bedford says abdominal pain, bloody stool, and mucus in your poop are clues that something isn't right, and you should see a doctor.
Dr. Staller says the way it impacts your life is also a big tip-off. If you really don't give it another thought, you're probably fine. But if you find that you're changing your routine or avoiding some social situations because you're worried about pooping, you need to see a doctor. "I see plenty of young women who are worried about being on dates," says Dr. Staller. "If it's a common thing where you're always on the lookout for a bathroom, you should go and get evaluated."
Comments
comments
Kenyan celebrities talking about American race issues is hypocrisy
Kenyan celebrities are weighing in on the recently cowardly and callous killing of George Floyd by Minnesota police officer. And while there is nothing wrong about Kenyan celebrities with no connection to the political temperature in America adding to their voice to the millions of others calling out the institutionalized racism in America, one has to also look to see whether these same guys speak up when things are thick in Kenya.
And we did some checking and realized that the same guys currently touting their global villager citizenship are usually mute when Kenya is up in flames. These same Kenyan celebrities are clowns.
You see, as trump pointed out, Kenya is a shithole nation. We have so many issues at the moment that we need to address. But be that as it may, Kenyan artists would prefer to virtue signal and talk about distant issues over in the land of the brave, the home of the free where they will suffer no repercussions.
When post-election violence erupted, how many people came out to denounce it early on rather than waiting for ethnic and tribal diatribe to be drawn up for them? How many Kenyans recently spoke up about the disputed and divisive general elections that had to be re-conducted? How many Kenyan celebrities have been talking about the still existing internally displaced people? Or the rampant and widespread corruption that has seen our shithole country sink to demoralizing levels of depth that threatens the wellbeing of future generations?
I will wait for you to point them out.
I would love to see the Jua Calis and the Janet Mbuguas raise their voices when Kenyan police batter protesters. i would love to see Kenyan celebrities talk about unlawful and cruel evictions.
For more thought-provoking opinion pieces, click here. And be sure to like our Facebook page.
Comments
comments
'Ours was a complicated father-daughter relationship,' cries Jimmy Wayuni's daughter
One of the daughters of celebrated Benga musician Jimmy Wayuni has revealed that she was not that close to him.
In a tweet that has since gone viral, award winning filmmaker Mercy Murugi reveals that for the longest time she would have loved Jimmy to play the role of daddy.
She wrote,
"How do you mourn a man you had barely known? How do you mourn the man you called biological father but fought so much with him for the title of Dad that he wanted, but you felt he was yet to earn?"
Adding,
"What many never knew is Jimmy Wayuni is my biological father. And now he's gone."
Jimmy lost his life yestsrday night in a tragic car accident along Thika Road.
Mercy paid tribute to the fallen icon.
"Rest in peace Jimmy Wayuni Githinji. Ours was a complicated father – daughter relationship. Both of us headstrong. Prolly got it from you. That and my eyes. Rest easy.
💞💞."
Comments
comments
Blessings galore! President Kenyatta welcomes newest grandchild, Uhuru
President Uhuru Kenyatta is a happy grandpa for the second time in four years.
His first born son, Jomo Kenyatta is reported to have welcomed a baby boy named Uhuru at Nairobi Hospital.
This will be the second child for Jomo and his wife Fiona Ngobi Achola.
Their first born daughter is named Wanjiru after Kenya's first lady Margaret Kenyatta.
Baby Wanjiru was born in October 2017.
The second born, Uhuru is said to have arrived on May 27, 2020.
To date there has never been a photo of baby Wanjiru in public. It seems the parents want to keep it that way.
The same applies to Baby Uhuru.
All the same congratulations Fiona and Jomo on your bundle of joy.
Comments
comments