15 iconic photos from Kenya's Westgate mall attack – Politics – Pulselive.co.ke
news
Today marks five years since the world watched in horror as multiple gunmen attacked the Westgate shopping mall in Nairobi, Kenya.
The attack, which lasted four days, left hundreds of people injured and scores dead including the four gunmen who carried out the deadly attack.
Somali Islamist group, Al-Shabab, said it carried out the attack in response to Kenya's military operations in Somalia.
Memories of that fateful afternoon are still etched in Kenyans' minds in what remains one of the deadliest terrorist atrocities in Kenya.
Here now are some of the most iconic images of the attack:
Shoppers try to avoid a volley of bullets during an attack by gunmen, inside the Westgate shopping mall in this still frame taken from video footage by security cameras inside the mall in Nairobi
A child runs to safety as armed police hunt gunmen who went on a shooting spree at Westgate shopping centre, Nairobi
Civilians escape an area at the Westgate mall
An injured policeman holds on to his wound as his compatriot searches through the Westgate shopping centre for gunmen
A journalist rescues a woman injured in a shootout between armed men and the police at the Westgate mall
Armed police search Westgate Shopping Centre
A mother and her children hide from gunmen at the mall
Members of the public donate blood at a temporary donation centre for the injured victims of the mall attack
A policeman carries a baby to safety
Kenya's President Uhuru Kenyatta addresses the nation on the shopping mall attack
A Kenya police helicopter patrols over buildings surrounding the Westgate shopping centre during an exchange of gunfire inside the mall
Smoke rises from the Westgate shopping centre following a string of explosions during the third day of a stand-off between Kenyan security forces and gunmen inside the building
Kenya's Interior Minister Joseph ole Lenku (C), flanked by other government officials, speaks during a news conference near the Westgate shopping mall
Mary Italo mourns the death of her son Thomas Italo who was killed during the attack at the Westgate mall
People light candles during a memorial service in front of WestGate shopping centre in Nairobi September 28, 2013.
Kebs wants all thermal guns re-calibrated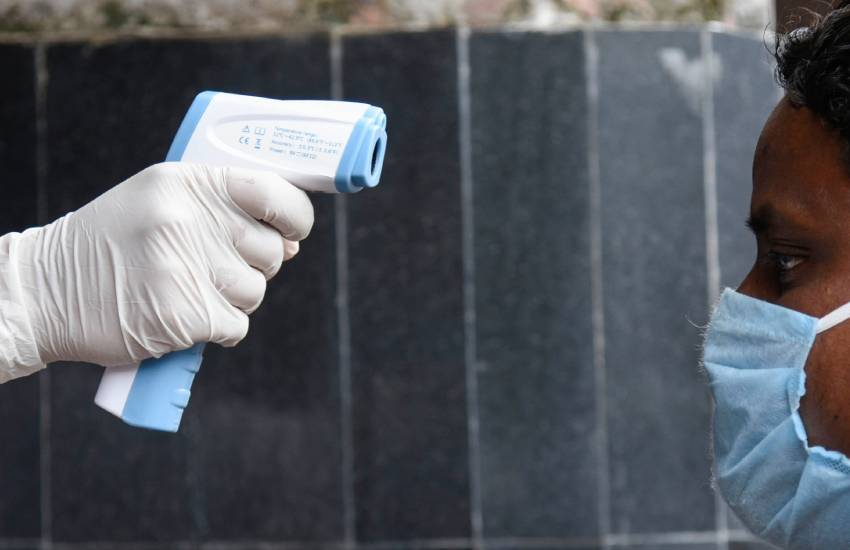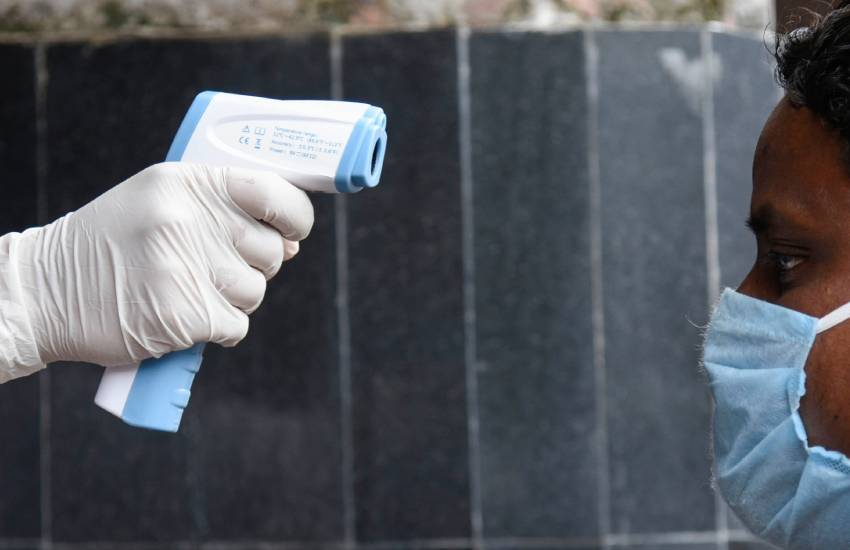 The gadgets are used to check temperatures. [Courtesy]
The standards body has asked owners of thermal guns (non-contact infrared thermometer) to re-calibrate them to improve the accuracy of their readings.
The gadgets are used to check temperatures in public places and hospitals in the fight against Covid-19. Kenya Bureau of Standards (Kebs) said the re-calibration ought to take into account any 'drift' or low change in the response of a gauge – in the course of their use.
This has been occasioned by instances of faulty readings of these devices which are now mandatory in all public spaces for screening possible Covid-19 cases.
Drifting on measurement gadgets occurs as part of the ageing process of some of the components of the device or changes in the environment among them humidity or temperatures. Any temperature above 37.5 degrees Celsius is considered above normal, hence a suspected Covid-19 case.
Erratic measurements
Josephat Bangi, who heads the metrology department at the Kenya Bureau of Standards, said one sign that the thermal gun needs to be re-calibrated is when it becomes 'erratic' when giving readings.
"People have their temperature taken and it turns out to be not as expected or not specific," he explained. "When you notice your thermal gun is erratic, and it gives erratic measurements, then it could be time for it to be re-calibrated."
Bangi says while some thermal guns have an upper limit reading of 42 degrees Celsius, some can go to 50. "Some are also affected by magnetism," he said.
Take a quick survey and help us improve our website!
Take a survey
Sometimes, he noted, depends on the manufacturer's instructions. "What is recommended depends on the frequency of use. There are places where thermo guns measure small populations, maybe you have five people in your institution while there are other organisations where the number of people being measured in a day is so huge and the thermo gun is so busy the whole day," he explained.
Some manufacturers would recommend after a year but there are no uniform timelines as this depends on the frequency of use. 
Rusana's candidature causes political heat as race to succeed Obado intensifies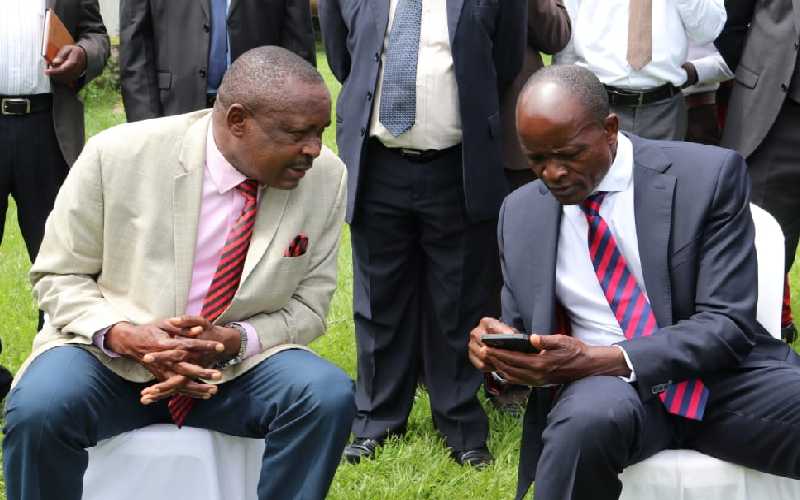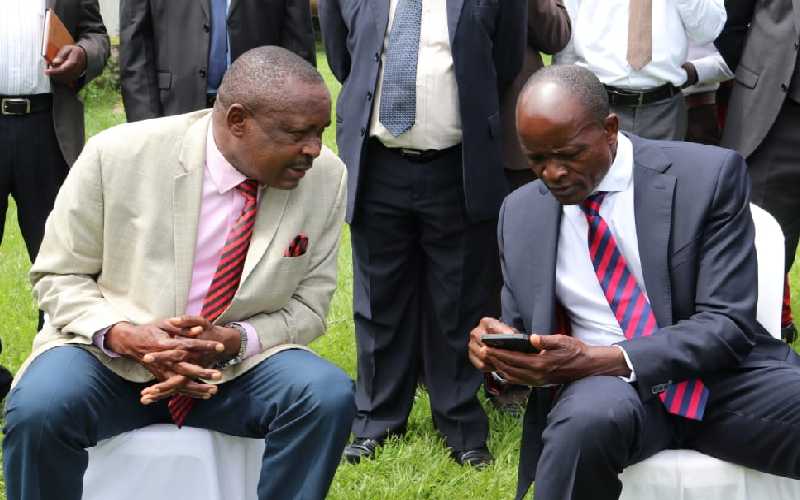 Migori Governor Okoth Obado with County Secretary Christopher Rusana at a past function. Rusana has declared interest in the Migori gubernatorial race. [Anne Atieno, Standard]
The entry of Migori County Secretary into the race to succeed Governor Okoth Obado appears to have rattled seasoned politicians who have accused him of using elders to endorse his candidature.
Christopher Rusana's endorsement by Suba Community elders has seen other aspirants cry foul, saying the decision of the elders who attended the May 3, meeting in Kisii was compromised.
The aspirants led by Migori Woman Rep Pamela Odhiambo have vowed never to step down.
Odhiambo, businessman Philip Mwabe, former Migori MP John Pesa, former Mombasa executive Seth Odongo and businessman Owiso Ngao have rubbished the endorsement, saying the process was unfair and that the outcome was influenced.
The exercise was conducted by elders led by Pentecostal Evangelical Faith of Africa (PEFA) chairman John Okinda and a team of six opinion leaders from Suna East and Suna West constituencies.
The meeting held at the Carmel Park hotel in Kisii town was attended by Mrs Odhiambo, Rusana, Mwabe and Pesa while Odongo and Ngao did not attend.
Speaking to The Standard early this week, Mwabe said he opposed the voting idea after the candidates present refused to pick insisting that despite the selection of Rusana, he would be on the ballot.
Take a quick survey and help us improve our website!
Take a survey
When contacted by The Standard, Pesa and Mrs Odhiambo said they are still in the race.
"My candidature is not on reverse gear. I will be on the ballot come 2022," said Mrs Odhiambo.
Consult opponents
Rusana has, however, downplayed the wrangles, promising to consult with his opponents to ensure the region produces a candidate.
In a phone interview with The Standard on May 16, Rusana who wants to run on an ODM ticket wondered why the change of heart yet his opponents fully participated in the exercise.
"We were all present, and they fully participated, I still don't know what happened a few days later, maybe the media can find out from them," he said.
He said with the elders' blessing, it is all system go as he tries to consolidate his backyard before he can approach other regions.
The country secretary said he is banking on the support of the masses and not that of Governor Obado as his opponents are claiming to win the seat come 2022.
"There is something the elders saw in me, I don't take it for granted and will not disappoint their trust," added Rusana.
 "Because I am always a quiet person, my opponents have been underestimating me. I will not mind getting the support of like-minded leaders who will help me shape Migori, I will first take my mandate to people."
According to the Suba community elders led by chairman Riogi Riogi, having a single candidate would increase their son or daughter's chances of succeeding Governor Obado.
Riogi said he is aware of the wrangle t, but called on other aspirants who felt shortchanged to seek dialogue.
"In our own wisdom, we saw that placing a single candidate would strengthen the community's unity and supporting the candidate would be easy and hence the winning of the elections," Riogi said.
The Suna clan, which is part of the Suba community, has been angling to field a single candidate to solidify Suna West (46,162 votes) and Suna East (46,574 votes) out of the 389,182 votes in Migori.
PDP factor
With Governor Obado ditching the ODM for the People's Democratic Party (PDP) and the Kuria community factor, the 2022 Migori gubernatorial race could be the trickiest.
Obado is reported to have mounted a massive membership recruitment drive for the PDP after announcing he will ditch Raila Odinga-led ODM.
The governor's point men have rolled out registration and membership drive across the county manually and digitally in an exercise expected to run up to the end of the year.
Other aspirants who are eying the seat include Assembly Speaker Boaz Okoth, Senator Ochillo Ayacko, former Rongo MP Dalmas Otieno, former Nyatike MP Edick Anyanga, US-based academician Mark Ogutu and businessman Robert Okong'o.
Kenya labels Israel-Palestine conflict 'dark moment', calls for truce
Kenya has joined the United Nations Security Council (UNSC) in calling for diplomatic negotiations to achieve a solution to the escalating violence in Israel and Palestine.
Devastating consequences
Two-State solution
Wide condemnation